AAA Inspection Details
Noteworthy by meeting the industry-leading standards of AAA inspections.
Presentation, Ingredients, Preparation, Menu
Attentiveness, Knowledge, Style, Timeliness, Refinement
Style, Materials, Tables, Seating, Ambience, Comfort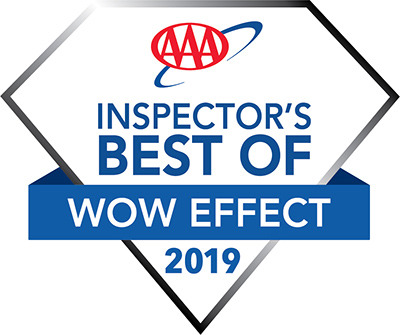 Eating a slice of gourmet pizza while surrounded by pizza-related board games, advertisements and nostalgia is an experience you will not forget!
AAA Inspector Notes
This spot, which holds the Guinness World Record for the largest collection of pizza memorabilia, doesn't just offer a kitschy experience, it offers some of the best pizza in town. The menu features several varieties of full-size pies and a daily rotating handful of by-the-slice options. At least one vegetarian/vegan option with multiple toppings is available daily.
Location
2313 Frankford Ave 19125. Station: Berks
More Information
Quick Serve. Lunch and dinner served.