---
close
Early to bed, early to rise as Benjamin Franklin advised? Not in Philadelphia. Native son W.C. Fields once joked, "Last week, I went to Philadelphia, but it was closed." Now Philly boasts more than a place in American history. It's hip. It's open all hours. Stroll along myriad streets and discover upscale galleries and fine boutiques, elegant haute-cuisine restaurants and gritty fast-food joints—Philly cheesesteak, anyone? In warm weather, dance in open-air clubs to river lights and a view of the Ben Franklin Bridge. This Colonial enclave has transformed itself into a city so happening that even old Ben would stay up past his bedtime.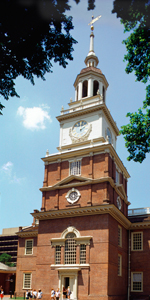 But don't forget history. Philadelphia is the "Cradle of the American Revolution," after all. No dry civics lesson here—this is where Independence Hall stands, where the Liberty Bell rang out (and cracked), where the Declaration of Independence was signed and our war for freedom began. Walk down Market Street, (or, as of Spring of 2015, use one of the Bike Share Philadelphia bicycles to get around) and you're following in the steps of the founding fathers.
The neighborhoods in the City of Brotherly Love have their own stories to tell, too. In South Philly's Italian Market, Main Line socialites bicker over the price of basil, while commuters and families wait in line to order famous hoagies. On South Street, musicians play on the sidewalks and hipsters buy the latest fashions in trendy stores. All over town, bleary-eyed students sip lattes after late-night clubbing on Delaware Avenue. There's so much to do in Philly, both Ben and W.C. would be amused—early in the morning or late at night.
So, why is the Liberty Bell cracked?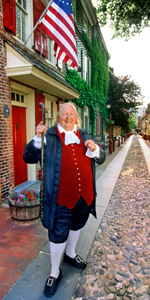 There are many tales concerning the circumstances of the bell's first crack, but consensus has it that the fracture dangerously expanded and ultimately rendered the bell unusable after it rang in 1846 to commemorate George Washington's birthday. It was probably a fitting occasion for its final performance.
Philadelphia teems with icons like this hallowed bell that inspire an undeniable sense of history and awe. These vestiges of the past send shivers down the spines of visitors and residents alike as it hits home that this is indeed America's birthplace. Have lunch at City Tavern like Washington did, or tour Christ Church, where he worshipped along with Benjamin Franklin and members of Congress. Or wander inside the Betsy Ross House to learn about the woman who reputedly sewed the first stars and stripes on Old Glory.
To experience Philadelphia to the fullest, a good place to start is where it all began: Independence National Historical Park. You can easily spend the entire day here, exploring landmarks that represent the nation's founding. There's Congress Hall, the site that hosted the inauguration of John Adams and the second inauguration of Washington, and of course, that famous bell.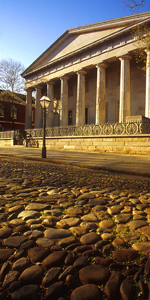 Outside of this historic square mile, there are other nooks and crannies of the Old City ripe for exploration. Stroll down narrow Elfreth's Alley, said to be America's oldest continuously inhabited residential street. Take the self-guiding tour at the U.S. Mint to see the birth of currency, or learn about Quaker life at the brick Historic Arch Street Meeting House, built as a gathering spot in 1804.
Now that you have a sense of the old, you can appreciate the new. Skyscrapers like Comcast Center, One Liberty Place and Bell Atlantic-Verizon Tower soar over Center City, and statues of historical figures meld with those of modern day heroes. Gaze at the commanding statue of city founder William Penn presiding over his "City of Brotherly Love" from a perch atop City Hall's clock tower.
Penn's brotherly love and the strong sense of family and tradition instilled by the Quakers are still values held near and dear to Philadelphians. Philly's neighborhoods have histories of their own. To the south, there's Bella Vista, characterized by the colorful, aromatic Italian Market. In Chinatown, diners can indulge culinary cravings at all hours. Handsome 18th-century Colonials flanked by quaint courtyards grace the fashionably preserved Society Hill area, while Rittenhouse Square exudes luxury and wealth.
Although many head to Philadelphia to explore attractions focusing on history and patriotism, a healthy cultural and sports scene also are part of the mix. The Philadelphia Museum of Art houses great works of art, and immortalizes fictional boxer Rocky Balboa with his larger-than-life likeness at the base of its steps. The Philadelphia Orchestra offers a popular summer concert series, and the Philadelphia Ballet's annual "Nutcracker" performances enchant holiday audiences. The Franklin Institute and Philadelphia Zoo stimulate the imaginations of all ages.
And Philadelphians turn out in droves to show their love for the Phillies (baseball), Eagles (football), Flyers (hockey), 76ers (basketball) and Union (soccer).
---