AAA Inspection Details
Distinctive fine dining, well-serviced amid upscale ambience.
Presentation, Ingredients, Preparation, Menu
Attentiveness, Knowledge, Style, Timeliness, Refinement
Style, Materials, Tables, Seating, Ambience, Comfort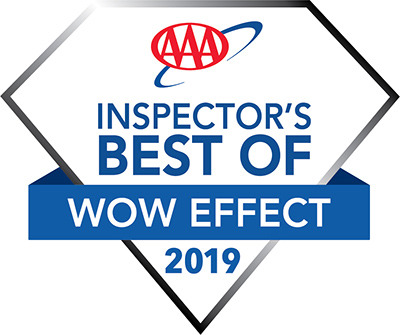 I don't often find fine dining in a national park where stunning views, imaginative food and refined service are the main attractions.
AAA Inspector Notes
Classic. Visit this intimate restaurant for a memorable dining experience. Some tables offer unparalleled views of the Tetons. The five-course menu might feature a wild game crepe, horseradish crusted lamb with garlic fried green tomato, coconut braised ono, grilled red trout with asparagus potato puree or pan seared elk with braised beet greens and port raisin syrup. Vegetarian items are available. For dinner, jackets are suggested, but sweaters and slacks are suitable.
Reservation
Reservations required.
Location
Jenny Lake Inner Park Rd 83013
More Information
Fine Dining. Breakfast, lunch and dinner served. full bar. Semiformal attire. Accessibility (Call).