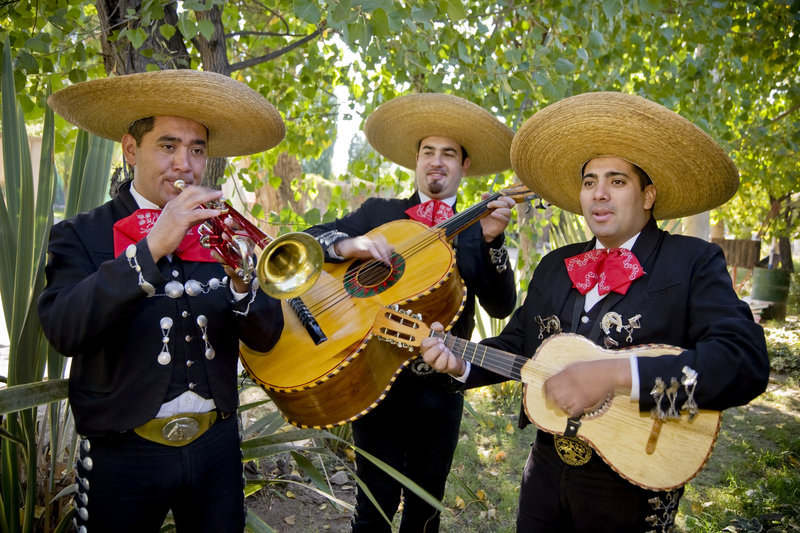 iStockphoto.com / cristianl
Introduction
It may seem redundant to describe Guadalajara as the most Mexican of Mexico's cities, but the characterization contains a large degree of truth. After all, some of the country's most cherished traditions originated here—the staccato-stepping jarabe, or Mexican hat dance, the fancy horsemanship of charros (rodeo riders) and the soulful music of the mariachis. There's even a word to describe something that is quintessentially Guadalajaran: tapatío.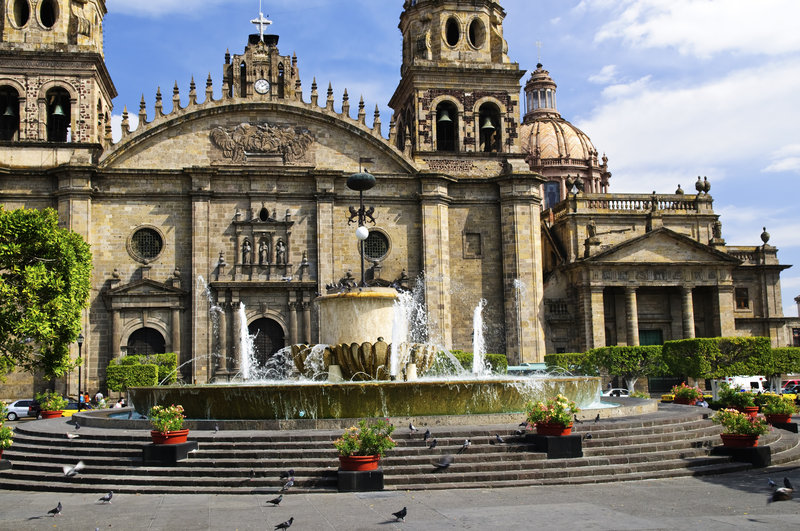 iStockphoto.com / Elenathewise
This is Mexico's second largest metropolis and a hustling, sprawling business center. General Electric, Hitachi, IBM and other major technology companies all have facilities in Guadalajara, a leading producer of software and electronics. And perhaps it is this explosive modern-day growth that drives the city's painstaking preservation of a history that spans nearly 5 centuries. Nowhere is Guadalajara's past more evident than in its historic center, where four separate plazas forming the shape of a cross surround the Cathedral, a building notable not only for is size but for its twin yellow and blue-tiled towers. For travelers, a perfect city introduction is a stroll past the monuments and burbling fountains along cobblestoned, seven-block-long Plaza Tapatía; buy some ice cream from a street vendor and then relax on a shady bench and watch the city go by.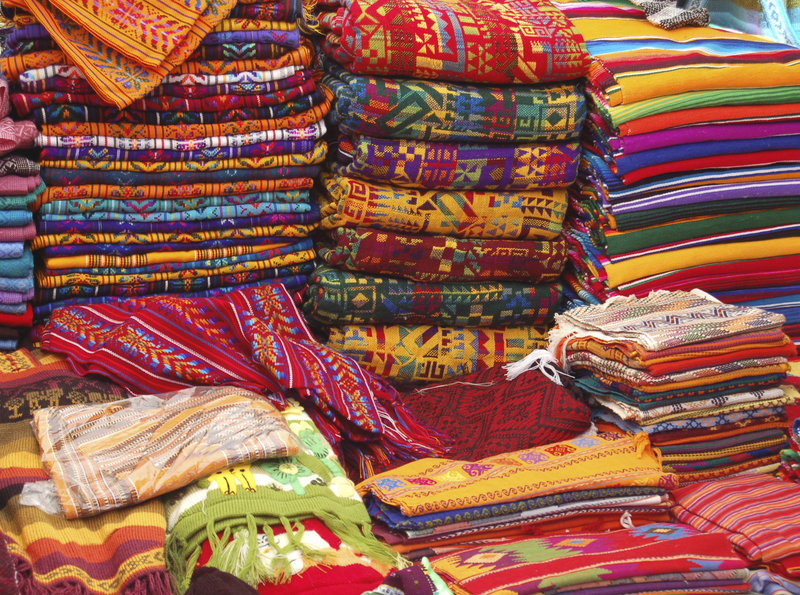 iStockphoto.com / Jorgeinthewater
For more local flavor, immerse yourself in the Liberty Market (Mercado Libertad), three floors and innumerable rows of vendor stalls selling everything from inexpensive electronics to animal parts to decorated candy skulls. On the market's south side is Plaza de los Mariachis, where bands of musicians decked out in spangled costumes wander among sidewalk cafe tables, serenading paying customers with a time-honored song. Performances of a more spectacular nature take place at the Degollado Theater on Sundays, when the city's celebrated Ballet Folklórico presents shows that are a feast of music, dance and vibrantly colorful costumes.
Also unmistakably Mexican are the charreadas, traditional events similar to an American rodeo but with greater emphasis on specialized equestrian competitions and ceremonial trappings. Another popular spectator sport is bullfighting, which flaunts an inherent brutality that may not appeal to many; the dramatic ritual is, however, alive and well at the Plaza de Toros Nuevo Progreso October through March.
In Depth
Guadalajara's (gwah-dah-lah-HAH-rah) history dates to 1530, just 38 years after Christopher Columbus first reached North America and 9 years after the conquest of Mexico by Hernando Cortés. Another Spanish explorer, Nuño de Guzmán, founded the settlement that today is Mexico's second largest city.
Guzmán was a cruel conqueror; he and his soldiers slaughtered entire Indian communities in the course of exploring the lands west and north of Mexico City. The settlement was relocated several times in the aftermath of Indian attacks and finally ended up in the Valley of Atemajac in 1542. The move was a wise choice, as the valley offered room for unimpeded expansion.
Spanish expeditions left from Guadalajara to gain control of such far-flung lands as the Philippine and Molucca Islands and the island of Guam, and to establish missions in northern Mexico and present-day California. Wealth from the region's farms and silver mines was channeled into the construction of lavish churches, mansions and monuments.
In the late 1850s and early 1860s the city withstood army attacks led alternately by Archduke Maximilian and Benito Juárez; the latter made the city the capital of his reform government for a few months during his forced exile from Mexico City. Today it's a sprawling metropolis, surrounded by high plains noted for horse, cattle and grain ranches.
Guadalajara, a mile above sea level, enjoys abundant sunshine most of the year. High temperatures are normally in the 70s and 80s; uncomfortably humid days are rare. In April and May, the warmest months, it can creep into the low 90s, but always cools off in the evening. The rainy season is June through September. Air pollution is a problem, although not as severe as in Mexico City. A sweater or light jacket will come in handy on chilly nights.
Guadalajara even has its own word: tapatío. Reputedly derived from tlapatiotl, a term used to denote cacao or other small objects frequently used as units of exchange in Indian marketplaces, it now refers to any person, thing or quality that is indisputably Guadalajaran, like the jarabe, or Mexican hat dance, and mariachi music.
By Air
Miguel Hidalgo International Airport is about 17 kilometers (11 miles) southeast of the city off Mex. 23. Aeroméxico, Alaska Airlines, Delta, Interjet, United and Volaris offer direct flights from U.S. cities. International connections are usually via Mexico City. Numerous half-hour flights connect Guadalajara with Puerto Vallarta. Routes and direct-flight availability vary depending on the time of year, so check with the airline or a travel agency before booking.
Airport Transportation (Autotransportaciónes Aeropuerto, ATASA) offers shared-ride shuttle van service to and from any place in the metropolitan area. Tickets are sold at a booth outside the terminal exit; fares are based on a zone system and average about $16 per person (U.S.). For details phone (33) 3688-5289. Taxis also take passengers to and from the airport; the fare to the downtown area is about $30 (U.S.).
By Car
Guadalajara's location between the Pacific coast and central Mexico makes it an ideal base from which to explore Jalisco and the surrounding states of Nayarit, Zacatecas, Aguascalientes, Guanajuato, Michoacán and Colima. Mex. 15/15-D is the major highway from the northwest; Mex. 54 from the north and northeast. Mex. 80 proceeds southwest to coastal Mex. 200, which heads south to Manzanillo or north to Puerto Vallarta. With the exception of Mex. 15-D, all of the above routes are old (free) highways.
The Guadalajara-Manzanillo toll highway, Mex. 54-D, begins at El Cuarenta, on Mex. 15 south of the city. Although the distance to Colima is not much shorter than that traveled on free Mex. 54, the toll road avoids the latter's narrow, winding stretches.
Toll highway Mex. 15-D provides a direct link between Guadalajara and Mexico City. It takes between 5 and 6 hours to drive the 540-kilometer (335-mile) route. Expect to pay around $50 (U.S.) in toll charges.
South of and roughly parallel to Mex. 15-D is old Mex. 15, a winding road that hugs the southern shore of Lake Chapala and passes through the cities of Morelia, Zitácuaro and Toluca on its way to Mexico City—a scenic but much more time-consuming alternative. The road is in poor condition in places, and driving the stretch from Morelia to Mexico City is not recommended because of safety and security concerns.
By Bus
The big, modern New Bus Station (Nueva Central Camionera) is about 10 kilometers (6 miles) southeast of downtown outside the suburb of Tlaquepaque (on the way to Tonalá). Bus lines service practically every destination in the country; several of the bigger companies are connected with Greyhound Lines Inc. Cross-country buses make frequent trips between Guadalajara and border points. First-class travel compares favorably with major U.S. lines; these buses are the standard size but carry fewer passengers.
Seven terminal buildings (módules) in the U-shaped station accommodate different bus companies; some have a presence at several terminals, so you need to find the terminal associated with your specific destination. Amenities include shuttle bus service, luggage storage (guarda equipaje), restaurants, restrooms, Ladatel long-distance phones and tourist and hotel information (although the booths are not always staffed). City buses and colectivos designated "Centro" or "Central" travel between the bus station and downtown. You also can take a taxi from this station to the downtown area. Taxi tickets are sold inside each terminal building; fares are based on a zone system.
For shorter bus trips to Tequila, the Lake Chapala suburban communities or other towns within a 60-mile radius of the city, use the Old Bus Station (Antigua Central Camionera), located off Avenida Dr. R. Michel at calles Los Angeles and 28 de Enero (in the city center and just northeast of Parque Agua Azul). Also shaped like a U, it consists of two wings (salas) and has luggage storage, restrooms and food stands. There are taxi stands on either side of the terminal. Inexpensive shuttle service is provided to the New Bus Station.
Route, schedule and fare information can be obtained at two offices located on Calzada de la Independencia where it runs beneath Plaza Tapatía. Hours are daily 9-2 and 4-7.
City Layout
The city is divided into four sectors; street names change when a new sector is entered. The major north-south routes are Calzada Independencia/Calzada Gobernador Curiel, which divides Guadalajara into east and west sectors; Avenida Alcalde/Avenida 16 de Septiembre, which passes through the Historic Center (Centro Histórico); Avenida Federalismo/Avenida Colón, which runs a few blocks west of Alcalde; and Avenida López Mateos, the main thoroughfare passing through a concentration of malls, upscale shops and restaurants west of downtown.
The major east-west routes are Avenida Circunvalación, which runs north of downtown; Avenida Avila Camacho, which provides access to the northwestern suburb of Zapopan; Avenida Independencia/Avenida Industria (not to be confused with Calzada Independencia), which runs through the historic center a block north of the cathedral; Avenida Vallarta/Avenida Juárez/Avenida Javier Mina, which also runs through the historic center and divides the city into north and south sectors; and Avenida Guadalupe/Avenida Niños Héroes/Calzada González Gallo, which links points of interest in the southern part of the city.
The carefully preserved downtown historic district is the chief tourist attraction. Forming a shape somewhat like a giant cross are four plazas, each offering a distinct personality: Plaza Tapatía, Plaza de la Liberación, Plaza de Armas and Plaza Guadalajara. They all surround the cathedral, the heart of the old city. Here, amid narrow cobblestone lanes and weathered two- and three-story buildings, street vendors and shoeshine boys are an integral part of the urban landscape.
Plaza Tapatía is conveniently located close to museums, monuments and grand examples of colonial architecture. It features tree-shaded parks, stone walkways and burbling fountains as well as numerous restaurants. On Sundays, dressed-up families stroll up and down Plaza de la Liberación, just east of the cathedral at Tapatia's western end. A narrow waterway runs along this plaza, which is bordered on both sides by shops and more restaurants. A statue of Father Miguel Hidalgo shows the priest holding a broken chain, a symbol of his call to end slavery in Mexico.
Plaza de Armas, a block south of the cathedral, is the city's traditional main square, bordered on the east side by the Government Palace. Plaza Guadalajara (just west of the cathedral) was formerly called Plaza de los Laureles for the Indian laurel trees that shade it. The church on the plaza's north side, built in the mid-20th century, is one of the newer buildings in the historic center.
West and south of the historic center the boulevards are wider and the buildings taller. Along north-south Avenida Chapultepec between Avenida Niños Héroes and Avenida México—about 20 blocks west of the cathedral—are office buildings interspersed with stores and restaurants. Farther west, along Avenida López Mateos between Avenida Vallarta and Avenida Mariano Otero, are major hotels, nightlife venues and the big Plaza del Sol mall.
Two thoroughfares loop around Guadalajara. The inner Avenida de la Patria travels around the western half of the city between Avenida de las Américas and Avenida López Mateos. The outer Anillo Periférico encircles the entire metropolitan area; navigating this two-lane route can be slow going, however, due to potholes and heavy truck traffic. Glorietas (traffic circles) mark busy city intersections.
Note: Due to air pollution levels, all vehicles with Jalisco license plates must pass a tune-up test. Vehicles with out-of-state plates, however, are exempted.
Rental Cars
Hertz is one of many rental car agencies with offices at the airport and downtown. Be sure you fully understand the terms of any rental contract, especially with regard to insurance coverage. It's significantly less expensive to reserve before you leave home; make reservations at least 1 week in advance.
Note: AAA members enjoy discounts through Hertz for vehicles booked in the United States. Consult your local AAA club or phone Hertz, (800) 654-3080.
Buses
Buses are the most economical means of local transportation, and they cover every part of town. City buses run daily every 5 to 10 minutes from 6 a.m.-11 p.m. School bus-style vehicles have the cheapest fares (about 50c U.S.), but also are quite likely to be very crowded.
Tur buses (operated by Linea Turquesa), turquoise in color and with the letters "TUR" designated on the side, cost more (about 90c U.S.) but are air conditioned, do not carry standing passengers and travel to such outlying tourist destinations as Tlaquepaque, Tonalá and Zapopan. Par Vial buses travel a central east-west route along avenidas Independencia/Hidalgo as far west as Minerva Circle (at Avenida López Mateos); from there, they double back along Avenida Vallarta/Juárez, a few blocks south.
Privately operated colectivos (minivans) cost about the same as city buses; some have their destination marked on the windshield, although routes and pick-up points change frequently.
Taxis
Compared to the bus, a taxi ride in Guadalajara is expensive. Even short 10-minute rides are likely to cost at least $8 (U.S.). Rates go up at night. All cabs are equipped with a meter, but drivers can be reluctant to use them, quoting a flat fee instead; make certain you agree on a destination and a fare with the driver before entering the cab. Check at your hotel's front desk for current fares; bellboys can often assist those who don't speak Spanish.
Most cabs are found at or called from a cab stand (sitio). Sitios are located near all the major hotels and attractions. The safest option is to stick with cab drivers who are affiliated with your hotel.
Parking
On-street parking in the city center is scarce. Public parking garages generally charge a fixed rate per hour; few are insured for customers. Parking lots charge less than garages. An underground lot is below Plaza de la Liberación, just east of the cathedral. Always avoid areas marked "No E," "Estacionamiento Prohibido" (No parking) or "Exclusivo" (Reserved). License plates are removed from illegally parked vehicles, and a fine must be paid to retrieve them.
Public Transportation
Guadalajara's tren ligero (light rail) rapid-transit system has two lines. Line 1 runs north-south along Avenida Federalismo-Colón for a distance of about 10 miles, between the northern and southern stretches of the Periférico. More helpful to visitors is Line 2, which runs east-west along avenidas Vallarta/Juárez and Javier Mina (the street name changes at Calzada Independencia). Trains run about every 15 minutes or so daily 6 a.m.-11 p.m. The fare is 7 pesos; 1-peso coins are needed to purchase tickets. Stops are marked by a "T" symbol.
Guides/Tours
Tour guides with name tags who congregate at the airport and bus terminal are likely to be agents on commission with hotels. The major hotels usually have a list of licensed bilingual guides. Bus tours of the downtown area as well as nearby Tlaquepaque and Zapopan are offered by Tapatío Tours. The company's red double-decker buses depart from Plaza Tapatía; phone (33) 3613-0887 for schedule and fare information. For visitors without a car, this is an easy way to experience the city.
Rides in horse-drawn calandrias (carriages) can be taken throughout the central downtown area for about $20 (U.S.) for up to four people and are a relaxing way to see the sights. Excursions depart from the Regional Museum of Guadalajara, Liberty Market and San Francisco Park. Few drivers speak English, so you may want to familiarize yourself with the layout of the city before embarking.
Elevation
1,552 meters (5,091 feet)
Police (emergency)
Dial 066 or 080 (emergency services) and ask to be connected to an English-speaking operator if you need immediate assistance.
Police (non-emergency)
(33) 3668-0800.
Hospitals
Hospital México-Americano, Calle Colomos #2110, (33) 3648-3333 or 01 (800) 462-2238 (toll-free long distance within Mexico), and the Red Cross (Cruz Roja), (33) 3614-1269, 065 (ambulance assistance) or 01 (800) 667-4767 (toll-free long distance within Mexico), both provide 24-hour emergency service. Major hotels and the U.S. Consulate should have information regarding doctors who are on 24-hour call.
Newspapers
English-language newspapers, including the weekly Guadalajara Reporter, are available at newsstands and the Hotel Fenix, downtown at avenidas Corona and López Cotilla. The monthly Lake Chapala Reporter has information about the communities around Lake Chapala.
Publications
Sandi Bookstore, Av. Tepeyac #718 in the Chapalita neighborhood west of downtown, has English-language newspapers and books. The Sanborns restaurant chain has several area locations and also offers books, newspapers and magazines in English; the downtown branch is at avenidas Juárez and 16 de Septiembre, a block south of Plaza de Armas.
Visitor Information
Jalisco State Tourism Office (Secretaría de Turismo) A tourist information booth is inside the southern doorway of the Government Palace (Palacio de Gobierno), facing Plaza de Armas; it is open Mon.-Fri. 9-3 and 6-8 p.m., Sat. 9-1.Calle de Morelos #102 GUADALAJARA, JA . Phone:(33)3668-1600
U.S. Consulate Calle Progreso GUADALAJARA, JA . Phone:(33)3268-2100
Currency Exchange
A number of casas de cambio (currency exchange houses) are located downtown along Avenida López Cotilla between calles Corona and Degollado, about 3 blocks south of the cathedral. Most of them post their rates, and they normally don't have the lines that banks often have. Dollars can be exchanged at branches of Banamex banks Mon.-Sat. 9-1. A centrally located downtown Banamex branch is on Paseo Degollado, 3 blocks east of the Degollado Theater. ATMs are the quickest and most convenient way to get cash; withdrawals are in pesos.
Staying Safe
The rules in Guadalajara are the same as those in any big city. At night, avoid urban neighborhoods that are away from the downtown core or other tourist areas; dark side streets in particular can be dangerous. If going out for the evening or taking a side trip during the day, it's a good idea to hire a taxi driver affiliated with your hotel. Keep an eye on personal items at all times, especially in the crowded shopping districts, and avoid wearing jewelry or carrying large sums of money. Women are not welcome in cantina bars and other bastions of heavy drinking and machismo attitudes.
Whether it's your first visit or you've been here several times before, don't forget to include these sights and experiences on your to-do list.
By AAA Travel Editor
From a tourist standpoint, Guadalajara might be the most "Mexican" city in Mexico; mariachi music and the Mexican hat dance are just two traditions that originated here. The city has outstanding plazas, museums and shopping. Nearby Lake Chapala, home to a large community of American expats, and the town of Tequila, where several distilleries can be toured, are popular day trips.
Guadalajara is big and spread out, so unless you're familiar with the city it's easier to have your hotel or a local travel agency arrange a guided tour excursion. Check with the concierge to see what options are available. A safe and convenient way to visit downtown's major attractions is to make arrangements with a cab driver affiliated with your hotel.
Shopping
Fashionable shops and boutiques line Avenida Chapultepec between avenidas México and Niños Héroes in Guadalajara's Zona Rosa (Pink Zone). This upper-class area west of the historic center is frequented by tourists.
Malls dot the metropolitan landscape as well. La Gran Plaza Fashion Mall is a sleek three-story collection of stores and a movie theater multiplex on Avenida Vallarta near the Camino Real Hotel. The largest is Plaza del Sol , at avenidas López Mateos Sur and Mariano Otero southwest of downtown. Restaurants and outdoor garden areas offer a break from shopping. City buses designated "Plaza del Sol" travel to the mall from Calzada Independencia in the vicinity of the Liberty Market.
Guadalajara also has an amazing number of shoe stores. Calle Esteban Alatorre, northeast of the historic center, is known locally as "shoe street." Galería del Calzado , on the west side of town at the intersection of avenidas México and Juan Palomar y Arias, is a shoe shopping center covering a square block.
Nightlife
Inquire at the front desk or ask a bellboy what's happening in town during your stay. Bars and clubs tend to be concentrated in two places: in the historic downtown center, and along Avenida Vallarta in the vicinity of Minerva Circle, an area of hotels and shopping west of downtown.
The lobby bar in the Fiesta Americana Hotel, Av. Aurelio Aceves #225 on Minerva Circle, is a classy club/lounge with live music. Maxim Cabaret , downtown at Calle Maestranza #32 (near Plaza de la Liberación and next door to the Hotel Frances), has live music and a dance floor. Piano music provides the backdrop at the intimate lobby bar in the Hotel Frances.
Several theaters show foreign and repertory films, including the Cine Cinematógrafo, Av. Vallarta #1102 (2 blocks west of the University of Guadalajara Museum of Arts), and Cine-Teatro Cabañas, in the Cabañas Cultural Institute at the eastern end of Plaza Tapatía. Malls such as Plaza del Sol have multiplexes showing the latest American releases.
Soak up the local ambience at Plaza de los Mariachis, on Calzada Independencia Sur between avenidas Javier Mina and Alvaro Obregón (on the south side of the Mercado Libertad). This pretty plaza is staked out by the roving bands of musicians. For a fee (usually about $5 U.S.) they will perform with guitar, violin, trumpet and an enthusiasm second to none. It costs nothing to listen to these serenades from another table, but if you're the one requesting a song, negotiate the price first.
Sidewalk cafés clustered around the plaza are pleasant places to relax during the day, but it's advisable not to linger in this area after dark. Use the pedestrian overpass from the market to avoid the heavy traffic congestion. Pickpockets frequent the plaza, so keep an eye on your valuables.
On Thursday and Sunday evenings the Jalisco State Band gives free performances at Plaza de Armas, across from the Government Palace. The music starts at 6:30 p.m., but if you want a seat at one of the benches arrive at least half an hour early.
Sightseeing
Guadalajara is a convenient base for day excursions to the Lake Chapala communities of Ajijic, Jocotepec and Chapala; to the suburban handicraft centers of Tlaquepaque and Tonalá; to the town of Tequila, known for the production of one of Mexico's more potent brews; and to the suburb of Zapopan, home of the revered Virgin of Zapopan. Casual clothes are suitable for just about any sightseeing excursion in the Guadalajara area, but shorts are frowned upon in churches.
Special Events
Guadalajara's biggest annual event is the October Fair (Fiestas de Octubre). This month-long artistic and cultural festival offers concerts, ballet, opera, theater, movies, folk art expositions and live music. Events take place at various locations, many in the vicinity of Plaza Tapatía, where outdoor stages and pavilions are set up. Hotel and ticket reservations are highly advised for the entire month of October and should be made in advance.
Major celebrations are held on Independence Day, on Sept. 15, and for the return of the Virgin of Zapopan to the Basilica of Zapopan on Oct. 12. Cultural events take place the last 2 weeks of February before the beginning of Lent.
Other festivities with a special tapatío flavor are the Day of the Three Wise Men on Jan. 6; the National Ceramics Fair, in Tlaquepaque during mid-June; the Day of St. James the Apostle in Tonalá on July 25, which features a mock battle with participants representing Indians and Spaniards; and Day of the Dead celebrations Nov. 1-2. Most of these events include tianguis (open-air markets), charreadas (rodeos), fireworks, costumed dancers, mariachi bands and vendors selling regional food specialties.
The Christmas holidays in Guadalajara are celebrated with pastorelas, folk representations of the birth of Christ, and posadas, re-enactments of Mary and Joseph's search for an inn. The city's museums often participate, offering traditional dance programs and providing special refreshments. Families also get together to take part in candlelight processions to each other's homes, and nativity scenes are set up in churches and plazas. If you'll be visiting during December, check with your hotel, the Jalisco State Tourism Office or the bulletin boards at museums for further information.