Shopping in BostonBoston carries on the tradition that great cities equal great shopping. Well-heeled couples peruse exclusive Newbury Street boutiques in the Back Bay, the same neighborhood where scruffy college kids are often seen toting bulging Newbury Comics bags. As scrupulous patrons maneuver around polished antiques crowding tiny Beacon Hill stores, tourists weave their way through the ever-hectic Quincy Market, sampling creamy desserts and fresh chowdah from some of the area's best restaurants along the way.
Back BayCoveting the latest Prada clutch or a hip pair of Valentino shades? You'll have no trouble locating such luxuries in the Back Bay, the product of a massive 19th-century land reclamation project.
A number of major retail destinations are scattered about the upscale Back Bay neighborhood, but one markedly stands out above the rest. While Big Apple fashionistas haunt Fifth Avenue and Hollywood spenders turn up on Rodeo Drive, Boston's own dally along Newbury Street (T: Copley or Hynes Convention Center).
When the weather is agreeable, suburban families, metropolitan socialites, photo-snapping tourists and budget-conscious students cram sidewalks lined by yellow daffodils and moss-covered Victorian brownstones. Well-dressed mannequins front elegant boutiques. Art galleries, like the family-run Vose Galleries (238 Newbury St.), in business since 1841, mesmerize both casual window-shoppers and serious collectors alike, making the area a must-see for any art lovers who want to make the most of their trip.
Another enduring Boston institution, Newbury Comics (332 Newbury St.), was instrumental in cultivating Newbury Street's appeal in the late 1970s. For "a wicked good time" visit this New England chain inundated with hard-to-find vinyl and pop culture baubles (think talking Darth Vader action figures and zombie apocalypse survival kits). The fun-to-browse store is on the west end of Newbury Street, near the Hynes Convention Center.
Close to the Public Garden, Newbury Street mostly shelters high-end retailers such as Giorgio Armani (22 Newbury St.) and Brooks Brothers (46 Newbury St.). Across from Brooks Brothers, the flagship store of Restoration Hardware (234 Berkeley St.) occupies a parklike block on Berkeley Street between Newbury and Boylston streets. If the building looks more like a museum than a home furnishings gallery, that's because it used to be one. The stately neoclassical structure opened in 1863 as the New England Museum of Natural History, the predecessor of the Museum of Science. Even if you aren't looking for furniture, window shopping in the store is one of the best things to do in Boston if you enjoy architectural history.
Off Huntington Avenue in Copley Place (T: Back Bay or Copley), a Back Bay shopping center with more than 70 stores, manicured hands caress the extravagant purses and stilettos lining the walls of Jimmy Choo. Nearby, at sleek Barneys New York, bare feet nervously await a pair of knee-high boots while another stockinged set model ballerina flats before a full-length mirror. At the mall's core, worn-out shoppers lounge beside a waterfall sculpture in the well-lit atrium, bags from Neiman Marcus, Tiffany & Co. and Tory Burch at their feet.
Enclosed bridges link Copley Place to Copley Square's refined Marriott and Westin hotels as well as to The Shops at Prudential Center (T: Prudential), where such stores as Ann Taylor and L'Occitane entice passersby strolling glass-roofed arcades. Prudential Tower, the second-tallest building in Boston, soars over the busy retail complex. For a break from the clothes racks, head up to the Skywalk Observatory at Prudential Center and survey the bustling ant-like creatures below. Or, kick back in the South Garden, a tranquil open-air retreat at the southwest corner of the mall, and take in views of the 749-foot-tall skyscraper mingling with the clouds.
Anchoring The Shops at Prudential Center is Saks Fifth Avenue. The center also is accessible via an entrance on Boylston Street, a busy commercial thoroughfare that's home to a three-story, glass-fronted Apple Store, a dramatic interloper on a block of staid brick and concrete.
Another interesting Back Bay storefront is that of Bodega (6 Clearway St.), a high-end men's boutique best known for its secret entrance: a Snapple vending machine inside what appears to be a run-of-the-mill convenience store. Sweet kicks from brands like ASIF, Nike and Saucony are the main draw in the hidden back room, but if you've got the cash, you can put together an entire street-ready ensemble sure to put a little swag in your step. This unique store is an entirely new type of adventure travel.
Beacon HillAs with almost everything else in Boston, shopping has its ties to history. The Beacon Hill neighborhood is a true charmer with its gas-lit lamps, cobblestone passageways and whimsical door knockers. Connoisseurs stalking fine 18th-century furniture, silver tea sets and decorative porcelain pieces will not be disappointed with the treasures amassed on Charles Street (T: Charles/MGH).
Several businesses setting up shop along the lovely brick-faced lane offer everything from fine Asian antiques to bric-a-brac. Keep your eyes peeled—you may manage to score a few bargain-priced goodies. Discover some surprisingly affordable items at Upstairs Downstairs (93 Charles St.), which has the air of a roadside country store, or tackle Eugene Galleries ' (76 Charles St.) multitude of old prints, photographs and etchings—many of which depict the near and dear "Hub of the Universe."
Selling clothing, baubles and home items alongside the crème de la crème of Greater Boston's vast antiquing empire are posh boutiques with short-and-sweet monikers like Black Ink (101 Charles St.), Dress (70 Charles St.) and Holiday (53 Charles St.).
DowntownMillennium Tower, a 685-foot luxury residential building, looms over Downtown Crossing (T: Downtown Crossing), where blue-collar workers scarfing down street food or quick meals from local places to eat are a common sight. Idlers from the Boston Common (due west) and meticulously dressed professionals from the Financial District (due east) also are attracted to the longtime retail district, thanks to such national chains as Bath & Body Works and Macy's. Pedestrian malls, on Washington Street between Temple Place and Milk Street and on Winter Street between Tremont and Hawley streets, are home to the ubiquitous Boston pushcart, neatly plastered on all sides with the same array of keepsake T-shirts and hoodies you've seen elsewhere in the city.
Luring bargain-loving tourists off the Freedom Trail are the Downtown Crossing locations of T.J.Maxx and Marshalls, both founded in nearby Framingham. For a few sporty souvenirs, poke around the men's section—you could unearth a mother lode of gear emblazoned with New England team logos. More low prices can be found just around the corner on Summer Street. Irish discount retailer Primark opened its first U.S. store in the historic Burnham Building (formerly the flagship of the now-defunct Filene's department store chain) in 2015. Another bonus for bargain hunters is the absence of Massachusetts state sales taxes on single-item clothing purchases of less than $175.
For bibliophiles, there's Commonwealth Books (9 Spring Ln.), crammed with architectural prints, autobiographies, and research materials covering everything from World War II to Egyptian art. A few blocks away at Brattle Book Shop (9 West St.), rows of aging paperbacks and hardcovers whisk browsers away to far-off lands. Three stories of collectible postcards, delicate first editions, weathered maps and fanciful novels have tempted buyers since 1825. In the adjacent courtyard, a checkerboard mural depicts several Bay State authors, including Dr. Seuss and Nathaniel Hawthorne, who guard over throngs of discounted books.
Faneuil Hall & HaymarketTransformed into a festive commercial showplace in the mid-1970s, Faneuil Hall Marketplace (T: State) often is cited as Boston's foremost urban attraction. Young schoolchildren, some perplexed by the unusual spelling of the market's name, gleefully skip about bench-studded pedestrian malls that regularly play host to dance troupes, magicians and other entertainers. Besotted pigeons peck at crumbs beneath umbrella-shaded tables, while another, much larger species of natives frequents this locale for more substantial gastronomic delights from nearby restaurants.
The centerpiece of this shopping extravaganza bounded by North, Congress and State streets is Faneuil Hall, Colonial Boston's town meeting place. Financed by wealthy merchant Peter Faneuil, the hall opened in 1742 and was modeled after London's mercantile structures. Open fish and produce stalls occupied the lower floor, and the upstairs meeting room soon became a forum for heated gatherings of patriots who had begun to chafe under British rule.
These days, a National Park Service information desk is at the center of the historic building; behind it, a small gift area is stocked with MBTA puzzles, apparel stamped with Benjamin Franklin's "Join, or Die" political cartoon and photo books documenting Freedom Trail landmarks. Other small retail spaces line the walls of the hall, including Artists for Humanity—The Store, which sells products (tote bags, sweatshirts, water bottles) showcasing the graphic designs of teen artists. Proceeds support the mission of the non-profit AFH and the talented inner-city youth involved in the organization's creative arts programs.
Opposite Faneuil Hall is Quincy Market—a long, narrow, multistoried structure added in the early 19th century. This copper-domed, Doric-colonnaded, glass-canopied edifice maintains a market-stall layout, although the offerings have expanded beyond basic meats and vegetables. Intoxicating aromas fill the bottom-floor colonnade, where you can savor international and specialty foods—from baklava to raw oysters. Troll the brick and cobblestone alleys along both sides of the building and you'll find pushcarts peddling scented candles, pens, magnets and more.
With the additional North Market and South Market buildings accommodating such nationwide stores as Coach, shopping for yourself is a definite possibility; however, it's easy to see Faneuil Hall Marketplace also is the ideal spot to buy gifts for your friends back home. Decide among such keepsakes as coffee mugs and hats embossed with "Boston Strong," aprons adorned with cartoonish lobsters, and an array of sports-related collectibles celebrating this town's many beloved teams.
Just north of Faneuil Hall Marketplace is the Haymarket , open every Friday and Saturday. The open-air food bazaar takes place along Blackstone Street, approximately between North and Hanover streets, in the same location it has operated in since the 1830s. Even if you're not planning a picnic in the Public Garden, the longtime produce and meat mart—where brazen pushcart vendors alternate between calling out rock-bottom prices on avocados to chiding "handsy" customers squeezing the life out of the merch—is a fun place to people watch.
While historic Haymarket remains the place for insane bargains on perishable goods, its trendy new neighbor, the Boston Public Market (100 Hanover St.), showcases stuff like handmade kitchenware and gourmet jams. Everything sold at the sleek indoor farmers market, which is open Wednesday through Sunday year-round, is either produced or originated in New England.
South EndCountless art galleries reside in the South End's aging industrial buildings—many old brick factories. The greatest concentration is found in the bohemian SoWa Arts District, a revitalized area south of Washington Street and north of Albany Street, between Massachusetts Avenue and East Berkeley Street. The SoWa Artists Guild hosts a free open house the first Friday of every month from mid-July to early December; the entrance to the building, which holds 15 galleries and more than 70 studios, is on pedestrian-only Thayer Street off Harrison Avenue.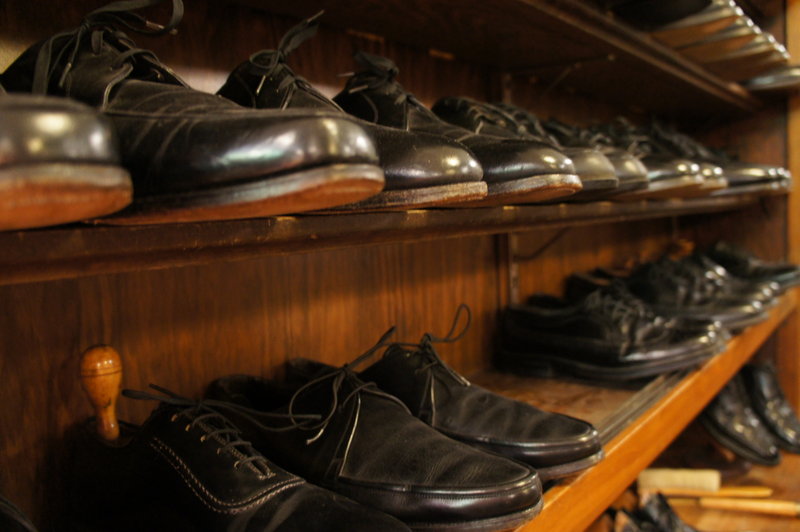 AAA/Photo submitted by Maria White
Even if you're not in the market for a pristine set of wingtips or a groovy, psychedelic scarf, sneak a peek inside Bobby From Boston (545 Washington St.) in nearby Lynn. This immaculate vintage depot screams hip, yet the staff is warm, welcoming and down-to-earth. Founded by Bobby Garnett, a Dorchester native who found success stockpiling clothing, accessories and trinkets from the 1930s, '40s, '50s and '60s, the oft-lauded enterprise—a magnet for fashion designers and celebrity trendsetters—also supplies costumes for many television, film and Broadway productions.
Many Bostonians spend their Sundays rummaging at the SoWa Vintage Market (450 Harrison Ave.), open year-round from 10 to 4. Vendors relentlessly tend to already well-staged merchandise, hoping to attract the eye of those hunting for a broken-in leather jacket or the perfect mid-century modern floor lamp. Not looking to buy a big-ticket item? For under $10 you can score a handful of vintage Boston postcards or a small toy just hankering to take a ride in your suitcase.
On Sundays from early May to late October, the SoWa Open Market , an outdoor craft fair and farmers market, takes place at the nearby Ink Block complex (300 Harrison Ave.), a multiuse development in the former home of the Boston Herald. White tents provide shelter to artisans hawking everything from handcrafted jewelry to chic doggie apparel. In the food truck food court, over 30 mobile kitchens keep the masses' bellies filled with grilled cheese sammies, fall-off-the-bone barbecue and decadent designer cupcakes.
Other AreasTrue sports fans will undoubtedly need to add a stop at the sprawling Red Sox Team Store (19 Jersey St.), across from Fenway Park (T: Kenmore), to the itinerary. If red's not your color, try the Boston ProShop , in the TD Garden off Causeway Street (T: North Station), which carries Bruins and Celtics merchandise. For Tom Brady bobbleheads, jerseys and plenty of other official Patriots memorabilia, head over to the ProShop at Patriot Place, a 1.3 million-square-foot commercial complex next to Gillette Stadium, about an hour's drive from downtown Boston in Foxboro.
For even more shopping options, take the "T" to such hipster havens as Allston or Somerville, where thrift stores overflowing with one-of-a-kind finds are a dime a dozen.
You're certain to stumble across a few used book sales while window-shopping in nearby Cambridge, the ideal hunting ground for those on the lookout for rare and out-of-print texts. Boston's northerly neighbor also is chockablock with upmarket chains and fashion-forward boutiques.