Honolulu EventsIn addition to its many cultural and historic landmarks, this destination hosts a number of outstanding festivals and events that may coincide with your visit.
Dancing, music, crafts and demonstrations at several venues citywide help promote harmony between Hawaiians and people of the Asia-Pacific region during the Honolulu Festival in March. The celebration wraps with the Grand Parade, which wends down Kalākaua Avenue. April's Hawai'i International Film Festival Spring Showcase presents a menu of independent and foreign films.
In late April, Kalākaua Avenue is packed with Spam lovers during Waikīkī Spam Jam , a street festival that celebrates the canned luncheon meat with a cook-off, games and live entertainment. During the Memorial Day Ceremonies at the National Memorial Cemetery of the Pacific (Punchbowl Cemetery) , members of the armed forces pay tribute to soldiers who sacrificed their lives for their country.
Aloha Stadium welcomes the entertainment, cultural and educational displays, food, games and rides of the 50th State Fair from late May through early July. Orchids add a splash of color to the agricultural exhibits at this popular event.
The King Kamehameha Celebration Floral Parade in early June includes the floral parade, entertainment and partying in the streets of Waikīkī.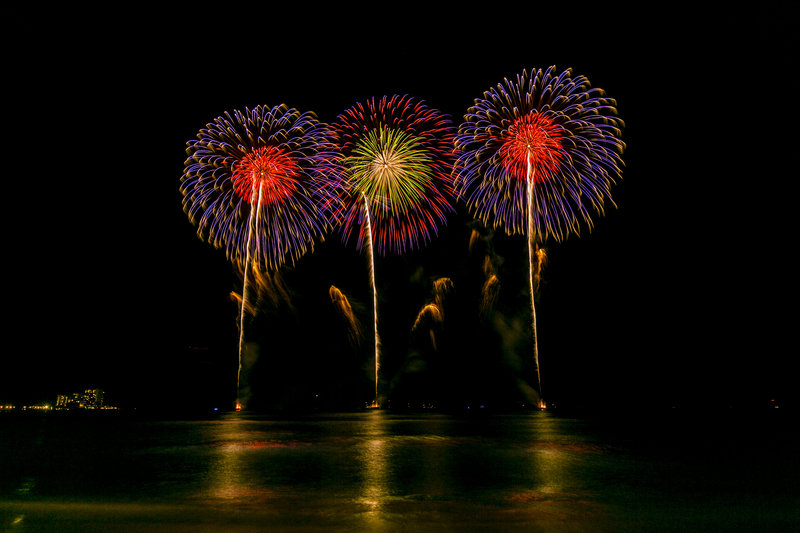 Honolulu Festival Foundation
The Aloha Festivals —a huge-scale celebration that incorporates parades, lū'au, pageants and entertainment on six islands in September—exposes participants to Hawaiian history and traditions, including food, music, dance and art.
If you travel in the fall, a pair of outrigger canoe races—the September Na Wahine O Ke Kai for women and the October Moloka'i Hoe Outrigger Canoe Championship for men—challenge rowers to navigate the 40-plus-mile route across the Ka'iwi Channel from Moloka'i to Waikīkī.
In November, the Hawai'i International Film Festival screens hundreds of productions, focusing particularly on Asian, Pacific Island and U.S. features, documentaries and videos.
The soul-stirring sounds of taps hang in the air during Pearl Harbor Day Commemoration ceremonies on December 7 at the Pearl Harbor Visitor Center . Floral offerings, a rifle salute and a wreath presentation also honor those who perished during the attack.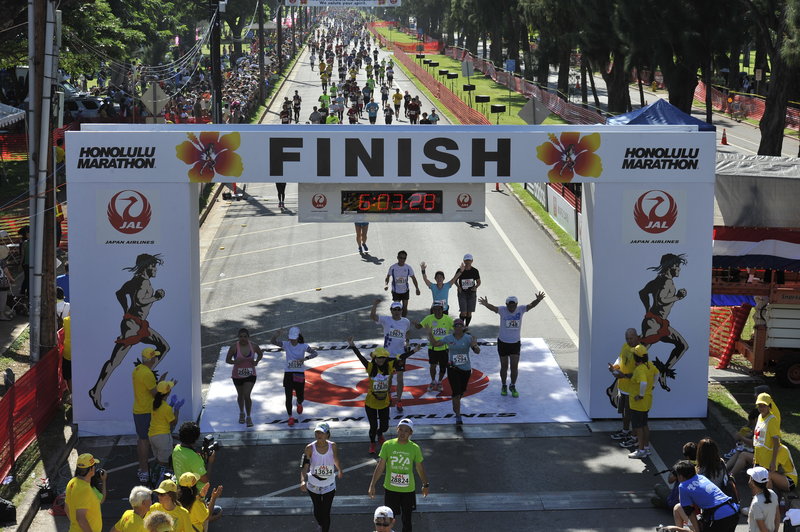 Courtesy of the Honolulu Marathon
A thrill for the more than 30,000 runners plus the cheering spectators who line the route, the Honolulu Marathon covers 26.2 miles on its way to Kapi'olani Regional Park on the second Sunday in December.
In late December the Hawai'i Bowl pits a Conference USA team against a Mountain West team; the postseason game is held at Aloha Stadium.
See all the AAA recommended events for this destination.