Salt Lake City NightlifeYou might think that Salt Lake City—a state capital often associated with sobriety and the Mormon faith—wouldn't have much of a nightlife by big city standards, but it turns out that reputation isn't accurate at all. Almost since its founding there's been a wilder side of SLC, and in recent years Utah has repealed or scaled back many of its strict liquor laws. The truth is downtown Salt Lake City offers a whole host of nightclubs, bars, breweries, music venues and other things to do after sunset. And it's in a compact area that makes barhopping a breeze. Here are the highlights of what to do downtown during your Salt Lake City vacation.
Best Bars in Salt Lake City
Bar X (155 E. 200th S.) and Beer Bar (161 E. 200th S.) are next-door neighbors but are otherwise worlds apart, with those worlds being cocktails versus beer and German-style food. Bar X has been a SLC fixture since Prohibition was repealed in 1933. Although revamped a few years ago, the look and feel is still like something from another century. Cocktail lovers come here to sip classic drinks as well as new concoctions and to just hang out in the slick digs.
And then there's Beer Bar. It's a bar that serves beer. Any questions? Actually there's a little more to it than that. First, they have a huge selection of beers. Fans claim Beer Bar offers one of the best selections in the city. Second, they serve bratwurst that isn't your run-of-the-mill bratwurst. The menu includes sausages made with buffalo and chipotle, chicken and apple, curry and elk. Finally, the beer hall setup with long tables and TVs is great for getting together with friends and watching the game.
For even more beer brands to choose from, try Beerhive Pub (128 Main St.), which took the English pub theme and ran with it, as you can tell from its classic public house exterior and dark wood shelving behind the bar. Being inside an ornate historic building from the 1880s with its distinctive bay windows adds to the old school mood. A nice modern touch is the chilled rail along the top of the main bar that keeps patrons' beers nice and frosty.
Another great century-old Salt Lake City building is home to BTG Wine Bar (404 S. West Temple), which serves wine by the glass (which is where the BTG comes from) in a rustic space trimmed in oak, giving the place the feel of a wine cellar. The chandeliers made from inverted wine glasses add a whimsical touch, and sitting at a cozy table perusing the extensive wine list with your significant other is one of SLC's romantic things for couples to do.
Cocktail Bars in Salt Lake City
Like a library for liquor, Whiskey Street (323 S. Main St.) displays its selection of whiskeys on dark wood shelves behind the main bar with some bottles being so pricey that they are locked away in display cabinets. The whole feel of the narrow space is Western saloon meets 21st-century urban oasis. Whether you grab a booth along the wall or sit companionably with friendly strangers at the bar, you'll likely have a great time sampling from the long list of whiskeys and beers at this nighttime destination.
If you're the kind of traveler who likes to hang out with the locals on your vacation, consider Alibi Bar & Place (369 S. Main St.), a very small and classy spot downtown serving creative cocktails. The crowd is diverse and inclined toward the hipster end of the spectrum, while the bartenders are friendly and very willing to help you select the perfect drink.
Some Fun Things to Do at Bars in Downtown Salt Lake City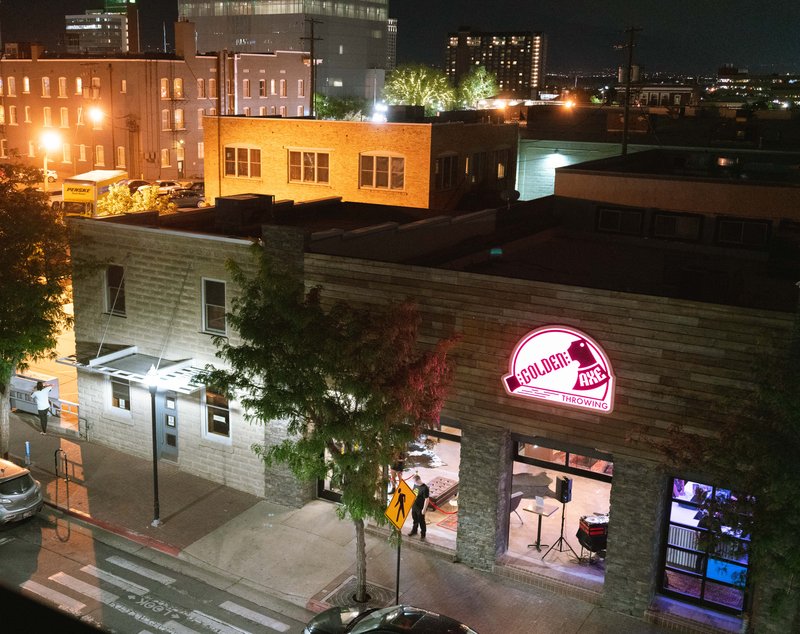 Courtesy of Golden Axe Throwing
Alcohol and axe throwing. What could go wrong? But don't worry. They take safety seriously at Golden Axe Throwing (145 Pierpont Ave.), a quirky bar that just happens to offer high-tech axe-throwing lanes as well as other arcade games. How high-tech can throwing an axe get? Well, the targets are projected and the scoring is done electronically, so arguing about who hit the bullseye won't be an issue. Don't know how to throw an axe—safely? A Golden Axe "axepert" will show you how. If you've ever wanted to let your inner Paul Bunyan loose, this is the place. Just be sure to reserve your lane in advance. And oh yeah, they serve drinks!
Another bar-and-game combo offering tons of fun things to do with friends is Quarter's Arcade Bar (5 E. 400 S.). Head downstairs into this casual basement establishment to play pinball, Skee-Ball, foosball, TV console games, classic board games or such retro arcade games as Asteroids, Donkey Kong, Millipede and Super Pac-Man. The cocktails have on-point names like "The Hulk Smash" and the "Techno Pagan," and the atmosphere is relaxed and sociable.
Offering a clever riff on a Salt Lake City landmark, The Tavernacle Social Club (201 E. 300th S.) offers guests as much spotlight as they want to grab during karaoke nights, sing-alongs and a dueling piano show. The incredibly talented entertainers have a huge repertoire, and the bartenders are no slouches either.
Dance Clubs in Salt Lake City
If you're looking for things to do late at night, Urban Lounge (241 500 E.) is a no-frills music venue that's small enough that you're never far from the bands. It leans toward showcasing local acts but books international artists as well. Seating is limited and most of the audience stands, but you can pay a fee to reserve a booth if you are so inclined.
A newer club with an electronic dance music vibe is the sophisticated Ibiza Ultra-Lounge (180 W. 400 S.). The sound system and lighting are state of the art and despite having only recently arrived on the SLC nightlife scene, Ibiza has already earned a reputation as one of the top things to do downtown after dark.