Chicago Sightseeing
Boat ToursBoat trips travel along the Chicago River, through the locks into Chicago Harbor and Lake Michigan.
Mercury Chicago's Skyline Cruiseline
Wendella Boats & Chicago Water Taxi
Bus and Trolley Tours One of the best ways to get oriented and view a multitude of sights during your trip is to take a bus tour. City orientation tours, including land and lake tours, are available at the Palmer House at 17 E. Monroe St. through American Sightseeing Tours, (312) 251-3100.
Chicago Trolley & Double Decker Co.
Driving ToursExploring the area's scenic bluffs and historic sites can be as simple as hopping into a car. Beginning in Illinois and ending in California, Route 66 served as an important travel route between the Midwest's rural communities and Chicago. The road now paves its way through America's cultural past, with an abundance of drive-in movie theaters, roadside restaurants, vintage gas stations and other charming landmarks found along its course. Information and maps can be obtained from the Illinois Route 66 Scenic Byway; phone (217) 525-9308.
Chicago Food Planet Food Tours
Walking ToursThe Chicago Architecture Foundation Shop and Tour Center, 224 S. Michigan Ave., offers an array of walking tours as well as bus, boat, trolley, "L" train, Segway and bicycle tours.
One of Chicago's many architectural landmarks is the Merchandise Mart, on the north bank of the Chicago River between Wells and Orleans streets. Covering two city blocks, this destination is one of the world's largest commercial buildings. About 7.5 miles of corridors link hundreds of wholesale showrooms that display millions of dollars' worth of commercial and home furnishings. Shops on the first two floors are accessible to the public. A guided walking tour, however, is available; phone (312) 922-3432 for schedule and tickets.
Also departing from the Chicago Cultural Center are free visitor orientation tours. The Chicago Greeter program offers 2- to 4- hour walking tours of more than 25 neighborhoods or 40 special interest topics. Visitors are matched with local volunteer guides based on special interest and language. Visitors must register for tours at least 10 business days in advance; phone (312) 945-4231. Free 1-hour downtown walking tours departing from the InstaGreeter booth in the Cultural Center are offered on a first-come, first-served basis Fri.-Sat. 10-3, Sun. 11-2. InstaGreeter tours of Millennium Park also depart from the Cultural Center daily at 11:30 and 1, Memorial Day weekend through Columbus Day.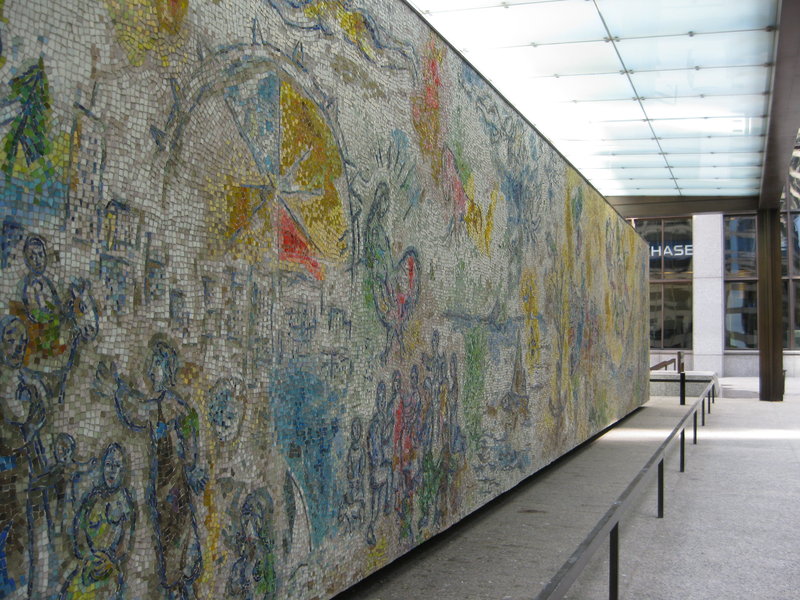 AAA/Frank Swanson
Not all of Chicago's art is confined to museums. The Richard J. Daley Plaza, Washington and Dearborn streets, offers the controversial sculpture known as "The Chicago Picasso." Farther south on Dearborn, at the Chase Tower Plaza at Monroe Street, is "The Four Seasons," an acclaimed mosaic by Marc Chagall. The bright red "Flamingo" that dominates Chicago Federal Center Plaza, Adams and Dearborn streets, is by Alexander Calder. Twenty-two American Victorian stained glass windows are on display in the underground Loop pedway near Macy's, if you're looking for things to do on a cold day. Guided tours of the historic Macy's building on State Street (formerly Marshall Field's) depart from the lower level Fri. at 11:30. Tour highlights include the Tiffany vaulted ceiling and Burnham fountain.