Grand Teton HikesBy Suzanne Lemon
Grand Teton National Park is a hiker's paradise, with a winning combination of spellbinding scenery and well-marked trails of all ability levels. Pack some water as well as gear suitable for afternoon rain showers. Although you're probably more likely to sight a bear scrounging for food scraps in a campground than on a trail, it's good practice to make noise or clip a "bear bell" to your pack—you don't want to startle these unpredictable creatures. If you plan to explore the backcountry, carry bear spray and learn how to use it.
Easy Hikes
For a low-key trek on level ground, try Lakeshore Trail (2 miles round-trip/easy), a peaceful walk winding along Jackson Lake and Colter Bay amid a backdrop of stately Teton peaks. Meander by forest and gurgling streams on String Lake Trail (3.7 miles round-trip/easy). Shallow water makes the lake a popular swimming hole, so take a dip to cool down. Jenny Lake Loop (7.1 miles round-trip/easy) circles the glacial body of water and presents picture-postcard views of the Tetons—to avoid the crowds, depart early.
Moderate Hikes
For a mid-range journey, Taggart and Bradley Lakes (5.9 miles round-trip/moderate) fits the bill. The underused trail follows a creek to Taggart Lake, and then travels across a moraine to the pristine forest surrounding Bradley Lake. There's a good chance of spotting birdlife on sparsely populated Two Ocean Lake Trail (6.4 miles round-trip/moderate) as the flat shoreline traverses marshes, lush meadows dotted with wildflowers, and conifer and aspen stands. A phenomenal view of Jackson Hole Valley awaits you on the Signal Mountain Summit Trail (6.8 miles round-trip/moderate). It's a little steep at the onset, but then it gradually levels out—you may have company up top, since a paved road leads drivers to the summit of Signal Mountain .
Moderate to Strenuous Hikes
Hidden Falls and Inspiration Point Trails (6 miles round-trip/moderate-strenuous) is a mixed bag: the Hidden Falls section is moderate, yet the Inspiration Point terrain is moderate to strenuous. (If you choose to take the shuttle boat across Jenny Lake, this hike is a two-mile round-trip.) Majestic Teton pinnacles loom in the background as the path winds along a stream that eventually becomes Hidden Falls; from there, it's an arduous half-mile uphill trek to Inspiration Point, which presents an impressive panorama of Jenny Lake. At this point, you can continue on Cascade Canyon Trail (9 miles round-trip/moderate-strenuous), which begins with a steep (but short) ascent, and then plateaus out. Canyon residents include chirping songbirds, yellow-bellied marmots sunning themselves on boulders, and moose and mule deer hunting for tasty shrubbery. Even in summer, you may see snow here.
Challenging Hikes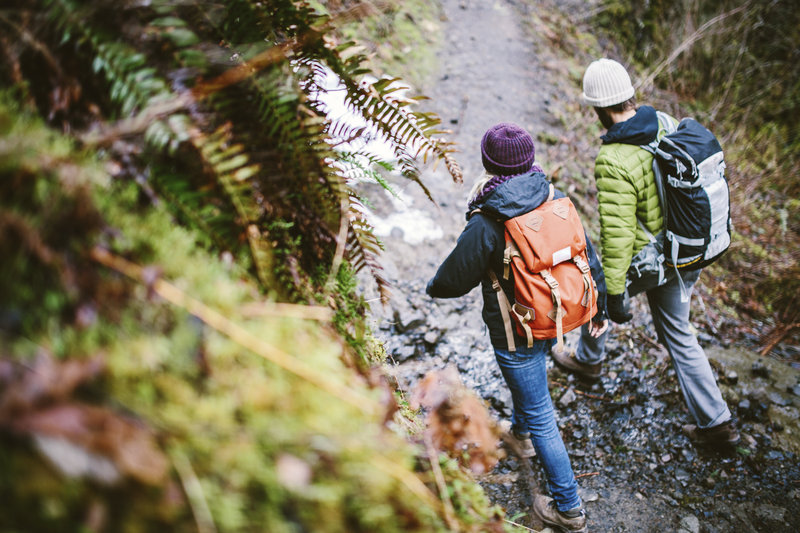 RyanJLane-/iStockphoto.com
Expert hikers hit the Death Canyon Trail (7.9 miles round-trip/strenuous), which climbs into a deep canyon with imposing vertical walls—a lovely creek ripples down the rugged rock faces, creating an otherworldly beauty. If you're fit and ready for a 2,958-foot elevation gain, take Amphitheater Lake Trail (10.1 miles round-trip/strenuous) past Surprise Lake and on to Amphitheater Lake, situated at a height of more than 9,500 feet. You'll experience a variety of ecosystems, as you encounter hills dusted with wildflowers, wooded moraines and alpine tundra. Paintbrush Trail (15.8 miles round-trip/very strenuous) is a tough excursion skirting the backcountry. Plenty of rocks and loose gravel make this route dicey, but the ultimate reward is an unsurpassed 360-degree view of the grandiose Teton peaks, Jackson Hole Valley and the Snake River.
Before you venture into the great outdoors, stop by one of the visitor centers to check on weather and trail conditions. It's also a good idea to seek a ranger's advice about what routes are best suited to your ability level.