About Everglades National Park The park's main entrance is reached via SR 9336 from US 1 at Florida City. Everglades National Park, the largest remaining subtropical wilderness in the nation, is a diverse and intricately linked series of habitats sheltering a variety of plants and animals, including 39 species listed as threatened or endangered, or which are candidates for listing. The park contains more than 1.5 million acres of natural habitat, half of them water, and includes Cape Sable, the southernmost point on the U.S. mainland. From Cape Sable the park extends 45 miles north along the Gulf of Mexico and 30 miles east, including Florida Bay.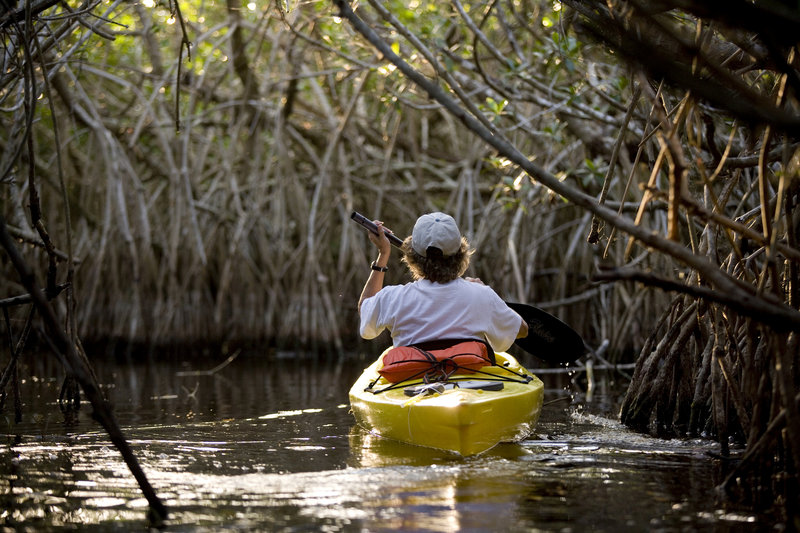 AAA/iStockphoto.com
The Everglades ecosystem, which is much larger than the park, was originally a slow-moving freshwater river, 50 miles wide and a few inches deep, fed by Lake Okeechobee. Much of the region is wetland including saw grass marsh and mangrove forest dotted with hammocks and salt prairies. Except for the pinelands and the highest hammocks, any spot can flood in the rainy season.
Increased development in southern Florida imperils the area. Canals alternately drain and flood the region to meet the water demands of nearby cities, but in doing so they reverse the natural wet and dry cycles of the Everglades. Although fire occurs naturally in this environment, drought and canal drainage have magnified its destructive impact.
The land areas are not more than 8 feet above mean sea level, and bay bottoms are not more than 16 feet below mean sea level. The Ten Thousand Islands area conceals a strange kind of beauty and tranquility within its tide-swept maze of islets, oyster bars and mud shallows.
Trees and flowers are much the same as those found in Cuba and the West Indies. At least seven species of native palms grow within the park. The stately royal palm is found in greatest numbers at the Royal Palm Nature Center. In addition to the tropical and subtropical trees and shrubs, there are more species belonging to the temperate zone and multitudes of ferns, orchids and air plants. Beware of the saw grass; its sharp barbs can easily slash bare skin and thin clothing.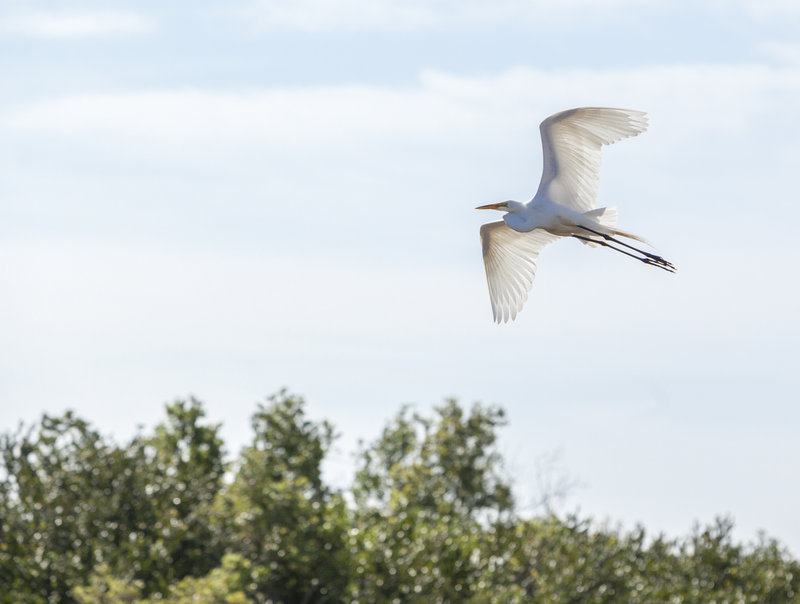 AAA/iStockphoto.com
The park is home to more than 300 species of birds, many of which leave during summer. Among those that stay are two species found only in the southernmost tip of the Florida peninsula: the Cape Sable seaside sparrow and the great white heron. One species that does proliferate is the mosquito; strong insect repellent is a necessity from May to November and is recommended all year.
The Everglades is among the few remaining places where the manatee, or sea cow, and the rare American crocodile are assured a permanent sanctuary. Along with more than 600 species of fish, alligators, snakes and sea turtles are common. Bottlenose dolphins occasionally are seen. A fishing license is required for all fishing areas, and bag limits are strictly enforced for both freshwater and saltwater fishing.
General InformationEverglades National Park is open all year. From the headquarters and visitor center at the main entrance, this 38-mile road continues to Flamingo. The scenic Tamiami Trail (US 41) skirts the park's northern border and leads to the Shark Valley and Everglades City entrances.
Few people really know the waterways of the Everglades. Most of the waters have been charted by the U.S. Coast and Geodetic Survey, and visitors traveling by boat should obtain these charts at area bait and tackle shops before starting their trips. Permits are required for overnight backcountry camping and must be applied for in person at the Flamingo or Gulf Coast Visitor Centers, no more than 24 hours in advance. As a safety precaution, park officials urge boaters to file trip plans with the park before their departures and that visitors to the backcountry carry an electronic personal tracking (EPT) device.
Five marked canoe trails offer 5- to 22-mile round trips from the Flamingo area, and the 99-mile Wilderness Waterway winds between Flamingo and Everglades City. Canoe rentals are available at outfitters in Flamingo and Everglades City; visitor centers distribute trail maps.
Along the main park road between park headquarters and Flamingo are six major boardwalk or blacktop nature trails. Flamingo has a campground and a visitor center which is open mid-November to mid-April. Campsites are available on a first-come, first-served basis mid-April through mid-November, otherwise by reservations. Campers should carry mosquito repellent. Phone (239) 695-2945 for the visitor center or (877) 444-6777 for campground reservations.
A ranger-led walking/driving tour of the Nike Hercules Missile Site HM-69, one of four facilities constructed in south Florida in response to the Cuban Missile Crisis, is offered December through April. The tour includes the battery control and launch areas. Other tours also are offered; phone (305) 242-7700.
Boat tours depart from Flamingo Marina and from the visitor center in Everglades City. Reservations are recommended for Flamingo-based tours; phone (239) 695-3101 or (239) 695-2591, respectively.
Sightseeing opportunities by independent operators are abundant. Boat trips through a portion of the Ten Thousand Islands area leave from nearby cities. Airboat rides, available outside the park, are offered by private operators along the Tamiami Trail (US 41) west of Miami and along SR 9336 near the main entrance to the park.
Self-guiding bicycle, kayak and canoe trips originate in many areas of the park; phone (305) 242-7700.
Attractions Visitor Centers
ADMISSIONADMISSION to the park at the Homestead and Shark Valley entrances is $30 per private vehicle, $25 per motorcycle or $15 per person arriving by bicycle or on foot and is valid for seven days; free (ages 0-15).
PETSPETS are permitted only in roadside campgrounds and picnic areas, on roadways open to public vehicular traffic, on maintained grounds surrounding public facilities and aboard boats. Pets must be leashed and under close supervision at all times.
ADDRESSADDRESS inquiries to Everglades National Park, 40001 SR 9336, Homestead, FL 33034; phone (305) 242-7700.
Points of Interest
Attractions Anhinga Trail