Best Restaurants in Las Vegas
Our favorites include some of this destination's best restaurants—from fine dining to simple fare.
Las Vegas has come a long, long way from the heyday of bargain shrimp cocktails and all-you-can-eat buffets. While those fabled buffets and restaurants will always be around—and they remain justifiably popular—more than ever the city is a hot spot for global cuisine and the cutting-edge talents of world-renowned chefs. It's heaven for foodies as well as those with money to burn while on vacation. And not surprisingly, the Strip is the heart of this sophisticated dining scene.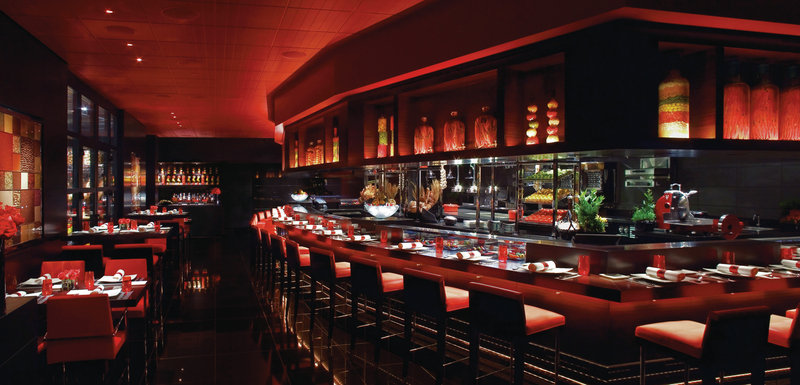 Courtesy of LAtelier De Joel Robuchon/LAtelier De Joel Robuchon
If you happen to get really lucky at the gaming tables, take our advice: Quit while you're ahead, cash out, dress to the nines (you did pack at least one dressy outfit, didn't you?) and head to Joël Robuchon for a sumptuous celebration. The French restaurant at the MGM Grand Hotel & Casino is traditional in every way. Robuchon, anointed France's "chef of the century" by none other than the esteemed Gault Millau restaurant guide, came out of retirement to open his first restaurant in the United States. One taste of specialties like Le Caviar—a trio of couscous and Oscetra caviar, cauliflower cream and a king crab and crustacean gelée—and you know you're not eating in a casino coffee shop during your trip. You could order a la carte, but one of the multi-course tasting menus is the best way to savor creations like truffle langoustine ravioli or French hen with roasted foie gras and confit potatoes. Seating is limited, and reservations are strongly recommended, so keep that in mind while planning your itinerary for airline flights and things to do this weekend.
Long a standard for Big Apple fine dining, Le Cirque also pitches its vibrantly colorful, swooping silk-dome tent at the Bellagio . The Maccioni family's attention to detail is what allows this sophisticated restaurant to push the sensory envelope, and it doesn't hurt that diners also have a prime view of Lago di Bellagio's lovely dancing fountains.
Fine Wine and Dining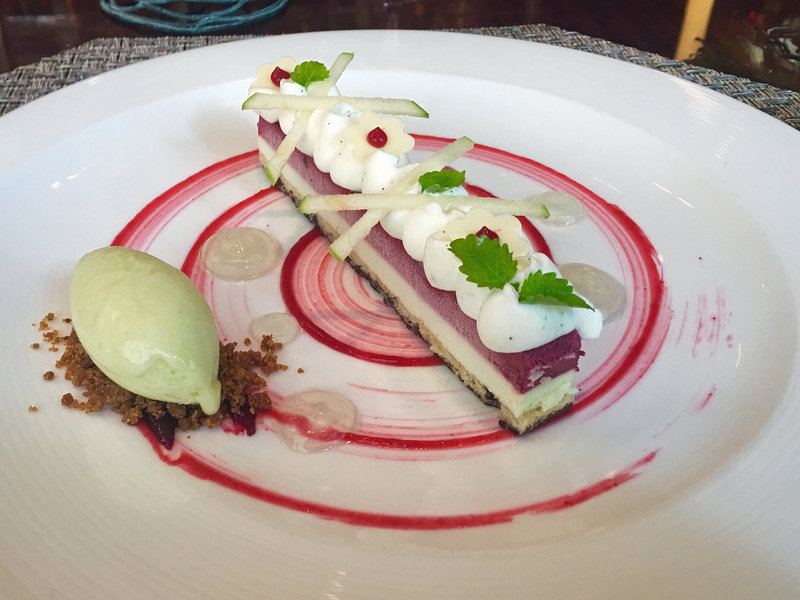 AAA/Inspector 592
Fine dining with an American accent prevails at Aureole in the Mandalay Bay Resort & Casino . The Vegas outpost of critically acclaimed chef Charlie Palmer's New York restaurant upholds the same high standards. The decor has a theatrical flair: swans, gorgeous flower arrangements and "angels" flying through the restaurant's wine tower. Aureole's onion soup is deliciously on point—beef consommé with onions, foie gras and truffles topped with Gruyère cheese puff pastry, much better than standard airfare cuisine selections. Main courses like a simply rare Ahi tuna with diver sea scallops or roasted Jidori chicken are gussied up with exquisite sides. For dessert, you'd be crazy to pass on the orange cream semi-freddo flambé.
Where Food Becomes Art
Picasso , named for the artist's original paintings and ceramic pieces that grace this charming restaurant in Bellagio, has the feel of an outdoor market: lakeside location, abundance of fresh flowers and view of the hotel's signature fountain. Executive chef Julian Serrano's cuisine is inspired by the regional dishes of both France and Spain, and it changes daily depending on what's seasonally available. Choose from either a five-course degustation or a four-course prix fixe menu. Serrano's deft hand is evident in such dishes as warm quail salad with artichokes and pine nuts and a tournedo loin of lamb with pisto, tempura zucchini flowers and mint aioli. Even cheesecake is elevated to lofty culinary heights, adorned with blackberry and Earl Grey latte sherbet and bergamot pate de fruit. In a word, delicious.
If you can use some exotic booze, slip into the bar at Sinatra , in the Encore Las Vegas , and order the signature Sinatra Smash cocktail-a "koo-koo" concoction of Gentleman Jack, muddled blackberries and vanilla syrup over crushed ice. Sliding over to the classy restaurant, the best is yet to come. Chef Theo Schoenegger flies you to the moon with knockout appetizers (Frank's clams Posillipo) and mains like osso buco "My Way." The menu prices wouldn't faze Ol' Blue Eyes, but some of us "bums" will go into cardiac arrest at the sight of $50 entrees. Don't miss the Chairman's genuine "From Here to Eternity" Oscar trophy, on display near the hostess stand.
An All-in-One Dining Experience
AAA/Diana Beyer
The Cosmopolitan of Las Vegas houses an enviable collection of restaurants. Among the dozen or so establishments you'll find a hip sushi bar, the requisite high-end steakhouse and the gourmet burger restaurant Holsteins Shakes and Buns. But one eatery you won't see on the casino directory is what's known as the "Secret Pizzeria." To find it, head up to Cosmo's third level. Directly across from the escalators is what appears to be an employee service hallway. The unsigned passageway, lined with old Italian record album covers, leads to a tiny, brightly lit pizza joint with a half-dozen stools, a pinball machine and blasting rock music. Tasty, thin-crust slices go for $5 to $6. Wash a couple down with a soda or beer and you're out the door for under $15—a relative Strip bargain, and the perfect item to strike off your list of local restaurants to try.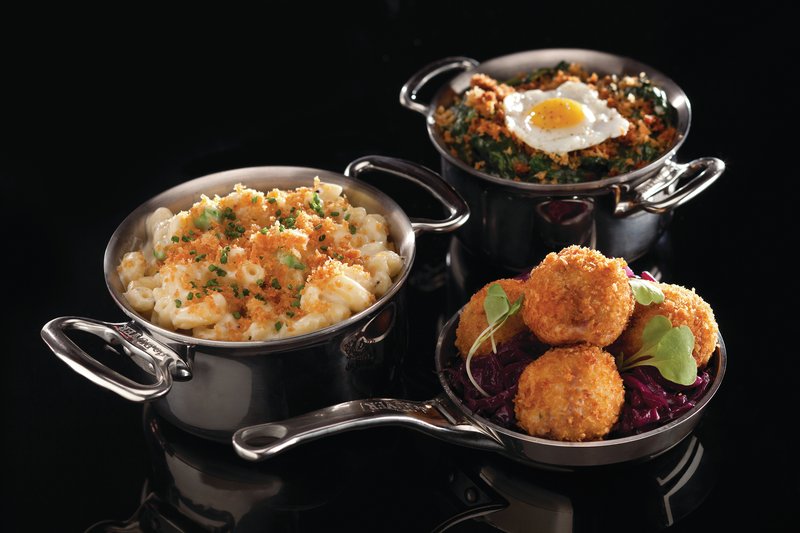 Gordon Ramsay Stea

Nowadays it's no secret Vegas has become a magnet for celebrity TV chefs. In the mid-90s, Emeril Lagasse opened his first Sin City restaurant at MGM Grand, paving the way for a host of TV cooks looking to capitalize on their household names. "Iron Chef" Bobby Flay has Bobby's Burger Palace (next to the CityCenter complex) that does excellent gourmet hamburgers that won't bust your budget. Not to be outdone, Gordon Ramsay Burger finds the foul-mouthed British chef grilling top-notch patties at Planet Hollywood. Ramsay's name also draws fans to Gordon Ramsay Steak at Paris Las Vegas and English-style pub at Caesars Palace. New to town, Italian cuisine queen Giada De Laurentiis recently opened GIADA , her first-ever restaurant, at The Cromwell (formerly Bill's Gamblin' Hall). As for Lagasse, he's still king of the Strip with a total of four eateries. You can't go wrong with his Delmonico Steakhouse at the Venetian.
Sate Your Sweet Tooth
HEXX Kitchen + Bar, in front of Paris Las Vegas, is a café, chocolate lounge and candy store all rolled into one. Always open, the restaurant serves up comfort food for breakfast, lunch and dinner well enough, but the real stars here are the desserts. Appease your sweet tooth with a visit to the chocolate mousse bar, a red velvet sundae or perhaps a pound of retro candies from the bulk candy bins. This also is the spot to indulge in chocolate, specifically the "bean-to-bar" chocolate made on-site. Now you know just where to go for fun things to do with friends.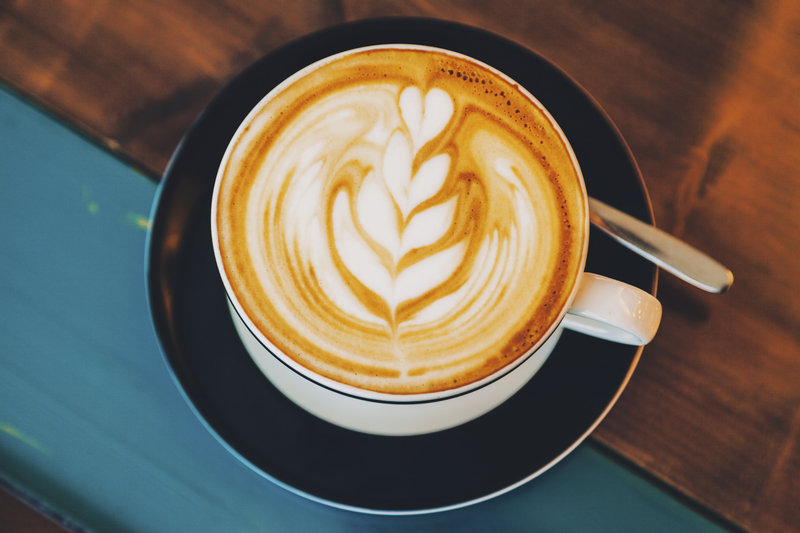 Sami Sert/iStockphoto.com
Vegas hasn't completely forsaken its cheap steak dinner, 24-hour coffee shop roots in pursuit of celebrity chefs and glittering elegance. Schlep on over to the Coffee Pub, which—unlike many of the hotel restaurants that are only open for dinner—serves only breakfast and lunch. This casual, California-style cafe has a basic menu of salads, sandwiches, wraps and breakfast items that are decent enough to draw a regular crowd. Along with that all-important morning jolt of java, the Big Wally omelet—stuffed with cream cheese, sundried tomatoes and scallions—will (depending on the circumstance) help cure a hangover or get your day off to a well-fueled start. Also earning high marks are the smoothies (Peach Pizazz, Strawberry Bear and other refreshing flavors) and the frozen coffee drinks, just the thing to take with you if the weather's sizzling.
A Meal Back in Time
Although old Vegas is rapidly disappearing, some outposts remain. Battista's Hole in the Wall is one of them. Celebrity photos plastering the walls tell the story—Betty Grable, Johnny Weissmuller, Clint Eastwood, Ed Sullivan and Robert Redford are just a few of the stars who have broken bread here. This family owned and operated joint is old school all the way, right down to the roving accordion player. And dinner is a deal; it includes minestrone soup or an Italian salad, garlic bread, a side of pasta, a homemade cappuccino and all the red or white house wine you can handle. You can't really go wrong with something like cheese manicotti, sausage cacciatore or steak pizzaiola; pony up a few more bucks and dig into veal piccante or garlic butter shrimp. Is Battista's a fun place? Fahgeddaboutit.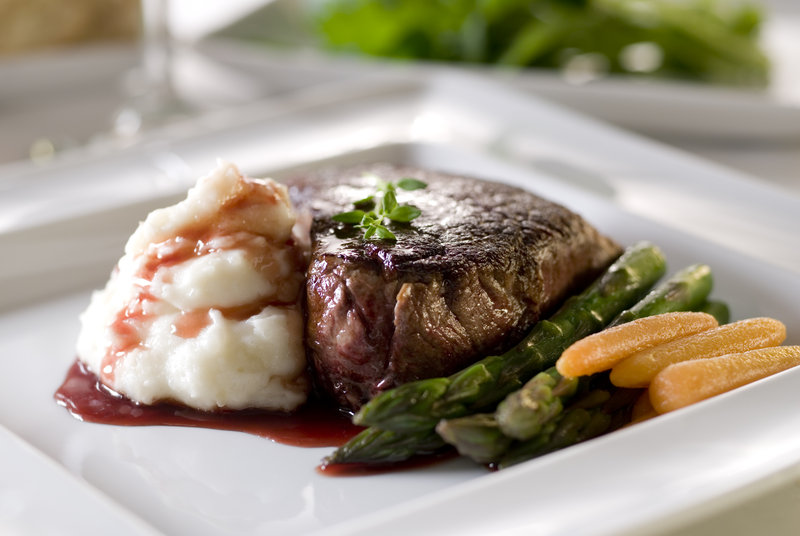 iStockphoto.com/cobraphoto
Another longtime watering hole (it's been around since 1958) is the Golden Steer Steakhouse. The wood-paneled walls, red leather booths, waiters in formal wear and fishbowl-size martinis epitomize old-school Vegas, and indeed this was a Rat Pack hangout. It's a steakhouse that also serves Italian mainstays like chicken parmigiana and veal Francaise (dipped in egg batter and then sautéed in butter with artichokes and lemon). The steaks—from a petite filet mignon to the 24-ounce prime rib—aren't the best in Vegas, but they're still darn good. Finish in grand style with bananas Foster, prepared tableside. Some of the servers have been here for decades, and their polish and professionalism shows.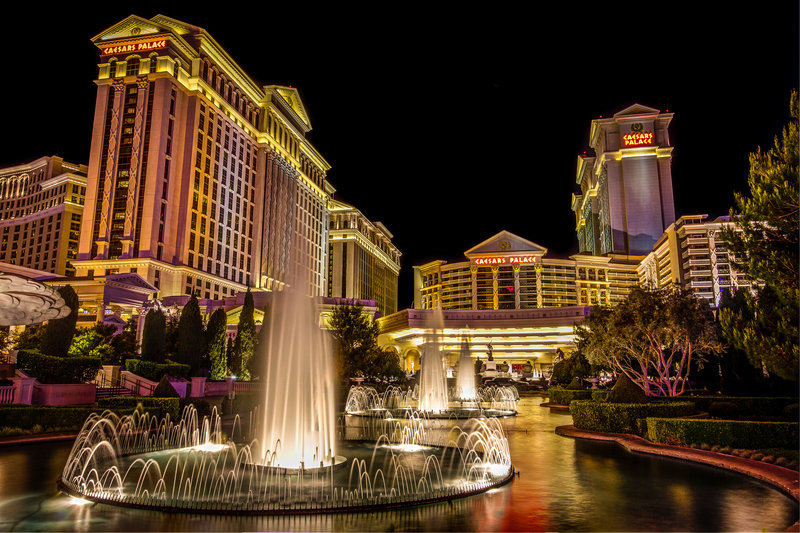 AAA/Inspector 511
Vegas buffets are the stuff of gluttonous legend. And if you only have the stomach space to try one, get your grub on at Bacchanal Buffet, a Caesars Palace mega spread that's top of the line in both quality and price (dinner runs north of $50). Plate in hand, you'll belly-up to hot food stations dishing up outrageously tender brisket, prime rib, red velvet pancakes, sausage, slabs of bacon, fried chicken and waffles, lasagna, Wagyu beef sliders, pizza, tacos, burritos, chile verde stew, burgers, Japanese curry, dim sum, lobster chowder and even Chicago-style mini hot dogs. On the cold side you'll find a salad bar, chilled king crab legs, oyster shooters, sushi and a bounty of Italian antipasti. The only spot where Bacchanal could stand improvement is the dessert island. Everything—from a rainbow of ice cream flavors to an avalanche of cakes, pies and cookies—looks fantastic. But we've been less than impressed; at these prices, bone-dry carrot cake is unforgivable. Tip: Try to visit at off-peak times. The line for this feast can be insane.
Off the Beaten Menu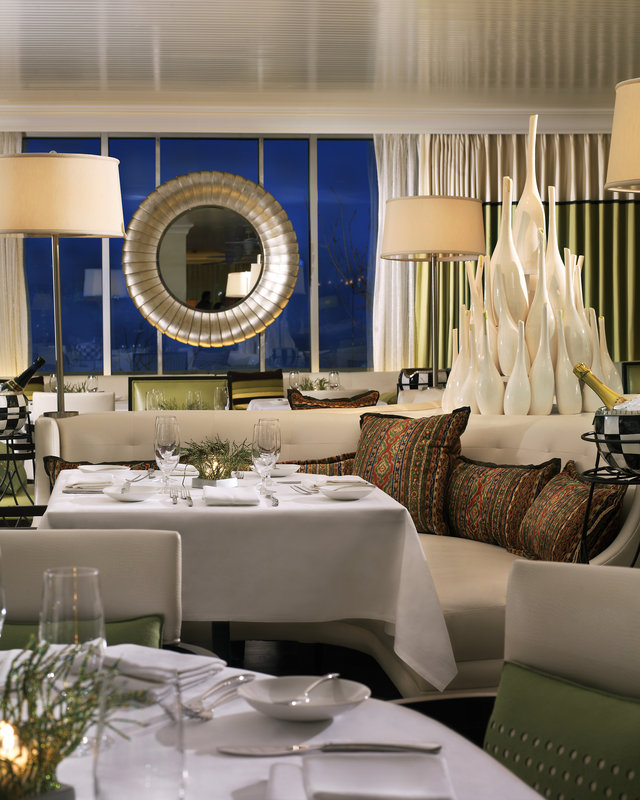 Courtesy of Vintner Grill
Don't let the location—an industrial park in Summerlin, a West Las Vegas neighborhood—fool you; the Vintner Grill is seriously chic. The focal point of this casually elegant American bistro is a strikingly designed outdoor patio sheltered by two large canopies and furnished with custom-made couches and drapery. It's a setting in which to savor executive chef Matthew Silverman's menu, which features killer appetizers like white bean hummus with a spicy olive relish and a rotating selection of entrees that take full advantage of seasonal ingredients. Chocolatier Vosges Haut-Chocolat provides the divine and decadent desserts, and they are not to be missed. No less an authority than the Food Network's Rachael Ray gives this place a rave.
Thai lovers can thank Lady Luck, because Lotus of Siam has what many consider to be the best Thai food in Las Vegas. It doesn't look like much from the outside—an unassuming strip center storefront along a stretch of Sahara Avenue littered with commercial sprawl—and the interior is an odd combination of upscale wine bar and down-home Asian restaurant. It's the food that takes center stage here. The menu is huge but dishes are numbered, so first-timers can point to what they want. Tom kha kai is a richly flavored soup full of tender chicken, vegetables and herbs in a coconut-laced broth. Papaya salad has a fiery chile kick. Garlic prawns, duck curry and mango sticky rice are all savory examples of Thai cookery. Be forewarned that spice levels (which range from 1 to 10) are incendiary at the upper end, so order accordingly or you might find yourself repeatedly draining your water glass.
You Don't Have to Be Rich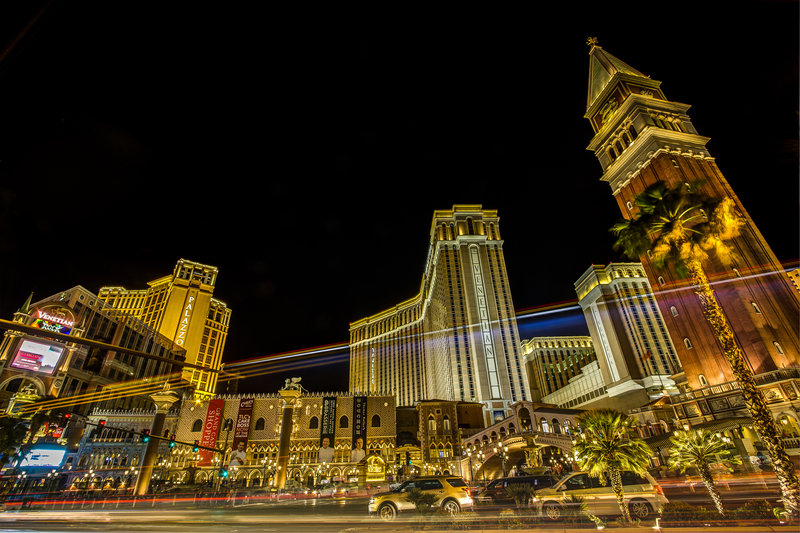 AAA/Inspector 511
In the mood for more familiar Asian food? Judging by all the $25 Kung Pao chicken and $35 Mongolian beef entrées you'll find on the Strip, there must be an unwritten Vegas law requiring every major casino resort have an ultra-chic Chinese restaurant. Fear not, penny-pinching wonton fanatics, here are a few tasty exceptions. Ping Pang Pong, in the off-Strip Gold Coast Hotel & Casino (across the street from the Palms Casino Resort), may have a silly name, but the standards (pot stickers, tiger prawns, gobo beef, etc.) are done well, and the dim sum is some of the city's best. Another good sign this wallet-friendly grub is worthy? For the most part, you'll be dining alongside local Asian families. Over on the Strip at The Venetian Las Vegas , leave the excellent yet pricey Tao-Asian Bistro to the nightclubbing crowd and head for Noodle Asia, a casual spot next to the casino's sports book. Order the scrumptious spring rolls, a steaming bowl of Szechwan beef soup and a frosty Tsingtao beer, and you'll still have coin left over for the blackjack tables.
Year after year, local newspapers polls rank Lindo Michoacán the best sit-down Mexican restaurant in Vegas. Family recipes fill the huge menu, which has everything from burritos and tacos (the al pastor is very good) to south-of-the-border seafood specialties and dishes incorporating lengua (beef tongue). The tortillas are freshly made, the margaritas pack a nice punch and there's a wicked-hot salsa for heat freaks. Prices aren't dirt cheap, but still a welcome relief from the high meal tabs at the resorts. The original Lindo is on Desert Inn Road a few miles east of the Strip (free shuttle service is provided if you make reservations). For a knockout view to go along with your carne asada nachos try the La Loma location, high on a hilltop in the suburb of Henderson.
Historic Eats
Across the street at downtown's Plaza Las Vegas hotel is Oscar's Steakhouse , owned by former city mayor and once-upon-a-time Mafia attorney Oscar Goodman. Oscar's boasts what is arguably the best dining view in downtown (its only real competition is the Top of Binion's Steakhouse). In a classy, glass-dome dining room fronting the hotel, you'll feast on primo steak (the filet mignon and New York strip are tops) as you gaze at the glittering lights of Fremont Street. Dolled-up hostesses make the table rounds and ask if you're enjoying the evening. Which, of course, you are.
See all the restaurants for this destination.