Williamsburg in 3 DaysThree days is barely enough time to get to know any major destination. But AAA travel editors suggest these activities to make the most of your vacation in Virginia's Historic Triangle.
Day 1: MorningTo start your visit to Colonial America off right, stop for breakfast at Old Chickahominy House , on the road between Williamsburg and Jamestown. The restaurant, in a restored 18th-century cottage with an inviting front porch, has been around since 1955. If you have to wait for a table (and that's a distinct possibility), spend time browsing through the antiques and knickknacks in the gift shop.
At Historic Jamestowne you can observe ongoing archeological digs at the site of the settlement's original fort and see the only remaining 17th-century structure—the brick tower from the colony's church—and the ruins of the glass furnace that the colonists hoped would be a prosperous endeavor. Artifacts unearthed can be viewed at the Historic Jamestowne Visitor Center and Archaearium . Constructed over the remains of Jamestown's last statehouse (1660-98), the archaearium includes items such as armor, musical instruments, tools and games—many 400 years old—that shed light on the settlers' lives. Virtual viewers let visitors see the site as it looked 4 centuries ago. The admission fee for these two attractions also admits you to Yorktown Battlefield and Yorktown Visitor Center, which are on this afternoon's itinerary.
Adjacent to Historic Jamestowne is Jamestown Settlement . This self-described "living-history museum" has three outdoor areas where you can meet costumed historical interpreters actively engaged in early 17th-century life. Learn how to grind corn at a re-created Powhatan Indian village, try on armor at a fort representative of the 1610-14 period and climb aboard replicas of the Discovery, Godspeed and Susan Constant, the three ships the English colonists sailed on for almost 5 months to reach the New World. An introductory film and exhibits at the indoor museum look at the European, Native American and African cultures that shaped the colony.
Day 1: AfternoonAn 18-mile drive takes you from the 17th to the 18th century. Head northeast on Jamestown Road, then take SR 199E to the Colonial Parkway scenic highway.
Start your Revolutionary War expedition at the Yorktown Battlefield Visitor Center , just south of town; the visitor center also is the headquarters of Colonial National Historical Park . Here you can watch a film about the engagement that ended the war and see a display that includes portions of Gen. George Washington's campaign tents.
Yorktown Battlefield , where the last major battle of the Revolutionary War was fought in 1781, can be explored on two self-guiding driving tours, both of which begin at the visitor center—the 7-mile Battlefield Tour (for which an audio tour is available) and the 9-mile Encampment Tour. When Cornwallis surrendered to Washington's combined Continental and French army, ending the 3-week siege and, essentially, the 6-year war, the United States was on its way to independence.
Day 1: Evening
flickr/Tony Alter
After a day full of history, a little relaxation is in order. Head to downtown Yorktown and Riverwalk Landing where you'll find the Schooners Alliance and Serenity . The 105-foot tall ship Alliance sets sail into the York River for a sunset cruise, while pirate cruises are offered aboard the Serenity. Passengers can pitch in and learn how the craft operates, chat with the friendly and knowledgeable crew or just relax and enjoy the scenery.
Afterward, take advantage of the specialty shops and places to eat at the Colonial-inspired Riverwalk Landing or enjoy a stroll along the water's edge.
Day 2: MorningThis morning is devoted to the elaborate plantation homes along the James River, most either on or just off scenic SR 5 near Charles City . Many families prominent in American history built mansions along this road—the 1726 Berkeley Plantation was the birthplace of Declaration of Independence signer Benjamin Harrison V as well as President William Henry Harrison, and Westover Plantation was built around 1730 by the William Byrd family; William Byrd II was the founder of Richmond (only the grounds at Westover are open to the public). Other nearby homes that can be visited include Edgewood Plantation , Piney Grove at Southall's Plantation and North Bend Plantation .
Perhaps the most prominent, though, is Shirley Plantation , It dates to 1613 when the original royal land grant was issued. It has been owned by 11 generations of the Carter and Hill families since 1638 and continues as a family home and working plantation. The present mansion, which sits grandly on a bluff of the James River and dates to 1723, was the wedding site of Gen. Robert E. Lee's parents, Anne Hill Carter and Henry "Light Horse Harry" Lee. Prominent features include a walnut "flying staircase," which rises three stories without visible support. In addition to a guided tour of the house, fun things to do include a self-guiding tour of the grounds, the gardens and 18th-century outbuildings.
The remainder of the morning (and part of the afternoon as well) is set aside for a visit to Busch Gardens Williamsburg . This European-themed park has villages representing England, France, Germany, Ireland, Italy and Scotland as well as its share of daredevil roller coasters, thrill rides and stage shows and a Sesame Street area for little visitors.
Day 2: AfternoonHave lunch at one of the local restaurants at Busch Gardens Williamsburg, then enjoy some additional time exploring the park. If you're interested in adventurous things to do, try some of the coasters Busch Gardens is justifiably famous for: the floorless Griffon, the steel Apollo's Chariot, Alpengeist with its six inversions, the interlocking loops of the Loch Ness Monster and the Curse of DarKastle's 3-D effects.
flickr/Ken Lund
It's back on the road now for a quick drive to the Colonial Williamsburg Historic Area . A visit here is like being deposited by a time machine into the pre-Revolutionary capital of Virginia. The restoration is so complete and realistic, thanks to the generosity of philanthropist John D. Rockefeller Jr., that walking along Williamsburg's streets among the costumed interpreters—soldiers, shopkeepers, tradesmen, housewives, slaves, government officials, the women in long skirts and cloaks and men in knee breeches and tri-cornered hats—seems perfectly natural. Stop and chat with any of them; they will respond in character and you'll hear some interesting perspectives on Colonial life and history.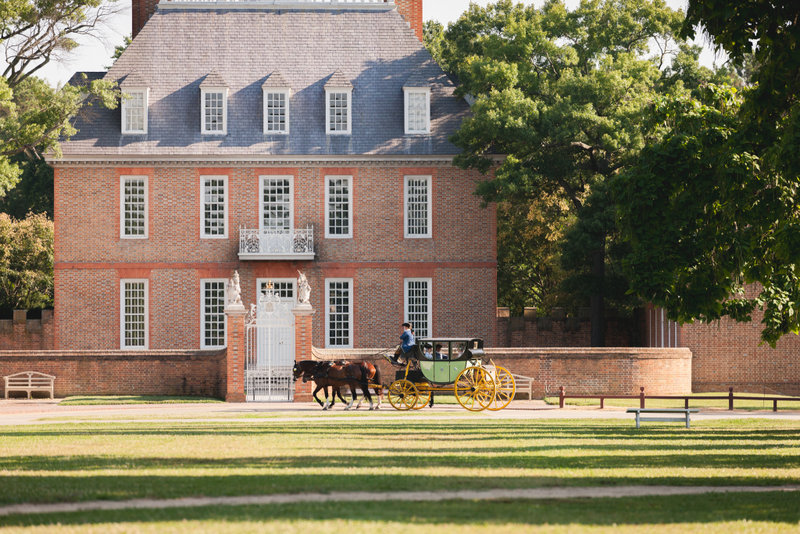 Courtesy of VisitWilliamsburg.com
A good place to begin, and one easily reached from the visitor center, is the Governor's Palace . Facing the Palace Green, it was the home of seven British royal governors and, later, the first two governors of Virginia, Patrick Henry and Thomas Jefferson. The building, which was destroyed by a fire in 1781 (the year after the capital was moved to Richmond), was reconstructed on its original foundation. The display of weapons in the entry hall is particularly impressive.
Follow the Palace Green to Colonial Williamsburg's main thoroughfare, Duke of Gloucester Street. Turn left, and a few buildings down is the Courthouse of 1770 , in the center of the village on Market Square. Interpreters explain 18th-century jurisprudence in the small and unassuming courthouse, followed by a mock trial.
Day 2: EveningNow that you're thoroughly immersed in 18th-century life, a good place to have a traditional Colonial dinner is at King's Arms Tavern . Head east down Duke of Gloucester Street toward The Capitol. This genteel establishment, decorated in colors and furnishings typical of the period, features working fireplaces in eight of its 11 dining rooms. Opened by Mrs. Jane Vobe in 1772, it soon became a favorite of Williamsburg's gentry. Diners sit at tables lit by candlelight and enjoy such traditional fare as Mrs. Vobe's Peanut Soupe ("garnished with roasted Peanuts and Sippets"), Colonial Game Pye and Syllabub for dessert while being serenaded by roving balladeers. Don't forget to make reservations in advance; they're required.
A fitting way to end your first evening in Williamsburg and a fun thing to do with friends is to take The Original Ghosts of Williamsburg Candlelight Tour . Guides with lanterns lead groups along Williamsburg's darkened streets while weaving stories about local history, folklore and paranormal activity, including a stop at the Peyton Randolph House , supposedly one of the city's most haunted.
Day 3: MorningThere's plenty more of Colonial Williamsburg still to see. Return to Duke of Gloucester Street and The Capitol . After fire destroyed the capitol in Jamestown three times, the seat of government was moved to Williamsburg. The first capitol building, where Virginia's House of Burgesses met, was completed in 1705. It, too, met a fiery demise. A second building was constructed, and it served the burgesses until the capitol was moved to Richmond in 1780.
Continue your stroll down Duke of Gloucester Street, heading toward the venerable College of William & Mary. Along the way you will pass many of The Historic Trades Sites , 22 locations where traditional crafts are practiced much as they were in the 18th century. Stop in at several of the shops and watch skilled tradespeople such as a carpenter, wigmaker, silversmith, milliner, blacksmith, cabinetmaker, printer, gunsmith and weaver handcraft everyday necessities of the period.
Nearby are two museums, one dedicated to folk art, the other to decorative arts. Both are entered through The Public Hospital , a reconstruction of the 1773 Public Hospital for Persons of Insane and Disordered Minds, the first public institution in the Colonies that solely treated mental illness. The hospital itself is worth a visit to see how the mentally ill were treated in the 18th and 19th centuries.
The Abby Aldrich Rockefeller Folk Art Museum houses one of the nation's premier collections of folk art. The museum began with the private collection of Abby Aldrich Rockefeller, the wife of John D. Rockefeller Jr., Colonial Williamsburg's benefactor. Greatly expanded over the years, the museum now contains a diverse collection of American folk art from the 18th, 19th and 20th centuries, including furniture, portraits, stoneware, mourning art, musical instruments, silhouettes, toys and bedcoverings. The DeWitt Wallace Decorative Arts Museum is an amazing repository of American and British antiques from the 17th through the 19th centuries. You could easily spend hours admiring the exhibits of American furniture, ceramics, weaponry, currency, tableware, pottery and silver.
Day 3: AfternoonA great casual place for lunch is The Cheese Shop in Merchants Square. Lines form at this local landmark, so it's best to arrive early if possible. Head to the rear counter and choose from a huge variety of sandwiches (the usual cold cuts, chicken salad, veggie, smoked salmon to name a few), then select a cheese (provolone, Havarti, cheddar, for example) and your choice of dressing and freshly baked bread. The sandwich is constructed while you wait. Add chips, perhaps a side dish from an expansive refrigerated deli section and a drink and you're good to go. If you're lucky, you'll be able to find a spot at an umbrella-shaded table outside on the patio and indulge in some people watching while you eat. You can also purchase cheese from some 200 varieties available; a wine shop is downstairs and there's a nice selection of gourmet food items.
The 1715 Bruton Parish Episcopal Church is at the corner of Duke of Gloucester Street and the Palace Green. George Washington, Patrick Henry and Thomas Jefferson worshiped at the stately brick church when the legislature was in session. The restored house of worship's 1769 tower has a 1761 bell still used to call worshipers to services, and its churchyard contains hundreds of graves, the oldest dating to 1678. It was the church's rector, Dr. W.A.R. Goodwin, who convinced John D. Rockefeller Jr. in the mid-1920s of the importance of restoring and preserving the historical sites at Williamsburg; Rockefeller agreed to finance the enormous project.
Just past Merchants Square is William & Mary . Chartered by King William III and Queen Mary II in 1693, it is the second oldest college in America (Harvard holds the title of oldest). Its Wren Building (attributed to noted English architect Christopher Wren) is said to be the oldest academic building still in use in the United States. A walk through the campus provides a relaxing break from the historic area.
Day 3: EveningWander back down Duke of Gloucester Street to Merchants Square, a shopping and dining area with more than 40 stores and places to eat, all designed to blend in with the 18th-century architecture of Colonial Williamsburg. This evening may be your final chance to pick up a few last-minute souvenirs, so whether you're looking for authentic Williamsburg furnishings or simply a T-shirt, an ice cream cone or an evening of fine dining, you're at the right place.
One of the best local restaurants in the square is Blue Talon Bistro , which serves what they term "serious comfort food," although with a decidedly French flair. As you enter, old Julia Child videos playing on the big-screen TV above the bar set a tone of casual, yet unpretentious, chic. The bistro's menu is eclectic, to say the least. You'll find the expected homey comfort foods such as meatloaf, mac & cheese and country-fried steak but also foie gras mousse, choucroute, poisson Basquaise and cassoulet. If you opt for a huge, juicy hamburger, it comes topped with smoked bacon, cheese and a perfectly fried egg—a surprisingly tasty combination.
Looking for things to do with friends? A fine way to end your evening is with a nightcap at the elegant Williamsburg Inn . Set back from the hustle and bustle of Colonial Williamsburg, the inn is a quiet, dignified, gracious lodging suitable for royalty (in fact, Queen Elizabeth II has stayed here). Pretend you're a head of state and drop by the inn's Restoration Bar for a cocktail and conversation.