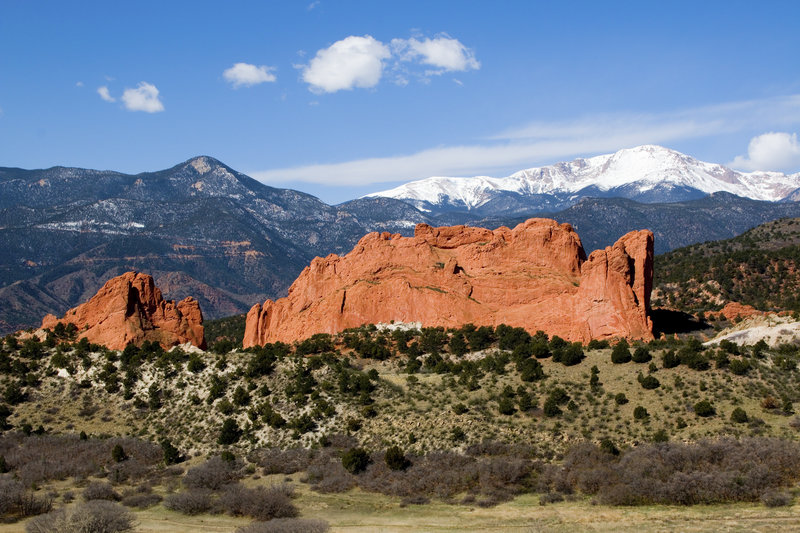 Steve Krull/iStockphoto.com
Introduction
Fresh air, sunshine and spectacular views motivated Gen. William J. Palmer to found Colorado Springs as an upscale vacation spot. Today the same qualities inspire travelers to visit, and now the city offers a host of cultural and recreational options to boot.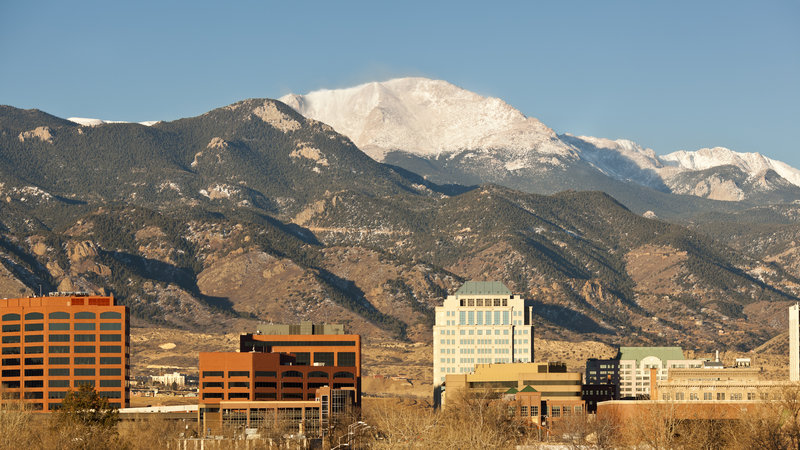 Pikes Peak serves as a rousing welcome. From just about any vantage point in the city, you can spy the landmark hovering above in all its glory. Taking the Barr National Recreation Trail to the summit on horseback or on foot are some of the fun things to do here. You can catch the Pikes Peak Highway 10 miles west. A 19-mile toll road leading to the 14,110-foot summit begins above the timberline at 7,400 feet. While you're in the area, investigate the Cave of the Winds. And at the base of Pikes Peak is Garden of the Gods Park, a must-see freebie where the Great Plains meet the Rockies.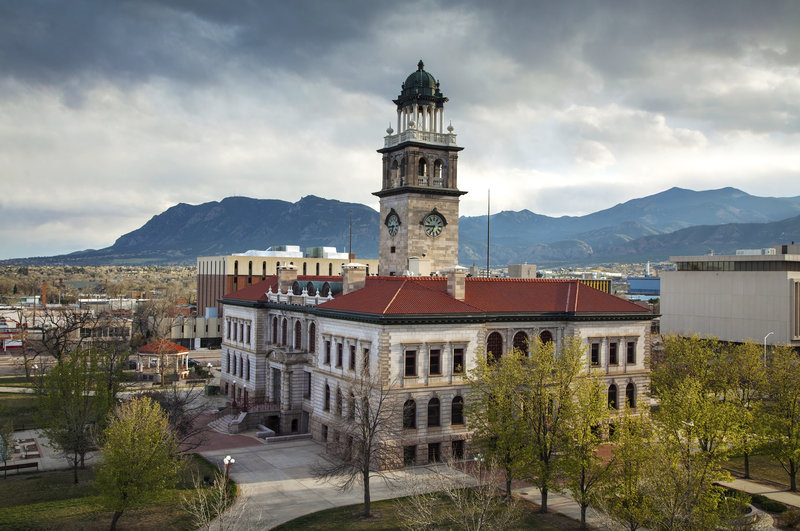 AndreyKrav/iStockphoto.com
Be sure to save a day for museum hopping on your vacation. See Native American, Hispanic and 20th-century American art at the Colorado Springs Fine Arts Center at Colorado College, and stay for a play afterward. Take in displays about the history of Colorado Springs and Pikes Peak at the Colorado Springs Pioneers Museum. And learn about the history and champions of rodeo at the ProRodeo Hall of Fame and Museum of the American Cowboy.
In Depth
Gen. William J. Palmer, forging westward with his Denver & Rio Grande Railroad in 1871, saw the area's potential and formulated a plan of creating a playground for the wealthy on what was essentially a sagebrush flat. The village already at the site, a miners' and millers' town called Colorado City, hardly met his stringent requirements. Palmer and his associates moved a few miles away and drove the first stake at what is now Pikes Peak and Cascade avenues.
Within the year there were more than 150 temporary and two permanent structures, irrigation ditches, countless seedling cottonwoods and land donated for a college. All were placed according to an orderly plan with broad boulevards, school lots and parks.
A road linked the new town with the mineral springs at Manitou Springs, 6 miles west. Colorado Springs, its name derived from the spa and from Colorado City, was on the way to becoming everything Palmer wanted, and more.
Many of the younger sons of the English gentry arrived. Polo, riding to hounds, gentlemen's clubs and Tudor architecture became so much a part of the Springs that it was soon known as Little London. When not playing cricket or attending social functions, these Britons and their American counterparts speculated in mining. They made millions, especially after the bonanza in Cripple Creek. By the first decade of the 20th century, Colorado Springs ranked among the wealthiest cities per capita in the country.
Meanwhile, Colorado City flourished, partly because of liquor trafficking and other temptations prohibited by its neighbor. Allegedly, tunnels ran between the two communities to protect the anonymity of those citizens who liked to visit the other side of the tracks. Colorado City was ultimately absorbed by the Springs and its respectability. Some of the old buildings still exist, particularly in the Old Colorado City Historic District between 24th and 28th streets. They house specialty shops, local restaurants, galleries and municipal offices.
Today, Colorado Springs continues to enjoy the reputation it received upon its creation—a destination for recreation, relaxation and bountiful sightseeing opportunities. A few miles west, scenic US 24 climbs to the 14,100-foot summit of Pikes Peak; the journey offers stunning panoramas, ranging from lush alpine forest to the stark beauty above the timberline. If you're looking for adventurous things to do, the 13.5-mile Barr Trail is a spectacular path to the summit, but with a more than 7,000-foot gain in elevation, it tests the stamina of even the most physically fit visitors.
Garden of the Gods Park, another must-see, offers dramatic views of towering sandstone rock formations with Pikes Peak looming in the background. The erosion-sculpted, red-hued marvels have morphed into such shapes as Kissing Camels, Siamese Twins and a Sleeping Giant, and depending on the time of day, the light produces a vast array of mesmerizing effects.
The park is a natural playground for those travelers looking for adventurous things to do, including hikers, rock climbers and folks just happy to snap photos of the impressive birdlife and geologic wonders. Given the environment, mountain bikers, golfers and horseback riders find the community a perfect setting in which to indulge their passions.
The city has become an important military center. The North American Air Defense Command (NORAD), sequestered in the granite heart of Cheyenne Mountain, was command central for American defensive troops during the Desert Storm conflict. More visible are the U.S. Air Force Academy, Fort Carson Army Base, Peterson Air Force Base and U.S. Space Command.
Especially prominent is the Air Force Academy's Cadet Chapel: Majestic glass and silver spires jutting skyward resemble 17 swept-wing, vertical-takeoff planes poised to break Earth's bonds. The academy's visitor center welcomes guests, who are typically free to explore the chapel and such sites as Arnold Hall, the Field House and the Honor Court, but inquire first due to fluctuating security levels.
Southwest of the city via SRs 115 and 122 is The Broadmoor resort. Since its opening in 1918 as a grand hotel, it has grown into a recreational retreat and includes a spa, three 18-hole golf courses, six tennis courts, hiking trails and horseback riding.
Nearby North Cheyenne Cañon Park gives hikers several choices for trails leading to photogenic destinations including Helen Hunt and Silver Cascade falls and several overlooks with views taking in the canyon and surrounding mountain peaks. Horseback riders and mountain bikers are also welcome on many of the trails.
By Car
North-south access is via I-25, which skirts the eastern face of the Rocky Mountains and is concurrent with US 85/87 through much of Colorado. I-25 is the fast route into or through Colorado Springs, with interchanges at major streets; US 85/87 leaves the interstate briefly in favor of downtown streets. Another major north-south thoroughfare is Powers Boulevard (SR 21), which runs near the airport in the eastern section of the city.
Yet another north-south route leading into town is Nevada Avenue (SR 115 in the southern part of the city), which offers a shortcut from US 50 between Cañon City and Pueblo. East-west travel is via US 24, which comes into the city from the eastern plains as Platte Avenue and from the western mountains through Ute Pass.
Street System
I-25 is the major north-south artery and fastest means of travel through Colorado Springs. Nevada Avenue (SR 115 in the southern section of the city) runs parallel to I-25 and provides access to many downtown streets.
US 24 (Martin Luther King, Jr. Bypass) travels east to west, becoming Platte Avenue when it crosses I-25 into the eastern section of the city; it leads to Manitou Springs and Pikes Peak in the west. East-west roads that interchange with I-25 are Garden of the Gods Road, Fillmore Street, Woodmen Road and Uintah Street.
Parking
Downtown on-street parking is metered, 75c-$1 per hour. Commercial garages and lots are available for 75c-$1 per hour, with a daily maximum of $6.75-$7.50. Prepaid "Easy Park" cards are accepted at most meters and can be purchased at the City Administration Building at Nevada and Colorado avenues.
Sales Tax
Colorado's statewide sales tax is 2.9 percent; an additional 3.12 percent is levied by the city, 1.23 percent by the county and 1 percent by the Pikes Peak Rural Transit Authority. The county has a 2 percent lodging tax and 1 percent rental car tax.
Police (non-emergency)
(719) 444-7000
Hospitals
Memorial Hospital, (719) 365-5000; Penrose-St. Francis Health Services, (719) 776-5000; St. Francis Medical Center, (719) 571-1000.
Visitor Information
Visit Colorado Springs
515 S. Cascade Colorado Springs, CO 80903. Phone:(719)635-7506 or (800)888-4748The bureau is open daily 8-6, June-Aug.; Mon.-Fri. 8:30-5, rest of year.
Air Travel
Colorado Springs Airport (COS), (719) 550-1900, to the east of the city, is served by major airlines. Taxi service is available from the airport to the downtown area for about $35 each way. Colorado Springs Shuttle offers service between Colorado Springs Airport and Denver International Airport (DEN), with drop-offs and pick-ups at designated area hotels; phone (719) 687-3456 or (877) 587-3456 for schedule information.
Rental Cars
Rental car agencies serve the Colorado Springs area from downtown and the airport. Hertz, (719) 596-1863 or (800) 654-3080, offers discounts to AAA members.
Rail Service
No passenger trains serve Colorado Springs.
Buses
TNM&O Coaches Inc. and Greyhound Lines Inc., (719) 635-1505, 120 S. Weber St., serve the Colorado Springs area.
Taxis
Colorado Springs is served by Yellow Cab Co., (719) 777-7777. It is best to request cabs by phone. Taxis are on the meter system, with the charge about $4.90 for the first mile and $2.90 for each additional mile, for up to four passengers.
Public Transportation
Buses operate in the metropolitan area Mon.-Fri. 5:35 a.m.-9:35 p.m.; Sat. 6:35 a.m.-6:35 p.m.; and Sun. 7:30 a.m.-5:35 p.m. in the downtown area; check individual routes for current schedule information. The fare for in-town routes is $1.75, transfers are free with paid fares and are good for 2 hours and 2 one way trips. Day passes are $4. Phone (719) 385-7433.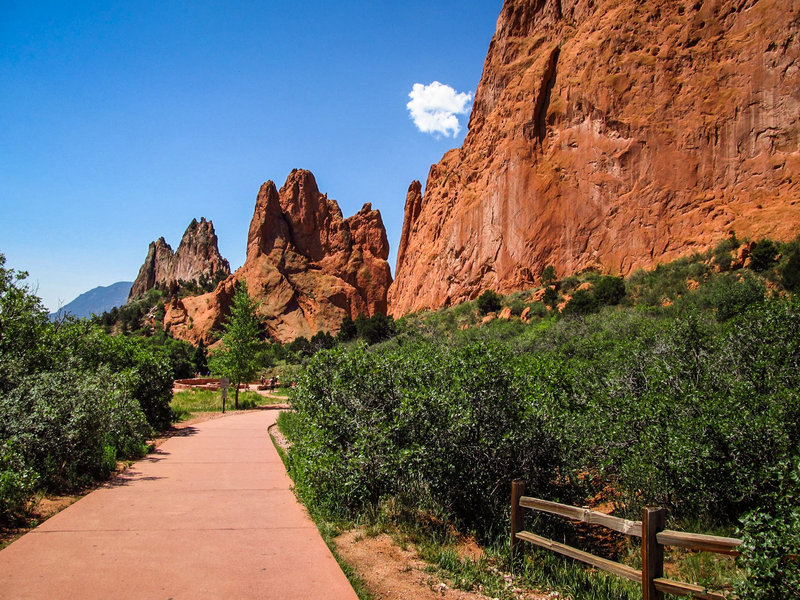 What to Do in Colorado Springs
Visit
Garden of the Gods Park
(1805 30th St.) to be inspired by the rustic beauty of majestic sandstone pinnacles jutting skyward. Interesting things to do include taking a free naturalist-guided walk to learn about wildflowers, snakes and other interesting tidbits about Colorado, or going it alone on one of the easy-to-moderate scenic trails. Don't leave your camera behind.
Take a scenic drive to Pikes Peak. Travel 19 miles along the twisting Pikes Peak Highway to the summit, where you'll be rewarded with a magnificent panorama. If you would rather not take on the dizzying mountain route yourself, leave the driving to someone else by taking a bus tour to the top.
Spend some time at
The Broadmoor
(1 Lake Ave.). The resort, which opened in 1918 as the "Grand Dame of the Rockies," is nestled in a valley with a spectacular mountain backdrop. Take a guided trail ride at the Broadmoor Stables, relax with a spa treatment, peruse the boutiques or dine in one of the property's restaurants.
The most stunning structure at the
U.S. Air Force Academy
(2306 Academy Dr.) is the Cadet Chapel, with its 17 futuristic glass and silver spires soaring skyward. You can tour the chapel, along with the Honor Court, Field House, Arnold Hall and other sites; maps are available at the academy's visitor center, which also presents a movie showcasing the cadet experience.
Explore underground wonders at
Cave of the Winds
(100 Cave of the Winds Rd.) in nearby Manitou Springs. Guides lead you through the winding passageways either by flashlight or hand-held lantern, depending on the tour. Either way, you'll be mesmerized by the play of light on the jagged geological formations and will even experience total cave darkness.
Hunt for souvenirs in the Old Colorado City historic district (W. Colorado Ave. & S. 21st St.). This is where the rowdy Wild West town of Colorado City sprang to life in 1859. Now, instead of saloons, jails and brothels, you'll find quaint boutiques, eclectic galleries and bistros. On summer Saturdays, you can shop for goods at the farmers market on the main drag.
Wander through the
Colorado Springs Fine Arts Center at Colorado College
(30 W. Dale St.) on your own, or sign up for one of the docent-led tours. An impressive array of modern works in a pueblo-style space is supplemented by traveling exhibits and a varied permanent collection, including Western, Southwestern and Native American art. Among the other excellent things to see here is the sculpture garden.
Guided tours of the
U.S. Olympic Complex
(1750 E. Boulder St.) will provide you with an inside peek at where the country's elite athletes live and train prior to the games—you might even witness a practice session. The visitor center presents a video about the Olympics prior to the tours, which are mostly conducted outdoors.
If you're up for a little recreation or fresh air, check out one of the area's parks. Hikers like
North Cheyenne Cañon Park
(2120 S. Cheyenne Canyon Rd.), with its miles of trails, lovely scenic vistas and waterfalls. A favorite with trekkers, horseback riders and mountain bikers,
Palmer Park
(Academy Blvd. & Maizeland Rd.) also has play areas, picnic grounds and a dog park.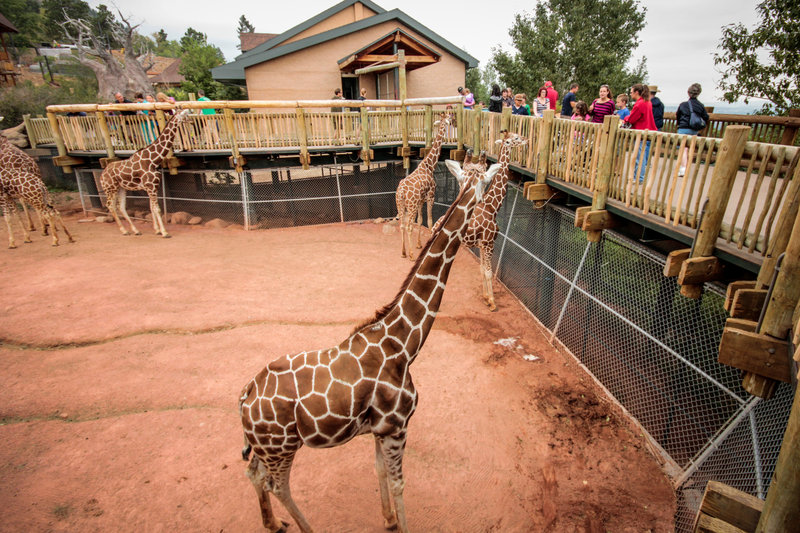 Cheyenne Mountain Zoo
(4250 Cheyenne Mountain Zoo Rd.) houses more than 750 amazing creatures in an invigorating mountain environment highlighting wildlife in natural settings—a favorite is the Rocky Mountain Wild exhibit, with moose, mountain lions and grizzly bears among the residents.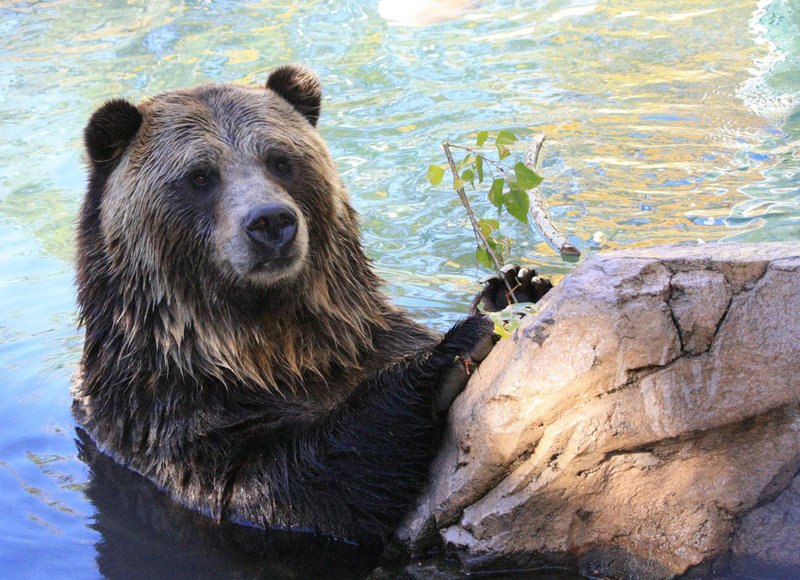 Colorado Springs Travel with Kids
Under 13
Few things hold a kid's attention like the animals of all shapes and sizes living at the zoo, and
Cheyenne Mountain Zoo
(4250 Cheyenne Mountain Zoo Rd.) won't disappoint. Grizzly bears, gorillas, tigers and one of the largest giraffe herds in the country are just some of the creatures thriving here. There's also kid-friendly rides like a chairlift and antique carousel, as well as fun things to do like feeding a giraffe by hand.
Included with zoo admission, a visit to
Will Rogers Shrine of the Sun
(4250 Cheyenne Mountain Zoo Rd.) will wow the whole family with spectacular views of the surrounding Pikes Peak Region from the top deck. The stone tower was completed in 1937 to honor the popular folksy humorist who perished in a 1935 plane crash.
iStockphoto.com/ginosphotos
Kids—and adults—are welcome to explore the nearly one-thousand- year-old Anasazi ruins at
Manitou Cliff Dwellings
(10 Cliff Dwellings Rd.). Overlooking Manitou Springs, the 40-room complex was originally located in McElmo Canyon near Mesa Verde, but in the early 1900s the ruins were carefully moved to their current site to protect them from looters and vandals. Re-assembled using concrete mortar between stones, these reinforced ancient buildings are now safely open to visitors and are among the town's best things to do with kids since young ones love ducking through low doors and squeezing into narrow passages here.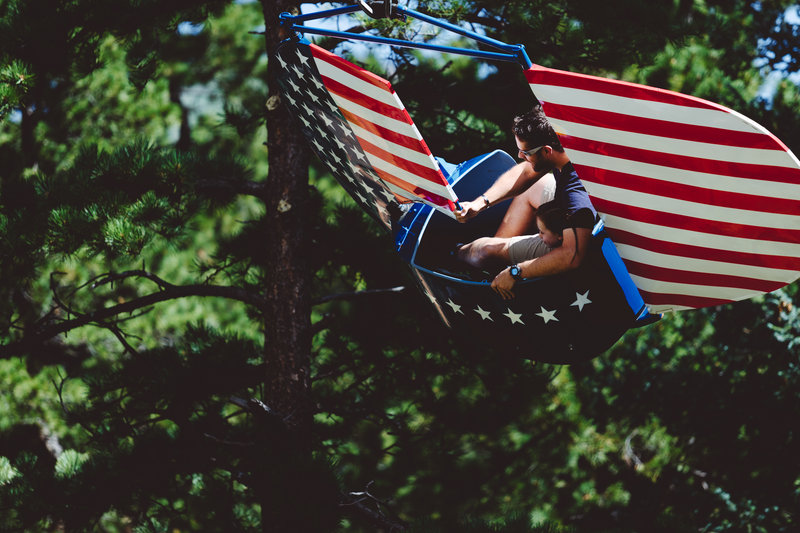 Courtesy of Santa's Workshop--North Pole
On the winding road leading up to Pikes Peak near the town of Cascade, Santa's Workshop—North Pole (5050 Pikes Peak Hwy.) celebrates Christmas every day—well, every day during its operating season. This family-friendly amusement park on the side of a mountain has been making young spirits bright since 1956. Among the two dozen fun things to do are the Candy Cane Coaster, Peppermint Slide, Santa's Sleigh Ride, a vintage carousel and 60-foot-high Ferris wheel. Parents can buy holiday ornaments in July, and a literal North Pole you can touch stays frozen throughout the year.
Teens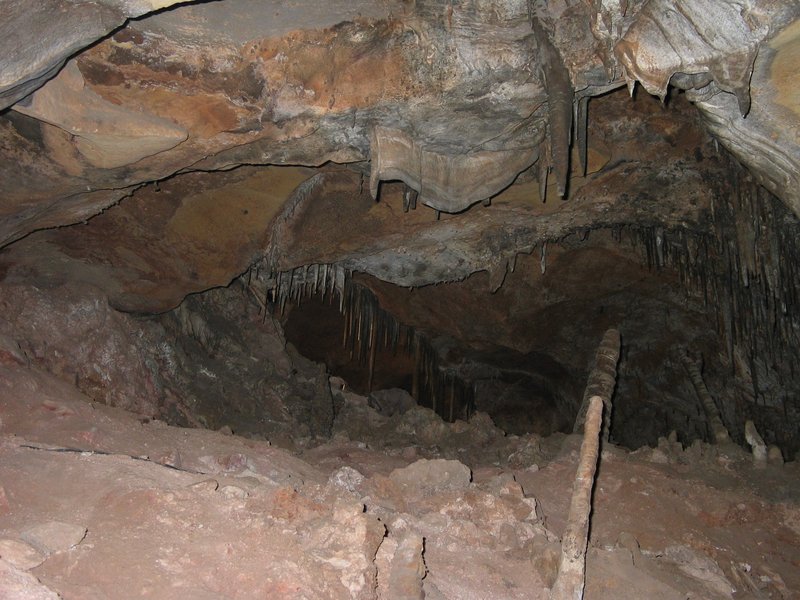 Wikimedia Commons/Chris Lott
Take your teen underground at
Cave of the Winds
(100 Cave of the Winds Rd.) in Manitou Springs, a Colorado tourist destination for well over a century. Adventurous things to do range from spooky lantern-lit tours through dark winding passageways deep inside the mountain to aboveground thrills soaring along ziplines or dropping 150 feet into Williams Canyon on a scream-inducing, two-passenger free-fall ride.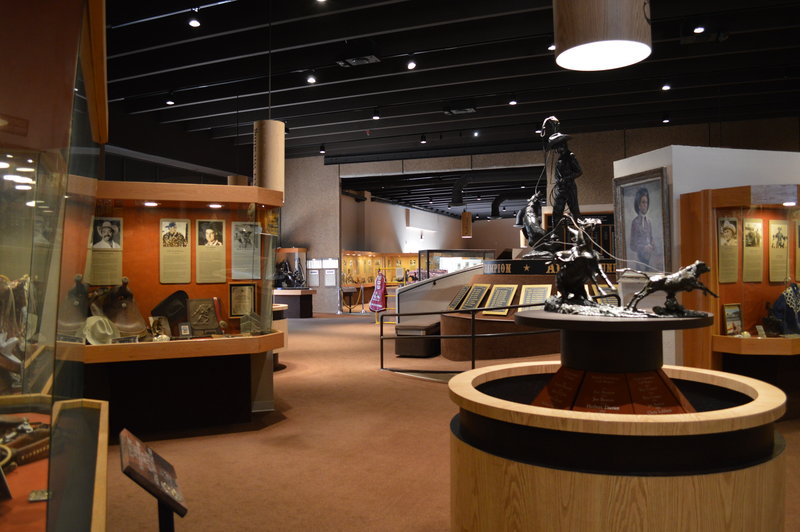 ProRodeo Hall of Fame and Museum
The
ProRodeo Hall of Fame and Museum of the American Cowboy
(101 ProRodeo Dr.) captures the hold-your-breath excitement of barrel racing, calf roping and bull riding, along with other classic sporting events that make up professional rodeo competition. The museum is filled with tributes to rodeo greats, exhibits tracing cowboy heritage and displays of all sorts things to see including historic hats, ropes and saddles.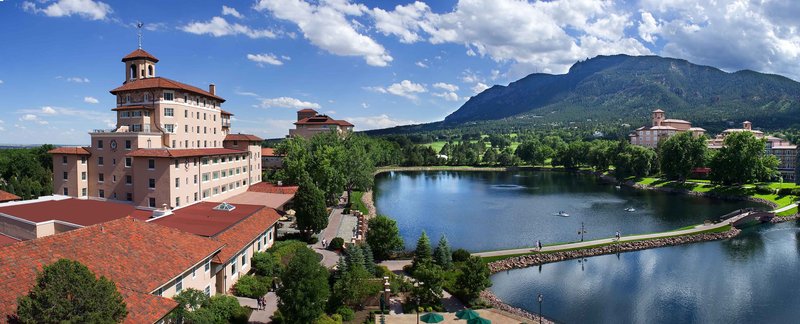 The Broadmoor/The Broadmoor
For an experience that's breathtaking in more ways than one, climb to the top of spectacular
Seven Falls
near
The Broadmoor
resort (1 Lake Ave.) by way of a 224-step staircase built right next to the cascades. If you and the fam are not up for that challenge, ascend in an elevator carved out of the mountain, and once you arrive, you'll find hiking trails leading to overlooks offering amazing views.
What to Do for All Ages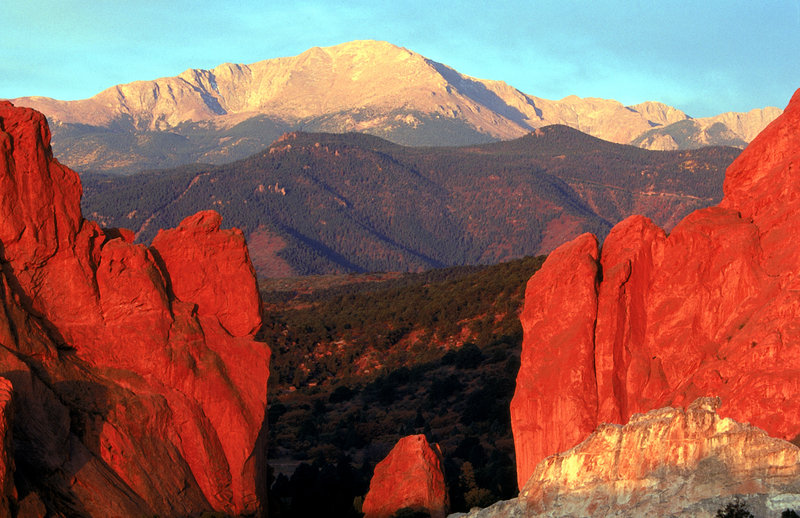 Among Colorado Springs' many fun things to do, there's no better spot for family photos than
Garden of the Gods Park
(1805 N. 30th St.) where the 300-foot-high sandstone rock formations jutting into a clear blue sky create a stunning backdrop. The scenery visible from
Garden of the Gods Visitor & Nature Center
is postcard perfect, and inside the center, interactive exhibits educate and engage kids, especially the immersive Geo-Trekker theater show.
Prepare to be enchanted when you visit
Michael Garman's Magic Town
(2418 W. Colorado Ave.), a miniature city filled with painstakingly detailed sculptures arranged in scenes, each one seeming to tell a story. It took the artist four decades to complete this scale model representing the urban street life he recalled from his world travels in the 1950s and '60s.
Finicky eaters will find something to like on the menu at
The Mason Jar
(2925 W. Colorado Ave.), a family-friendly restaurant serving satisfying comfort food like buttermilk biscuits, mashed potatoes, Southern fried catfish, fresh berry cobbler and their house specialty: chicken fried steak. The rustic, mountain lodge atmosphere includes a fireplace lit on cold days and interior décor that relies heavily on camping equipment and moose antlers.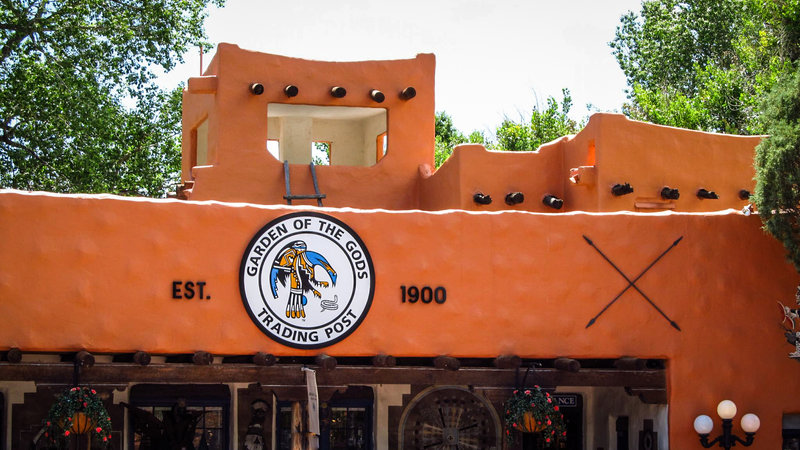 Shopping in Colorado Springs
Malls and shopping centers provide most of the shopping opportunities in Colorado Springs. Some of the popular centers include Chapel Hills Mall , with anchor stores Dillard's, Macy's and Sears, at Academy and Briargate boulevards; The Citadel , with anchors Burlington Coat Factory, Dillard's and JCPenney, N. Academy Boulevard and US 24; The Promenade Shops at Briargate , Briargate Parkway and SR 87; and University Village Colorado at S. Nevada Ave. and US 25.
A 19th-century haven of fur trappers, cowboys, gamblers and a few outlaws and gunfighters, Old Colorado City Historic District , between 24th and 28th streets, now houses specialty shops. The Garden of the Gods Trading Post , built in the late 1920s to resemble Pueblo Indian houses, offers Native American arts, crafts, jewelry, rugs and pottery as well as signed prints by well-known artists.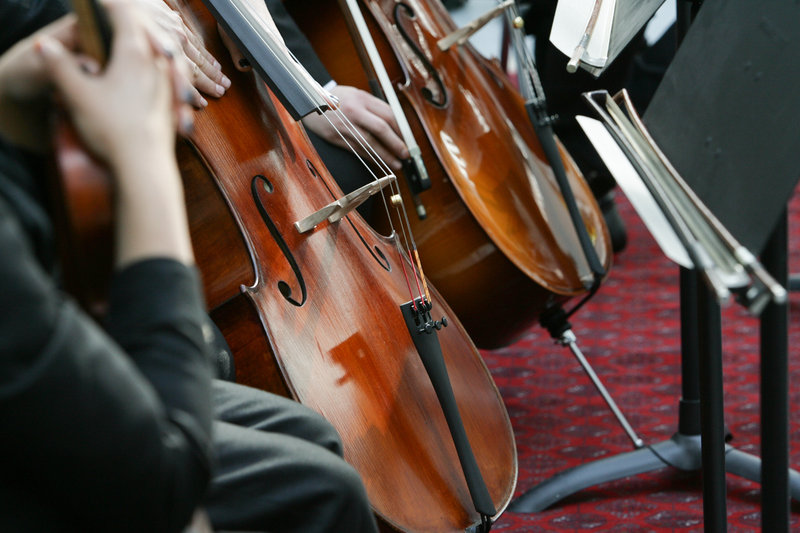 flickr/World Bank Photo Collection
Colorado Springs Performing Arts
The Colorado Springs Fine Arts Center at Colorado College, 30 W. Dale St., is the scene of permanent and traveling art exhibits, theatrical performances, concerts, dance productions and film showings. If you're looking for things for couples to do, Pikes Peak Center, 190 S. Cascade Ave., plays host to more than 200 performances a year, running the gamut from ballet, opera, theater and the symphony to country and rock music; phone (719) 799-4139. The Colorado Springs Philharmonic plays its September through May season here; phone (719) 520-7469 for ticket information. The center is also the home of Broadway in Colorado Springs; phone (719) 799-4132.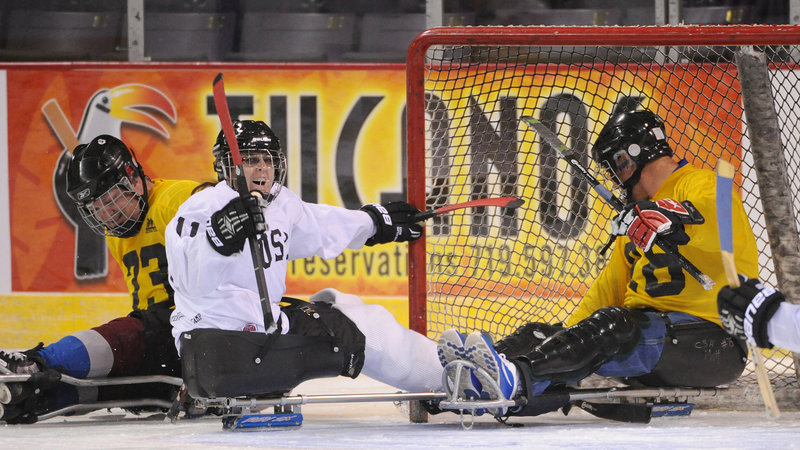 Broadmoor World Arena features top-name performers in both theatrical productions and concerts, ice hockey and skating shows; phone (719) 477-2100. The Iron Springs Melodrama and Dinner Theatre is at 444 Ruxton Ave; phone (719) 685-5104. Plays also are staged at Colorado College and the University of Colorado-Colorado Springs. Check the local newspapers for complete listings of current events.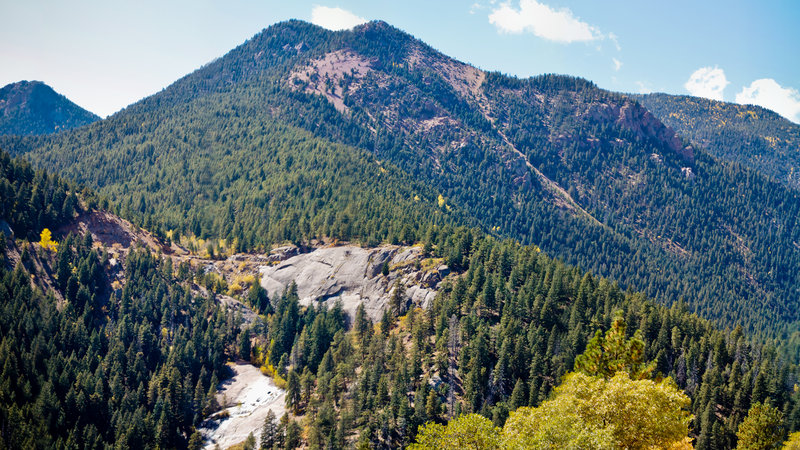 Colorado Springs Sports & Recreation
The surrounding lands of the Pike National Forest provide a wide variety of adventurous things to do. Green Mountain Falls and Woodland Park are northwest of the city. Hiking and horseback riding on the Barr National Recreation Trail are enjoyable ways to travel to the summit of Pikes Peak. Camping also is popular in this area.
Horseback riding through Garden of the Gods Park, North Cheyenne Cañon Park or at area dude ranches can be arranged at a variety of locations in the area. A list is available at the convention and visitors bureau; phone (719) 635-7506 or (800) 888-4748.
Golf enthusiasts have their choice of three 18-hole championship golf courses at The Broadmoor resort, (719) 577-5790, or the 18-hole championship Pete Dye course at the Cheyenne Mountain Resort, (719) 538-4095. Golfers also can tee off at the Patty Jewett Municipal Golf Course (18 holes), 900 E. Española St., (719) 385-6935, or the Pine Creek Golf Course (18 holes), 9850 Divot Tr., (719) 594-9999. The Valley Hi Municipal Course (18 holes), 610 S. Chelton Rd., (719) 385-6911, also has a swimming pool and driving range.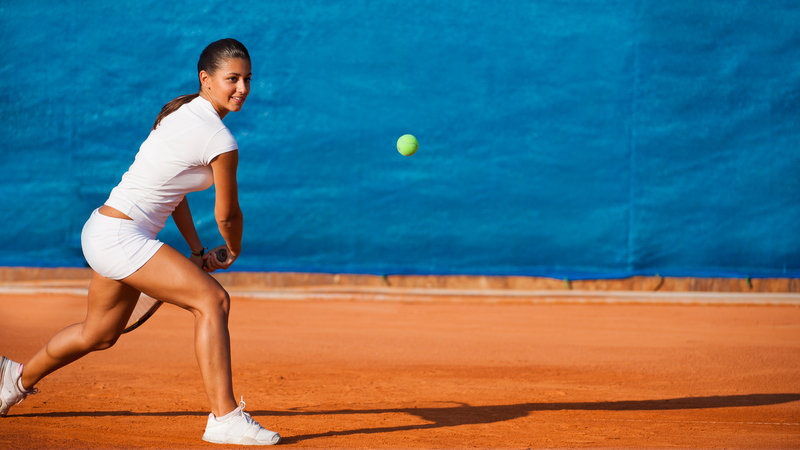 Most city parks have tennis courts and bicycling trails. The Broadmoor resort also has tennis courts. Guided 20-mile mountain biking trips from the 14,110-summit of Pikes Peak are offered daily May 1 through mid-October (weather permitting) by Challenge Unlimited; phone (719) 633-6399 or (800) 798-5954. Swimming is available at several indoor and outdoor aquatic facilities operated by the Pikes Peak Region YMCA. Memorial Park, 1605 E. Pikes Peak Ave., is home to a 40,000-square-foot Skate Park that welcomes skateboarders, in-line skaters and BMX riders.
Hometown fans come out to cheer the Air Force Academy football team, phone (719) 472-1895, the Colorado Springs Sky Sox baseball team, phone (719) 591-7699, and the Colorado College Tigers hockey team, phone (719) 389-6324.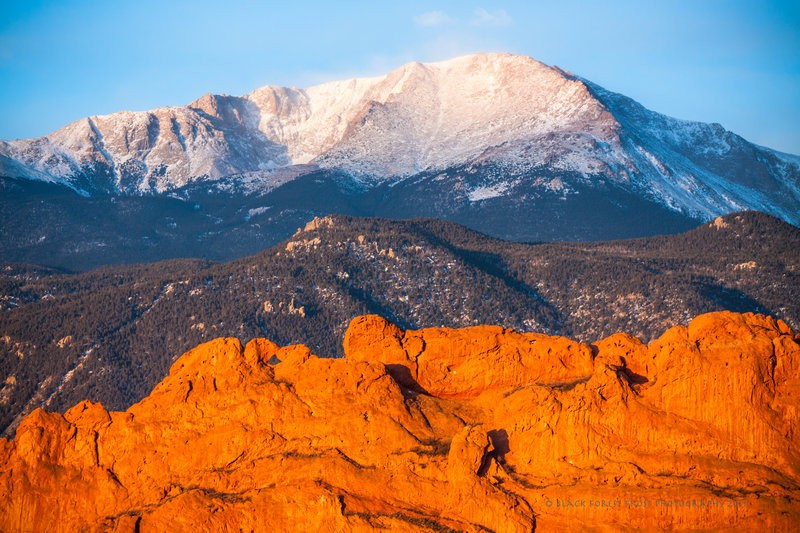 flickr/Christopher Rosenberger
Colorado Springs Sightseeing
Sightseeing tours of the Pikes Peak region with stops at attractions in and around Colorado Springs are offered by Gray Line, (303) 394-6920 or (800) 472-9546. Some excursions include a trek to the summit of Pikes Peak.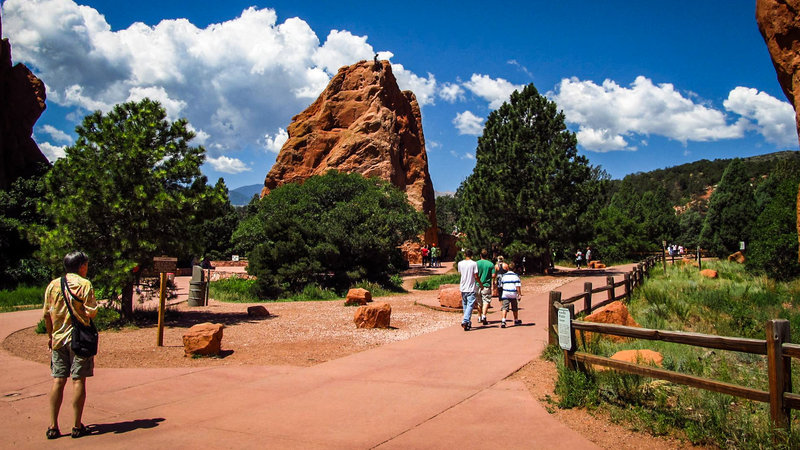 1-day Itinerary
AAA editors suggest these activities for a great short vacation experience.
Morning
You'll be enchanted by the community of Colorado Springs, tucked into a valley with the Front Range looming in the background. The crowning glory of this rugged mountain panorama is Pikes Peak, rising some 8,000 feet above the city. Naturally, those visiting will want to explore the area's striking scenic wonders. With that said, spend the morning at
Garden of the Gods Park
, at 30th Street and Garden of the Gods Road. Plan to hit the
Garden of the Gods Visitor & Nature Center
first, where you can view the multimedia show "How Did Those Red Rocks Get There?" You'll also be able to view a topographical map as well as interactive and educational exhibits focusing on the region's ecology and geology.
Ready to enter the park? You can choose to wander the trails on your own, or sign up for a naturalist-led walk; during the summer, van and jeep tours depart from the front of the visitor center. Maps highlighting the terrain will allow you to choose from a variety of easy and moderate routes, from which you will be well-positioned to see stunning sandstone formations that have morphed into otherworldly shapes. One of the most rewarding things to do here is to note how the changing position of the sun throughout the day creates dramatic effects.
If you have time you can also drop by
Rock Ledge Ranch Historic Site
(30th St. & Gateway Rd.), at the park's east entrance. This living-history farm provides insight into such aspects of early Pikes Peak life as homesteading, farming and managing a country estate.
Afternoon
It's probably a good time to stop for lunch. You can grab a bite at
Marigold Cafe & Bakery
(4605 Centennial Blvd.), just off Garden of the Gods Road. This little bistro offers contemporary cuisine, including sandwiches, salads, pizzas and delectable freshly baked pastries.
Continuing east on Garden of the Gods Road to I-25, travel north less than a mile to exit 148 to reach your next destination, the
ProRodeo Hall of Fame and Museum of the American Cowboy
(101 ProRodeo Dr.). Through the use of photos and multimedia presentations, the museum pays tribute to great bronco busters, their animals and key contributors to the sport of professional rodeo. You can also spy Western art displays, belt buckles, saddles and other paraphernalia.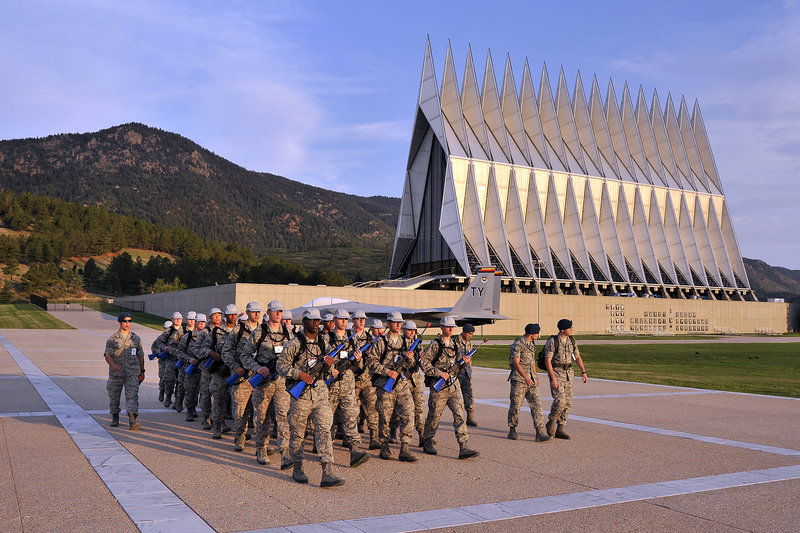 flickr/Courtesy of US Air Force
Backtrack to I-25, where you will travel north to exit 150 to visit the next point of interest, the
U.S. Air Force Academy
(2306 Academy Dr.). But, do call in advance to ensure that the academy can receive visitors, since fluctuating security levels can impact public access. You can learn about cadet life at
The Barry Goldwater Air Force Academy Visitor Center
and pick up a brochure outlining a self-guiding tour. An absolute must-see is the Cadet Chapel, which you can access from a nature trail adjacent to the visitor center. This architectural wonder resembles a tight formation of planes ready to take off into the wild blue yonder.
Evening
For dinner head to Old Colorado City, just west of downtown. The outlaw-infested saloons that once stood in the notorious 1859 Old West town have been replaced with charming galleries, shops and sidewalk cafés housed in renovated historic structures. For hearty Italian fare in a cozy yet casual setting, try
Paravicini's Italian Bistro
(2802 W. Colorado Ave.). Families find all the comforts of home at
The Mason Jar
, (2925 W. Colorado Ave.) with traditional American fare like fried chicken, catfish, buttermilk biscuits and other soul-satisfying dishes.
Locals who want to relax with a libation or listen to some music usually gravitate to Tejon Street, a hubbub of pubs, taverns and lounges in the downtown area. Those with a passion for the performing arts should check the roster at Pikes Peak Center (190 S. Cascade Ave.), which features the Colorado Springs Philharmonic and Opera Theatre of the Rockies in addition to plays and top-name performers.