Orlando Sports & RecreationLooking for a vacation destination for sports lovers? Orlando will not disappoint! From downtown Orlando to Walt Disney World® Resort, locals have several venues to choose from when it comes to the city's various professional sports offerings. Orlando's Amway Center, 400 W. Church St., hosts basketball and hockey games, while the renovated Camping World Stadium, One Citrus Bowl Pl., features college football games.
Area residents also make the most of central Florida's lengthy summers and mild winters, which create ideal recreation conditions year-round. The area's many waterways host a wide variety of activities, and drier pastimes abound as well. Phone the Orange County Parks & Recreation Division at (407) 836-6200, or (407) 836-6280 for the event information line.
BaseballThe Florida Fire Frogs (formerly the Brevard County Manatees), a Class A affiliate of the Atlanta Braves, play at Osceola County Stadium, 631 Heritage Park Way in Kissimmee; phone (321) 697-3220.
BasketballOrlando basketball enthusiasts fill Amway Center to watch he NBA's Orlando Magic; for schedule and ticket information phone (407) 896-2442.
Orlando's University of Central Florida Knights' men's and women's basketball teams play at Addition Financial Arena, (407) 823-6006, which seats more than 10,000. Nearby Winter Park's Rollins College also has men's and women's basketball teams; they play at Alfond Sports Center, (407) 646-2000.
FootballThe UCF Knights play at the 45,000-seat Spectrum Stadium, (407) 823-1000.
The Camping World Stadium hosts college football games, including the annual Cheez-It Bowl and the VRBO Citrus Bowl, (407) 440-5700.
The Amway Center is once again home to arena football's Orlando Predators. The season runs mid-March to early August.
SoccerHome to the Orlando City Lions as well as the Orlando Pride, a National Women's Soccer League expansion franchise, the Exploria Stadium, 655 W. Church St., seats at least 25,500 fans; for tickets phone (855) 675-2489. Orlando City B (OCB), a United Soccer League club, plays home games at a 5,400-seat stadium in Osceola Heritage Park (1875 Silver Spur Ln.) in Kissimmee; phone (321) 697-3333 for Osceola Heritage Park.
Jai-AlaiPlayed in only a few states, jai-alai is one of Orlando's most unusual offerings. The game is similar to handball, except the athletes field the ball not with their bare hands, but with a curved basket worn on one arm. Pari-mutuel betting adds to the excitement of this fast-paced sport at Orlando Jai-Alai & Race Book, (407) 339-6221, in Fern Park at 6405 US 17/92. The live jai-alai season in Orlando is February through April, although the facility is open year-round for televised jai-alai and racing events. The sport and facility aren't as popular as they once were, so expect small crowds in this 1960s facility.
Note: Policies concerning admittance of children to pari-mutuel betting facilities vary. Phone for information.
Bicycling Bicycling is a great option if you're looking for fun things to do that will help you stay active during your vacation. While it's a fun and entertaining way to see the city, traffic is always a concern. Exercise caution and obey all traffic laws when bicycling on the street. If possible, ride in a park—both Bill Frederick at Turkey Lake and Lake Underhill parks offer trails—or other specially designated area. The Walt Disney World® Resort offers a variety of trails as well as bicycle rentals.
Locals enjoy the quiet, tree-lined streets of Rollins College (in nearby Winter Park), College Park and downtown Orlando. Many points of interest can be seen along the Orlando Urban Trail, which runs from downtown along Orange Avenue to Loch Haven Park and Winter Park's Mead Botanical Garden.
The Little Econ Greenway, about 8 miles, begins at the intersection of Alafaya and Lokanotosa trails and runs alongside the Little Econlockhatchee River through Jay Blanchard Park to Forsyth Road. There's also a butterfly garden about halfway through near Union Park Middle School. For trail information phone (407) 254-9030.
Just north of Orlando in Seminole County, home to Orlando's bedroom communities, are the 23-mile Cross Seminole Trail and the 14-mile Seminole Wekiva Trail. Sections of these trails are part of the Florida National Scenic Trail. The Cross Seminole Trail begins in Casselberry at the intersection of Howell Branch Road and Aloma Avenue, runs through the Spring Hammock Preserve, then ends in Lake Mary at the pedestrian bridge, where it joins the Seminole Wekiva Trail. Built on the Orange Belt Railway, the Seminole Wekiva Trail runs south to Altamonte Springs. Phone (407) 665-2001 for more information.
Many jogging/walking sites also cater to bicyclists; see the next section.
Jogging and WalkingOrlando boasts two scenic, paved recreation trails built on old railway beds. Active people who love adventure travel can see the city from a whole new light while walking along the many beautiful walking trails. Prefer to explore the trails at a faster pace? Try jogging or bicycling. The 22-mile West Orange Trail runs between the Killarney Station in Oakland to Apopka; phone (407) 654-1108. A 10-mile portion of the trail also is open to equestrians.
Closer to downtown Orlando, the 7.2-mile Cady Way Trail connects Orlando Fashion Square Mall with Winter Park, where it connects to the Cross Seminole Trail; phone (407) 254-9025. The 3-mile Orlando Urban Trail runs along a rail line downtown from the intersection of Magnolia Avenue and Weber Street north to Winter Park's Mead Botanical Garden, which is a nice place to stroll through nature trails and the freshwater creek. For additional information contact the Orange County Parks and Recreation Division at (407) 836-6200.
Downtown Orlando features Lake Eola Park (E. Central Boulevard), noted for the Linton Allen Memorial Fountain, as well as Mayor Carl T. Langford Park on Central Boulevard. Just outside downtown are the charming streets of College Park and the serene oasis of Lake Ivanhoe's Gaston Edwards Park. Cypress Grove Park on Holden Avenue is a nice sport for walking and biking and has playgrounds and a lake; each holiday season the park puts on a Christmas light drive-through show.
Orlando Loch Haven Park, home to two art museums and the Orlando Science Center, is a nice place to spend some time outdoors among the sculptures at this cultural hub.
Orlando's beautiful, upscale Baldwin Park neighborhood (about 3 miles from downtown) features a 2.5-mile walking/biking trail around Lake Baldwin.
Near Lake Nona, the Split Oak Forest Wildlife and Environmental Area features a hike that'll take you through wetland overlooks and scenic trails. The area, 16 miles south of Orlando, was named after a storied live oak, which survived being split, and offers plenty of opportunities to view wildlife, such as wild turkeys and gopher tortoises.
Winter Park is a good place for a stroll, particularly along popular Park Avenue or on the Rollins College campus. Other appealing sites include Kraft Azalea Garden in Winter Park as well as Harry P. Leu Gardens in Orlando. Due to the relentless Florida sun, early morning and late afternoon are the best times for either activity.
For a more rural destination, head about 25 miles east of Orlando to Christmas' Orlando Wetlands Park, where you can walk, jog and bike; phone (407) 568-1706.
Fishing During Your Trip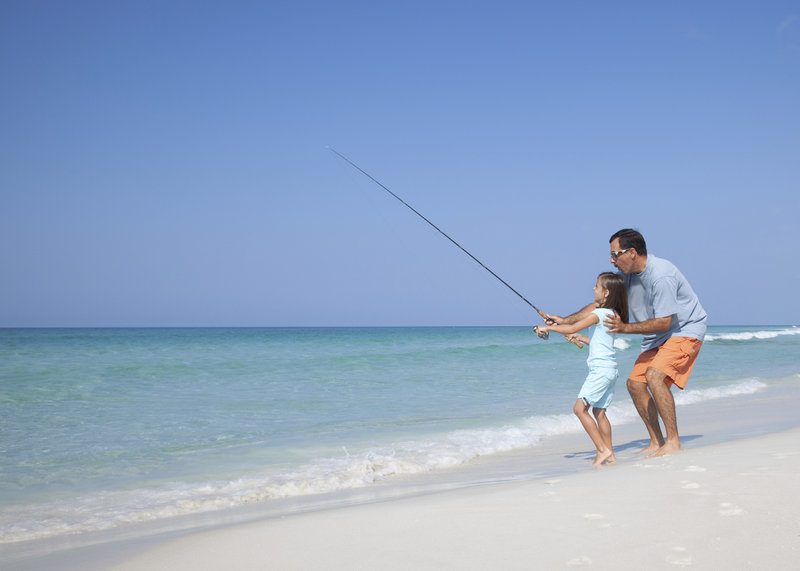 iStockphoto.com/JLBarranco
With hundreds of lakes and several rivers to choose from, anglers will have no problem finding a place to cast their lines—bass, bream and catfish are among the available catches. Some favorite spots are Bill Frederick Park at Turkey Lake and Lake Cane/Marsha Park, both just off Conroy-Windermere Rd.; Gaston Edwards Park on Lake Ivanhoe near downtown; Lake Fairview, north of College Park; Lake Tohopekaliga in Kissimmee, south of US 192; Lake Underhill Park, east of town off Conway Road; and Wekiwa Springs State Park in northwest Orange County. Walt Disney World® Resort also affords angling opportunities for tourists and residents alike.
Deep-sea fishing is a popular pastime, and charters are available in many beachfront towns. Anglers age 16 and over must purchase freshwater or saltwater licenses, which are available at many bait and tackle shops, most Wal-Marts and Bass Pro Shops and at all tax assessors' offices. For further information phone the Florida Fish and Wildlife Conservation Commission, (888) 347-4356.
GolfFor many Orlando residents, golf is a way of life, and there are numerous ways to play. One of the newest facilities is the 65,000-square-foot Topgolf Orlando, 9395 Universal Blvd., which features 102 hitting bays.
An abundance of courses—more than 175—also grace the metropolitan area, from the city-bound links of small municipal properties to the spectacular settings of the luxury resorts. All of the following courses offer at least 18 holes and are open to the public year round: Casselberry Golf Club, (407) 699-9310, 300 S. Triplet Lake Dr. in Casselberry; Celebration Golf Club, (407) 566-4653, 701 Golfpark Dr. in Celebration; Dubsdread, (407) 246-2551, 549 W. Par St.; EastWood Golf Club, (407) 281-4653, 13950 Golfway Blvd.; Hunter's Creek, (407) 240-4653, 14401 Sports Club Way; Mayfair Country Club, (407) 322-2531, 3536 Country Club Rd. in Sanford; MetroWest Golf Club, (407) 299-1099, 2100 S. Hiawassee Rd.; Stoneybrook East Golf Club, (407) 384-6888, 2900 Northampton Ave.; Walt Disney World golf courses, (407) 939-4653, in Lake Buena Vista; and Wedgefield Golf and Country Club, (407) 568-2116, 20550 Maxim Pkwy.
Hot Air Ballooning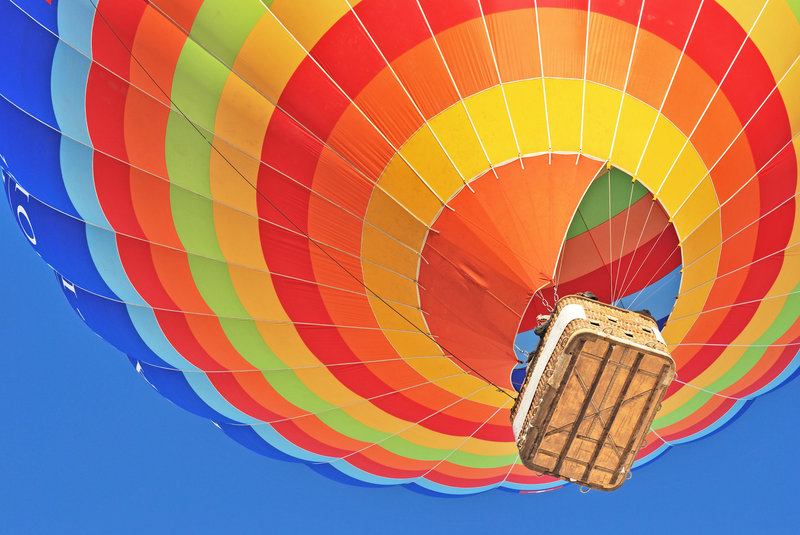 Fotolia.com/totophotos
The following offer aerial views of the Orlando area: Aerostat Adventures, (407) 476-7101 or (877) 495-7433; Bob's Balloon Charters, (407) 466-6380 or (877) 824-4606; Magic Sunrise Ballooning, (866) 606-7433; Orlando Balloon Adventures, (407) 786-7473 or (321) 229-4213; and Orlando Balloon Rides, (407) 894-5040. Some trips include champagne.
Tennis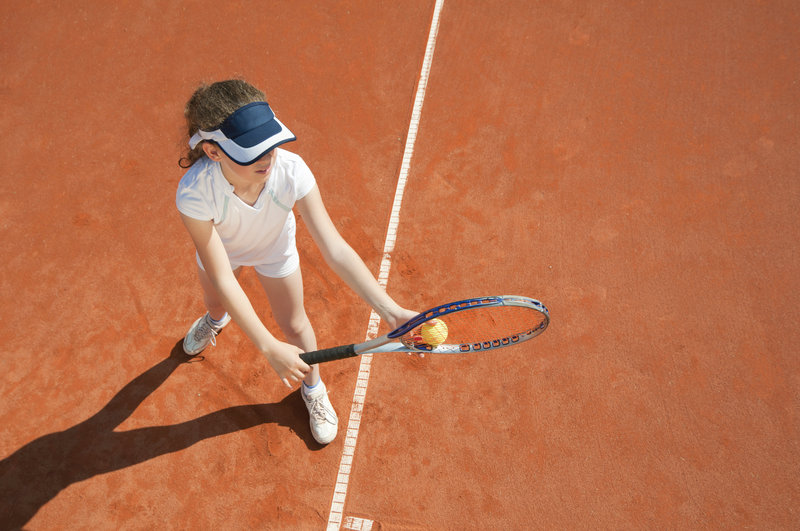 iStockphoto.com/microgen
In metropolitan Orlando, tennis courts are nearly as numerous as lakes, with more than 600 offering tennis programs. Some have national-level recognition. The United States Tennis Association features at least 100 courts at the new 63-acre USTA National Campus in Lake Nona and supports tennis players ranging from beginner to professional; phone (914) 675-2500.
Many hotels offer court privileges to their guests. The courts at county parks are always open to the general public; for further details phone the City of Orlando Recreation Bureau, (407) 246-4300, or the Orange County Parks and Recreation Division, (407) 836-6200. Some resorts offer public access, including Grand Cypress Tennis and Racquet Club, 55 Grand Cypress Blvd., (407) 239-1234 (making reservations 24 hours in advance is recommended).
Water SportsThe abundance of lakes in central Florida—more than 2,000 by some counts—provides endless opportunities for water sports of all kinds, including boating, canoeing, paddleboarding, swimming, water skiing and windsurfing. Some of the most popular sites include Lake Ivanhoe; Lake Underhill; and the Butler Chain of Lakes and Winter Park Chain of Lakes. For more information contact the Orange County Parks and Recreation Division at (407) 836-6200 or the City of Orlando Recreation Bureau at (407) 246-4300. For information about the Winter Park Chain of Lakes, phone (407) 599-3334.
Just north of Orlando in Apopka is Wekiwa Springs State Park (see Recreation Areas Chart), where swimming in the crystal clear spring water is popular. The Wekiva River is considered one of the state's best canoeing rivers; canoe and kayak rental information is available at the marina, (407) 884-4311.
Boating is a favorite recreation; residents have their choice of several inland waterways to explore. The Butler and Winter Park Chain of Lakes are groupings of connected lakes. The Rollins College campus and beautiful homes line the shores of the lakes in Winter Park's chain, and boat tours are available. Another active waterway, the St. Johns River, connects nearby Sanford with Jacksonville. Houseboats can be rented in DeLand, allowing visitors to navigate the river in comfort. With such a wide variety of recreational options available, you'll never have to wonder what to do while you're here.