About Daytona Beach Daytona Beach has been a popular family vacation destination for more than a century. But it was more speedway than beach in the early days of the automobile. Between 1903 and 1935 some 15 speed records were set on the beach racecourse by Barney Oldfield, Sir Henry Segrave and Sir Malcolm Campbell. The racing tradition continues at Daytona International Speedway.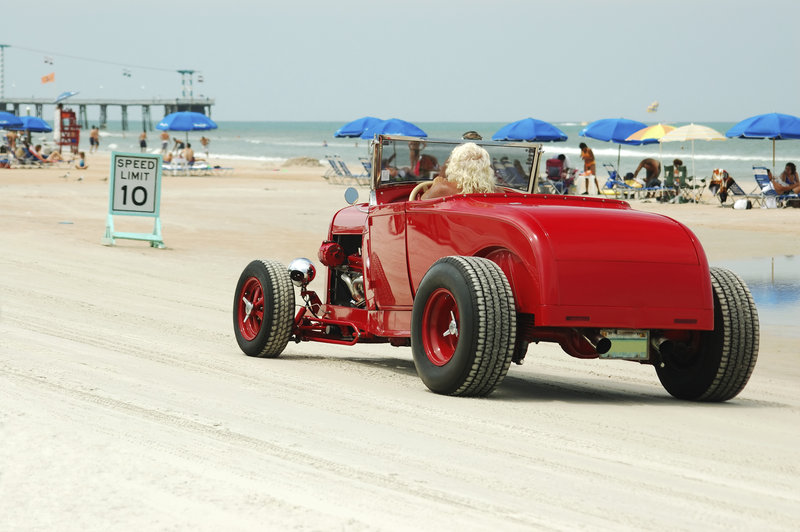 Todd Aarnes/iStockphoto.com
During the day cars may be driven on designated sections of the 23 miles of the hard-packed sand. For safety, beach driving should be done during a low or outgoing tide and never in the water, however shallow. The speed limit on the beach is 10 miles per hour. Drivers should heed all signs, including those indicating conservation areas, where vehicles are prohibited. Overnight parking or camping on the beach is not permitted. Pets are not permitted; this law is strictly enforced.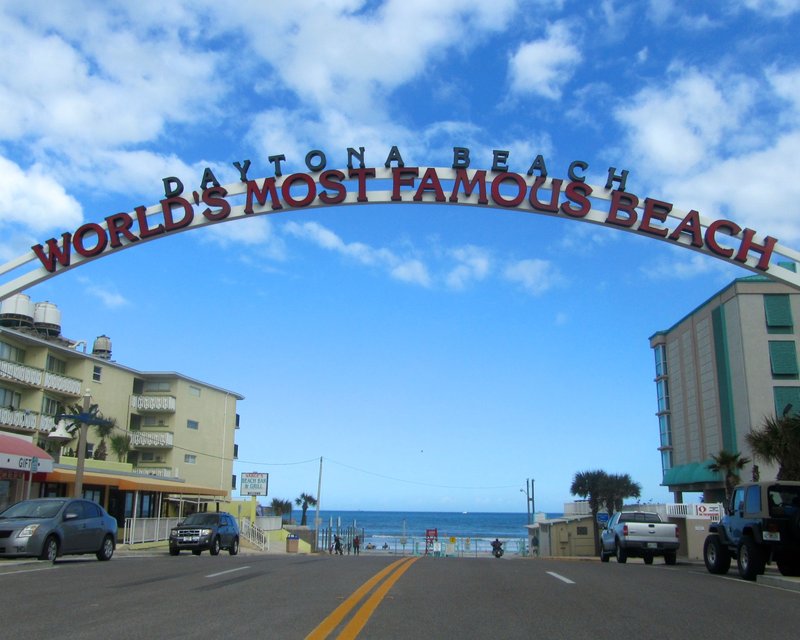 AAA/Inspector 49
The beach is not open to motor vehicles between Seabreeze and International Speedway boulevards; south of Emelia Avenue in Daytona Beach Shores to Beach Street in Ponce Inlet; at Lighthouse Point Park in Ponce Inlet; between Millsap Avenue and Andy Romano Park; or north of Granada Boulevard in Ormond Beach. A daily beach access toll of $10 per vehicle; tollbooths are at each approach. For beach information phone (386) 239-7873.
A wide promenade along the ocean is the center of an amusement area anchored on the south by the Daytona Beach Pier. The Daytona Beach Bandshell at the north end of the promenade is the setting for concerts and events, and an entertainment complex provides dining and shopping options.
A scenic portion of SR A1A extends along the ocean from Ormond Beach north to Fernandina Beach, a distance of 110 miles.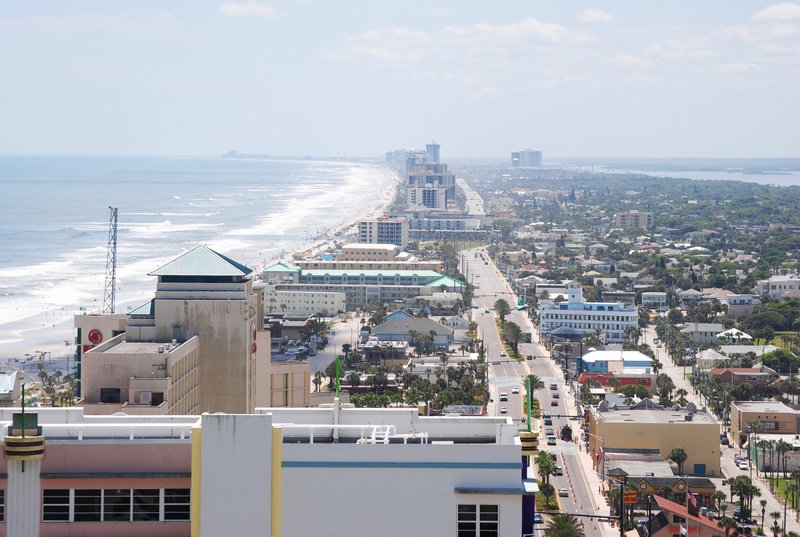 AAA/Inspector 564
Ocean lovers enjoy sailing, surfing and riding personal watercraft; the Halifax River is a favorite for scenic boat tours as well as boating, fishing, kayaking and sailboarding.
Mary McLeod Bethune founded Bethune-Cookman University for the training of African-American women in 1904; it later became an accredited coed college. The campus, off International Speedway Boulevard, includes Bethune's home and gravesite, early buildings and the Dr. Mary McLeod Bethune Performing Arts Center.
Visitor Centers Daytona Beach Area Convention and Visitors Bureau 126 E. Orange Ave. Daytona Beach, FL 32114. Phone:(386)255-0415 or (800)854-1234
Shopping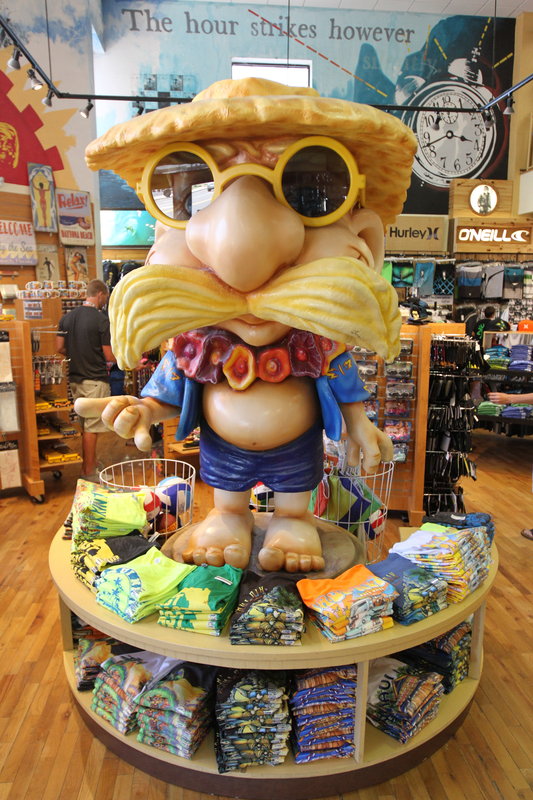 George Burgess
T-shirts, swimsuits, surfboards and…leather jackets? Yes, the amount and variety of shopping options impress in Daytona Beach, which welcomes beachgoers, bikers, deal seekers and window shoppers alike. Most of the well-known retailers are located by International Speedway Boulevard and LPGA Boulevard, while you'll find the most boutiques, souvenirs and biker gear around Beach Street, Main Street and beachside along Atlantic Avenue (SR A1A). Flea markets, an outlet mall and bargain shops are scattered between I-95 and Beach Street.
If you're here for NASCAR, you can't miss The Pit Shop, 1801 W. International Speedway Blvd., at Daytona International Speedway, one of the city's most well-known destinations. Stock car fans can buy merchandise featuring their favorite drivers on apparel, mugs and towels. Don't have room in your suitcase for all the die-cast miniature cars? They also ship.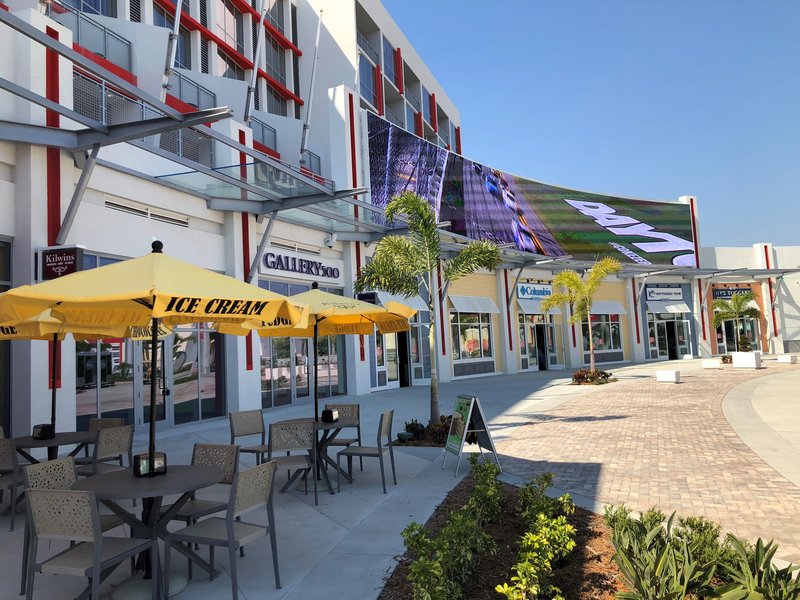 AAA/Sherry Mims
Facing the grandstands on the track is One Daytona , at 1 Daytona Blvd., which attracts visitors not only for convenience but also for its range of shops, local restaurants and entertainment. Things to see include Victory Circle and stores featuring popular brands such as Bass Pro Shops, Guitar Center, IT'SUGAR and Sunglass World.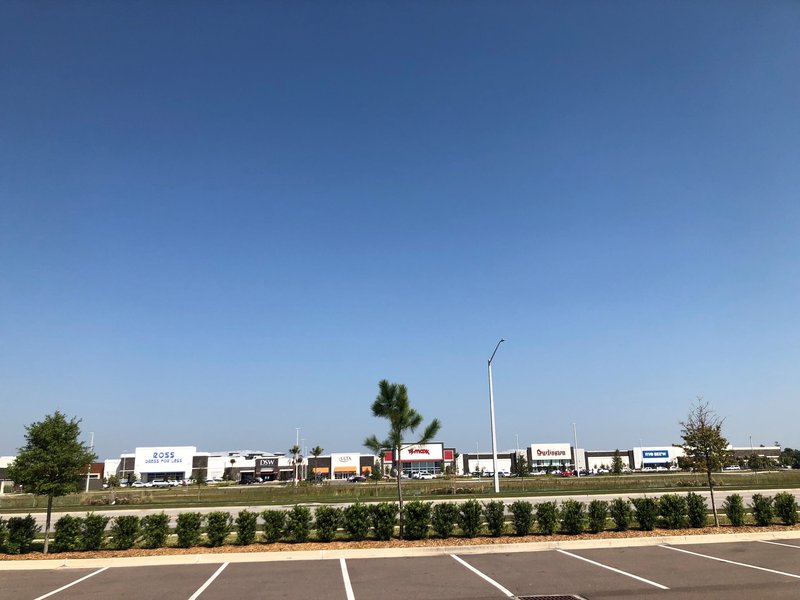 AAA/Sherry Mims
A number of other large shopping centers present apparel, décor and gifts from national brands. Tomoka Town Center, 1401 Cornerstone Blvd., is the city's latest retail complex with Burlington Stores, Ross Dress for Less, Hobby Lobby and a 15,000-square-foot Barnes & Noble, which includes a book theater, kids section and seating areas; phone (386) 281-4960. Volusia Mall, 1700 W. International Speedway Blvd., offers anchors such as Dillard's and JCPenney as well as 120 other services and stores, including American Eagle Outfitters, PacSun and Victoria's Secret; phone (386) 253-6783.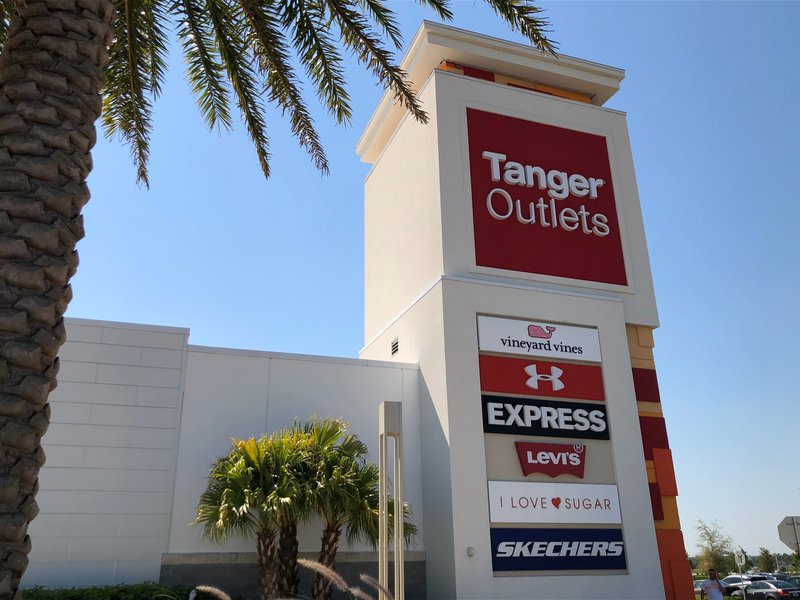 AAA/Sherry Mims
Tanger Outlets Daytona Beach, 1100 Cornerstone Blvd., offers deals on designer brands. Among the 60 outlet stores are Carter's Babies and Kids, J. Crew, Nike Factory Store and Under Armour. Phone (386) 843-7459.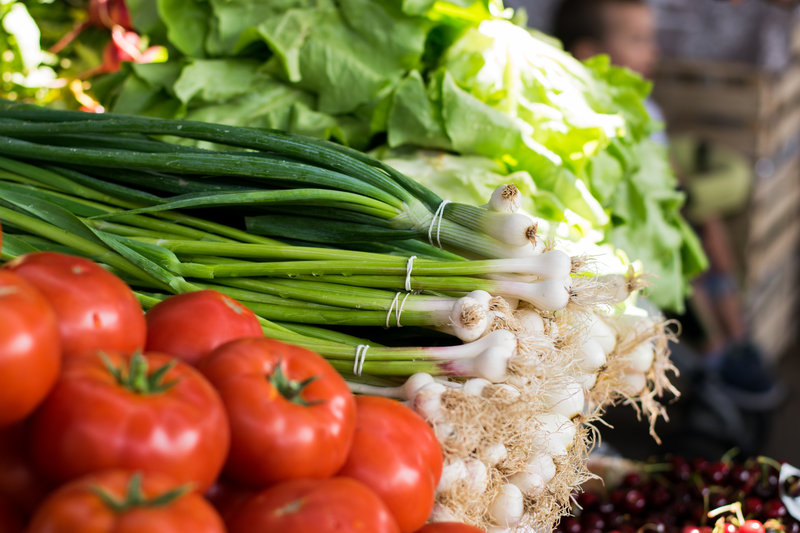 iStockphoto.com/Nevena Ristic
The Daytona Beach Downtown Farmers Market, off Magnolia Avenue and adjacent to Jackie Robinson Ballpark at City Island, runs 7 to 1 each Saturday morning. Bring your pet—it's pet-friendly—to keep you company as you shop for fresh produce, desserts and artisanal goods. Phone (386) 671-3272.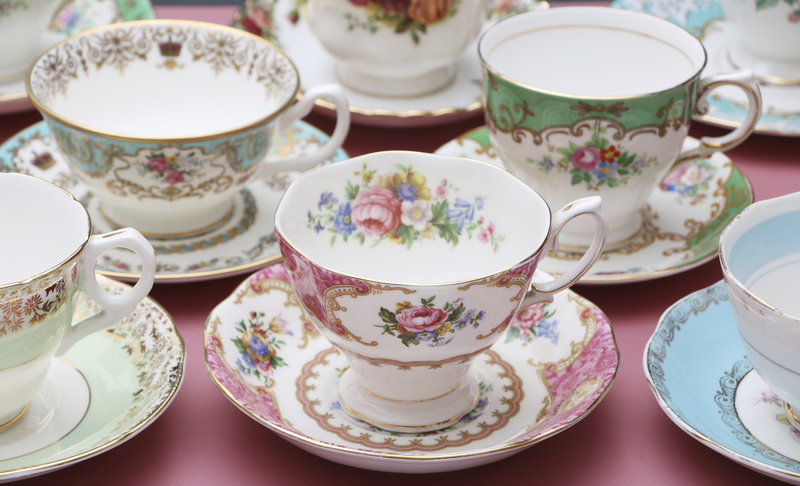 AAA/iStockphoto.com
Riverfront Shops of Daytona Beach, a collection of retailers between Bay Street and Orange Avenue, is the place to admire antiques and objets d'art. Ask the proprietors of Arlequin Antiques , 122 S. Beach St., about their collection of Art Deco jewelry and European antiques; phone (386) 252-6531. Browse the stacks (and greet the resident feline) at Abraxas Books , 256 S. Beach St., where there is everything from secondhand paperbacks to rare books; phone (386) 307-6478. For a fun thing for couples to do, visit Angell & Phelps Chocolate Factory to go on a free tour and shop for sweets (the chocolate is made on-site) at 154 S. Beach St. The fudge and chocolate-covered potato chips are what to buy; phone (386) 252-6531.
Across town—and open Friday through Sunday—is the well-known Daytona Flea & Farmers Market , adjacent to I-95 and US 92 at 1425 Tomoka Farms Rd. With a majority of the registered 650 vendors inside or under a roof, the market's a great place to go if it's raining or you're looking for indoor things to do this weekend. There's everything from collectibles to souvenirs. If you didn't already pack something to nibble on at the beach, check out the available produce, snacks and refreshments. Phone (386) 253-3330.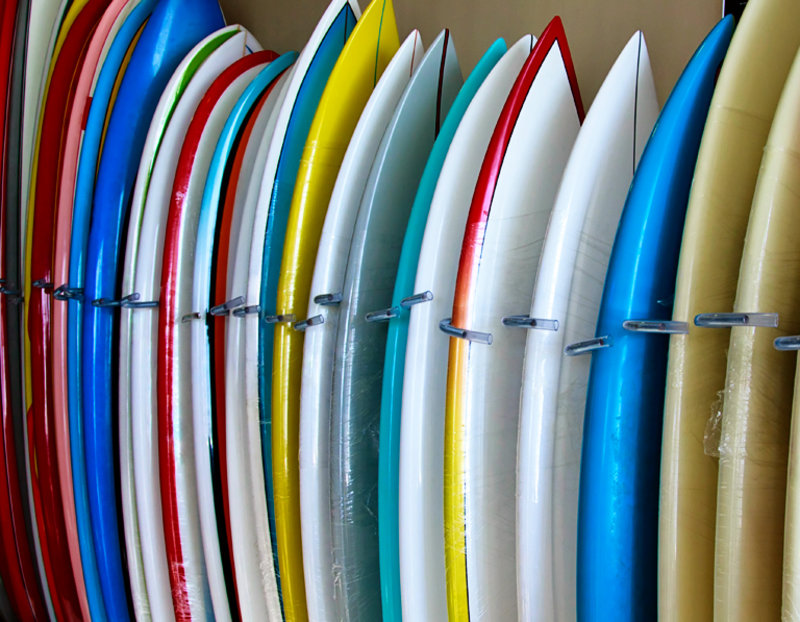 Shutterstock.com/Oleg V. Ivanov
Beachwear and souvenir shops line North Atlantic Avenue (SR A1A). Open since 1989, Maui Nix Surf Shop might be Daytona's most quintessential place to go for swimsuits, hats and surfing accessories. If you're missing anything for your day at the beach, you'll find it at one of the retailer's three locations: in the Ocean Walk Shoppes, at 250 N. Atlantic Ave.; inside Volusia Mall, at 1700 W. International Speedway Blvd.; or the original site at 635 N. Atlantic Ave.; phone (386) 253-1234. Sand Box Beachwear, another longtime beach shop at 1340 S. Atlantic Ave., also provides bathing suits and beach gear; phone (386) 252-6676.
Nestled among the bars and nightclubs along Seabreeze Boulevard is the legendary Sussman's (303 Seabeeze Blvd.), which has been offering fashion expertise since 1929. This is where to buy cocktail dresses, sportswear and high-end accessories; phone (386) 212-9614.
Be sure to check out a large collection of the latest albums as well as classic vinyl records at Atlantic Sounds , 138 W. International Blvd. In business since 1982, the independent record store is part shop and part community gathering space. Phone (386) 258-1420.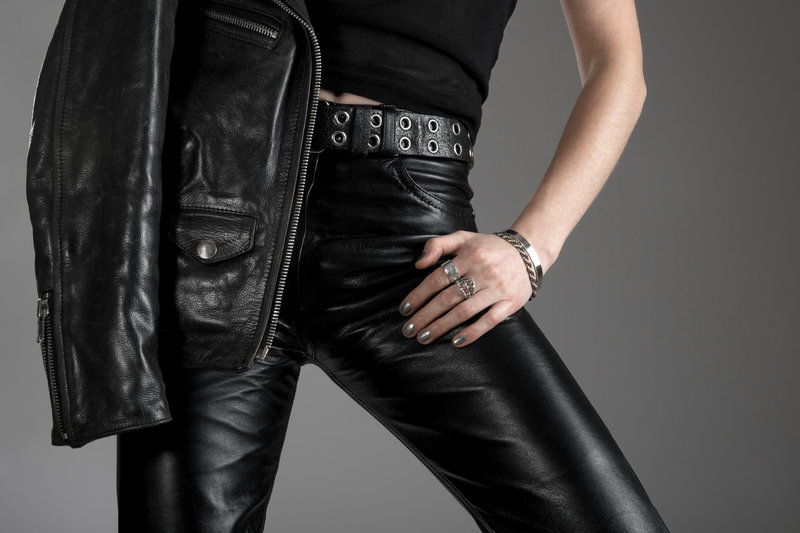 iStockphoto.com/AnikaSalsera
If you're a motorcyclist looking for where to go in Daytona Beach, you'll want to head toward Main Street at the junction of Halifax and Ocean avenues. In addition to the legendary biker bars in Daytona Beach, there is a mix of shops ranging from leather goods to motorcycle parts. One of the best known might be Hot Leathers , 801 Main St., which sells leather belts, jackets and tank tops year-round; phone (386) 238-1048. During Bike Week and Biketoberfest , score some Daytona Beach souvenirs at pop-up stores along Main Street and North Atlantic Avenue.
NightlifeReady to turn your day at the beach into a night on the town? Daytona Beach has a lot to offer, and you might be surprised to learn that there are more than just beachside bars where you can walk in wearing little more than flip-flops and cutoffs. There are beachside bars aplenty, but you'll also find pubs, clubs, discos and other venues offering a selection of music from rock to reggae, blues to jazz, and country to classical. No matter what your musical taste is, you're sure to find a spot in Daytona Beach to satisfy it and keep the beach party spirit going well into the night.
If your idea of beach music is the Beach Boys, pay no attention to this paragraph. However, if Led Zeppelin and AC/DC cover bands are more your style, then join the party at one of the many biker bars that call Main Street home. Daytona is world-renowned for its annual celebration of motorcycles; bikers gather in March for Bike Week and in October for Biketoberfest. Main Street is where they rally for raucous partying both night and day. Sandwiched between the Halifax River and the Atlantic Ocean, the area could be considered biker heaven; bars are tucked in among shops selling leather attire, motorcycles and bike parts. The Bank & Blues Club, 701 Main St., hosts live blues and rock bands in a 1920s bank and has the original brick walls and stained glass; the vault now keeps the beer and wine safe. Across the street from a cemetery, Boot Hill Saloon, 310 Main St., is quasi-legendary among the biker set; its slogan is "You're better off here than across the street." Be careful, though; the live rock music is loud enough to wake the dead. Memorabilia covers every surface, and bras hang from the ceiling; it's a tradition for women to leave one behind. For more ice-cold brews, deafening rock music and good times, check out Dirty Harry's, 705 Main St.; Froggy's Saloon, 800 Main St.; and Full Moon Saloon, 700 Main St.
For those who like to dance more than they like to rock, there's plenty of room on the huge dance floor at Razzle's, 611 Seabreeze Blvd., along with 11 bars, pool tables, an upscale dress code and décor, and the Ultra Lounge, featuring VIP booths and bottle service. DJs spin techno, house, trance and hip-hop.
You'll pick up more mellow vibes at oceanfront watering holes. A favorite of locals and out-of-towners alike, The Ocean Deck Restaurant and Beach Club, 127 S. Ocean Ave., faces the Atlantic and is decked out in sea shanty décor with colorful marlins hanging from the ceiling and restrooms marked Gulls and Buoys. Sip a margarita and sway to live reggae music on the outdoor deck on sultry summer evenings.
Every town has at least one Irish pub, and Daytona Beach is no different. Tir Na Nog Irish Pub, 612 E. International Speedway Blvd., draws local artists, whose works hang on the wall, and local musicians, whom you can listen to nightly. Jovial bartenders will happily draw you a pint from the extensive beer list, as befits any Irish pub worth its shamrocks.
The restored Daytona Beach Bandshell, built in the 1930s by the Works Progress Administration, presents live music ranging from country, classical, blues and big band to rock, jazz and even military bands. Concerts are offered Friday and Saturday at 7 p.m., May through September. Friday concerts are $3; Saturday concerts are free and conclude with fireworks. Bring the kids, a picnic basket (no alcohol is allowed) and some folding chairs (chair rentals are available on site) for an old-fashioned, hand-clapping good time. The band shell is on the beach near Ocean Walk Shoppes, 250 N. Atlantic Ave., between Ora and Earl streets.
Daytona Beach is the last place you might expect to find live classical music, but orchestras from all over the world perform in this beachside town, thanks to the Daytona Beach Symphony Society. Its chief venue is the Peabody Auditorium, 600 Auditorium Blvd., which has played host to the Boston Pops, the Czech Philharmonic and Itzhak Perlman; the season runs November through February.
Things to Do Angell & Phelps Chocolate Factory Tour
Daytona International Speedway
Halifax Historical Society Museum
Museum of Arts & Sciences (MOAS)