Montreal Sightseeing
Bus and Carriage Tours Visitors to Montréal have a wide choice of tour itineraries and prices. Gray Line de Montréal, (514) 398-9769, offers local tours. Also, calèches, or horse-drawn carriages, circulate around the city.
A flexible way to see the city is by taxi. You can also hire a guide who will ride in your automobile. The competency and fees of all guides are regulated by law. They must hold a certificate from the School of Tourism of Montréal, wear an official city badge and produce a valid tourist guide license.
Gray Line Hop-On/Hop-Off Double Decker Tours
Driving ToursAlthough multilane divided highways provide fast transit between Montréal and the rest of Québec, older roads that follow the same route—Hwy. 132 on the south shore of the river and Hwy. 138 on the north—offer scenic alternatives, which makes for a fun thing to do on your vacation. These roads, which follow the courses of original 18th-century roads, wind through small villages and towns with the best examples of Québec's domestic and ecclesiastical architecture.
Beyond the towns, the roads pass through farmland divided in parallel strips, each with its own access to the river—remnants of a system laid out under seigneurial ownership during French colonial times.
In summer the farms beckon motorists to stop and pick raspberries; roadside stands offer frites (french fries), vegetables and baked goods, and shops sell hand-carved whirligigs or homemade catalognes (rag rugs). In short, these old highways offer an introduction to a resilient and singular culture.
Walking Tours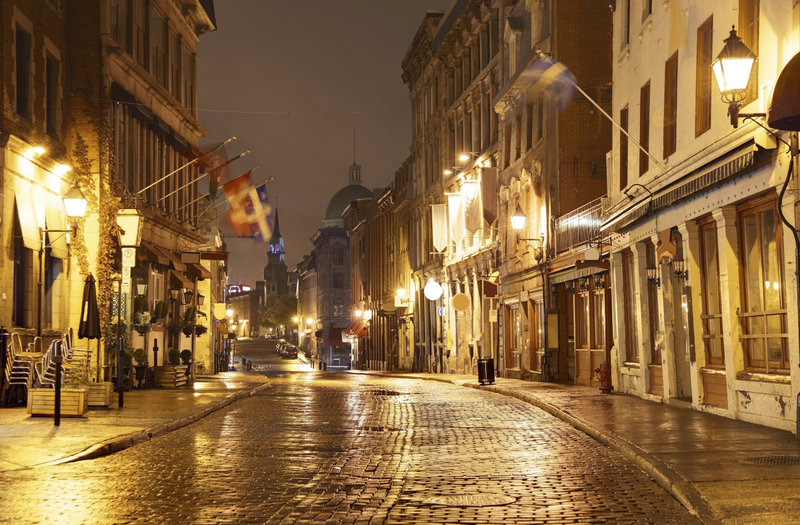 DenisTangneyJr/iStockphoto.com
Brochures outlining self-guiding walking tours of Old Montréal with explanations of its architecture can be picked up at the Infotouriste Centre at 174 Notre-Dame Est and at the information kiosk at 1001 rue du Square-Dorchester.
Costumed guides from Guidatour lead a variety of walking tours. Narration in English is available. Tours depart from 110 rue Notre-Dame, in front of Notre-Dame Basilica of Montréal; phone (514) 844-4021.