About Scottsdale Scottsdale was named for Chaplain Winfield Scott, Civil War veteran and retired military man who in 1888 purchased some farmland near the center of present-day Scottsdale. The city's slogan, "The West's Most Western Town," certainly applies to the wooden storefronts and hitching posts of Old Town Scottsdale. But the rest of the city is better described as "South Beach meets the Sonoran Desert."
Chic and sophisticated, Scottsdale is home to more than 100 art galleries, an array of specialty stores, fine dining, hip nightlife, plush resorts and golf courses galore. In short, this is the Valley of the Sun's tourist hot spot.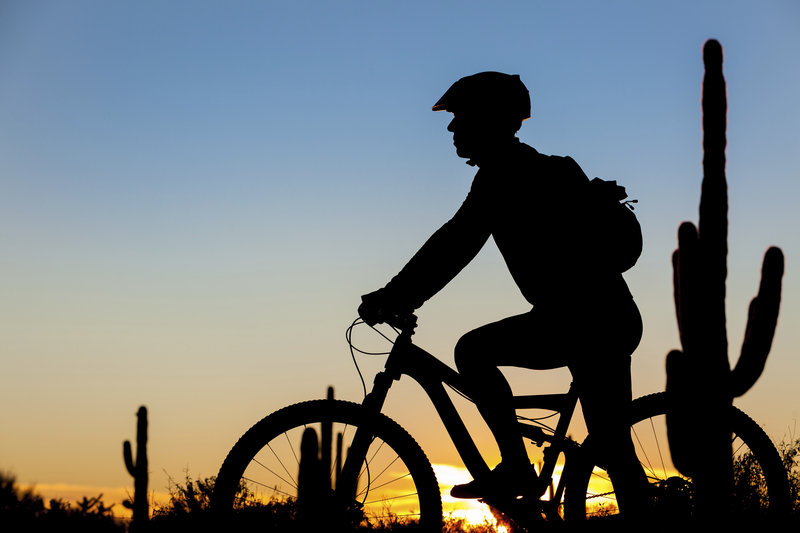 Doug Bennett/iStockphoto.com
Indian Bend Wash Greenbelt along Hayden Road offers 7 miles of trails for bicyclists and runners. McCormick-Stillman Railroad Park, 7301 E. Indian Bend Rd., (480) 312-2312, offers 1-mile rides on a scale train. Several full-size railroad cars, a 1907 locomotive, playgrounds and an operating 1950s carousel are in the park. Picnic facilities are available.
The free Scottsdale trolley is a handy way to get around the downtown area. Following a route that includes stops at Old Town, the Arts District and Scottsdale Fashion Square, the trolley operates daily (except January 1, Memorial Day, July 4, Labor Day, Thanksgiving and Christmas) 11-9 and runs every 10 minutes. For route maps and more information check hotel brochure racks, or phone (480) 312-7250 or (800) 782-1117.
Visitor Centers Experience Scottsdale Tourist Information Center 7014 E. Camelback Rd. Scottsdale, AZ 85251. Phone:(480)421-1004 or (800)782-1117
Self-guiding ToursMaps detailing self-guiding walking tours of Scottsdale's Old Town are available from the convention and visitors bureau. There's also a self-serve information kiosk loaded with maps and brochures at the corner of Main Street and Brown Avenue.
ShoppingArizona's answer to Santa Fe, New Mexico, downtown Scottsdale is one of the biggest art gallery centers in the Southwest. Fine art collectors armed with high-limit plastic will want to head for the Arts District, along palm-lined Main Street (just w. of Scottsdale Rd.) and Marshall Way (between Main St. and 5th Ave.)
The Knox Artifacts & David Stock Native Art (7056 E. Main St.) is a must for collectors of Pre-Columbian and Native American art.
If your taste leans more toward abstract squiggles on a huge white canvas, the Gebert Contemporary Art Gallery (7160 E. Main St.) deals in cutting-edge paintings and sculptures by established international artists. For modern art that's a bit more accessible to the masses, Xanadu Gallery (7039 E. Main St., #101) sells beautiful glass art, jewelry, paintings, photography and intriguing contemporary sculptures; some of it is surprisingly affordable.
The weekly Scottsdale ArtWalk (held Thursday 7 p.m.-9 p.m., except Thanksgiving) is a fun way to get acquainted with the area. Many of the galleries stay open late for this "open house" event, which occasionally features live music and artist demonstrations.
If souvenirs are more your speed, Old Town Scottsdale (a four-block area bounded by Scottsdale Road, Indian School Road, Brown Avenue and 2nd Street) is loaded with trinket shops selling everything from fridge magnets to toy tomahawks. For authentic Native American crafts, try Bischoff's Shades of the West (7247 E. Main St.) or Gilbert Ortega Galleries (3925 N. Scottsdale Rd.).
Old Town's wooden storefronts may very well put you in the mood to don Western duds. Saba's Famous Texas Boots (7254 Main St.) stocks brand names like Tony Lama and Nocona. Az-Tex Hats & Gifts (3903 N. Scottsdale Rd.) has a nice selection of quality cowboy hats and straw sun hats but, beware, prices are steep.
For clothes you might actually wear back home, head for the funky boutiques and shops lining 5th Avenue (between Scottsdale Rd. and Marshall Way). A relaxed shady lane, the 5th Avenue shopping district also has jewelry stores, art galleries and a sprinkling of casual sidewalk cafés.
Just north of 5th Avenue is the Scottsdale Waterfront, a 5-acre mixed-use development spread along the banks of the Arizona Canal. The complex features a handful of mall stores (High Point, Urban Outfitters), restaurants and the Ellie & Michael Ziegler Fiesta Bowl Museum (7135 E. Camelback Rd., #190), a must-visit for college football fans; phone (480) 350-0900.
A massive three-story mall, Scottsdale Fashion Square (at the corner of Camelback and Scottsdale roads) has more than 250 stores, including upscale anchor Neiman Marcus. Scottsdale Quarter (15059 N. Scottsdale Rd.) is a 28-acre shopping district featuring retail, restaurant and entertainment options as well as office space. Retailers include Apple Store, H & M, Lululemon, Nike, Pottery Barn and Sephora.
Shopping Tours: Spree! The Art of Shopping is an upscale shopping service and experience for those who want to channel their inner Carrie Bradshaw. Several round-trip tour packages are available and power shoppers have the choice of being picked up in either a limousine or luxury sedan. Tours run approximately 3 hours and advance reservations of at least 24 hours are required; phone (480) 201-5480 for more information or to make reservations.
NightlifeScottsdale lays claim to the valley's hottest dance club scene. You'll find the trendiest spots in the dozen-or-so city blocks southeast of the intersection of Scottsdale and Camelback roads.
For those with country in their hearts and a love of live music, there's the Rusty Spur Saloon (7245 E. Main St.). Scottsdale's last real cowboy saloon is housed in the former Farmers Bank of Scottsdale. Celebrities including Clint Eastwood, John Wayne, Vince Vaughn and Jennifer Aniston have walked through its swinging doors.
For a good old Budweiser-fueled, boot-scootin' night on the town, head for Handlebar J (7116 E. Becker Ln.). A Scottsdale landmark since 1966, the club has live country music nightly, plus free country dance lessons every Thursday at 6:45. Line dancing lessons are offered Tuesday at 6:30. Phone (480) 948-0110.
Things to Do Scottsdale Civic Center Mall
Scottsdale Museum of Contemporary Art
Western Spirit: Scottsdale's Museum of the West
GAMBLING ESTABLISHMENTS Casino Arizona—101 & McKellips
Casino Arizona—Talking Stick Resort and Casino
Recreational Activities
Hiking 360 Adventures
Hot Air Ballooning Rainbow Ryders, Inc. Hot Air Balloon Ride Co.