About YellowknifeAlthough the Dene hunted the Yellowknife region for thousands of years and Europeans explored it in 1771, a permanent settlement was not established until the discovery of gold in 1934. Taking the name of the copper knives carried by the Chipewyan Indians, the town is now the capital of the Northwest Territories and the site of a gold mine and a booming diamond industry.
In 1967 Yellowknife replaced Ottawa as the seat of government for the Northwest Territories. Tours of the Legislative Assembly are available Mon.-Fri. at 10:30, 1:30 and 3:30, Sun. at 1:30, June-Aug.; Mon.-Fri. at 10:30, rest of year. Phone (867) 669-2200. On the northern shore of Great Slave Lake, this "metropolis" of the north lies less than 500 kilometres (311 mi.) from the Arctic Circle and is an excellent place to shop for Northern arts.
The city's historic Old Town retains the gold rush excitement of the 1930s with quaint restaurants, art galleries, shops, and boat, kayak, canoe and yacht rentals. Planes are available for sightseeing and fishing trips. The visitor center on 49th Street can provide information about rentals and excursions.
Best viewed October through March, the aurora borealis, or northern lights, is produced when atomic particles from outside the atmosphere strike and excite atoms within the upper atmosphere. The lights sweep mysteriously across the clear night sky as luminescent curtains of red, green, pink and purple light in patterns called rayed bands. Guided viewing trips are available.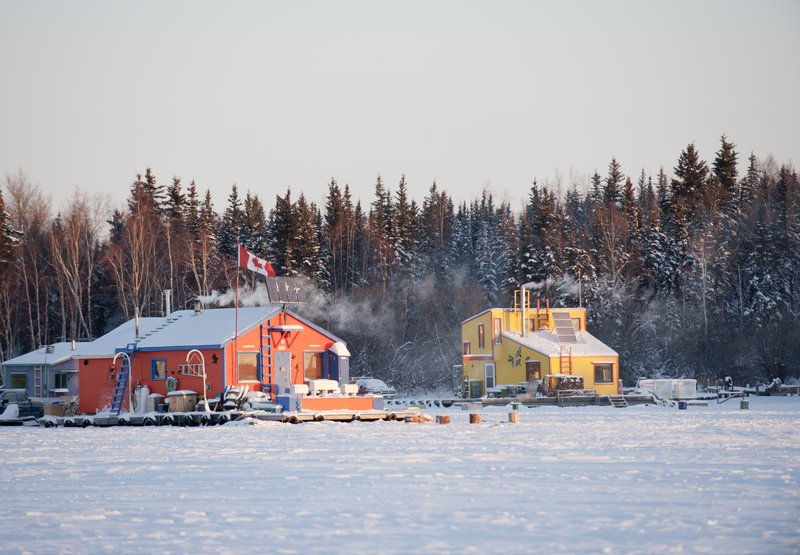 RyersonClark/iStockphoto.com
The scenic 71-kilometre (44-mi.) Ingraham Trail (Hwy. 4) to Tibbitt Lake allows year-round access to several chains of lakes and streams. Seven boat launches and two campgrounds lie along the road. Prelude Nature Trail runs 3 kilometres (1.8 mi.) from Prelude Lake Territorial Park through the wilderness to several lookout points, while another trail leads to Cameron Falls.
Prospector's Trail is in Fred Henne Territorial Park, west near Long Lake. The 4-kilometre (2.5-mi.) loop points out the region's varied geological features and is of interest to rock hounds; sturdy footwear and insect repellent are necessary. Other hiking trails lead from Ingraham Trail; information and brochures are available at the visitor center.
Adventure_Photo/iStockphoto.com
Easily accessible area lakes include Prosperous Lake, Pontoon Lake, Prelude Lake, Reid Lake and Tibbitt Lake. Walsh Lake has good trout fishing, but is accessible only by going through Reid Lake.
The scenic portion of Hwy. 3 runs north from Mackenzie Bison Sanctuary to Edzo, then parallels the northern shore of Great Slave Lake. Driving anywhere in the area, or throughout the Northwest Territories, demands that a vehicle be in top mechanical condition.
Visitor Centers Yellowknife Visitors' Centre (Extraordinary Yellowknife) 4807 52nd St. Yellowknife, NT X1A 2P4. Phone:(867)920-8687
Self-guiding ToursThe visitor center provides brochures for a walking tour of Old Town and New Town.
Things to Do Beck's Kennels Dogsled Tours