AAA Inspection Details
Noteworthy by meeting the industry-leading standards of AAA inspections.
Presentation, Ingredients, Preparation, Menu
Attentiveness, Knowledge, Style, Timeliness, Refinement
Style, Materials, Tables, Seating, Ambience, Comfort
Restaurants have overall ratings in the top 20% for their Diamond Rating level, plus no member complaints in the past 12 months.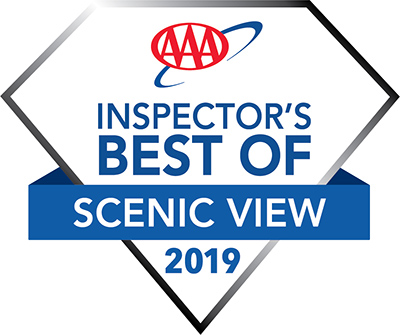 Perched above the main drag of Banff, in addition to the Jasper Rockies vista I can sometimes catch a glimpse of the famed Rocky Mountaineer train.
AAA Inspector Notes
Up on the second floor, this casual eatery has enticing views of the nearby Colin Range Mountains. The chef sources quality ingredients with a slant toward AAA Alberta beef and game meats as well as fresh fish such as trout, salmon or arctic char. The menu choices are interesting and very yummy with appetizers like bison meatballs and bannock or wild mushroom and gorgonzola bruschetta. Main courses might include phyllo-wrapped fish with cucumber butter sauce, elk stroganoff or veal schnitzel. Desserts are all delicious, but if you see the maple pecan cheesecake on the menu you must save some room. The atmosphere is casual with a simple pine mountain decor. Servers are very friendly and helpful.
Reservation
Reservations suggested.
Location
620 Connaught Dr T0E 1E0
More Information
Casual Dining. Dinner served. Full bar, patio dining.