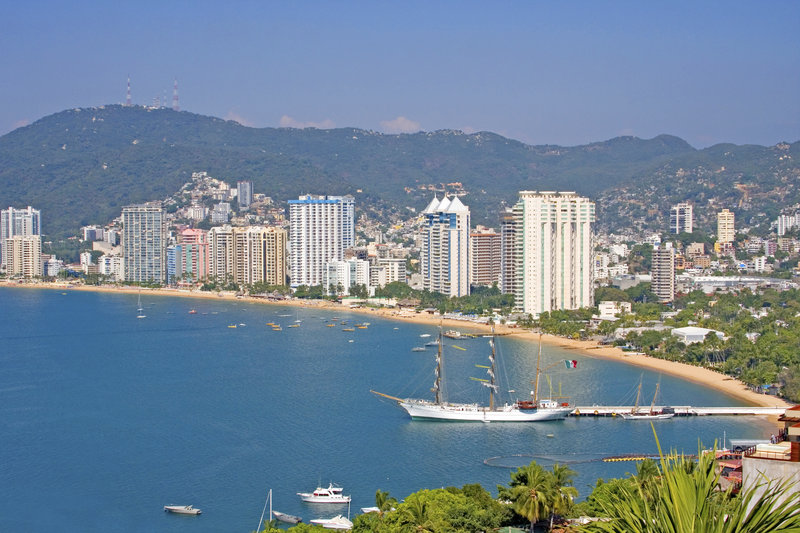 LisaStrachan/iStockphoto.com
Introduction
This beach destination on a stretch of Pacific coast known as the "Mexican Riviera" boasts the tropical allure of blue water, golden sand and sunshine. Acapulco became famous in the 1960s as a getaway for Hollywood movie stars. Today, however, it's more popular with Mexican families. Luxury resorts and hot dance clubs remain, although in recent years the city has had to contend with headline-grabbing violent incidents associated with Mexico's ongoing drug cartel wars.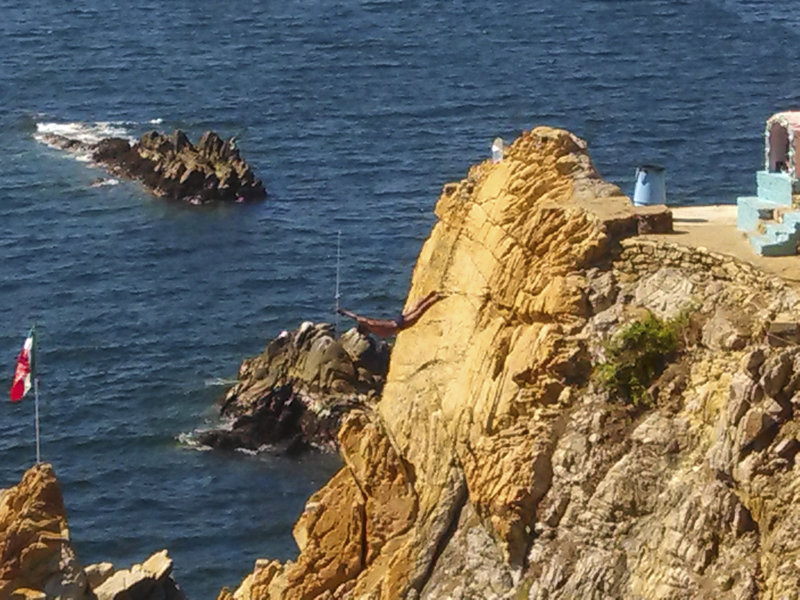 Robert_Ford/iStockphoto.com
Relaxation rather than sightseeing is the byword, as there are few museums or other attractions to lure vacationers away from their poolside lounge chairs and frozen drinks. One of the places to go that is worth experiencing is watching Acapulco's celebrated cliff divers, or clavadistas, leap off rocky La Quebrada into the surf below. There's no shortage of fun things to do on or in the water, from parasailing and water skiing to snorkeling and deep-sea fishing.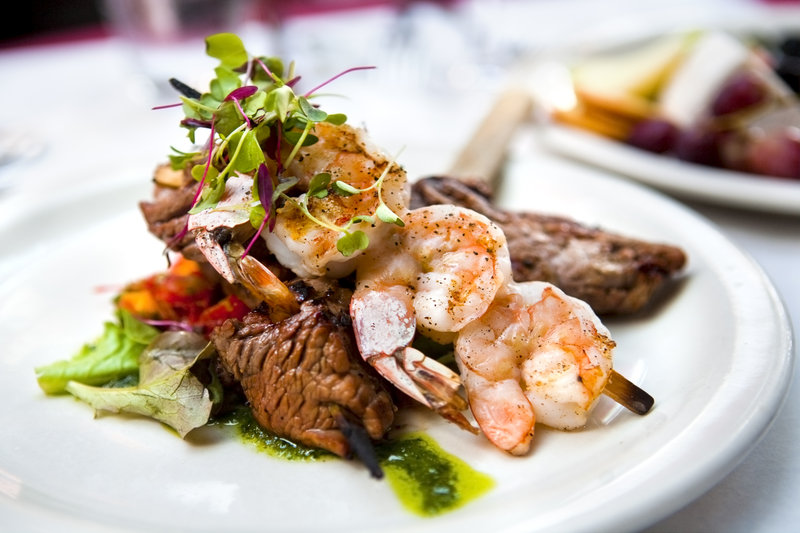 Diane Diederich/iStockphoto.com
Dining under the stars at local restaurants is one of the city's greatest pleasures, whether it's a romantic table on a secluded rooftop terrace or wriggling your toes in the sand at an ultra-casual beachside taquería. Acapulco's legendary discos stay open until the wee hours, but a more convenient, and safer, alternative is to take advantage of the evening entertainment—in the form of floor shows or themed fiesta nights—offered by the major hotels.
Travel Advisory: We do not recommend travel to the state of Guerrero due to the U.S. Department of State's "Do Not Travel" warning. The acute level of crime and violence in this area prohibits AAA inspections.
Acapulco has been around since the turn of the 16th century, when it was established as an authorized trading port between the Americas and Asia and galleons laden with exotic goods began sailing back and forth across the Pacific. But it wasn't until 1927 that a road was cut through the rugged Sierra Madre Mountains, connecting Mexico City to this unremarkable fishing village located on a sheltered bay. And when international air service was established in 1964, Acapulco was catapulted head-first into the resort age.
In the 1960s and '70s this was Mexico's most notorious party destination, the darling of the international and Hollywood jet sets. Movie stars like John Wayne, Johnny Weissmuller, Elizabeth Taylor and Rita Hayworth lounged at luxurious hotels. Elvis Presley and Ursula Andress had "Fun in Acapulco," a 1963 movie starring the King as a lifeguard and hotel singer who serenaded audiences with the ditty "Bossa Nova Baby." The shore along Acapulco Bay was transformed into a 9-mile swath of glitter and indulgence patronized by la gente bonita (the beautiful people).
Take a random poll today and you'll likely find that Cancún is Mexico's beach of choice for many tourists. But Acapulco retains its popularity, especially among Mexican vacationers. The weather is always balmy, and the water is warm enough for swimming year-round. November is one of the nicest months to visit, as high-season prices haven't yet kicked in. Formality can be left at home with your coat; standard attire consists of shorts, T-shirts and the occasional scandalous bathing suit.
Acapulco isn't known for dignified historical monuments. It's a big city and an important commercial center, but the economy depends most heavily on the tourist trade. In addition to letting life's cares melt away at the beach, water recreation and watching the clavadistas (cliff divers) hurl themselves from the top of La Quebrada are some of the city's favorite things to do.
As is the case at some of Mexico's other resort destinations, there are two Acapulcos. The flashy, pretty Acapulco along the immediate bayfront caters to tourists, while the Acapulco that spreads over the hills above the beaches—poverty ridden, with dusty, potholed streets and little police protection—is where many of the taxi drivers, chambermaids, waiters and other workers who depend on the tourist industry live. It also is where almost all of the city's highly publicized incidents of drug-related violence have taken place.
If you have money to burn, you'll have a fabulous time. The big resort hotels shepherd guests to private villas bedecked with fresh flowers, and their amenities include some of Mexico's most impressive swimming pool complexes. Alfresco tables at an intimate little restaurant, tucked on a hillside with a swooning view of Acapulco Bay, make dining out a romantic special event. And the city's fabled nightlife lives up to its reputation.
By Air
Acapulco International Airport (officially Juan N. Alvarez International Airport) is about 23 kilometers (14 miles) southeast of the city off Boulevard de las Naciones. Major carriers frequently fly into Mexico City, where connections can be made to Acapulco.
United offers seasonal nonstop flights from Houston. Providing service from Mexico City are Aeroméxico, phone 01 (800) 021-4000 (toll-free long distance within Mexico); Interjet, phone 01 (800) 011-2345 (toll-free long distance within Mexico); and Volaris, phone (55) 1102-8000. Charter flights from Canada are available seasonally.
Best Day is an airport shuttle/taxi service that transports visitors from the airport to the city's hotel zone along Boulevard Costera Miguel Alemán. The 30-minute ride in a shared minivan (colectivo) costs about $18-$22 (U.S.) per person; a non-shared minivan starts at about $60, depending on the destination. Phone 01 (800) 237-8329 (toll-free long distance within Mexico) or (800) 593-6259 (from the United States).
By Car
From Mexico City, toll highway Mex. 95-D, the Autopista del Sol (Sun Highway), is by far the quickest and best option. Between Mexico City and Cuernavaca the funnel highway is Mex. 95-D; just south of Cuernavaca, the Sun Highway splits off from old Mex. 95-D, proceeds south to Chilpancingo and Tierra Colorada, and then on to Acapulco International Airport. Total driving time for the 240-mile stretch is around 4 hours.
The four-lane, largely traffic-free highway twists and turns through beautiful valleys and around mountainous curves. Signs denote scenic stops. About halfway to Acapulco a suspension bridge 600 feet above the Mexcala River affords a spectacular view; acrophobes will probably want to keep their eyes shut.
The one drawback to traveling this well-maintained route is the cost. There are frequent toll plazas along the route, and the total charge runs about $80 (U.S.). Tolls must be paid for and gas must be purchased in pesos. The highway is economically out of the question for the average Mexican driver; most of the traffic is luxury buses, long-distance trucks and tourists willing to pay for convenience.
Mex. 95, an older, free highway, begins at Mexico City and proceeds south through Cuernavaca, Taxco, Iguala and Chilpancingo to Acapulco, roughly paralleling toll Mex. 95-D. It's scenic, but also very winding.
Acapulco is a long way from the United States; from McAllen, Tex., one of the closest U.S. border points, the distance is nearly 900 miles.
By Bus
First-class (ejecutivo) buses operated by Tres Estrellas de Oro make daily runs on the Autopista del Sol between Mexico City's Terminal Central de Autobuses del Sur and Acapulco; the trip takes 5 to 6 hours and costs about $30 (U.S.) one way. This bus line also provides service to Taxco, Ixtapa and Zihuatanejo. Buses coming from Mexico City on Friday and departing Acapulco on Monday are often very crowded.
By Cruise Ship
Due to ongoing Mexican drug cartel violence and wary American tourists, many major cruise lines have omitted Acapulco from their Pacific Mexico itineraries. Oceania Cruises, Regent Seven Seas Cruises and the Norwegian Cruise Line still occasionally visit, docking at Puerto Acapulco near the old downtown area. Your ship's excursion manager can book you on a tour of the city. Onshore visits typically include Fort San Diego, across the street from where cruise ships moor, and La Quebrada, where the cliff divers perform.
City Layout
Acapulco is divided into three sections. The oldest part, appropriately referred to as Old Acapulco (or "Tradicional") fills a peninsula that forms the western side of Acapulco Bay. This is where locals as well as U.S. and Canadian retirees attend to their daily business. It's compact, bustling and has a very Mexican feel, a definite contrast to the more tourist-oriented parts of the city.
The downtown waterfront contains the docks and fishermen's wharves, reminders of Acapulco's continuing importance as a commercial port. This is where both cruise ships and smaller fishing boats dock. Historic Fort San Diego is in this area. Old Acapulco also includes Caletilla and the other city beaches as far east as the first hotel high-rise.
Boulevard Miguel Alemán runs through the Dorado (or Golden Zone) section of the city. This wide boulevard following the northern shore of Acapulco Bay is also called the Costera and was named for the former Mexican president who was responsible for initiating much of the city's resort development. Luxury hotels, restaurants, shops, family-oriented attractions and beaches like Playa Hornos and Playa la Condesa are located in the Golden Zone, which continues as far as the Las Brisas hotel, east of the junction with Mex. 95 (the highway to Taxco and Mexico City).
Beyond this point is the newest section, Punta Diamante (the Diamond Zone). Here the coastal drive is called the Carretera Escénica and continues along Acapulco Bay toward Puerto Marqués and, farther on, the airport. Another group of luxury hotels, like the Acapulco Princess and the Fairmont Pierre Marqués, are clustered in the Punta Diamante area.
As in many other parts of Mexico, streets change names frequently and street signs are difficult to locate. Orient yourself by using the Costera as a reference point—the great majority of Acapulco's accommodations, restaurants and nightspots are on or a short distance off it.
Rental Cars
Hertz is one of several rental car agencies with offices in Acapulco. Be sure you fully understand the terms of any rental contract. Some luxury hotels provide jeeps for their guests.
Note: AAA members enjoy discounts through Hertz for vehicles booked in the United States. Consult your local AAA club or phone Hertz, (800) 654-3080.
Buses
Blue-and-white buses with "Costera" printed on the side travel up and down Boulevard Miguel Alemán, connecting beaches and various points of interest. The fare is inexpensive (5 pesos), but the ride is often bumpy and hot, and these buses are usually crowded as well. Maps at covered bus stops along the Costera illustrate routes to major hotels and tourist attractions. If you're taking the bus to an outlying area like Pie de la Cuesta or Puerto Marqués, find out when and where to board the last bus going back into town. Stay alert while on the bus and beware of pickpockets, who sometimes target foreign tourists.
Taxis
Yellow-and-while colectivo taxis travel along the Costera and charge 10 pesos per person. Fares charged by blue-and-white "tourist" taxis typically begin at around 50 pesos. Taking a sitio taxi associated with your hotel is more expensive but also much safer, especially after dark. Lists showing rates for sitio taxis are usually posted in the hotel lobby. Hail cabs cruising the streets at your own risk, as robberies can occur.
Parking
Old Acapulco has narrow streets and is better suited to walking than driving. It is illegal to park anywhere along Costera Miguel Alemán. Since everything is spread out, use city buses or take a taxi where you want to go.
Guides/Tours
A guide is not really necessary in Acapulco since the focus for most vacationers is on the beach, nightlife and eating out. If you do hire one, make certain he or she is a reputable, bonded guide licensed by the Guerrero State Department of Tourism. Freelance guides can usually be found in the lobbies or at the entrances of the more expensive hotels.
Local tour operators offer organized city tours, day trips to Taxco or evening nightclub tours. Tour desks are at the larger hotels. Acuario Tours is a representative agency. The office is in Old Acapulco at Costera Miguel Alemán #186-3; phone (744) 469-6100.
Elevation
13 meters (43 feet)
Police (emergency)
Dial 065 and ask to be connected to an English-speaking operator.
Police Assistance
English-speaking "tourist police" outfitted in white and light blue uniforms patrol streets in tourist areas and can provide assistance to visitors. Phone (744) 485-0490.
LOCATEL
(provides assistance in locating vehicles or missing persons, or to those in need of public services): (744) 481-1100. The office is at Boulevard Costera Miguel Alemán #3221.
Hospitals
Hospital Privado Magallanes, Calle Wilfrido Massieu Perez #2, (744) 485-6544; IMSS (Mexican Social Security Hospital), downtown at Av. Cuauhtémoc #95, (744) 469-0270; Red Cross (Cruz Roja), Calle Andrea Dorian #1 (off Boulevard Costera Miguel Alemán), (744) 481-3385. Many hotels have an in-house doctor or a contact physician on 24-hour call.
Local Phone Calls
Public phones take prepaid Ladatel/Telmex phone cards, which can be purchased at any convenience store. The smallest card value is 30 pesos; local calls cost only a couple of pesos, depending on the time the call is made. Insert the card chip side up and then dial your call; an LED display shows the remaining value of the card after the call is finished.
Calls to a cellphone must be preceded by 044, then the 744 area code and the seven-digit phone number. Avoid making phone calls from your hotel room, as the rate you'll be charged is apt to be outrageous.
Publications
Sanborns, a Mexican restaurant chain, has English-language books and periodicals. There are locations at Boulevard Costera Miguel Alemán #3110 (several blocks south of the El Rollo Acapulco water park), Boulevard Costera Miguel Alemán #1360 (in the vicinity of Playa Calinda) and at Boulevard Costera Miguel Alemán #209 in old downtown Acapulco.
Currency Exchange
Most banks along the Costera, both in the downtown area and the hotel zone, are open Mon.-Fri. 9-5 (some also Sat. 10-2). Casas de cambio (currency exchange houses) line the Costera in the vicinity of the big hotels; these are open daily and often until 8 p.m. ATMs are plentiful and accept international credit cards; withdrawals are in pesos.
Staying Safe
In recent years Acapulco has experienced high-profile incidents of drug cartel-related violence, some of which have occurred in or near tourist areas. If you leave your hotel, stick to areas frequented by visitors (the beaches and tourist-oriented businesses along Boulevard Costera Miguel Alemán). The old downtown area is also safe during daylight hours. Tourists often are targeted for petty theft; stay alert if you happen to be in a crowded public place, like a market. Never carry large sums of money or personal valuables and always keep your hotel room key card with you, preferably in a hidden pocket or other safe place.
Whether it's your first visit or you've been here several times before, don't forget to include these sights and experiences on your vacation to-do list.
By AAA Travel Editor
Although Acapulco's history goes back to the turn of the 16th century, the best sightseeing during your trip focuses on the scenic, not the historic. Calandrias (horse-drawn carriages) festooned with flowers and colorful balloons parade along Costera Miguel Alemán; touring this wide bayfront boulevard, admiring the beaches and big hotels and soaking up Acapulco's party atmosphere are among the fun things to do here.
On Calle Inalámbrica, a short cab ride from the plaza in the La Pinzona neighborhood, is the Dolores Olmedo House. Famed Mexican muralist Diego Rivera lived in the house the last 2 years of his life and created the fanciful seashell murals that cover the wall surrounding it. The "Casa de los Vientos" (House of the Winds) was converted into a cultural center and small art museum in 2013 with financial backing from Mexican billionaire Carlos Slim.
The small village of Pie de la Cuesta is a jumble of mom 'n pop motels and seafood shacks. The crashing breakers and treacherous ocean currents make swimming unsafe, and there are no lifeguards. This is, however, one of the great places for couples to go for a muy romantic place to watch the sun set. Families line up chairs, vendors mill around selling snacks, and all eyes turn toward the horizon at the appointed time as the sky blazes with color and the Pacific turns to pale gold.
Sleep? Forget about it—put on your dancing shoes and get ready to paint the town red, because after dark it's all about Acapulco's famed nightlife. The discos of yore may be called dance clubs these days, but the glitz, elaborate laser light shows and pounding beats pouring from state-of-the-art sound systems are essentially the same. Palladium Acapulco , on Costera Miguel Alemán in the trendy Las Brisas neighborhood, is one of the hottest places to go; it has huge glass windows that look out over Acapulco Bay.
Dining out is one of Acapulco's principal pleasures, so spiff up a little (no jacket or tie required, but no jeans or baggy shorts either) and splurge on dinner at one of the nice local restaurants. The view of the bay at dusk, when lights begin twinkling, will definitely put you in a festive (or romantic) mood.
Shopping in Acapulco
Artesanías Finas de Acapulco , more commonly known as AFA-ACA, is a one-stop department store where you'll find carved wooden masks, folk art, jewelry, furniture, onyx chessboards, pottery, luggage and other items. Quality varies, from cheap mass-produced souvenirs to fine craftsmanship. It's just off Boulevard Costera Miguel Alemán at Avenida Horatio Nelson (near the Baby'O disco).
One of Acapulco's nicest malls is La Isla Shopping Village Acapulco , on Boulevard de las Naciones in the vicinity of Puerto Marques. It has more than 150 shops and boutiques (Lacoste, Tommy Hilfiger, Quiksilver), plus Liverpool, a high-end Mexican department store. You'll also find local restaurants, a cinema multiplex and a turtle pool. For a fee you can go for a gondola ride that glides along a man-made waterway. Everything is laid out along a canal in a landscaped setting of fountains and outdoor cafés, and if it looks like the mall of the same name in Cancún, there's a reason: They share the same developer.
Another snazzy mall is Galerías Diana , on the inland side of the Boulevard Costera Miguel Alemán just west of the Diana traffic circle (across from the Hotel Emporio Acapulco). Several levels of shops and boutiques surround a vaulted atrium. The movie multiplex Cinépolis offers bar service and leather lounge chairs outside the individual theaters. There's also a video arcade for kids, slot machines, a sports bar and, if you're suffering from a lack of lattes during your vacation, there's a Starbucks outlet on the main floor of the atrium.
La Gran Plaza , on Costera Miguel Alemán opposite the Ritz Acapulco Hotel, has six different "plazas" spread out on two levels. Retailers range from Fábricas de Francia, a top-of-the-line clothing and housewares store, fashion boutiques and jewelry stores to craft shops run by Huichol Indians. There are also drugstores, currency exchange offices, travel agencies and other businesses. The mall has plenty of ATMs as well. There's a nice food court and a game-oriented playground for kids.
Most hotels have their own specialty shops; the plush shopping arcade at the Princess Mundo Imperial is worth stopping by during your trip, if just to ogle the merchandise.
Acapulco Nightlife
If you're looking for fun things to do with friends, don't miss Acapulco's glitzy dance clubs, which feature elaborate light shows, mirrored walls, fireworks and dance beats pounding from state-of-the-art sound systems. The music ranges from techno to house to hip-hop to Top 40. They start hopping around 10:30 p.m. and stay open until the wee hours. A dress code is standard (jeans and T-shirts are usually frowned on). Cover charges are steep ($30 or more during the winter high season, less at other times), although they are sometimes waived to draw customers. Women normally pay a reduced charge. Bar drinks, of course, are extra.
One of the hottest places to go is Palladium Acapulco , on Carretera Escénica (Boulevard Costera Miguel Alemán) at Las Brisas. High on a hillside at the southern end of Acapulco Bay, it has glass windows 160 feet wide that look out over the water, giving dancers the feeling of being suspended in mid-air. Lighting and sound are top of the line, and as a result there's always a line to get in.
Baby'O , Costera Miguel Alemán #22, is a mainstay that has been around since the disco days of the '70s and is still going strong. The atmosphere here is akin to a very high-class cave pierced by laser lights, rumbling to the throb of techno, hip-hop and dance music.
The city's most celebrated nighttime destination is the diving from La Quebrada cliff. Professionally trained young men perform these spectacular dives, which date back to 1934, when La Quebrada first became a popular spot for local divers to display their talent.
A successful dive depends as much on timing as on skill, since a diver enters a channel less than 25 feet wide and must wait for an opportunity when the water is deep enough to permit a safe entry at a speed of about 55 miles an hour. Getting to the top of the cliff is risky as well—barefoot divers scale the steep, vertical cliffside by grasping at rocky outcrops that occasionally snap off. Evening dives feature blazing torches that enhance the theatrical effect.
The traditional place to view the cliff divers is from the bar or terraces of the La Perla restaurant at the El Mirador Acapulco hotel, but you'll be required to pay a cover charge (which includes two drinks) or have dinner. Reservations are advised during the winter high season; phone (744) 483-1260.
The major hotels offer nightly entertainment, such as Mexican-style fiestas or theme parties, during the high tourist season. Live music often accompanies hotel bar or poolside cocktail bar happy hours, and there's also no shortage of evening floor shows.
Acapulco Sightseeing
Acapulco's vacation sights are scenic, not historic. Brightly decorated calandrias (horse-drawn carriages) regularly parade along Costera Miguel Alemán, and this is a leisurely way to tour this wide bayfront boulevard lined with beaches, hotels and local restaurants. Rates for a 20- to 30-minute ride vary; confirm the cost per person with the carriage operator before setting off.
Mexican muralist Diego Rivera asked art patron Dolores Olmedo, a longtime friend, to marry him after the death of his wife, painter Frida Kahlo. The Casa de Los Vientos (House of Winds) is surrounded by a wall covered with seashell murals that Rivera created while living here the last 2 years of his life. This small cultural center is occasionally open to the public for art exhibitions, but the exterior murals can be viewed any time. The house is on Calle Inalámbrica in the La Pinzona neighborhood, in Acapulco's old downtown area (a short cab ride from the central plaza).
Freshwater Coyuca Lagoon, northwest of Acapulco across from the beach at Pie de la Cuesta, is one of the most scenic places to go in Acapulco, threaded with jungle-lined canals choked with masses of floating water hyacinths. Within the lagoon is Isla de los Pajaros, a bird sanctuary home to black and white herons, pelicans and marabou storks. Lagoon sightseeing cruises include lunch at a beachfront restaurant and time to walk along the beach or just laze in a hammock. Local travel agencies book tours, or check with the concierge to see if your hotel offers an excursion.
Yachts that depart daily from the malecón offer afternoon, sunset and moonlight cruises around Acapulco Bay. Tickets can be purchased through local travel agencies. Lunch or dinner, music and dancing are usually part of the package. Glass-bottom boat tours to Roqueta Island depart from Caleta Beach and several other waterfront locations; check with a travel agency or your hotel for more information.
Acapulco Events
The Acapulco Fair (Feria de Acapulco) sets up near the Convention Center the week before Christmas and lasts through the week after New Year's Day. Those looking for fun things to do with kids will enjoy this event, which features carnival rides and games as well as hordes of vendors.
The Abierto Mexicano Telcel tennis tournament, held in late February or March, draws players from around the world. It takes place at The Fairmont Acapulco Princess hotel.
The year's greatest influx of visitors is during Holy Week and the week after, marked by several religious observances. Many local businesses close, and the city becomes so crowded that some people sleep on the beach. If you're planning your trip during this time, make reservations far in advance.
For music lovers, the Festival Acapulco (Acafest) in May draws participants from many countries. The offerings include everything from top-of-the-charts pop to traditional boleros, and are performed by orchestras, bands, trios and individual artists. Concerts are given at the Acapulco International Center, the Plaza de Toros bullring and at beaches, hotels and other open-air spots around the city.
The Virgin of Guadalupe is the focus of a nationwide pilgrimage on Dec. 12 to the Basilica of Our Lady of Guadalupe in Mexico City. In Acapulco this major religious observance is celebrated with street dances. Acapulco closes out the year with a huge party on New Year's Eve (Fiesta de Fin de Año), highlighted by fireworks exploding over Acapulco Bay.