About Amarillo Originally called Oneida, the town was established in 1887 and renamed shortly thereafter by majority rule. The name Amarillo, which means "yellow" in Spanish, likely came from the gold-colored soil surrounding Amarillo Creek and the lustrous wildflowers that thrive in season. In celebration of the name change many residents painted their homes a yellow hue.
Located at the intersection of the Fort Worth & Denver Railroad and the Atchison, Topeka and Santa Fe, Amarillo was a railhead for the late 19th-century cattle drives and remains a major cattle-feeding and shipping town. Every Monday you can mingle with cattlemen and catch a whiff of Amarillo at one of the nation's largest livestock auctions, the Amarillo Livestock Auction; phone (806) 373-7464.
Unless you're the yellow type, be sure to check out reputedly haunted The Nat, 2705 S.W. 6th Ave. Formerly an indoor swimming pool that opened in 1922, the building was converted to a dance hall in 1926. Guests boogied to the live tunes of Louis Armstrong, Duke Ellington, Buddy Holly and Roy Orbison. The Nat was closed to public dancing in the 1960s and the historical landmark is now an antique mall; phone (806) 367-8908.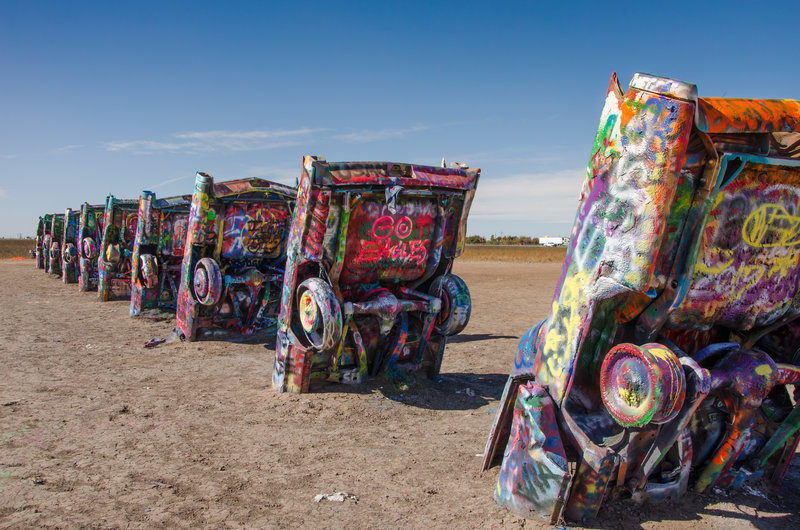 Colin J. McMechan/iStockphoto.com
Discover the area's quirky side by heading west on I-40 to Cadillac Ranch, where you'll behold 10 graffiti-covered vintage Cadillacs half-buried nose-down in a field. Dubbed "Hood Ornament of Route 66," this unusual roadside attraction is a popular stop for locals and visitors armed with spray paint and cameras.
Visitor Centers Amarillo Convention & Visitor Council 1000 S. Polk St. Amarillo, TX 79101. Phone:(806)374-8474 or (800)692-1338
ShoppingMajor shopping centers include Westgate Mall, off I-40W on the west side of the city between Coulter and Soncy streets; and Wolflin Village and Wolflin Square, both at the southeast corner of I-40W and Georgia Street. Antiques can be found along historic Route 66 and Sixth Street between Georgia and Western streets.
Things to Do Amarillo Botanical Gardens
American Quarter Horse Hall of Fame & Museum
Don Harrington Discovery Center and Space Theater
International Helium Centennial Time Columns Monument
Kwahadi Museum of the American Indian
Palo Duro Canyon State Park see Canyon
Panhandle-Plains Historical Museum see Canyon