One Day in BaltimoreAAA editors suggest these activities for a great short vacation experience.
Morning It's easy to spend an entire day at Baltimore's Inner Harbor, and the water taxis that crisscross the harbor are a convenient way to get from one point to another (more on that below). Start the day at the Maryland Science Center, IMAX Theater and Davis Planetarium (601 Light St.). Here you can view dinosaur skeletons face to face, check out a giant mechanical blue crab, touch a cloud or test Sir Isaac Newton's scientific principles.
Just around the corner is the American Visionary Art Museum (800 Key Hwy.). One look at the bejeweled, whimsically decorated school bus parked out front and you know this isn't going to be a stuffy, highbrow experience. The art here is indeed visionary—extravagantly creative works produced by primarily self-taught artists, often incorporating found objects (like a chair made almost entirely from yardsticks). At what other museum are you going to see a model of the USS Lusitania crafted from more than 100,000 toothpicks?
Within easy walking distance is the historic neighborhood of Federal Hill and the Cross Street Market (at the corner of Cross and S. Light streets), one of several city public markets. Federal Hill residents come here for fresh produce, meats and seafood. For hungry tourists it offers sit-down spots like Steve's Lunch, where you can enjoy a Philly-style hoagie with a bag of Utz potato chips, a Charm City favorite.
Another nearby lunch option, and one with a terrific waterfront location, is The Rusty Scupper Restaurant (402 Key Hwy.). Seafood is the no-brainer choice, specifically the crab cakes. Lots of Baltimore restaurants claim their crab cakes are the best, but they're done well here, served broiled or in a sandwich with lettuce, tomato and tartar sauce—and you can savor them while enjoying a prime view of the Inner Harbor.
Afternoon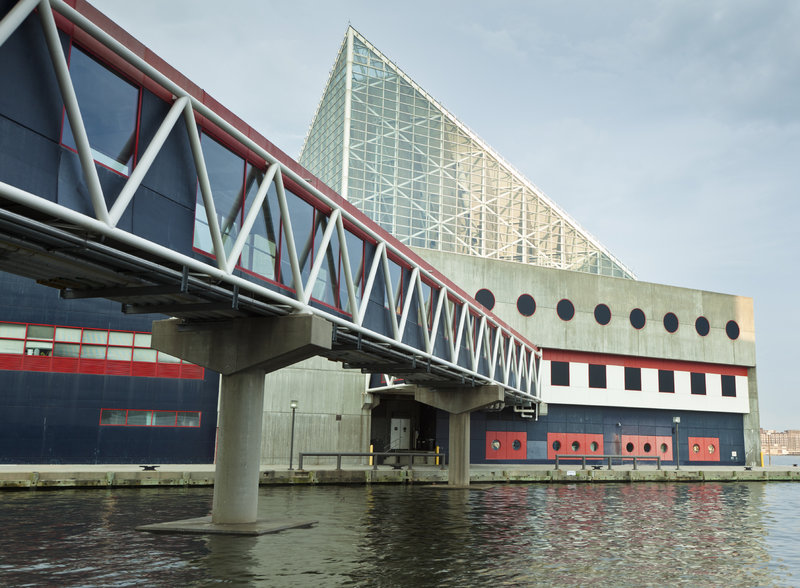 drnadig/iStockphoto.com
The Rusty Scupper has its own water taxi stop ($9 for a one-way ticket or $16 for an all-day pass, with discounts for children and senior citizens), so get in line and take it to Landing 1 and the National Aquarium (501 E. Pratt St.). Five levels of exhibits display everything from tropical coral reef re-creations to Amazon River and Maryland freshwater stream habitats. Rays and sea turtles swim in a big pool that can be viewed either from above or below the water surface. Watch dolphins at play, and don't miss the display of beautifully alien-looking jellyfish. The aquarium is very popular, so purchase your timed tickets in advance.
Next stop: Historic Ships in Baltimore (301 E. Pratt St.), docked at piers 1, 3 and 5. Each vessel played a significant role in U.S. naval history. The USS Constellation is the last Civil War-era vessel still afloat; the lightship Chesapeake aided navigation in Chesapeake Bay for 28 years; the Coast Guard cutter Taney engaged Japanese planes during the 1941 attack on Pearl Harbor; and the submarine USS Torsk torpedoed and sank the last World War II enemy warships. Climb the red Seven Foot Knoll Lighthouse for a nice view of the Inner Harbor.
By now the kids will no doubt be antsy, so let them roam around the Light Street Pavilion, the Pratt Street Pavilion, or both (Pratt St. & Light St.)—each mini-mall is filled with souvenir shops, places to get ice cream or a cold drink, and those all-important restrooms.
Evening Baltimore has lots of interesting neighborhoods, and one of the best if you're searching for a place to have dinner is Little Italy, just off the Inner Harbor east of S. President Street. The narrow streets are lined with well-kept row houses and Italian restaurants, and deciding on one is a delightful dilemma.
Walk off some of those calories on the cobblestone streets of Fell's Point (take Eastern Avenue or Fleet Street east and you're there). In the 18th century it was home to shipbuilders and visited by merchant seamen; today it's a touristy enclave of specialty shops and friendly pubs with an attractive waterfront setting.