Shopping in BaltimoreFind Must-Have Souvenirs Near the Harbor
The Inner Harbor is tourist central, so if you're looking for a Charm City souvenir it's the place to go. Light Street Pavilion (301 Light St. at Pier 1) is a family-friendly collection of souvenir shops, casual places to eat and an H&M store.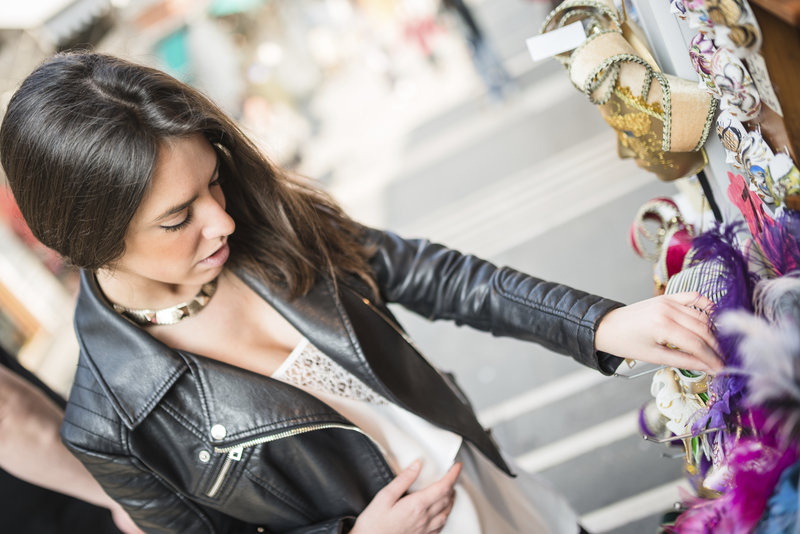 iStockphoto.com/franckreporter
Shops in the two-level Pratt Street Pavilion (201 E. Pratt St. at Pier 1) include Banana Republic and Life in Charm City , where you'll find crab-themed memorabilia like crab cookbooks, crab cakes mixes, "Don't Bother Me I'm Crabby" coffee mugs and—of course—tins of Old Bay seasoning, which has been manufactured in the city for more than 75 years.
An overhead skywalk across Pratt Street connects Pratt Street Pavilion to The Gallery at Harborplace (200 E. Pratt St.), a mall with three floors of retailers like Forever 21, francesca's, Gap and Victoria's Secret.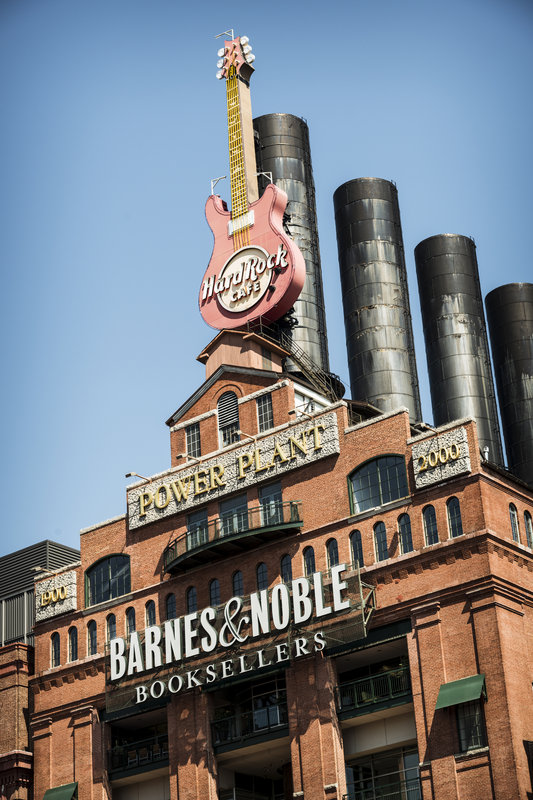 iStockphoto.com/1MoreCreative
Check out the rock 'n roll merchandise at the Hard Rock Cafe Baltimore (601 E. Pratt St. at Pier 4), located in the Power Plant Building. This massive complex of three brick structures was built in the first decade of the 20th century and once provided the power for Baltimore's electric streetcar system.
More Deals to be Found in Fell's Point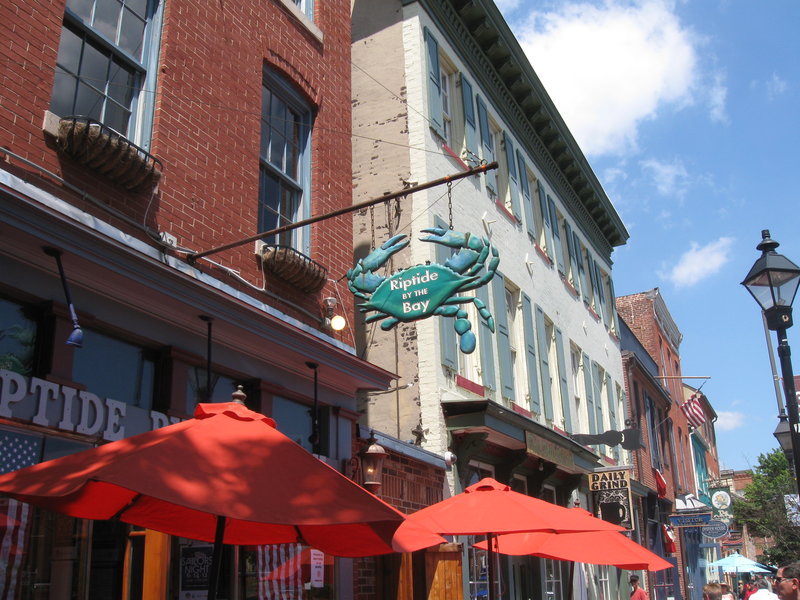 AAA/Greg Weekes
Funky, fun Fell's Point is a great place to spend an afternoon poking around for that one must-have treasure. Specialty shops line Broadway as well as Aliceanna, Lancaster and Thames streets.
Sheep's Clothing (1620 Shakespeare St.) is another little shop that sells casual clothing, wool sweaters, tweed caps and handmade soaps.
A number of Fell's Point shops cluster around Market Square. If you're looking for a cool new chapeau, check out Hats in the Belfry (813A S. Broadway). Top hats, fedoras, skull caps, pith helmets—this place has them all. At Emporium Collagia (1732 Thames St.) you'll find candles, scarves, glassware and shop owner Luana Kauffman's lovely collage art. Zelda Zen (1634 Thames St.) offers gifts for every occasion, from scented candles to jewelry to artwork.
Browse the Shops in Federal Hill
Federal Hill, just south of the Inner Harbor, is another historic neighborhood suitable for strolling. Wander up and down Charles, Light and Cross streets, all three lined with shops and eateries. Vanessa's Vintage Treasures (1132 S. Charles St.) offers a bevy of kitschy kitchen items, Victorian-style clothing, vases and cute little planters.
AAA/Greg Weekes
At Cross and Light streets in the heart of Federal Hill is the Cross Street Market , something of a neighborhood institution. The long, rectangular building is mostly a procession of eateries (think Philly cheesesteaks, hot corned beef sandwiches and Baltimore barbecue), with a couple of seafood, butcher, produce and flower vendors along the way. At Steve's Lunch you can pick up a bag of crab-flavored Utz potato chips, a Baltimore favorite.
Trendy Shopping in Harbor East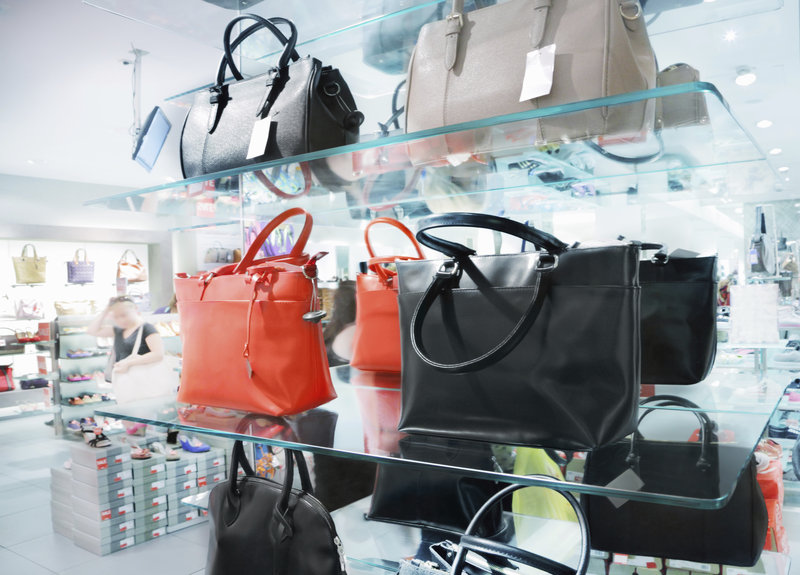 adisa/iStockphoto.com
Harbor East, centered at the intersection of S. President and Aliceanna streets on the Inner Harbor, isn't a neighborhood so much as an assemblage of high-end retailers, local restaurants and specialty boutiques like Amaryllis Handcrafted Jewelry (830 Aliceanna St.), J.Crew (120 International Dr.), Madewell (811 Aliceanna St.) and Under Armour Brand House (700 S. President St.). In addition to its namesake item, Handbags in the City (840 Aliceanna St.) carries fashionable women's apparel.
Go Off the Beaten Path at One of Baltimore's Food Markets
Baltimore's city markets reflect a bygone era when these businesses served their immediate neighborhoods, selling produce from nearby farms, freshly butchered meat and seafood hauled in from Chesapeake Bay. Lexington Market (400 W. Lexington St.) has been in operation in one form or another since 1782. It's not only a place where locals regularly shop but also quite the experience for visitors who want to get away from the touristy Inner Harbor and explore a different side of the city on their vacation. Baltimore's largest market extends along Lexington, Eutaw, Paca, Saratoga and Green streets.
Loud, hectic, crowded and filled with competing aromas, this is a place that certainly assails the senses. Stalls offer produce, fresh meat and fish, baked goods, candy and an impressive array of prepared foods. Delis and Chinese takeout places abound, along with sausage, fried chicken and raw oyster stands. Aficionados will tell you that the crab cakes at Faidley's Seafood (in the rear of the market building) and the cookies from Bergers Bakery (in the food court) are worth the trek.
Note: Lexington Market is open Mon.-Sat. 8:30-6. About five blocks north of Pratt Street and five blocks west of Light Street, the market is a 20- to 30-minute walk from the Inner Harbor but in a decidedly gritty part of downtown, and unless you're familiar with the city it's advisable to drive or take public transportation. Free parking is available in the garage adjacent to the market; Metro subway and bus stops are across from the Eutaw Street market entrance. For mass transit information phone (410) 539-5000 or (866) 743-3682; for market information phone (410) 685-6169.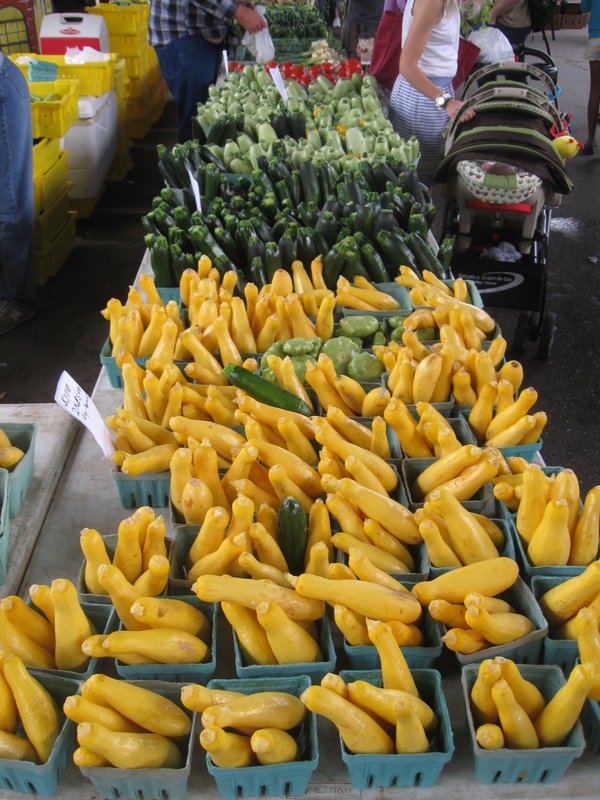 AAA/Greg Weekes
The Baltimore Farmers Market & Bazaar sets up under the Jones Falls Expressway (I-83) at Holliday and Saratoga streets (5 blocks north of the Inner Harbor via Gay or Commerce streets, about a 20-minute walk). The location is novel: Murals painted on the massive concrete bridge supports depict figures from jazz musician Charlie Parker to Mayan gods, and traffic rumbles overhead. But you'll barely notice that as you wander past the maze of vendors selling farm-fresh, seasonal fruits and veggies, seafood, Harford County cheeses, herbs, flowers and houseplants. Local businesses like Zeke's Coffee and Uptown Bakers also sell their wares here.
Food vendors whip up everything from falafel wraps to Cajun breakfast sandwiches. At the bazaar, adjacent to the market, you can buy incense, rugs, handbags and hair accessories and peruse all sorts of handicrafts. Street musicians and entertainers add to the overall festive vibe. The market is open Sunday mornings from 7 until noon, mid-April to mid-December; the Sunday before Thanksgiving is the busiest day of the year. Phone (410) 752-8632 for market information.
Hunt for Treasures on Antique Row
Serious antique collectors should definitely pay a visit to Antique Row, in the 800 block of Howard Street (north of downtown in the Mount Vernon neighborhood). Housed inside a 10,000-square-foot former bank building, the Antique Row Stalls display high-quality furniture, paintings, sculpture and decorative objects. Dubey's Art & Antiques (807 N. Howard St.) is the place to go if you're searching for Chinese export porcelain, English, European and Japanese ceramics, antique furniture and fine art.
Shopping Destinations Outside Downtown
The Village of Cross Keys (in the northern part of the city at 5100 Falls Rd., between Northern Parkway and Cold Spring Lane) is a complex of shops and restaurants in a garden-like setting. Chain retailers (Talbots, Williams-Sonoma) are augmented by specialty stores like Pied Piper that carries kids' clothes.
Two shopping destinations are a bit farther afield. Mount Washington Village Shops (1601 Sulgrave Ave., just outside the northern city limits via I-83 to Northern Parkway—exit 10A—then north on Falls Road to Kelly Avenue with entrances into the village off Kelly and Sulgrave avenues). The setting for this collection of specialty shops and boutiques is a delightful alternative to city bustle: trees, hills and a gentle stream. Something Else (1611 Sulgrave Ave.) has casual women's T-shirts, hats and dresses. O'Malley Antiques (1501 Sulgrave Ave.) is a treasure trove of fine furniture, oil paintings, mirrors, clocks, estate rugs and old books. Glarus Chocolatier (just north at 2046 York Rd. in Timonium), is a Swiss chocolate company.
Plan a day trip to Historic Savage Mill (about 20 miles southwest of the city in Savage; from downtown Baltimore, take I-95 to exit 41 A-B, then take SR 175 south to 8600 Foundry St.). This former mill, founded in 1822, produced woven canvas, primarily to fashion sails for the clipper ships that sailed in and out of Baltimore Harbor but also used to make tents, cots and cannon covers.
Now the mill is a specialty marketplace with about 35 shops, many located in the restored Old Weave Building. Browse for jewelry, glass and ceramics (Artcraft), gifts and home accessories (Lucy and Ethel's), women's casual clothing (Charity's Closet), and furniture and military memorabilia (The Antique Center). You also can observe artists at work. Phone (410) 792-2820 for more information.
The Art Gallery of Fells Point on the Avenue (825 W. 36th St.) in the Hampden neighborhood functions as a Maryland artists' cooperative. Chat with one of the artists before perusing exhibits of paintings, sculpture, jewelry and photography, which change monthly.
Where to Find Baltimore Malls
JCPenney, Macy's and Buscov's are the anchor stores at White Marsh Mall , just north of the city off I-95 exit 67 at 8200 Perry Hall Blvd. Other area malls include Eastpoint Mall , I-695 exit 38W at 7839 Eastpoint Mall; Security Square , I-695 exit 17 to 6901 Security Blvd.; and Towson Town Center , 825 Dulaney Valley Rd. in Towson. Bargain hunters will find Banana Republic, Guess and Nike factory stores, Saks Fifth Avenue Off 5th and plenty of other options at Arundel Mills , 7000 Arundel Mills Cir. in Hanover (10 miles south of Baltimore); take the Baltimore Washington Parkway to SR 100 East, exit 10.