About Cody Founded by Col. William "Buffalo Bill" F. Cody in 1896, Cody is near the east and northeast entrances to Yellowstone National Park. Some of the state's most scenic areas, including Shoshone National Forest, Sunlight Basin, the Absaroka and Beartooth mountains and the Bighorn Canyon National Recreation Area, are nearby.
US 14/16/20, alternately known as the Buffalo Bill Cody Scenic Byway, has been called the most scenic 52 miles in America. Along the route are many unusual rock formations as well as the State of Wyoming Veterans Memorial Park (near Yellowstone Regional Airport), which honors those who served in World War II, the Korean and Vietnam wars and the Iraq and Afghanistan wars. The highway runs 182 miles between Ranchester and Yellowstone National Park. Cody also is the northern terminus of the scenic section of SR 120 that travels 83 miles southeast to Thermopolis. Scenic US 14A heads 107 miles northeast to Burgess Junction.
Outfitters offer fishing, hayrides, horseback riding, hunting and pack trips and river float trips. Scenic flights overlooking the Bighorn Mountains and Grand Teton and Yellowstone national parks can be arranged through Choice Aviation, (307) 587-9262.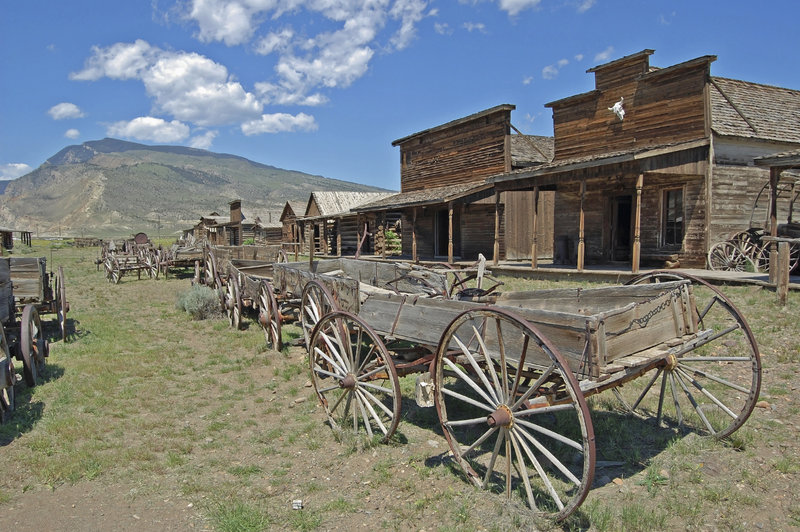 AlbertPego/iStockphoto.com
Of interest downtown are historic buildings dating from the beginning of the 20th century. Irma Hotel, 12th Street and Sheridan Avenue, has been a meeting place for local cattlemen, oilmen and shepherds since the early 1900s. Its $100,000 bar was a gift from Queen Victoria to Buffalo Bill in appreciation of his Wild West Show. Pahaska Tepee, Buffalo Bill's first hunting lodge, is at the east entrance to Yellowstone National Park.
Visitor Centers Cody Chamber of Commerce 836 Sheridan Ave. Cody, WY 82414. Phone:(307)587-2777
Things to Do Buffalo Bill Center of the West
Buffalo Bill Dam Visitor Center
Cody Mural Historic Site and Museum
Recreational Activities
White-water Rafting Red Canyon River Trips