Halifax Performing ArtsThe arts are alive and kicking in Halifax; if you're a fan of the performing arts, here's a sampling of fun places to go where you can enjoy live shows by local, national and international artists.
Dance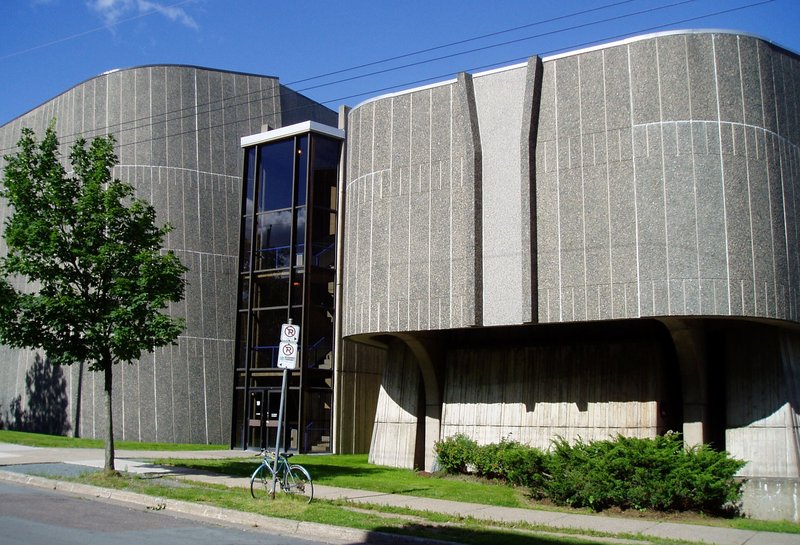 SimonP / Wikimedia Commons / CC BY-SA
Live Art Dance puts on an annual contemporary dance series featuring national and international artists. The company performs from late September to early May at the Dalhousie Arts Centre, Rebecca Cohn Auditorium and Sir James Dunn Theatre; phone (902) 420-0003 for information.
Mocean Dance, a contemporary dance company, creates new works with local and nationally renowned choreographers and dancers. Shows are presented at various local venues; phone (902) 425-4908.
Attend performances by thirtysomething dance cooperative and other performing arts groups at Alderney Landing Community Cultural Centre, 2 Ochterloney St.,a 285-seat theater on the waterfront in Dartmouth; phone (902) 461-8401.
FilmTake in foreign, Canadian and local independent and limited-release films, feature films, documentaries, new releases and screen classics at Carbon Arc Independent Cinema, 1747 Summer St. in the Museum of Natural History (see attraction listing). This downtown art house theater shows films Friday at 7 p.m., February through April and October through November. Carbon Arc also presents an annual animated film festival; check their website for further details.
Cineplex Cinemas, 5657 Spring Garden Rd. in the Park Lane Mall, is a multiplex movie theater that screens new independent releases and international films as well as new releases; phone (902) 423-4860.
MusicWhether you prefer theater, dance, ballet, opera or the symphony, the Dalhousie Arts Centre, 6101 University Ave. on the campus of Dalhousie University, has you covered with performances by both professional artists and gifted students from the university's Fountain School of Performing Arts. A variety of shows are staged in several small theaters (including an outdoor rooftop theater) and the Rebecca Cohn Auditorium, a 1,023-seat concert hall and theater, home to Symphony Nova Scotia. Phone (902) 494-3820 or (800) 874-1669 for tickets and schedules.
If orchestral music gets your toes tapping, don't miss Symphony Nova Scotia while you're on vacation in Halifax. During their 35-week season, the professional 37-piece orchestra plays everything from baroque, folk and chamber music to pops, jazz and classical. The symphony also presents free concerts at local libraries and churches. Phone (902) 494-3820 or (800) 874-1669 for tickets and schedules.
Symphony Nova Scotia Chorus, which includes the Halifax Camerata Singers, a chamber choir, accompanies Symphony Nova Scotia during many of its concerts, lending their flawless harmonies to pieces such as Brahms' "Requiem" and Haydn's "Creation." Each December, the chorus performs Handel's "Messiah" with Symphony Nova Scotia at the Rebecca Cohn Auditorium.
While it's a great place to catch an ice-hockey game, the 11,000-seat Scotiabank Centre, 1800 Argyle St., is also the perfect venue to enjoy shows. A number of big names have performed here, including rockers like Foreigner and Brian Wilson; comedians John Cleese and Kevin Hart; Canada's own Rush and Michael Bublé; and Cirque du Soleil; phone (902) 421-1302.
TheaterIf you're looking for fun things to do with friends, steer them to showings of such renowned Broadway and off-Broadway musicals and plays as "Billy Elliot," "The Color Purple" and "Noises Off" at Neptune Theater, 1593 Argyle St. Reputedly the largest regional theater in Atlantic Canada, the Neptune also stages original productions in its 458-seat and 191-seat theaters. Phone (902) 429-7070 or (800) 565-7345 for schedules and ticket information.
Professional theater company Shakespeare by the Sea, 5718 Point Pleasant Dr., has presented such Shakespearean classics as "A Midsummer Night's Dream" and "As You Like It" since its founding in 1994. Performances take place outdoors at the Cambridge Battery amphitheater in Point Pleasant Park, July 1 through Labor Day. Tickets are by donation but attendees may reserve a seat in the first few rows for $25; phone (902) 422-0295 for tickets.