Introduction When merchants formed the Hartford Fire Insurance Co. in 1810, Hartford began its transition from trading center to insurance capital of the world. Today many of the country's biggest insurance companies are headquartered or have a significant presence in the city, and the original group, now known as the Hartford Financial Services Group, still operates there.
But Hartford has a varied history and a wide range of other contributions. It boasts the Wadsworth Atheneum Museum of Art, the oldest public art museum in the United States. Founded in 1842, the Wadsworth Atheneum has a permanent collection of more than 45,000 works and it continues to grow, with plans under way for office relocation that will free up additional gallery space.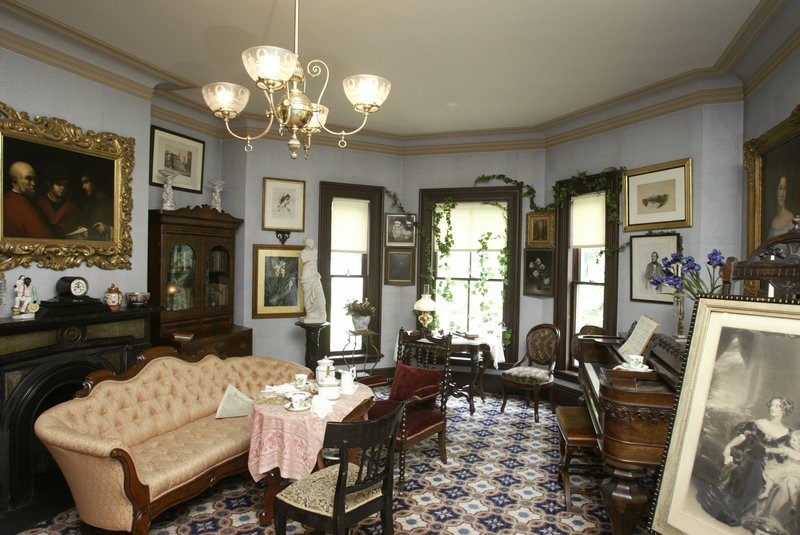 Courtesy of Harriet Beecher Stowe Center, Hartford, CT
In the Nook Farm community of Hartford, Samuel Clemens wrote of adventures on the Mississippi River, and Tom Sawyer and Huckleberry Finn were born. Harriet Beecher Stowe lived across the lawn from Clemens, and both of their homes—hers gray and unadorned, his whimsically decorative—now house exhibits and are open to the public.
Not far away in West Hartford, Elizabeth Park Rose Garden is the country's first municipally owned rose garden. Each year a weekend festival in June marks the blooming of its 15,000 rosebushes in hundreds of varieties. And for faster-paced outdoor entertainment, Lake Compounce Theme Park, the nation's oldest continuously operating amusement park, offers heart-stopping thrills and family attractions in nearby Bristol.
Getting There
By CarLooking at a map, it almost seems as if all roads lead to Hartford. The major north-south highway into the city is I-91, while I-84 runs northeast-southwest. Signage is good with generally adequate warning for exit ramps. Avoid the 7-9 a.m. and 3-6 p.m. rush hours.
Getting Around
Street SystemA good map is an absolute necessity for negotiating the Hartford vicinity. At some major intersections downtown traffic is stopped in all four directions and pedestrians may cross on the diagonal. Colorful directional street signage to area attractions help visitors explore downtown.
ParkingParking downtown is readily available in the numerous garages and lots. Rates range from $8 per day in city-operated lots to as much as $5 per hour in privately owned garages. City-operated garages offer low evening and weekend hourly rates with a maximum of $6.50. Metered on-street parking is ample with spaces available within one block of most destinations and is free after 6 p.m. and on weekends.