Introduction A special kinship earned Minneapolis and St. Paul the nickname the Twin Cities. Together, they are the hub of the 16th most populous metropolitan area in the nation, but these two communities are far from being interchangeable clones.
Modernity prevails in Minneapolis, home to both the Guthrie Theater , with its provocative design, and the IDS Center, a 57-story skyscraper built in 1972 by renowned architect Phillip Johnson. In contrast, St. Paul seems to prize more deep-rooted edifices—from the Cass Gilbert-designed Minnesota State Capitol to the Cathedral of St. Paul , a Beaux Arts jewel overlooking downtown.
Straddling the Mississippi River, this varied destination shelters diehard "Purple and Gold" Vikings fans as well as a few renegade Cheeseheads. But while the people of Minneapolis-St. Paul often are as diverse as their home terrain, residents also share many common loves. For starters, a year-round appreciation for the outdoors is high on this Midwestern twosome's list of likes. In summer, avid cyclists take over the Grand Rounds National Scenic Byway , a system of parks and lakes admired by Minneapolitans and St. Paulites alike. In winter, aspiring Olympians—some practicing wrist shots and others perfecting triple axels—flock to the countless ice-skating rinks scattered about the frost-gripped region.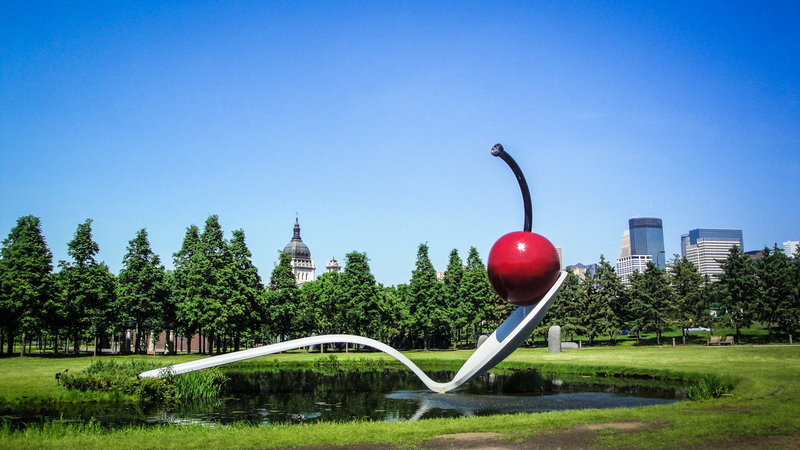 AAA/Maria White
A motley crew also comes together to celebrate the area's multiethnic heritage at all-out cultural fetes like the Festival of Nations and the Twin Cities Polish Festival . Yet another source of pride is an all-embracing enthusiasm for the arts exemplified by such institutions as the renowned Walker Art Center and the Ordway Center. Plus, the region has nurtured such creative minds as Jazz Age author F. Scott Fitzgerald, seven-time GRAMMY winner Prince, and filmmakers Joel and Ethan Coen.
Getting There
By CarThe major north-south route through the Minneapolis-St. Paul area is I-35, which divides into I-35W bisecting Minneapolis and I-35E through St. Paul. Other primary north-south routes include US 169 and US 61, known as the Great River Road. US 8 and SR 65 enter Minneapolis from the north.
I-94, which passes directly through both cities, facilitates a large portion of east-west through traffic. From the west into Minneapolis come I-394/US 12 and SR 7.
US 10 and 52, following a northwest-southeast course, connect both cities, while SR 55, pursuing a similar direction, passes through Minneapolis. From east of St. Paul comes SR 36, which bypasses that city en route to its western terminus at I-35W.
The Belt Line (I-494 and I-694) traces a large oval around the Twin Cities, interchanging with most major routes.
Getting Around
Street SystemBoth Minneapolis and St. Paul are laid out on the square grid system, with streets running north to south or east to west. However, many downtown streets parallel the Mississippi and thus travel northwest-southeast in Minneapolis and northeast-southwest in St. Paul. It is wise to obtain a good street map.
Dividing the city of St. Paul into north, south, east and west quadrants are University Avenue and Wabasha Street; all addresses in the city begin from this point. In Minneapolis east and west numbering begins at Nicollet Avenue.
ParkingOn-street parking is metered. Rates at lots and parking garages in Minneapolis and St. Paul average $3-$5 for the first hour, with a $6-$17 maximum for a 12-hour day.
Public TransportationMetro Transit provides bus and light-rail service throughout the metropolitan Twin Cities area. The fare for buses and light-rail trains is $1.75; 75c (ages 6-12, ages 65+ and persons with disabilities). During designated rush hours (Mon.-Fri. 6-9 a.m. and 3-6:30 p.m.) the fare is $2.25; 75c (persons with disabilities). Express bus fare between the Twin Cities during rush hours is $3; 75c (persons with disabilities). Express bus fare outside of rush hours is $2.25; 75c (persons with disabilities). Within designated Downtown Zones in Minneapolis and St. Paul the regular fare is 50c at all times. Each fare includes one 2.5-hour transfer; Downtown Zone fares are exempt.
Northstar Line fares are $3-$6, depending on the day of the week, where you're boarding, and whether you're traveling to or from downtown or between suburban stations. Go-To cards can be customized with multi-day passes or stored value; they are available online, by mail, at Metro Transit stores and at more than 70 retail outlets. For additional schedule and fare information phone (612) 373-3333.