NightlifeCheers! Whether you're looking for the perfect spot in Toronto's bustling after-dark scene to quaff a few brews, relax in a classy lounge, catch up-and-coming comedians, dance the night away or mellow out to some cool jazz, refer to this handy list.
Bars One of the more lively after-hours spots in Toronto is Little Italy. The heart of this colorful area is College Street, in particular the stretch between Euclid Avenue and Shaw Street, where outdoor cafes, restaurants and bars vie for attention.
Not far from Little Italy in the funky Kensington Market area just south of College Street is Supermarket, a casual restaurant/bar at 268 Augusta Ave. Choose from a grocery list of after-dinner entertainment which, depending on the evening, might include a DJ, live band, comedy act or book reading. For a fun night with family or friends, share a pre-show tapas-style meal chosen from Supermarket's Asian fusion selections. Phone (416) 840-0501.
Cocktail LoungesThe Library Bar at the Fairmont Royal York (100 Front St. W.), directly across from Union Station near the harbor, exudes a classy, upscale feel. High ceilings, dark wood paneling, elaborate drapes and deep red walls lined with bookshelves set a distinctly clubby mood. The bar is noted for its classic cocktails, a whiskey library and (so the hotel claims) the best martinis in Toronto. Phone (416) 368-2511.
Indulge yourself with a well-crafted cocktail at Louix Louis, on the 31st floor of the St. Regis Toronto (325 Bay St.), a two-story bar that oozes glamour and sophistication. Curved walls, mirrors and a ceiling mural in shades of copper evoke the feeling of being inside a glass of whiskey. The lounge prides itself on its huge variety of dark spirits, aka rum and whiskey (Canadian, American, Scotch and Irish) as well as its signature Bloody Mary; you can go for the traditional version or try the Rouge 140, which honors the many cultures that make up Toronto. Or choose from its menu of forgotten cocktail recipes that date as far back as the 1880s to the days of Prohibition; sip and savor drinks like the Adonis, Old Pal, Scofflaw and Hanky Panky. Phone (416) 637-5550.
Comedy Clubs
Shutterstock.com/Nazarino
Canadian comedians Dan Aykroyd, John Candy, Eugene Levy, Andrea Martin, Mike Myers, Gilda Radner and Martin Short all honed their comedic skills on the stage at The Second City, 51 Mercer St. The comedy club, which opened in 1959 and begat the memorable "SCTV," still cranks out the laughs with improv sets, revues and comedy sketches. Phone (416) 343-0011.
You can catch stand-up routines by professional comedians Wednesday through Saturday and amateurs on Tuesday nights at Yuk Yuk's, 224 Richmond St. W. This Canadian comedy club chain is where funnymen Jim Carrey and Howie Mandel got their starts. Phone (416) 967-6431.
A place that defies categorization is the Rivoli, a restaurant/night club/pool hall/comedy club on the highly trendy Queen Street W. strip. The nightspot occupies a former 1920s vaudeville and burlesque theater at 334 Queen Street W. While you can certainly have a fine meal, enjoy alternative music, comedy and spoken-word events on stage and play some pool on 11 vintage tables, the Rivoli is perhaps best known for its Monday night ALTdotCOMedy Lounge where yet-to-be-discovered comedians take the mic. The Kids in the Hall were a fixture here in the 1980s. Phone (416) 596-1908.
Dance ClubsIf you can't resist moving to a good beat and you're looking for fun things to do with your friends until the wee hours, a variety of Toronto clubs are waiting for you. The Mod Club Theatre (usually just referred to as the Mod Club) at 722 College St. in Little Italy attracts a diverse crowd to listen to indie bands and dance to DJs spinning rock, retro and Britpop. Phone (416) 588-4663.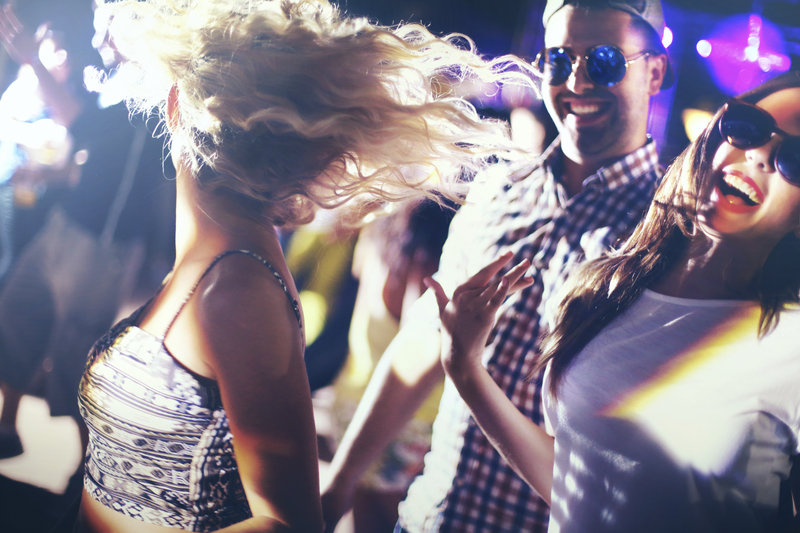 gilaxia/iStockphoto.com

Cool and artsy Everleigh, at 580 King St. W., is a fun club with an eclectic taste in music, from Top 40 to retro to new local and international performers. Original art and imaginative design features draw the eye while the dance floor beckons the feet. Phone (647) 907-6673.
Jazz and Blues
Shutterstock.com/Horiyan
Swing on over to The Rex Hotel Jazz & Blues Bar at 194 Queen St. W., where you can catch some jazz any night of the week. This casual nightspot, which has been around since the 1980s, is where you'll find top Canadian performers as well as up-and-comers. The décor is decidedly low-key, the drinks reasonable and the vibe cool. Phone (416) 598-2475.
Jazz, swing and boogie-woogie blues are on tap nightly at the Reservoir Lounge , on the lower level at 52 Wellington St. E. This is as close to New Orleans as you'll get in Toronto. Come early, claim a table and enjoy a meal; the music generally starts around 9:30. Phone (416) 955-0887.
PubsMaybe it's a result of the city's British heritage, or the fact that Torontonians just love beer. Regardless, there's certainly no lack of pubs and taverns in which to quench your thirst. If you're looking for places to eat, these pubs are also a great choice.
You can enjoy some live music with your microbrew at C'est What, where more than 3 dozen craft beers are on tap. This local favorite is in the cellar of a historic building at 67 Front St. E., near the St. Lawrence Market. Phone (416) 867-9499. You'll find a younger crowd at Madison Avenue Pub ("the Maddy"), near the University of Toronto at 14 Madison Ave. in the part of town known as The Annex. This watering hole is actually three Victorian houses where multiple levels contain six pubs, 12 bars, five patios, 50 TVs, a sports lounge and an assortment of pool tables. As big as the Maddy is, it can be extremely crowded on weekends. Phone (416) 927-1722.
There's a great laid-back atmosphere at the Victory Café (aka "The Vic"), an English-style pub at 440 Bloor St. W. in Mirvish Village, largely due to the loyal local clientele, the range of craft beers and good food, and its support for local food producers, artists, poets and musicians. Phone (416) 551-8376.
Tip a pint or two of Guinness at the Irish Embassy Pub, in an 1873 bank building in the Financial District at 49 Yonge St. The pub, which retains the old bank's traditional façade, arched windows, vaulted ceilings and columns, draws a somewhat upscale crowd. Phone (416) 866-8282. A more typical version of an Irish pub can be found at Dora Keogh, 141 Danforth Ave. The friendly surroundings include an inviting wood-burning fireplace, hardwood floors, wooden stools and Celtic music on Thursdays and Sundays—the perfect backdrop for your pint of stout. Phone (416) 778-1804.