History, Culture and Charm Enough for All Visitors
The nation's capital. It's a phrase that underscores Washington's global importance as a seat of government as well as its enormous appeal as a tourist destination. John F. Kennedy once said "Washington is a city of Southern efficiency and Northern charm," and although his tongue was no doubt firmly planted in cheek, there's no denying its twin roles: governing the nation while charming millions of visitors each year.
There's such an embarrassment of must-see riches here that putting together a sightseeing itinerary is one truly daunting task. The United States Capitol and the White House define the District of Columbia as jurisdictional entity and should be at the top of every visitor's "things to do" list. The Mall—that green swath stretching from the foot of Capitol Hill west to the awe-inspiring seated sculpture of Abraham Lincoln in the Lincoln Memorial—is where it's at for visitors, encompassing not only seven memorials (Franklin Delano Roosevelt, Korean War Veterans, Lincoln, Martin Luther King, Jr., National World War II, Thomas Jefferson and Vietnam Veterans), the Washington Monument and the National Gallery of Art, but many of the museums identified with one of the world's largest and most comprehensive educational organizations, the Smithsonian Institution.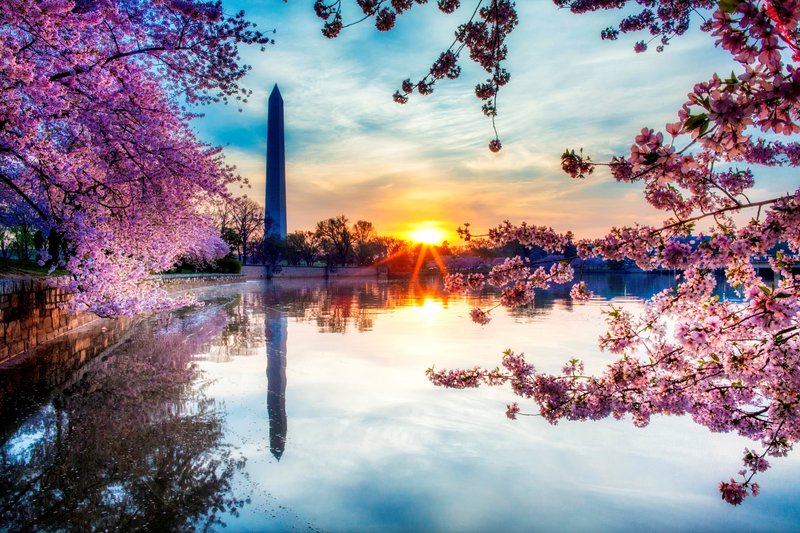 National Cherry Blossom Festival
But that's just part of the picture; expect a city of vibrant neighborhoods, with a cultural diversity, a cosmopolitan energy and fine arts facilities second to none. With so much to see and do, springtime's cavalcade of cherry blossoms is simply the pale pink icing on top of a very special cake. If you wake up wondering what to do when you travel to Washington, D.C., you'll have plenty of options—the hard part is choosing between them all.
Getting There
By CarThe Capital Beltway (I-495) encircles the District of Columbia and interchanges with all major approach routes. The eastern portion merges with I-95, which links Baltimore to the north and Richmond, Va., to the south. US 1 and the Gladys Spellman Parkway (also called the Baltimore-Washington Parkway or SR 295) approach the D.C. area from the north; US 50, SR 4 and SR 5 approach from eastern and southern Maryland. Entering the District from the south, via Alexandria and Arlington, Va., are US 1 and I-395.
The remainder of the beltway is intersected by US 29 from greater Baltimore; I-270 links the Washington metropolitan area with transcontinental I-70 at Frederick, Md. Coming from the west and interchanging with the Virginia portion of I-495 are I-66 and US 50; both converge at the Theodore Roosevelt Memorial Bridge crossing the Potomac River into the city.
Air Travel When planning your vacation, you'll have your pick of airlines as well as three airports from which to choose. Ronald Reagan Washington National Airport (DCA), Washington Dulles International Airport (IAD) or Baltimore/Washington International Thurgood Marshall Airport (BWI) serve the greater D.C. area. Reagan National, just across the Potomac from downtown Washington, is by far the most centrally located.
From terminals A, B or C, follow the exit signs and take the George Washington Memorial Parkway north to the 14th Street Bridge exit (officially, the Arland D. Williams Jr. Memorial Bridge northbound and the George Mason Bridge southbound). Once across the bridge you'll be on 14th Street N.W. To get to Arlington, Alexandria or other nearby Virginia suburbs, take the I-395 South exit off the parkway (just past the 14th Street Bridge exit).
Taxi fare from Reagan National into Washington averages about $16-$20 but depends on the length of the trip. Metrobus fare is $2. Metrorail base fare is also $2; fare is $2.25 during rush hours (Mon.-Fri. opening time to 9:30 a.m. and 3-7 p.m.) and depending upon the destination.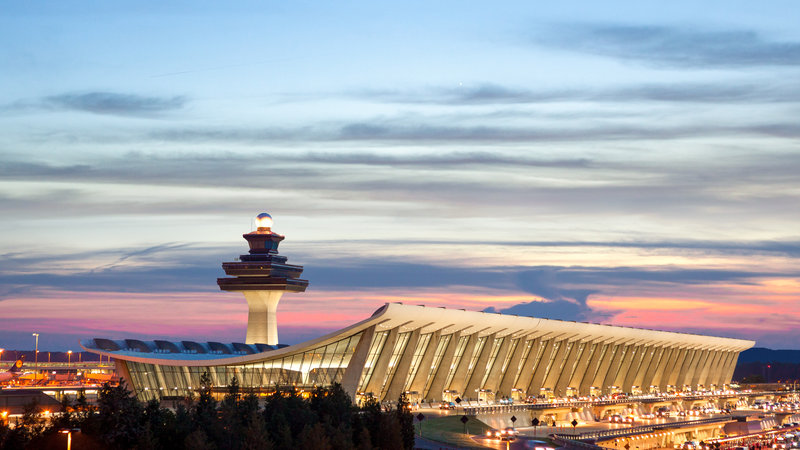 Courtesy of Washington Dulles International Airport
Washington Dulles International Airport is about 26 miles west of downtown Washington via I-66 and the Dulles Access Road (SR 267), just west of Herndon, Va. To reach downtown Washington, exit the airport terminal and take the Dulles Access Road east to I-66; continue east on I-66, entering the District via the Theodore Roosevelt Memorial Bridge to Constitution Avenue N.W. A taxi ride from Dulles to downtown will cost about $65.
Silver Line Express bus service is available between the Wiehle Reston East station on Metro's Silver line and Dulles. The buses, which offer baggage storage, depart every 15-20 minutes; one-way fare is $5, round trip $10. For additional Washington Flyer schedule and fare information phone (888) 927-4359.
Baltimore/Washington International Thurgood Marshall Airport is about 30 miles northeast via the Gladys Spellman Parkway (SR 295). From the airport terminal area, follow the exit signs to SR 295, then take the parkway west toward the Washington area. You can either exit east or west onto the Beltway or continue into the District, where the parkway becomes New York Avenue.
Taxi fare from BWI to downtown costs about $90, although it varies depending on the final destination. Amtrak service to BWI is available from Washington's Union Station.
Various rental car agencies have offices at the airports. Hertz offers discounts to AAA members; phone (800) 654-3080.
Getting Around
Street SystemDowntown Washington is basically laid out in a grid pattern. North-south streets are numbered; east-west streets are designated alphabetically by letters (with the exception of J, X, Y and Z). Major diagonal avenues named after states crisscross in both directions; where they intersect there are either traffic circles or rectangular squares or parks.
North, East and South Capitol streets and the National Mall divide the diamond-shaped District of Columbia into quadrants; the Capitol is the central starting point for the street numbering system. The quadrant initials—N.W., N.E., S.W. and S.E.—are an integral part of any Washington address; they determine which of four possible locations is correct.
Southwest is by far the smallest quadrant, encompassing the L'Enfant Plaza office building complex, the Tidal Basin, the Maine Avenue waterfront along the Washington Channel and Fort Lesley J. McNair, a major 19th-century U.S. weapons arsenal.
Many tourist attractions and the city's wealthiest neighborhoods are concentrated in Northwest. Also in Northwest are American, Georgetown, George Washington and Howard universities; the University of the District of Columbia; Rock Creek Park; and Walter Reed Army Medical Center. Most of Northeast and Southeast are residential, as is the upper part of Northwest. If you're looking for places to eat, you'll find the majority of nearby restaurants are concentrated in the area north of the Mall.
North of W Street, east-west streets are assigned two-syllable alphabetical names (Belmont, Quincy, Randolph), then three-syllable names (Buchanan, Hamilton, Underwood). Above Whittier Street in upper Northwest, alphabetical names shift to trees and plants with two- (Aspen), three- (Butternut) or four-syllable (Geranium) names. At this point the District ends and Maryland begins, which no doubt delighted planners.
There also are irregularities that confuse even residents. Pennsylvania Avenue, for example, enters southeast Washington from suburban Maryland; is interrupted at Independence Avenue S.E. by the Capitol grounds; picks up again at 1st Street N.W.; is interrupted at 15th Street by the Ellipse; picks up again around the corner at the intersection of 15th Street and New York Avenue N.W.; and continues west past the White House into Georgetown, where it turns into M Street.
The speed limit is 25 mph or as posted; on major arteries it is usually 30 mph. A right turn on a red light is permitted unless otherwise posted. High-beam headlights are prohibited at all times.
The weekday afternoon backup on I-395 southbound out of the city begins early (particularly on Fridays and the beginning of holiday weekends), and traffic soon slows to a painful crawl. If you're visiting, staying in nearby Maryland or Virginia and driving, plan your trip accordingly.
Also remember that carpooling regulations (HOV) govern the number of people in vehicles that use certain heavily traveled highways, such as I-66 and I-395 inside the Beltway. Signs denote designated HOV lanes; the restrictions apply during both morning (6:30 to 9 a.m.) and evening (4 to 6:30 p.m.) rush-hour periods.
ParkingDowntown parking is limited, particularly in the vicinity of the National Mall. Violations are strictly enforced; pay close attention to all signs in the vicinity of any space you're lucky enough to find.
Meters are closely monitored, so be aware of when the "expired" flag is due to pop up as vehicles with meter violations are quickly ticketed. Most meters run for up to 2 hours. Meters are not in force on Sundays and federal holidays, but there is usually a 2-hour parking limit.
Meter rates are $2.30 per hour. Nighttime parking enforcement hours are in effect until 10 p.m. in such neighborhoods/areas as Adams Morgan, Georgetown, Penn Quarter, the U Street Corridor and the National Mall.
Parking on residential streets in Capitol Hill is often reserved for residents, and a special zone sticker must be displayed on the front windshield. You can park on the street, but usually only for a 2-hour period. There are rush-hour parking restrictions along M Street and Wisconsin Avenue N.W. in Georgetown on weekdays from 7-9:30 a.m. and 4-6:30 p.m. Solar-powered meters in Northwest and Southwest accept credit and debit cards as well as coins.
Hours of operation, time limits and rates are displayed on a decal on each meter; check the information to make sure the parking space is valid before leaving your vehicle.
Parking is prohibited within 10 feet of a fire hydrant, 25 feet of a stop sign and 40 feet of an intersection. Statues are strictly enforced by tickets, but cars are generally towed only when they endanger public safety. If your vehicle is towed Friday after 7 p.m. or anytime on a weekend, you'll need to wait until the following Monday after 9 a.m. to retrieve it.
No Standing zones also are enforced; automobiles are not permitted in these areas except briefly to pick up or discharge passengers. For information about parking regulations, contact the District Department of Transportation's Traffic Services Division; phone (202) 673-6813.
Downtown commercial lots and garages can be expensive; many charge $13-$17 or more per day, with a discount if you arrive early in the morning or late in the afternoon. Downtown stores may offer shoppers a parking discount; inquire at the individual establishment. Many garages close by about 7 p.m., but parking facilities located near Capital One Arena, Nationals Park and Georgetown stay open later. For a cheaper and frequently more convenient alternative, use Metro.
Taxis & LimousinesTaxis in Washington are metered. The basic fare is $3.50 for the first 1/8 mile and 27c for each additional 1/8 mile. Other factors, from the amount of baggage to the time of day to the time spent below 10 mph in traffic, might increase the fare.
The rates quoted above are for cabs hailed on the street; rates increase by $2 when a cab is requested by phone and by $3 for cabs hired at the Ronald Reagan Washington National Airport taxi stand. Fares for trips to or from nearby points in Maryland and Virginia vary; determine the rate with the driver before setting off. Cabs with Virginia or Maryland license plates can transport passengers in and out of the District, but not between points within the District.
Cab companies include DC Taxi Transportation, (202) 398-0500; Diamond, (202) 387-6200 ($6 basic fare by phone, then $2.16 per mile); and Yellow, (202) 544-1212. Limousine service in and around Washington averages $50 per hour, excluding tax and tip.
Public Transportation D.C. Metrobuses reach nearly every point in the metropolitan area. The regular fare for riders paying cash or using a plastic, reloadable SmarTrip farecard is $2; $1 (ages 65+, persons with disabilities and customers with a Medicare card and valid photo ID using a senior or reduced fare SmarTrip farecard). The fare for express buses using a SmarTrip card or paying cash is $4.25; $2.10 (ages 65+ and persons with disabilities).
Exact change is required if paying in cash. One or two children (ages 0-4) may ride free with an adult paying full fare.
Bus-to-bus transfers with a SmarTrip card are valid for free Metrobus connections within a 2-hour period. Metrobus-to-Metrorail or Metrorail-to-Metrobus transfers when using a SmarTrip card (not paying cash fare) are given a 50c discount within a 2-hour period beginning from the start of your first trip.
Metrobus operates 24 hours a day, 7 days a week, but service intervals vary by line, time of day and day of week. Go to the Washington Metropolitan Area Transit Authority (WMATA) website for information about Metrobus fares and schedules, trip planning services and information regarding Senior SmarTrip cards, or phone (202) 637-7000 or TTY (202) 638-3780.
Red, white, black and yellow DC Circulator buses take riders to many locations throughout the District of Columbia. They run every 10 minutes daily 7 a.m.-9 p.m., with extended hours for some routes on weekends and during the summer.
The regular fare is $1; 50c (senior citizens and the physically impaired); free (ages 0-4 with adult paying full fare). Exact cash fare is required. Free transfers between Circulator buses or from a Metrobus to a Circulator bus are available within a 2-hour period if paying with a SmarTrip card.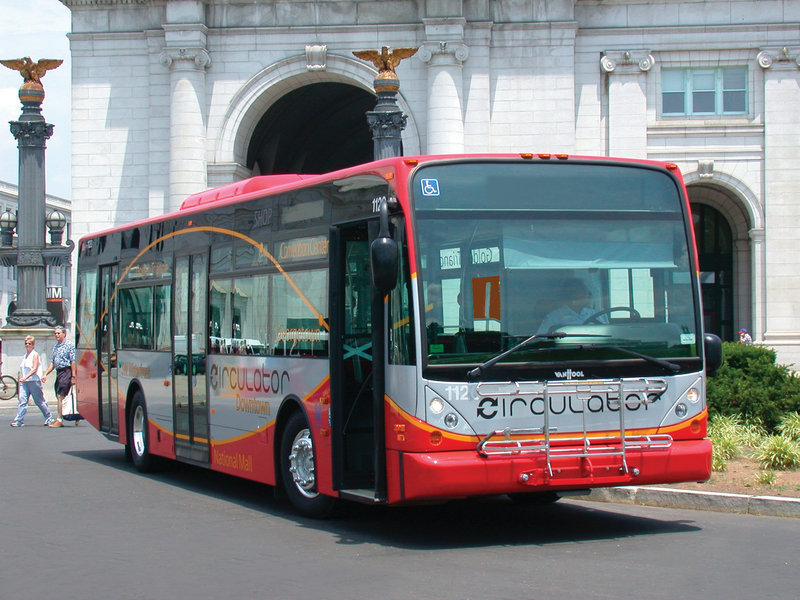 Destination DC
Transfers from Metrorail to Circulator buses or from Circulator buses to Metrobus, Metrobus Express, Metrobus airport shuttle or Metrorail receive discounted fares beginning at 50c if using a SmarTrip card. Unlimited ride 1-day ($3), 3-day ($7), 7-day ($11) and 1-month ($40) passes are available. For information about routes, fares and passes visit the DC Circulator website or phone (202) 962-1423.
The Metrorail subway system covers every part of the city as well as the nearby Virginia and Maryland suburbs. Nine transfer stations (Metro Center, Gallery Place-Chinatown, L'Enfant Plaza, Pentagon, Rosslyn, Stadium-Armory, King Street-Old Town, Fort Totten and East Falls Church) facilitate travel between lines and the system's more than 90 stations.
The Red Line runs from Glenmont, Md., to Shady Grove, Md., via downtown Washington. The Yellow Line runs from Fort Totten in the District to Huntington, south of Alexandria, Va., via Ronald Reagan Washington National Airport. During weekday morning and afternoon rush hours, the Yellow Line terminates at Mount Vernon Square. The Blue Line connects Largo Town Center in Prince George's County, Md., with the Franconia-Springfield, Va., station via downtown and Reagan National.
The Orange Line runs between the New Carrollton station in Maryland and Vienna-Fairfax, Va., via downtown. The Green Line extends from Greenbelt, Md., south to Branch Avenue in Prince George's County, Md., via downtown. The first phase of the Silver Line runs from the Wiehle-Reston East station in Fairfax County, Va., to Rosslyn and then through downtown, ending at Largo Town Center in Maryland. An extension connecting to Dulles International Airport and points west is under construction.
Maps at each station's entrance provide route information; station managers can assist with questions and concerns. A color-coded map of the system is also near the doors of each train car.
A reloadable plastic SmarTrip card is required to enter and exit station faregates. A surcharge of $2 is added to a new SmarTrip farecard purchase. You can reload value to the card at blue Fare Vending or black Add Value farecard machines located at the entrance to every station. Value also can be added to the card online by creating a SmarTrip online account; a major credit or debit card is required to pay for your order.
Fares depend on when and where you travel. A list of fares between stations is displayed near the farecard machines at station entrances. Peak fares with a SmarTrip card range from $2.25 (minimum) to $6 (maximum). Peak fares are in effect Mon.-Fri. from 5-9:30 a.m. and 3-7 p.m. and Fri.-Sat. midnight-closing. Off-peak fares range from $2 (minimum) to $3.85 (maximum). Fares are subject to change.
A 1-day SmarTrip card pass good for unlimited Metrorail travel costs $14.50; a 7-day pass costs $59.25. Passes can be added to an existing SmarTrip card at fare vending machines at station entrances or online if you have a SmarTrip account. New users can purchase a SmarTrip card pre-loaded with a pass by creating an online account.
Up to two children (ages 0-4) may ride free with an adult paying full fare. Senior citizens ages 65+, persons with disabilities and customers with a Medicare card and valid photo ID ride for half the peak fare if they pay with a senior or reduced-fare SmarTrip card. Senior and reduced-fare cards can be purchased at Metro sales offices and commuter stores (see below).
There are parking lots or pay garages at most suburban Metro stations, but they're often full by 8 a.m. on weekdays. Parking at Metro-operated lots is free on weekends and federal holidays. Parking fees can be paid using a SmarTrip card; major credit cards also are accepted at most parking lots.
Metrorail operates Mon.-Thurs. 5 a.m.-11:30 p.m., Fri. 5 a.m.-1 a.m., Sat. 7 a.m.-1 a.m., Sun. 8 a.m.-11 p.m. Hours are reduced on the following holidays: Jan. 1, Martin Luther King Jr. Day, Presidents Day, Memorial Day, July 4, Labor Day, Columbus Day, Veterans Day, Thanksgiving, Christmas and Dec. 31.
If Metro is your only means of transportation in the evening, check the scheduled departure time for the last train; it may depart before the station closes. Final departure times are posted at station entrance kiosks.
Intervals between trains vary by time and route but are usually between 5 and 20 minutes and are more frequent during rush-hour periods. For further information about routes and rates visit the WMATA website, or phone (202) 637-7000 or TTY (202) 638-3780.
In addition to farecard machines at Metro stations and online, SmarTrip cards can be purchased at Metro sales offices at the following locations: Metro headquarters, 600 5th St. N.W. (Mon.-Fri. 9-3); inside the Metro Center station at 12th and F streets N.W. (Mon.-Fri. 8-6); at the Pentagon Transit Center at the Pentagon station, upper level (Mon.-Fri. 7:30-11 and noon-3:30); and at the Northern Metrobus Garage at 4615 14th St. N.W. (Mon. and Sat.-Sun. 8:30-1).
In Virginia, SmarTrip cards can be purchased at Commuter Stores at the Crystal City Underground Mall, the Ballston and Rosslyn Metro stations and at Shirlington Station in Arlington, and at Connector Stores at the Tysons-West Park Transit Station in McLean, at Herndon-Monroe Park & Ride in Herndon, at the Reston Town Center Transit Station in Reston, at Wiehle-Reston East in Reston and at the Franconia-Springfield Metro Station in Springfield.
In Maryland, SmarTrip cards can be purchased at TRIPS Commuter Stores in Chevy Chase and Silver Spring, and at the Department of Finance/Division of Treasury in Rockville.
For additional information about SmarTrip cards phone (888) 762-7874, Mon.-Fri. 7 a.m.-8 p.m.
In the Attractions section, attraction listings include the nearest Metrorail stop if applicable.