Best Restaurants in Washington, D.C.
Our favorites include some of this destination's best restaurants—from fine dining to simple fare.
By Greg Weekes
If you're wondering where to eat when you're planning a trip to Washington, D.C., we've got you covered with suggestions for restaurants to try while you're here. From formal dining to pub fare, this destination city offers something for everyone.
Dupont Circle Restaurants Feature Upscale Menus
Another Dupont Circle standout is Obelisk . Dinner is a fixed-price, five-course affair that begins with an assortment of small plates. The primi course might be ravioli or squab agnolotti with chanterelle mushrooms; the secondi course features red snapper, roasted suckling pig or braised duck leg. For dessert the chocolate blackberry cake is outstanding. The wine list includes a number of regional Italian bottles. Reservations are strongly advised.
Local Restaurants Featuring American Fare
If you're power shopping along Wisconsin Avenue and M Street, take a breather and duck into Clyde's of Georgetown for a convivial bite. This is the original Clyde's, and it's a neighborhood institution. The atmosphere is quintessential American saloon: wood floors, oil paintings and a long oak bar. It's a cozy setting for settling down to upscale comfort food like lobster shepherd's pie. Hanger steak salad or the Tommy Melt, a cheeseburger on an English muffin topped with bacon and a fried egg, are both winning entrées. Wash it down with a stout, ale, lager or bottled beer.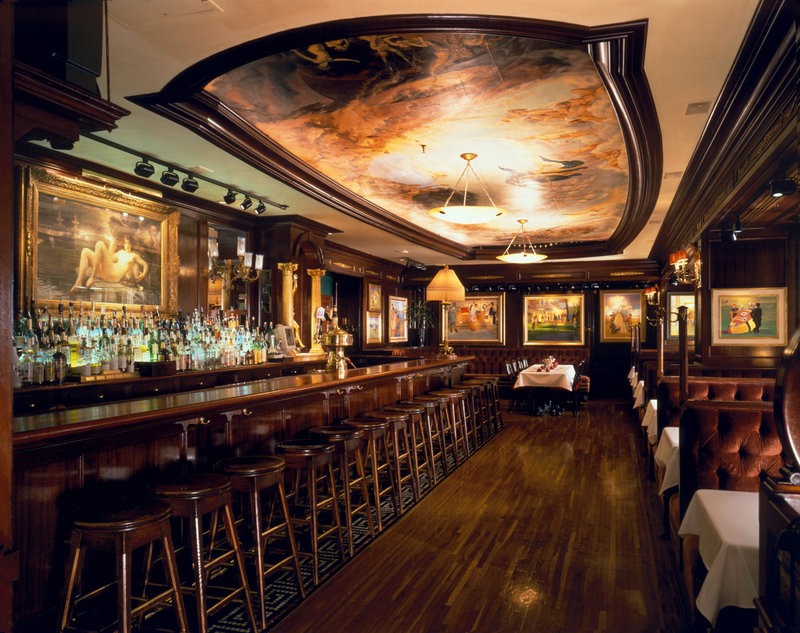 Courtesy of Old Ebbitt Grill
Presidents Grant, Cleveland and Harding all dined at the Old Ebbitt Grill, a favorite with journalists, political insiders and tourists due to a location just around the corner from the White House. The ambience is turn of the 20th century: mahogany and velvet booths, brass and etched-glass panels, flickering antique gaslights. The menu changes daily to take advantage of seasonal standouts like crab cakes or pan-seared Chesapeake Bay rockfish. Old Ebbitt's raw bar is one of the best in the District, with an especially large selection of oysters. There's also a very popular weekend brunch.
1789 Offers Fine Dining
The nation's capital has no shortage of fine-dining options, and one of the most highly regarded is 1789 Restaurant . Certainly the décor inside this venerable three-story Georgetown row house suggests the late 18th century: candlelit tables, old paintings on wood walls, stairways that creak. The seasonal menu takes advantage of local ingredients in first courses like celeriac soup with fried oysters and Gala apple or charred octopus with an avocado puree and candied chiles. You can't go wrong with fish for a main course; halibut with baby bok choy, fennel and a brown butter hollandaise sauce is delicious. As is to be expected, the service by a formally attired waitstaff is impeccable; you'll be watched like a hawk and have every need attended to, but always unobtrusively. 1789 is very popular for celebrations like birthdays and anniversaries, and the restaurant will provide you with a personalized keepsake menu. Do dress up for the occasion.
French Bistro in The Willard, Seafood Next Door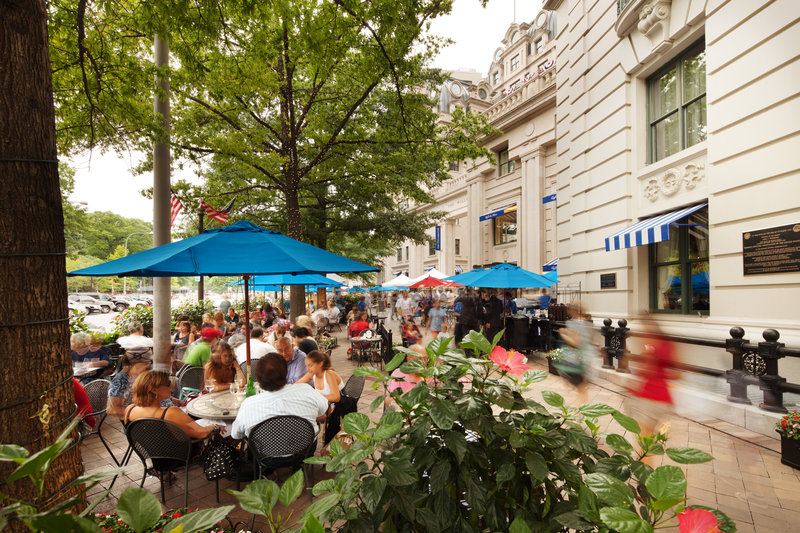 Cafe du Parc
Summer—or any day when it's warm enough to sit outside—is the time to visit Cafe du Parc in The Willard InterContinental hotel. The sun-dappled sidewalk tables with a view of Pershing Park are as close as you're going to get to a Parisian bistro in Washington, and a delightful spot to linger over a breakfast of croissants, pain au chocolat and freshly brewed Illy coffee. In the upstairs dining room, expect French fare like coq au vin, whole Dover sole a la Meunière with haricot vert, and the traditional grilled ham and cheese sandwich called a croque-monsier.
Try Italian or Ethiopian Eateries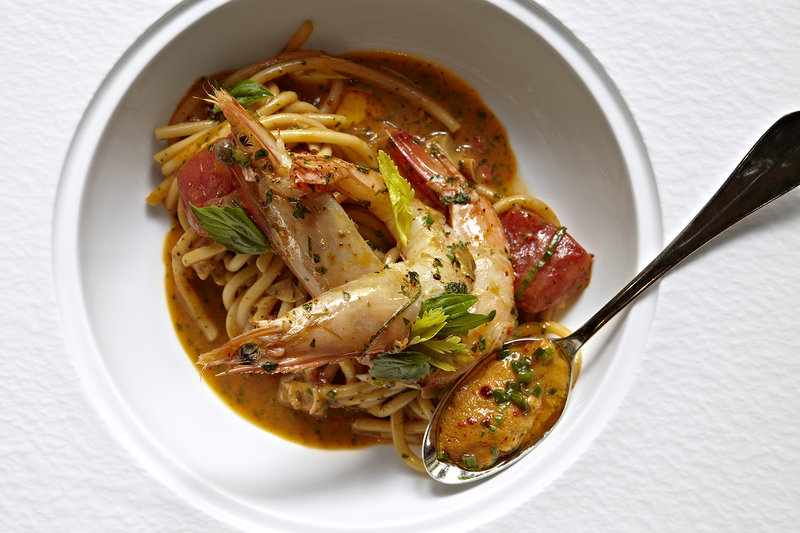 Fiola de Fabio Trabocchi
Penn Quarter, just north of the National Mall, has a variety of restaurant options, and Fiola is one of the most popular. Both elegant (a smartly attired wait staff) and rustic (rosewood tables unadorned with a cloth), it specializes in rich, indulgent Italian cooking. You cannot go wrong with classics like lobster ravioli or a Wagyu beef ribeye, and pappardelle pasta with tomatoes and pine nuts is a deceptively simple yet terrific dish. This is also a quite pricey restaurant, so you might want to try it for lunch and order grilled fish with locally sourced seasonal vegetables, a relative bargain.
Washington has lots of Ethiopian eateries, and one we like is Ethiopic Restaurant . The vegetable sampler includes scoops of curried potatoes, lentils, collard greens and other veggies. Tender cubes of beef sautéed in butter and simmered in fiery berbere sauce is guaranteed to break a sweat (if you don't want anything overly spicy, tell your server when you order). Mahogany wood floors, lovely artwork and soft lighting all encourage lingering over dinner. If the weather's nice, dine alfresco.
Indian Cuisine is a Favorite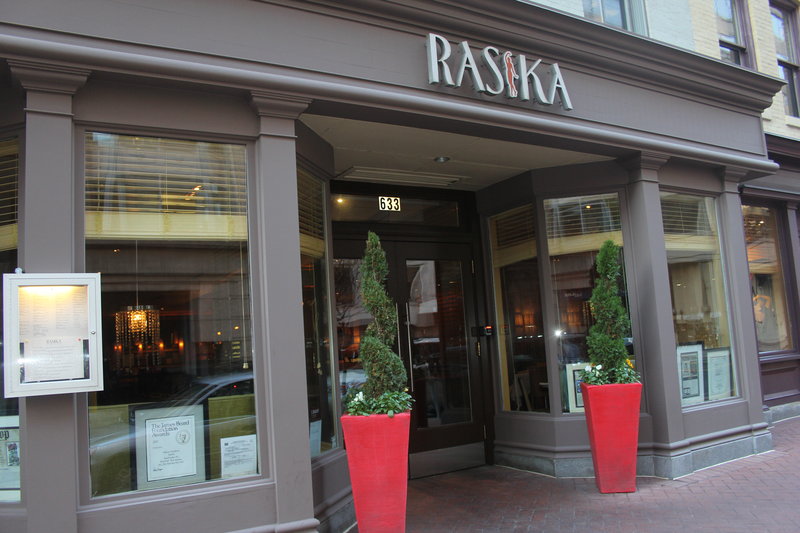 AAA/Photo submitted by Brooke Holt
Many consider Rasika to be D.C.'s best Indian restaurant. Visitors planning group travel are in luck; eating with a group gives you a chance to order a variety of dishes. The palak chaat appetizer—fried baby spinach leaves with yogurt, tamarind and date chutney—earns raves, as does black cod marinated in honey, dill, star anise and red wine vinegar. Also delicious are the curry stews like chicken tikka masala that are mainstays of Indian cooking; vegetarians should try the vegetable korma flavored with mint, cilantro and coconut. Service is gracious and attentive. In addition to the Penn Quarter location, there's another Rasika on New Hampshire Avenue in the West End neighborhood.
Spanish Restaurant
Courtesy of Jaleo
Penn Quarter institution Jaleo sticks to what it does best—tapas. You'd expect the gazpacho to be excellent here, and it is—as are other favorites like marinated onions with blue cheese, chicken and ham croquettes (served in what looks like a shoe), sautéed cauliflower with dates and olives, and the ever-popular patatas bravas, chunks of fried potato in a spicy tomato sauce. Be forewarned; all those small plates inflate the bill quickly, and you can end up paying dearly.
Chinese-Peruvian Cuisine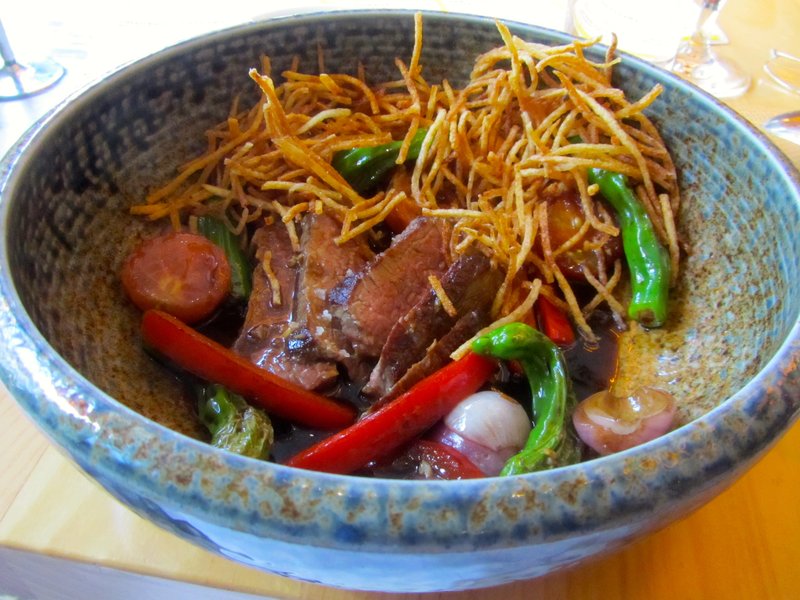 AAA/Inspector 49
China Chilcano, on the other hand, has created a buzz among D.C. foodies with a similar concept of small plate sharing that emphasizes Peruvian specialties. Restaurateur and chef José Andrés adds Asian influences to Peruvian classics like lomo saltado, marinated hanger steak flavored with ginger, soy sauce and shishito peppers. The dim sum menu includes such choices as fried pork belly and fried lotus bun with sweet potato, miso and hoisin sauce. Other dishes are Peruvian through and through—ají de gallina is a savory chicken stew incorporating rice, pecans, olives and fresh cheese. The décor is decidedly festive, making China Chilcano a good choice for friends or family groups. Just be mindful that—as at all tapas restaurants—the number of plates can quickly add up to a hefty bill.
Burgers and Pizza in Capitol Hill Area
Spike Mendelsohn (of "Top Chef" fame) is the name behind ultra-casual Capitol Hill hot spot Good Stuff Eatery. The menu emphasizes "handcrafted burgers," and Spike's Sunnyside—topped with Applewood bacon and a fried egg on a brioche bun—is a good place to start. Fill a few plastic mini containers with mango mayo for dipping your fries (sprinkled with thyme and rosemary) and order the Salty Caramel Kiss shake, an absolutely yummy caloric indulgence. There are branches in Georgetown and Crystal City as well.
Mendelsohn is also behind next door's We, the Pizza, which works the same sort of understated magic with a pie that Good Stuff Eatery does with burgers. There's nothing revolutionary going on here, just a nicely crisp crust, a good house-made tomato sauce and quality toppings. You can go simple—mozz and fresh oregano—or try something more esoteric, like Virginia ham and roasted pineapple with ginger, honey, lemongrass and just a hint of sauce. Order a slice or a whole pie, and don't forget the roasted garlic knots that come with a marinara dipping sauce. The menu also includes wings, salads and a variety of fruit sodas.
Chili and Steak Offerings
Occupying a historic building that was once a silent movie house and later a pool hall, Ben's Chili Bowl has been serving loyal customers for decades. The chili dog, a half-smoke in a warm steamed bun topped with mustard, onions and homemade chili sauce, is a signature item, along with the chili (again homemade, in meat and vegetarian versions). For a sweet ending, have a slice of German chocolate, strawberry, sweet potato or pineapple coconut cake. There's also a branch in Rosslyn, just across the Potomac River from D.C.
From the floral arrangements to the Gruyère cheese popovers, everything at BLT Steak is outsize. Cocktails are appropriately stiff. Meals start with chicken liver pate to spread on crusty French bread. We like the hanger steak and the Brussels sprouts with bacon and caramelized onions. If you're not in the mood for beef, the lemon-rosemary chicken is reliably moist and tasty. At lunch, try the lobster Cobb salad with pancetta or a gussied-up BLT sandwich (smoked bacon, heirloom tomatoes, Bibb lettuce). And if there's any room left over for dessert, the warm chocolate tart with pistachio ice cream should finish you off nicely. Caveat emptor—this is pricey expense account dining and perfect for business travel.
Sample Lebanese and French Dishes
Lebanese Taverna is a good refueling stop after a visit to the nearby National Zoo. You could make a meal of the mezza, or appetizers, like hummus, baba ghanoush, kibbeh (including a vegetarian version) and arnabeet (roasted cauliflower with tahini dressing), accompanied by pita bread from a wood-burning oven. Fatteh is a traditional yogurt-based dish with chickpeas, pine nuts, garlic and pomegranate seeds; order it with eggplant for a hearty vegetarian entrée. Traditional baklava with honey ice cream is a yummy dessert. If the weather's nice, sit at one of the sidewalk tables under the green umbrellas and contemplate all the fun you're having during your vacation.
Two restaurants, one close by and the other a definite hike, reward a trip out of the District for those who enjoy food as a sensory experience. In Great Falls, a drive along winding roads leads to L'Auberge Chez Francois & Jacques' Brasserie . The wood-beamed, antique-filled dining rooms feature stained glass and embroidered table linens, and formal service attends to your every need. The menu is a survey of rich, indulgent Alsatian French cookery. For the price of the main dish you also get soup or an appetizer, salad and dessert, making this both an indulgence and a good value. Jackets are requested for men.
Rewarding Dining Experience
It's even farther afield—a 70-mile drive from the nation's capital—but The Inn at Little Washington Dining Room , nestled in Virginia's rolling countryside in the tiny village of Washington, is well worth both the gas money and the cost of a multi-course tasting menu that will likely leave you in awe. The dining room features plush banquettes and silk-fringed lampshades, with a vase of roses at each table. Chef/owner Patrick O'Connell and his team concoct a seasonally changing menu that utilizes wild fish and game along with locally grown fruits and vegetables. Some classics—like heirloom tomato salad with buffalo mozzarella and cucumber sorbet, or organic, milk-fed pork with locally grown peaches and a potato puree—make repeat appearances. The inn's wine cellar boasts more than 2,400 selections. It's not one of the local Washington restaurants, but it is one of the many fun places to go in the area. Is it worth an out-of-the-ordinary splurge? Definitely.
See all the restaurants for this destination.