Washington, D.C., Performing Arts The John F. Kennedy Center for the Performing Arts is a major destination in Washington's performing arts scene, but there are many other fine facilities. University groups, dinner theaters and open-air facilities like Virginia's Wolf Trap National Park for the Performing Arts provide an incentive to travel and experience Washington's live entertainment throughout the year.
Better yet, a number of performances are free, which can help stretch your vacation budget. National Park Service military band concerts take place during the summer months at the United States Capitol, the United States Navy Memorial and the Sylvan Theatre on the Washington Monument grounds. The Library of Congress offers free chamber music concerts.
The Washington Post magazine, published in the Sunday edition of The Washington Post, gives complete listings for current and upcoming cultural events in the D.C. area. Washington City Paper, a free weekly available at local bookstores, newsstands and curbside vending machines, also has detailed listings for theater, music, film, dance, gallery and performance art events.
Dance Classical and contemporary works are presented by The Washington Ballet at the Kennedy Center Opera House as well as the Kennedy Center's Eisenhower Theater and other venues. Every December the company stages the holiday classic "The Nutcracker." Such renowned companies as the Bolshoi Ballet and the American Ballet Theater give frequent Washington performances. The Howard University Dance Ensemble focuses on modern dance. National and international dance troupes regularly appear at Smithsonian venues; for information phone (202) 633-1000.
Film First-run movie theaters are plentiful in the District, although parking is not. The most readily available parking is at theaters on upper Wisconsin and Connecticut avenues; otherwise take a trip on the Metro if you're in the mood for a film. The AMC Loews Uptown 1, 3426 Connecticut Ave. N.W. (M: Cleveland Park), and the AMC Mazza Gallerie, 5300 Wisconsin Ave. N.W. (M: Friendship Heights), are good places to see current releases; phone (888) 262-4386.
The AFI Silver Theatre and Cultural Center, 8633 Colesville Rd. in Silver Spring, Md. (M: Silver Spring), includes a restored 1938 movie house and two contemporary stadium theaters providing state-of-the-art presentation facilities for classic and cult film showings, retrospectives and new releases; for recorded program information phone (301) 495-6700. The Avalon Theatre, 5612 Connecticut Ave. N.W. (M: Friendship Heights), shows arthouse fare as well as the occasional Hollywood blockbuster and is one of the city's few remaining old-school movie palaces. Phone (202) 966-3464.
Documentaries and experimental films are often shown at the Hirshhorn Museum and Sculpture Garden and the National Gallery of Art's East Building (M: Smithsonian); for information about programs, contact the individual museums.
Music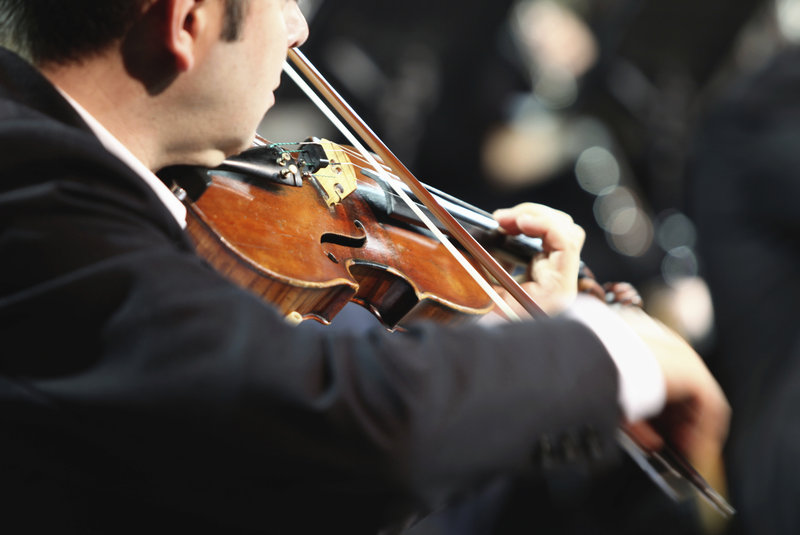 choja/iStockphoto.com
The Kennedy Center presents a variety of nationally and internationally acclaimed artists. Under the direction of Gianandrea Noseda, the National Symphony Orchestra performs in the center's spacious Concert Hall. The season runs from early September to early June. Chamber music societies, choral groups and symphony orchestras from around the world perform here as well; for information phone (202) 467-4600. In the summer months the orchestra performs outdoors at Wolf Trap National Park for the Performing Arts.
The George Washington University's Lisner Auditorium, 21st and H streets N.W. (M: Foggy Bottom-GWU), has a varied schedule of popular music concerts, classical recitals and sometimes opera and ballet. Phone (202) 994-6800.
One of Washington's best bargains is the series of free chamber music concerts presented at the Library of Congress (M: Capitol South or Union Station) at different theaters and auditoriums. For schedule and ticket information phone (202) 707-5502.
The airy West Garden Court in the National Gallery of Art's West Building (M: Smithsonian) is the scene of free concerts from early September to early November; for program information phone (202) 842-6941. The Jazz in the Garden concert series takes place on Fridays from 5-8:30 p.m., late May through early September, at the National Gallery of Art Sculpture Garden, 7th Street and Constitution Avenue N.W. Visitors can purchase food and beverages from the Pavilion Cafe or bring their own food from local restaurants. For schedule and performer information phone (202) 842-6941.
From October through May, Sunday afternoon chamber concerts take place in the paneled Music Room at The Phillips Collection museum, 1600 21st St. N.W. at Q Street (M: Dupont Circle). They begin promptly at 4 (early arrival is strongly recommended). Concert admission is $45 ($20 for members and students with ID); phone (202) 387-2151. From October through April, the Folger Consort, the resident Renaissance music ensemble at the Folger Shakespeare Library, presents a series of instrumental and vocal performances in the library's Folger Theatre, 201 E. Capitol St. S.E. (M: Capitol South or Union Station); phone (202) 544-7077.
Wolf Trap National Park for the Performing Arts is the National Symphony Orchestra's summer home. About half of the seats in the Filene Center are covered; the stage and open-sided canopy are built to take advantage of a natural slope. Less expensive and unprotected seating is available on the lawn. Children's Theatre-in-the-Woods runs from late June through early August. These 45-minute family-friendly shows feature dance, music, puppetry, storytelling and theater and are presented Tuesdays through Saturdays at 10:30 a.m.; phone (703) 255-1868 or (877) 965-3872.
From early October to mid-May, performances move inside to the smaller The Barns at Wolf Trap, three-quarters of a mile south of the park at 1635 Trap Rd. The 382-seat theater features everything from chamber music and opera to folk, jazz, country and bluegrass. For ticket information phone the box office at (703) 255-1868. Wolf Trap tickets can be purchased by calling (877) 965-3872.
If you're looking for one of the truly unique things to do in Washington, D.C., the U.S. Marines present a parade, including band, drum and bugle corps and a silent drill team, at the Marine Barracks, 8th and I streets S.E. (M: Eastern Market), on Fridays at 8:45 p.m. from May through August. Parking is available at Maritime Plaza, 12th and M streets S.E.; a free shuttle bus provides transportation from the plaza to the barracks and back. Reservations are not required but can be made online; visitors who don't have them must wait in line for any unclaimed seats.
For something less formal, the Marine Drum and Bugle Corps and Silent Drill Team present a 1-hour Sunset Parade Tuesdays at 7 p.m. from the first Tuesday in June to the last Tuesday in July, and at 6:30 p.m. the first two Tuesdays in August. It takes place at the Marine Corps War Memorial (M: Rosslyn); bring a blanket or lawn chair, as no seats are provided. Shuttle bus service to this free performance is provided from the parking lot next to the Arlington National Cemetery Visitor Center from 5:30-6:30 and 7:30-8:30 p.m.; the parking fee is $1.75 per hour for the first 3 hours, then $2.50 per hour.
Twilight Tattoo, another sunset parade, is performed by the U.S. Army Band and The 3rd U.S. Infantry at Fort Myer in Arlington, Va. Bleachers aren't available, so bring blankets and/or lawn chairs. The event takes place Wednesdays (weather permitting) at 7 p.m., early May through early August. Phone (202) 685-2888 to confirm schedule.
One of the most affordable and fun things to do is the free summer concert series given Memorial Day weekend through Labor Day weekend by military bands of the U.S. armed forces. Many of them take place on the steps of the United States Capitol. These traditional concerts feature occasional vocalists and include stirring patriotic marches as well as pops and classical selections.
The Navy performs Mondays, the Air Force on Tuesdays, the Marines on Wednesdays and the Army on Fridays. On holidays the National Symphony Orchestra performs. All concerts begin at 8 p.m. On Thursday evenings from June through August, the U.S. Marine band performs at the outdoor Sylvan Theatre, just off 15th Street N.W. near the Washington Monument (M: Smithsonian). For schedule information phone (703) 696-3718 (Army), (202) 433-2525 (Navy), (202) 433-4011 (Marines) or (202) 767-4310 (Air Force).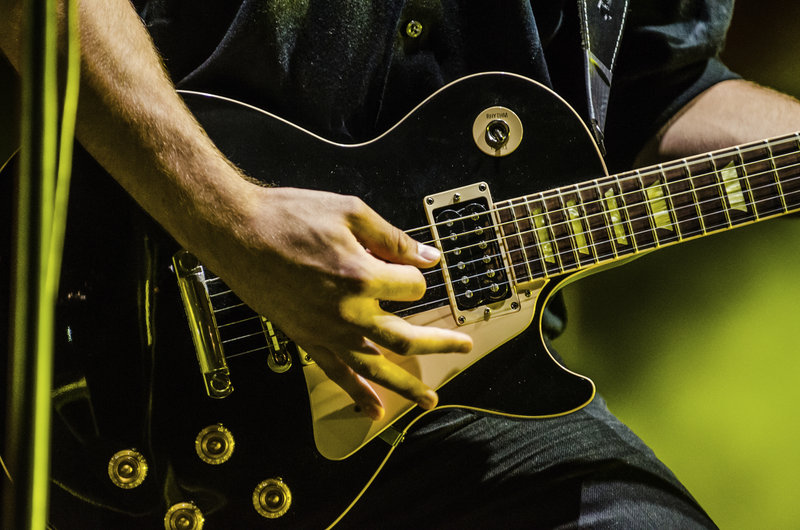 Marc Dufresne/iStockphoto.com
LIVE! On Woodrow Wilson Plaza takes place at 1300 Pennsylvania Ave. N.W. (M: Federal Triangle). The music ranges from Latin and jazz to Celtic folk songs and hip hop. Concerts are scheduled Mon.-Thurs. noon-1 (weather permitting), early June through September.
OperaThe opulent Kennedy Center Opera House has three levels and a stage curtain of gold and red Japanese silk. The plush setting is a backdrop for seasonal performances by the Washington National Opera from September to May. Standing-room-only tickets go on sale at the Kennedy Center box office on Saturday beginning at 10 a.m. for performances the following week. For performance and ticket information phone (202) 467-4600 or (800) 444-1324.
TheaterSmall-scale dramas are presented at the Kennedy Center's Eisenhower Theater, while lavish musicals play at the 2,300-seat Opera House. In the evening the Theater Lab features the long-running play "Shear Madness," a humorous murder mystery that differs every performance.
The center's intimate Terrace Theater reopened in 2017 after a 16-month facelife with a dramatically rethought architectural and acoustical plan. Featured are chamber music concerts, opera, choral recitals, comedy revues and theatrical offerings, along with solo performances from classical violinists to multimedia performance artists. For Kennedy Center show and ticket information phone (202) 467-4600 or (800) 444-1324.
The Warner Theatre, 513 13th St. N.W. between E and F streets (M: Metro Center), opened in 1924 as a vaudeville house, was an old-fashioned movie palace during the 1960s and functioned mainly as a rock concert venue in the 1970s and '80s. These days it provides an ornately decorative setting for dance performances, touring Broadway and off-Broadway shows, and popular headlining entertainers and musicians. For general information, phone (202) 783-4000 Mon.-Fri. 9-6.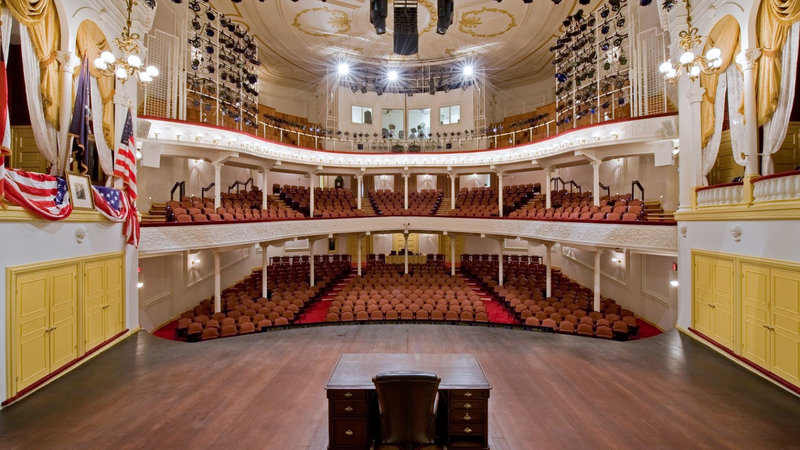 Courtesy of Ford's Theatre
Ford's Theatre presents a year-round schedule of contemporary plays and musicals. The theater is carefully restored to its original appearance, which means the 1860s-style chairs are of questionable comfort. Phone (202) 347-4833 for more information.
Razzle-dazzle hits appear at The National Theatre, 1321 Pennsylvania Ave. (M: Metro Center), which has operated continuously since 1835. It's the closest thing D.C. has to a big, Broadway-style theater. The theater's Helen Hayes Gallery hosts free family-friendly performances on Saturday mornings at 9:30 and 11, September through July. Seating is limited and tickets are distributed a half hour before the performance begins on a first-come, first-served basis (one ticket per person in line). Phone (202) 628-6161 for ticket and schedule information.
The Arena Stage at the Mead Center for American Theater, 1101 6th St. S.W. (M: Waterfront-SEU), is home to D.C.'s most lauded ensemble company. Founded by director Zelda Fichandler in 1950, the Arena over the years has nurtured the stage careers of such actors as Jane Alexander and James Earl Jones. New plays and emerging playwrights are emphasized during the September-to-June season. The facility has three stages: the Fichandler Stage, the Kreeger Theater, and the Arlene and Robert Kogod Cradle. For schedule and ticket information phone (202) 488-3300 Tues.-Sun. noon-8.
Productions of Shakespearean plays and other classical works by the Shakespeare Theatre Company are presented at the Lansburgh Theatre, 450 7th St. N.W. (M: Archives-Navy Memorial-Penn Quarter) and also in Sidney Harman Hall, 6th and F streets N.W. (M: Gallery Place-Chinatown). In addition to educational programs and various special events, the Shakespeare Theatre Company Free For All is a free production held in the summer. Tickets for regular performances sell out quickly; for performance information or tickets phone (202) 547-1122, (877) 487-8849 or TTY (202) 638-3863.
Beltway politics is the inspiration for the 1.5-hour theatrical comedy put on by the Capitol Steps Friday and Saturday evenings at 7:30 in the Ronald Reagan Building and International Trade Center, 1300 Pennsylvania Ave. N.W. (M: Federal Triangle). The troupe consists of many current and former Congressional staffers; phone (202) 312-1555 for ticket information.
Smaller professional resident theaters abound. Contemporary plays—including new productions—are presented at The Studio Theatre, 1501 14th St. N.W. (M: Dupont Circle). Phone (202) 332-3300 or TTY (202) 667-8436 for box office information.
The Woolly Mammoth Theatre Company, 641 D St. N.W. at 7th Street (M: Archives-Navy Memorial-Penn Quarter), has a reputation for staging some of the city's most artistically provocative productions. For ticket information phone the box office at (202) 393-3939. The GALA Hispanic Theatre, 3333 14th St. N.W. (M: Columbia Heights), presents works by classic and contemporary Latin and Latin-American playwrights; phone (202) 234-7174 for the theater or (800) 494-8497 for ticket information.
Productions at the Atlas Performing Arts Center, 1333 H St. N.E., bring to life African and African-American themes. There is a streetcar along H Street that you can catch from Union Station. Phone (202) 399-7993 for the box office. The Round House Theatre has two locations—in Bethesda and Silver Spring, Md.—offering new plays as well as classics. Phone (240) 644-1100 for ticket information.