More Than Just "Winterpeg" So you say Winnipeg is too cold. The better to keep your Slurpee from melting! For years the city, known for winters so long and harsh that it is sometimes affectionately called Winterpeg, has held the title of Slurpee Capital of the World. But if you're not convinced that consuming the slushy drinks in frigid weather is a good time, you can find plenty of fun things to do indoors to make your trip worthwhile.
AAA/Katie Broome
The Winnipeg Symphony Orchestra, Manitoba Opera and Canada's Royal Winnipeg Ballet are part of a flourishing arts scene. You'll also find theater to suit all ages and interests. Learn about Manitoba's history and people in the Manitoba Museum, and while you're there, be sure to visit The Planetarium and The Science Gallery. You can even take a tour of the Royal Canadian Mint to see where all of Canada's circulation coins are made.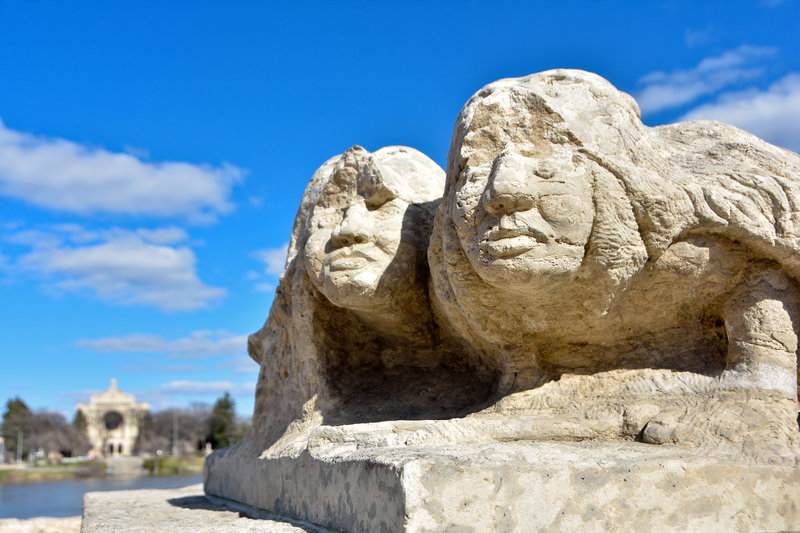 AAA/Katie Broome
Another recommendation is to visit in the summer, when you can take advantage of the countless outdoor recreational activities available. Spend some time at The Forks, an ancient meeting site at the confluence of the Red and Assiniboine rivers. Here you can shop for local foods and unique souvenirs at The Forks Market or take a narrated boat tour on the river. View wildlife at Assiniboine Park's zoo or the FortWhyte Alive urban nature park, home to a herd of grazing bison. Just don't forget to pick up a Slurpee afterward.
Getting There
By CarForming a circle around Winnipeg is a perimeter highway. To the north of the Trans-Canada Highway, the major approach from the east and west, this perimeter road is designated Hwy. 101. To the south of the Trans-Canada Highway it is numbered Hwy. 100.
There are three major approaches to the perimeter highway: the Trans-Canada Highway, which approaches from both the east and west, and Hwy. 75, which approaches from the south. To the west of the city the Trans-Canada Highway is posted Hwy. 1W; from the east, Hwy. 1E.
Within the perimeter highway all three major approaches change designation: Hwy. 1W becomes Metro Rte. 85, Hwy. 1E becomes Metro Rte. 135, and Hwy. 75 becomes Metro Rte. 42.
Getting AroundGenerally, rush hour in Winnipeg is from 7:30 to 9 a.m. and 3:30 to 5:30 p.m. and should be avoided if possible. If driving during these times, be careful and be patient; the city's speed limit is 50 kilometres per hour (30 mph) unless otherwise posted.
Note the pedestrian crosswalks marked by pavement stripes and illuminated overhead signs. All vehicles must stop if the crosswalk is occupied by a pedestrian or if a pedestrian on the curb indicates an intention to cross. No vehicle may pass another that is stopped or slowing to yield to a pedestrian. Right turns on red are permitted after a stop, unless otherwise posted.
Street SystemWinnipeg's streets are laid out in a number of grids, but each is oriented to a different compass direction. Visitors will find it easiest to orient themselves to the major thoroughfares, which have signs carrying the word "Route" and a number. Routes ending in even numbers designate north-south thoroughfares, and those ending in odd numbers designate major east-west arteries.
The primary north-south routes that cross the downtown area are 42, 52 and 62. The major east-west highways include 105, 115, 57 and 85. A good street map will help drivers to see how the various grids of named streets connect with the main numbered routes.
ParkingIt is recommended for visitors to park in a commercial lot, where rates average $1–$5 per hour. Daily rates are about $10. Parking meters downtown cost $2.50–$3.50 per hour (8 a.m. to 5:30 p.m.), but most carry a 2-hour limit. Free 2-hour parking in designated metered areas downtown is offered on Saturday while parking is free all day on Sunday.
Parking is strictly controlled along major downtown streets. Cars parked between signs reading "No Parking Between" from 7 to 9 a.m. and 3:30 to 5:30 p.m. will be towed. Once a vehicle has been parked at a meter for the maximum time for which a fee can be paid, it must be moved through an intersection before parking at a different meter. Re-metering (putting additional money into the meter after time has expired) is not allowed.