Sports & RecOrange County—home to Disneyland, the tourist mega-attraction in Anaheim—has a lot more going for it than roller coasters, fairytale castles and cute cartoon characters. In addition to a couple of big-city sports franchises, the O.C. has set aside parks and beaches for the enjoyment of locals and visitors alike. From bike paths to fishing piers and conservation areas to golf courses, you'll have plenty of outdoor things to do to choose from in this sunny Southern California destination.
BaseballYou wouldn't know it from the name nowadays, but the Los Angeles Angels Major League Baseball team is not actually in Los Angeles; phone (714) 940-2000. Their home field has been Angel Stadium of Anaheim since 1966, when cowboy crooner turned baseball team owner Gene Autry moved the team from L.A.
HockeyOrange County's professional hockey team, the Anaheim Ducks—probably the only sports team whose creation was inspired by a movie (Disney's "The Mighty Ducks")—plays at the Honda Center near Angel Stadium of Anaheim; phone (714) 704-2500 for ticket information.
Horse RacingThe dirt track at Los Alamitos Race Course in Cypress (a city next door to Los Alamitos) is the year-round setting for exciting horse races; phone (714) 995-1234. The track got its start in the early 1950s when businessman Frank Vessels began hosting meets at his Los Alamitos ranch.
Note: Policies on admitting children to pari-mutuel facilities vary. Phone for specific information.
Bicycling Orange County has more than 1,000 miles of bikeways, which include several popular paved, off-street bike paths that are great for families looking for things to do with kids. For more information, phone the Orange County government's main number (855) 886-5400, or Orange County Parks at (949) 923-3741.
Among the best and longest O.C. trails, the 30-mile Santa Ana River Trail starts adjacent to the Green River Golf Club on the eastern side of the county, roughly paralleling SR 91 and SR 55 as it cuts west across Orange County to the Pacific Ocean. The Santa Ana River Trail will eventually be one leg of the OC Loop, which will provide 66 miles of continuous pathway and connect to some of the county's most scenic areas.
Another circular route you can try is the Back Bay Loop Trail that runs 10.5 miles along Upper Newport Bay. This wide path with lots of places to take breaks has several trailheads, including those at the Back Bay Science Center, 600 Shellmaker Rd., and the Upper Newport Bay Nature Preserve/Peter & Mary Muth Interpretive Center , 2301 University Dr., both in Newport Beach.
Connecting to the Back Bay Loop Trail, the 9-mile San Diego Creek Trail follows its namesake creek through the city of Irvine. You can access the trail near the western end at Peter & Mary Muth Interpretive Center or on the eastern end at Valley Oak Park at Valley Oak Drive and Barranca Parkway.
FishingThere are a couple of hotspots for freshwater fishing in the Anaheim area, namely Santa Ana River Lakes, 4060 E. La Palma Ave., and Laguna Niguel Regional Park, 28241 La Paz Rd. in Laguna Niguel. The concessionaire operating Santa Ana River Lakes keeps the lakes stocked seasonally with bass, bluegill, catfish, rainbow trout and lightning trout; fishing licenses are not required but an admission is charged. Huckleberry Pond is a special fishing area for children that's great for families looking for things to do with kids.
The lake at Laguna Niguel Regional Park is stocked with bass and catfish throughout the year, and in winter trout are added to the mix. Fishing is permitted from the shore only (no boats), and a fish cleaning station is available on the lake's western side.
For those wanting to get out onto the ocean to try their hand at sportfishing, charters are plentiful in Dana Point and Newport Beach . Anglers sticking closer to shore have their choice of piers, including at Huntington Beach, Newport Beach (which has two: Newport Beach Municipal Pier and Balboa Pier), Seal Beach and San Clemente.
A fishing license is not required for pier fishing, otherwise licenses can be purchased at most sporting goods stores, bait and tackle shops, or general merchandise warehouse stores; for additional information, phone the California Fish and Game Department at (858) 467-4201 or (916) 928-5805.
GolfOrange County's communities offer some of the area's most scenic courses including some with outstanding ocean views. The following courses all offer at least 18 holes and are open to the public year round: Arroyo Trabucco Golf Club, (949) 305-5100, 26772 Avery Pkwy. in Mission Viejo; Oak Creek Golf Club, (949) 653-5300, One Golf Club Dr. in Irvine; Pelican Hill Golf Club, (844) 878-0942, 22800 S. Pelican Hill Rd. in Newport Beach.; and Tustin Ranch Golf Course, (714) 730-1611, 12442 Tustin Ranch Rd. in Tustin.
Jogging and WalkingUpping your step count might seem like a bore some days, but during your Orange County vacation you'll have some beautiful scenery to distract you and turn tedious exercise into a pleasant sightseeing adventure. Explore the sandy paths at Dana Point Headlands, a conservation area in Dana Point, and take in a wide panorama of the Pacific Ocean that may include migrating whales December to May.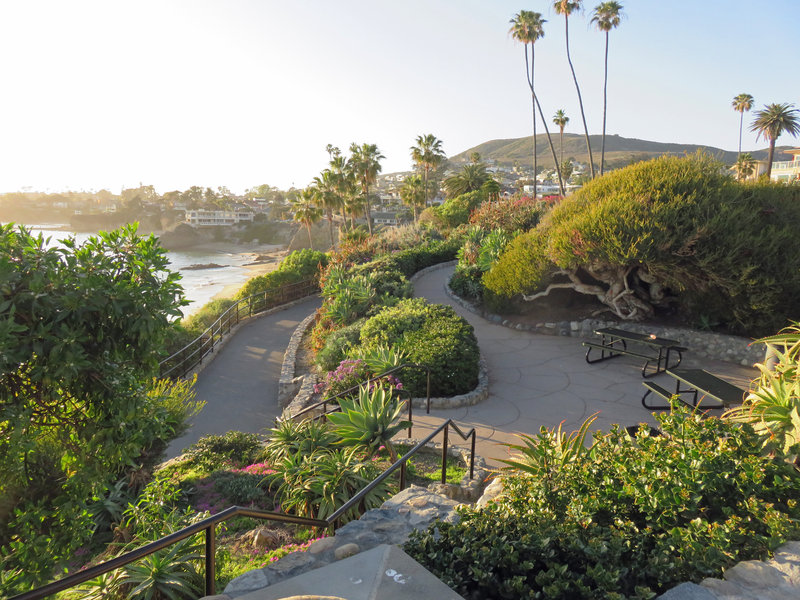 AAA/Frank Swanson
The paved paths in Heisler Park, which borders downtown Laguna Beach, wind through lush landscaping atop bluffs overlooking coves with sandy beaches. Enhancing all this natural loveliness are well-placed sculptures, proof you're in one of Orange County's artsiest communities.
Jogging the entire length of Huntington Beach's 10-mile-long Ocean Strand might be more distance than you're looking for, but choose any short segment of this wide, paved path along the shore and you'll be rewarded with refreshing sea breezes and Pacific Ocean views. And if you're looking for other things to do, bike rentals are available around the pier.