Charleston in 3 DaysThree days is barely enough time to get to know any major destination. But AAA travel editors suggest these activities to make the most of your vacation in Charleston.
Day 1: Morning Sip a cup of joe and munch on a chocolate-stuffed croissant or jam-slathered baguette at Gaulart & Maliclet Cafe Restaurant, on Broad Street just east of King Street. Not a morning person? Not a problem. This lively bistro, appropriately dubbed "Fast and French" by locals, will give you that zing you're looking for. Don't fret over the carbs—you'll burn off every last petit déjeuner calorie during the trip you're about to make through The Battery.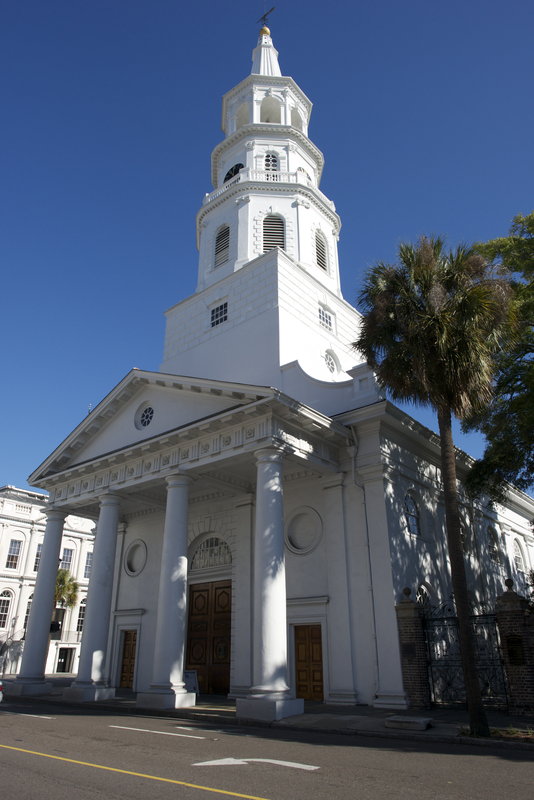 AAA/Thuyvi Gates
The intersection of Broad and Meeting streets, a block east, is known as The Four Corners of Law—buildings on each corner symbolize religious, federal, state and municipal law. Be awed by the stunning stained glass windows, embellished interior and 186-foot-tall steeple of St. Michael's Church , on the southeast corner. Take a seat in pew No. 43, "The Governor's Pew," and fix your eyes on the lofty pulpit—this is the same view President George Washington and Gen. Robert E. Lee had when they worshipped here centuries ago.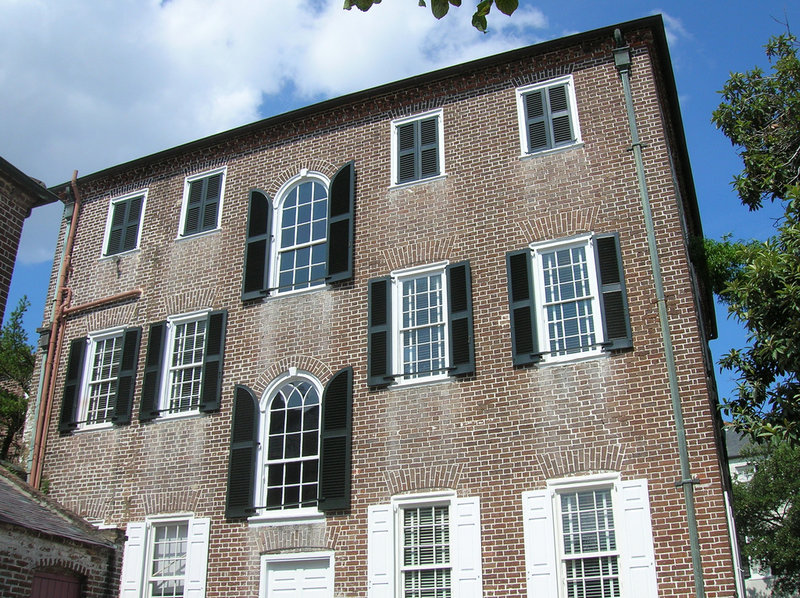 flickr/Megan Petty
You'll pass a number of eye-catching historic homes as you head east on St. Michael's Alley, south on Church Street, southeast on Water Street, south on E. Battery Street and then west on S. Battery Street. Stop and snap some photos (or—if you have the time—take a guided tour) of the grandiose Heyward-Washington House (87 Church St.) or the Edmondston-Alston House (21 E. Battery St.); both allow a glimpse into the past lives of Charleston's most prominent residents. The former dates back to 1772 and was named for George Washington, who visited in 1791. Built circa 1825, the latter boasts verandas that afford striking views of the harbor. Don't be surprised if you find yourself resuming your stroll with impeccable posture and a raised chin—the elegance is contagious.
Day 1: Afternoon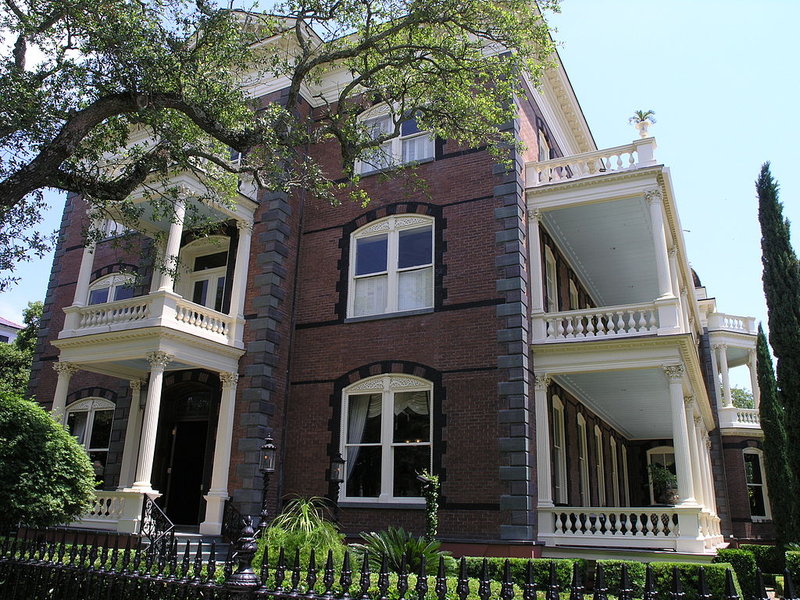 Wikimedia Commons/Daniel Mayer
Before your shoulders begin to droop a smidge and you realize you're decked in faded jeans—not a sack suit or an empire-waisted gown—leisurely stroll past the 35-room Italianate Williams Mansion , at the south end of Meeting Street. (Note: Tours are suspended at press time.) Do you feel an odd sense of familiarity as you glimpse what reputedly is Charleston's largest residence? If so, it's probably because you've seen the television miniseries "North and South" or the movie "The Notebook"—parts of both were filmed here. And now for the next question: What would you do with 35 fireplaces?
As you make your way north on Meeting Street, whip out the camera once again to capture the stately Federal-style Nathaniel Russell House . Bordered by lush gardens, the 1808 townhouse is best known for its self-supporting mahogany staircase that spirals up three levels. If you're the see-it-to-believe-it type, a guided tour is a must.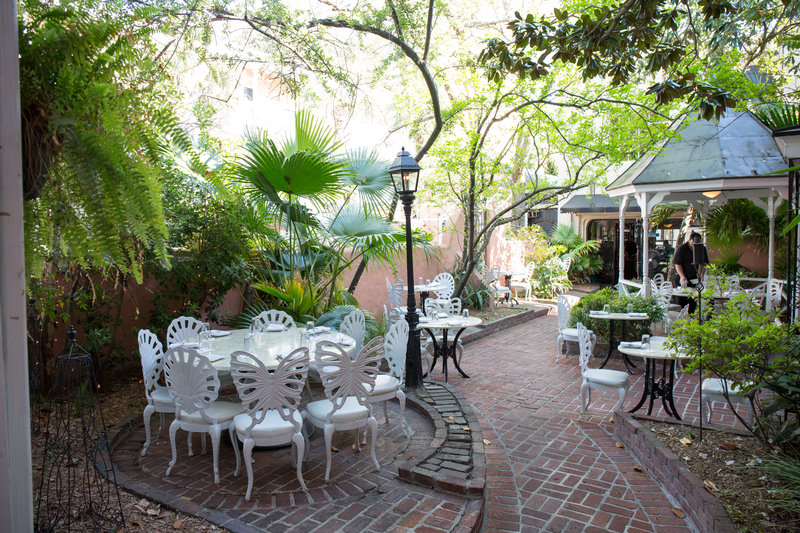 Courtesy of 82 Queen Restaurant
Now that you've managed to work off your breakfast and you're in search of places to eat, treat your taste buds to Lowcountry cuisine at 82 Queen Restaurant. Unwind in one of the dining rooms of this restored late 1600s house on Queen Street just east of King Street; or if it's a particularly pleasant day, soak in the flavors, sights and scents of the South in the serene garden courtyard. To really relax, say oui to a glass of Chardonnay or Cabernet Sauvignon from the extensive wine list. You can keep things scrumptiously simple by pairing a cup of steamy she-crab soup with a sandwich, or you can kick 'em up a notch with the barbecued shrimp and grits or the jambalaya.
You'll want to take a piece of Charleston home with you, so head over to N. and S. Market streets and let the souvenir browsing begin at bustling Charleston City Market. From handwoven baskets (observing the so-called "basket ladies" at work can be mesmerizing) to touristy tees to Southern spices, there's something within the arts-and-crafts stalls and charming boutiques for everyone. And there always will be, as the proprietors who ceded this destination to the city stipulated that it must forever serve as a public market.
Day 1: Evening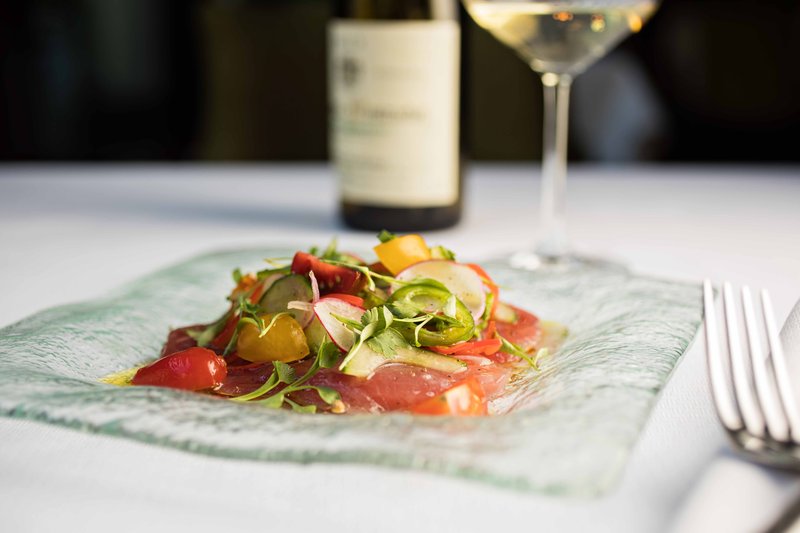 Charleston Grill/Andrew Cebulka
Are you looking for things for couples to do in Charleston? There's no better way to spend dinnertime than to be wined, dined and entertained at one of downtown's finest restaurants. (Bear in mind that booking early at any downtown hot spot is always a good idea.) As you sway to the tunes of a live jazz ensemble, choose from four categories—Pure, Lush, Southern and Cosmopolitan—of ever-changing dishes (think caviar, lobster, tenderloin) and more than 1,300 wines at the chic but comfy Charleston Grill , in The Charleston Place on King Street. You don't have to be seated in the dining room to savor the chef's culinary masterpieces—a cushy couch in the lounge makes for a truly intimate gastronomic experience. And, just so you know, skipping dessert is out of the question, thanks to the dangerously delectable offerings like crème brûlée, rice pudding fritters and honey ginger cake.
Day 2: MorningWill The Eye Opener live up to its name? Find out at Saffron Café & Bakery (333 E. Bay St.), where you can mingle with early-risin' Charlestonians who get their thrills from a no-frills, easy-on-the-wallet breakfast. Eggs served your way, melt-in-your-mouth biscuits, blueberry pancakes and Eggs Benedict are among the a.m. options.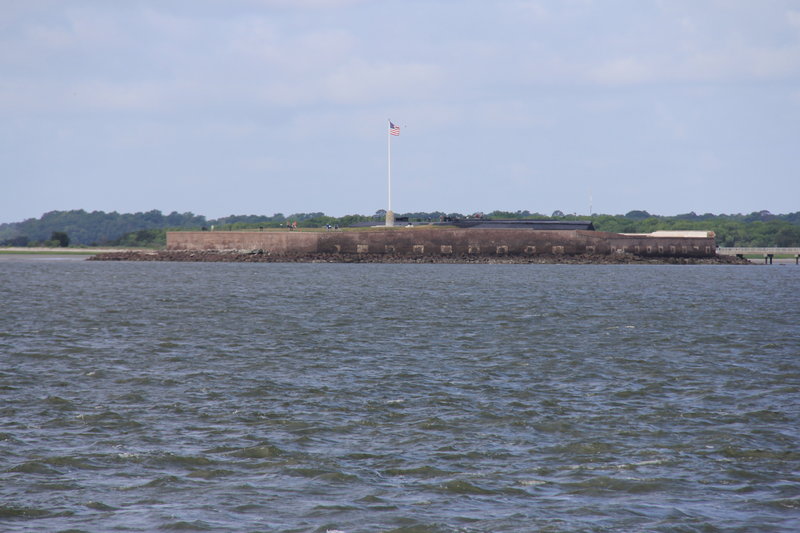 Courtesy of Fort Sumter
Arrive at Liberty Square at least a half-hour before the earliest cruise departure offered by Fort Sumter Tours and buy your tickets. Chat it up with a National Park Service ranger at Fort Sumter Visitor Education Center as you check out exhibits that recap the tumultuous years preceding the War Between the States. Before long you'll be oohing and aahing over some spectacular views of Charleston Harbor as you travel to an hour-long up-close-and-personal history lesson at the site where the first Civil War gunshot was fired on April 12, 1861.
Day 2: AfternoonIf you have a car, there's not a single cloud in the sky and you're longing to be invigorated by a salty breeze, make the approximately 20-minute drive to Sullivan's Island , north of the harbor just over the Ben Sawyer Bridge. Grab a seat at Poe's Tavern, where the burgers and chicken sandwiches have been named for works by Edgar Allan Poe, who was stationed at Fort Moultrie 1827-28. Follow a well-beaten path to the tranquil shore and take a dip or a catnap, immerse yourself in a book, and behold a magnificent sunset.
If walking is your mode of transportation, or if you're simply up for an underwater adventure that doesn't involve swimsuits and sand, discover how residents of five regions of the Southeast Appalachian Watershed spend their afternoon at South Carolina Aquarium , in Liberty Square adjacent to the Fort Sumter Visitor Education Center.
And if eating—rather than greeting—the bounty of the ocean is your cup of tea (or she-crab soup), fear not, for there's yet another alternative. Chow down at Fleet Landing (186 Concord St.), housed in a 1940s Naval debarkation point now garnished with pelagic décor. Afterward, take your gorged belly and your credit card to Lower King Street (the segment of King Street extending down to Broad Street), which is lined with fun places to go, including upscale shops brimming with antiques, artwork, clothing and specialty items. Be forewarned: Whether you're a full-fledged shopaholic or a disciplined window shopper, leaving empty-handed is virtually impossible.
Day 2: Evening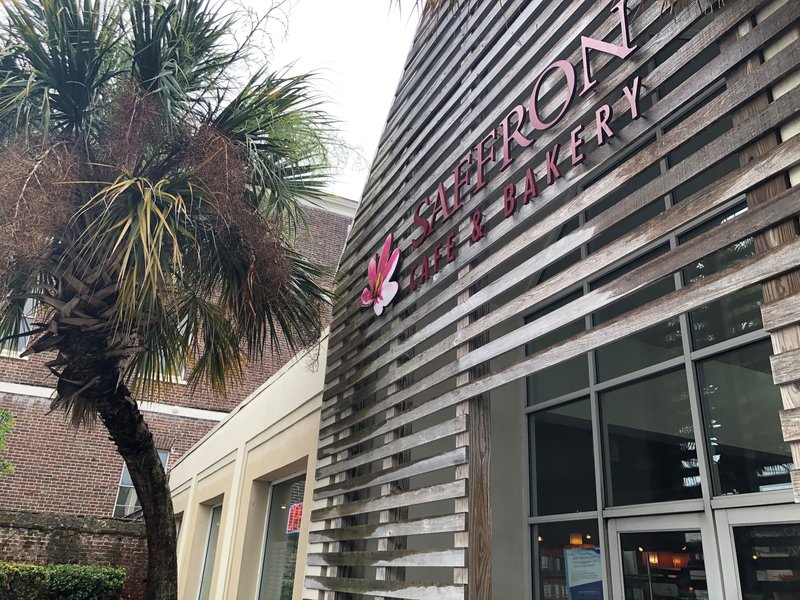 AAA/Sherry Mims
You've shopped 'til you dropped, met enough sea critters for a lifetime or lingered over a walk on the beach, so a low-key dinner is in order. (Luckily, you have plenty of local restaurants at your disposal.) Take a break from Southern fare, opting for sushi or spicy teriyaki pork belly at casual O-Ku (463 King St.) or specialty sandwiches and desserts with Mediterranean and Persian flair at Saffron Cafe & Bakery.
Day 3: MorningWalk a few steps to the southeast corner of Meeting and Cumberland streets, where a plaque showing Charleston's original layout will help you get your bearings before you kick off your jaunt through the "walled city." Give yourself sufficient time to visit one of two exceptionally fascinating buildings (mentioned below) along the course.
Between 1690 and 1720, walls enclosed the area from Cumberland Street south to Water Street and from Meeting Street to E. Bay Street (along the riverfront), defending the 60ish-acre town from pirates, antagonistic Native Americans, and French and Spanish raiders. Jutting into the water was the Half-Moon Battery, shaped as its name suggests. A sizable section of this brick wall remains intact and is displayed in The Old Exchange and Provost Dungeon (at E. Bay and Broad streets), which was built atop it in 1781.
It was in this Palladian-style structure's cellar that notable patriots pressed shackled hands against steel bars during the Revolutionary War, and it was in its Great Hall that South Carolina ratified the Constitution in 1788. If you're a history buff, you won't want to miss this place—expect to learn a thing or two the 500-pagers and TV specials didn't cover.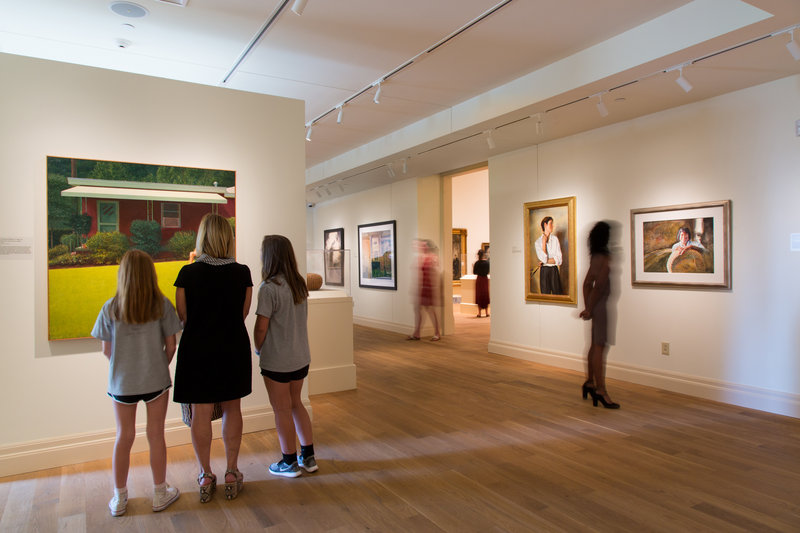 The Gibbes Museum of Art/MCG Photography
For an arts aficionado, crossing the threshold of the domed Beaux-Arts style The Gibbes Museum of Art (135 Meeting St.) is like unlatching the brass buckle on a loot-loaded treasure chest. Trace the town's cultural development as you browse the impressive collections of sculpture, portraits, paintings and photographs representative of the Colonial, Charleston Renaissance and Contemporary periods.
Day 3: Afternoon
There's an important part of Charleston you haven't seen—one robed in acres upon acres of meticulously landscaped gardens in which polychromatic plants perform seductive synchronized wind dances. Take a tour of Magnolia Plantation and Gardens . Not only will you explore lush gardens, a Greek-Revival mansion and slave cabins, but you'll also hop aboard the Nature Train that traverses a 60-acre cypress-and-tupelo swamp. You can bring a picnic lunch from your choice of nearby restaurants and then roam the grounds at your own pace (just don't get lost in the horticultural maze!). You'll need a car to get there; it's about 15 miles northwest of town on SR 61.
Day 3: EveningGet down and dirty at Poogan's Smokehouse, where practicing good manners means licking every last remnant of the sauce caked to your chops after you've inhaled a slab of ribs.
mphillips007/iStockphoto.com
Swing by Kaminsky's (78 N. Market St.) and surrender to your sweet tooth. Whether you're in the mood for a wedge of zesty Key lime pie or a good old-fashioned ice cream sundae, you've come to the right place.