Charleston SightseeingBefore sightseeing on Charleston vacation, park your car. Trying to negotiate the narrow streets while sightseeing is difficult, and your trip will be much more interesting if you move at a leisurely pace. So, follow one of the AAA Walking Tours or take a guided carriage, boat, bus, van or trolley tour.
A good place to begin your exploration is at the Charleston Visitor Center, 375 Meeting St. "Forever Charleston," a multimedia presentation shown continuously at the center, provides an introduction to the city, its people and fun things to do during your stay. Self-guiding tour maps and brochures also are available.
Iconic Architecture
Two of the most prominent features of this historic destination are the two major architectural styles: the double house and the single house. The front doors of the double house face the street, with one room to each side. The typical single house is only one room wide with the narrow gable end turned toward the street. To one side is a door that opens onto a porch, and gardens or courtyards are beside or behind the house.
No one knows why there are so many single houses in Charleston, but past speculation, which is now often discounted, claimed that the design might have been prompted by taxes levied according to how many feet of a house faced the street. Similar houses were built during the 18th- and early 19th centuries in New Orleans for this reason. The more likely explanation is that this design made the most of summer breezes and blocked the interior from the most intense sun during the day.
Visitors will see plenty of both as they travel about town.
Many of Charleston's old houses have solid shutters on the first floor windows and louvered shutters on the windows of the floors above. The solid shutters helped keep the noise and dirt from entering the early houses, which had walls that rose from the edge of the street.
A Signature Shade
A leisurely stroll should be on any list of things to do; perhaps the most common sight in Charleston is not a thing, but a color. Charleston green, such an extremely dark shade that it is almost black, is seen on everything from shutters to front doors to piazza trim. The color is said to have been devised during Reconstruction, when only black paint was available in quantity. Residents mixed in a small amount of yellow pigment and were able to use colored paint.
Charleston Bus and Carriage Travel Tours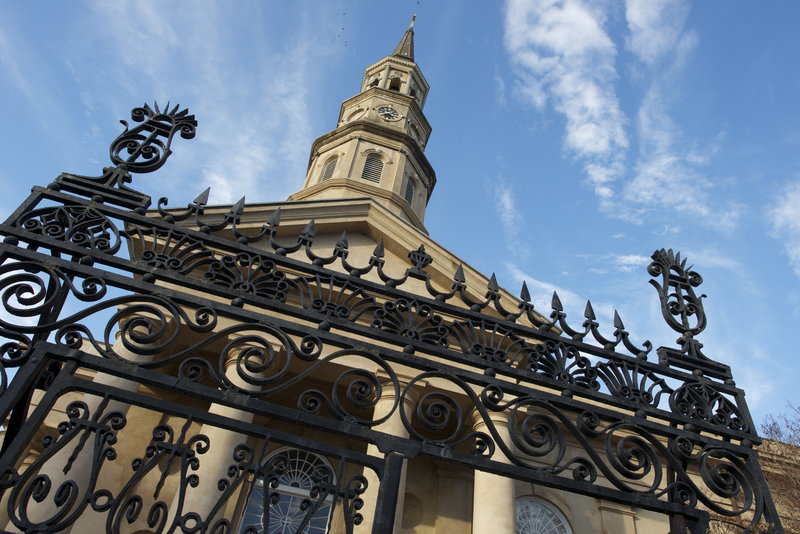 AAA/Thuyvi Gates
Motorized tours cater to weekend visitors seeking a quick overview of city architecture, culture and history or to those with plenty of time to explore Charleston's surroundings and historic plantations.
Routes for horse-drawn carriage tours are selected randomly; therefore, each company cannot guarantee which sites will be included on any trip since the guide doesn't find out until right before the tour departs. Rest assured, you'll learn about all sorts of fun places to go so that you'll know what to do when you're exploring the city on your own.
Chow Down Charleston Food Tours
Architectural Walking Tours of Charleston
Tommy Dew's Walking History Tour