One Day in CharlestonAAA editors suggest these activities for a great short vacation experience. Those staying in the area for a longer visit can access a 3-day itinerary at AAA.com/TravelGuides.
Morning Sip a cup of joe and munch on a chocolate-stuffed croissant or jam-slathered baguette at Gaulart & Maliclet Cafe Restaurant (98 Broad St.). Not a morning person? This lively bistro, dubbed "Fast and French" by locals, will give you that zing you're looking for. Don't fret over the carbs—you'll burn off every last petit déjeuner calorie during the trek you're about to make through The Battery.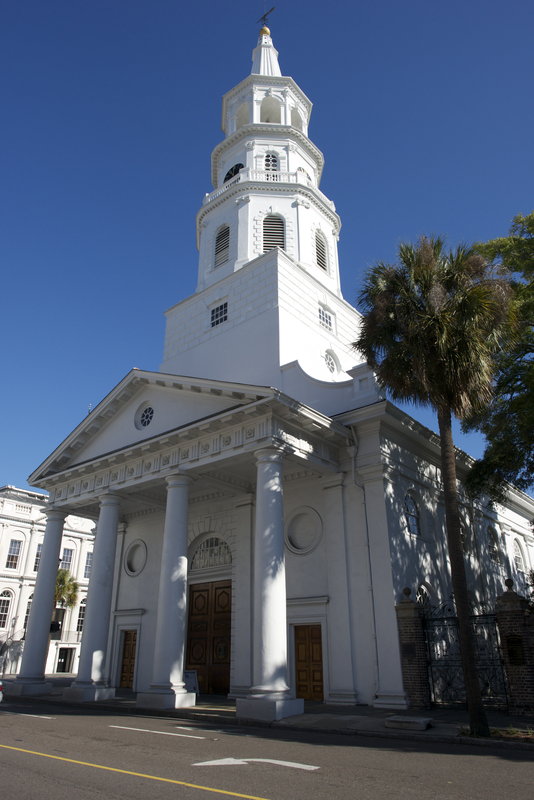 AAA/Thuyvi Gates
The intersection of Broad and Meeting streets, a block east, is known as The Four Corners of Law—buildings on each corner symbolize religious, federal, state and municipal law. Be awed by the stunning stained glass windows, embellished interior and 186-foot-tall steeple of St. Michael's Church (71 Broad St.), on the southeast corner. Take a seat in pew No. 43, "The Governor's Pew," and fix your eyes on the lofty pulpit—this is the same view President George Washington and Gen. Robert E. Lee had when they worshipped here centuries ago.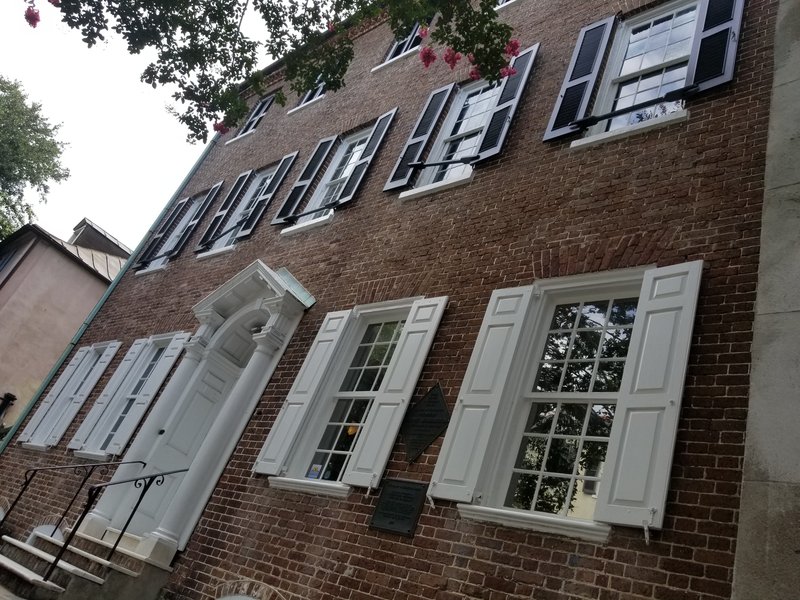 Michelle Palmer/Michelle Palmer
You'll pass a number of eye-catching historic homes as you head east on St. Michael's Alley, south on Church Street, southeast on Water Street, south on E. Battery Street and then west on S. Battery Street. Stop and snap some photos (or—if you have the time—take a guided tour) of the grandiose Heyward-Washington House (87 Church St.) or the Edmondston-Alston House (21 E. Battery St.); both allow a glimpse into the past lives of Charleston's most prominent residents. The former dates to 1772 and was named for George Washington, who visited in 1791. Built circa 1825, the latter boasts verandas that afford striking views of the harbor.
Afternoon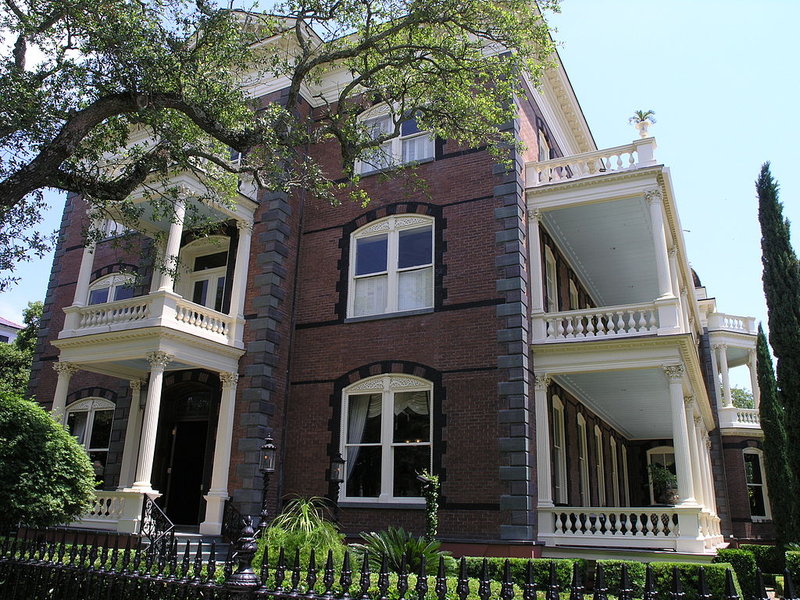 Wikimedia Commons/Daniel Mayer
Pass by 35-room Italianate Williams Mansion (16 Meeting St.). Do you feel an odd sense of familiarity as you glimpse what reputedly is Charleston's largest residence? If so, it's probably because you've seen the television miniseries "North and South" or the movie "The Notebook"—parts of both were filmed here. (Note: Tours are suspended at press time; phone ahead.)
As you make your way north on Meeting Street, whip out the camera once again to capture the stately Federal-style Nathaniel Russell House (51 Meeting St.). Bordered by lush gardens, the 1808 townhouse is best known for its self-supporting mahogany staircase that spirals up three levels.
Now that you've managed to work off your breakfast and work up a lunch appetite, treat your taste buds to Lowcountry cuisine at 82 Queen Restaurant (82 Queen St.). Unwind inside this restored late 1600s house; or if it's a particularly nice day, soak in the flavors, sights and scents of the South in the garden courtyard. Keep things scrumptiously simple by pairing a cup of she-crab soup with a sandwich, or kick it up a notch with the barbecued shrimp and grits or the jambalaya.
You'll want to take a piece of Charleston home with you, so head over to North and South Market streets for souvenir browsing at bustling Charleston City Market (188 Meeting St.). From handwoven baskets (observing the so-called "basket ladies" at work can be mesmerizing) to touristy tees to Southern spices, there's something within the arts-and-crafts stalls and charming boutiques for everyone.
Evening
Charleston Grill/Andrew Cebulka
There's no better way to spend dinnertime in Charleston than to be wined, dined and entertained at one of downtown's finest restaurants (bear in mind that booking early at any downtown hot spot is always a good idea). As you sway to the tunes of a live jazz ensemble, choose from four categories—Pure, Lush, Southern and Cosmopolitan—of ever-changing dishes (think caviar, lobster, tenderloin) and more than 1,300 wines at the chic but comfy Charleston Grill (at 224 King St. in The Charleston Place hotel). Just so you know, skipping dessert is out of the question, thanks to the dangerously delectable offerings like rice pudding fritters and honey ginger cake.