Your Guide to a City Frozen in Time Charleston can be summed up in two words: classic elegance. It's easy to imagine a bygone era, with fashionably dressed ladies carrying parasols, arm-in-arm with well-heeled gents, promenading along The Battery. Today, tourists snapping photos, families resting on benches and residents walking dogs take their place. The same grand mansions overlooking the waterfront continue to proudly hold court, withstanding the test of time.
In the Charleston City Market, folks shop for trinkets, spices and housewares, just as they did in the early 1800s. The area of Broad and Spring streets on King Street also delights shoppers. This is where to find fine European antiques, unique apparel or a novel by bestselling author and onetime Charleston resident Sue Monk Kidd.
Charleston is for the romantic—not for the lover of skyscrapers and subways but of horse-drawn buggies and cobblestone lanes. In a sense, the natural barriers of the Ashley and Cooper rivers preserved Charleston's character by isolating it. Change was slow to come.
Charlestonians take pride in their history, and you'll find them well-versed on the subject. They'll point you to fun places to go and historic sites where you can gain a sense of the town's storied past. Capture the essence of Colonial life by visiting Charles Towne Landing State Historic Site, where English settlers came ashore in 1670. Explore Fort Moultrie, where American troops emerged victorious over the British forces in a brutal, 9-hour battle during the Revolutionary War. Board a tour boat and sail out to Fort Sumter, where the first shot of the Civil War rang out in 1861.
In addition to war, Charleston has endured destructive natural disasters. Although the great earthquake of 1886 lasted only about a minute, nary a building escaped cracks, damage or outright collapse, coupled with a significant loss of life. Hurricane Hugo struck in 1989, damaging the majority of the city's treasured historic homes and pounding the adjacent coastal areas. Yet, as you'll witness today, the historic destination has rebounded well.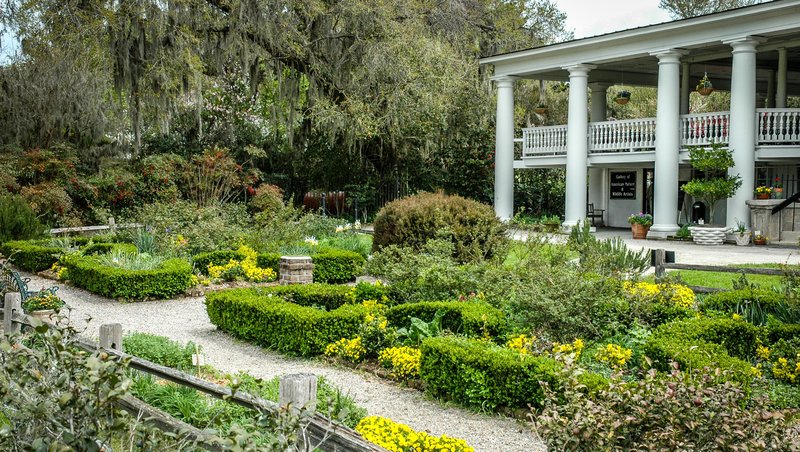 Courtesy of Magnolia Plantation and Gardens
Preservation efforts are taken seriously in Charleston, as reflected in the immaculately restored structures in the historic district. An intriguing mix of styles is represented, including Colonial, Georgian, Adamesque, Greek Revival and Italian Renaissance Revival. Interestingly, it's not high-rises that dot the city's skyline but steeples. Charleston has earned the nickname of "Holy City" thanks to an impressive assortment of churches—from St. Michael's Church, where President George Washington worshipped, to St. John's Lutheran Church, whose design is attributed to prominent Charleston architect Frederick Wesner, to Emanuel African Methodist Episcopal Church, aka "Mother Emanuel," the oldest AME church in the Southern United States.
As you stroll throughout the historic area, you'll happen upon several architecturally significant pockets. There's the French Quarter, site of the 1859 Old Slave Mart (now an African American history museum) and the 1736 Dock Street Theatre, reputedly where American theater was launched. It's also home to the Gothic Revival French Huguenot Church, organized in 1681 by refugees escaping religious persecution in France.
On East Bay Street you'll pass Rainbow Row, a collection of houses colored in pretty pastels. Although Cabbage Row, 89-91 Church St., is now mostly inhabited by boutiques, it served as the inspiration for DuBose Heyward's novel "Porgy" and the Gershwin opera "Porgy and Bess."
Charlestonians deserve bragging rights when it comes to gardening—the elaborate medleys of shrubs and flowers you'll see adorning yards and other plots of land are nothing short of magnificent. And any trip to Charleston should include a tour of one of the plantations on Ashley River Road—these sites have been featured in movies and television shows seeking to capture the culture of the antebellum era.
While Charleston upholds its traditions, it also has managed to keep up with the times. One of the South's key cultural centers, the city hosts the Spoleto Festival USA, a 17-day tribute to the performing arts. The Charleston Symphony Orchestra keeps Charlestonians classically entertained the rest of the time, as do a plethora of acting companies. Culinarily speaking, Charleston has made a name for itself in the genre of Lowcountry cuisine. Don't leave town without sampling such delights as she-crab soup, shrimp and grits, hoppin' John and Huguenot torte at different restaurants.