Chase Your Dreams in Sin City With its neon flashin' and one-armed bandits crashin', this bright light city is bound to set your soul on fire. Gambling. Glitter. Sexy entertainment. Gourmet restaurants. Swanky shops. Nightclubs galore. It's all here in a 24/7 desert bacchanalia that on occasion makes Dionysus and his pals come off like amateurs. And when the tumblin' dice reward you with stacks of chips that are oh so nice, you'll sing "Viva Las Vegas!"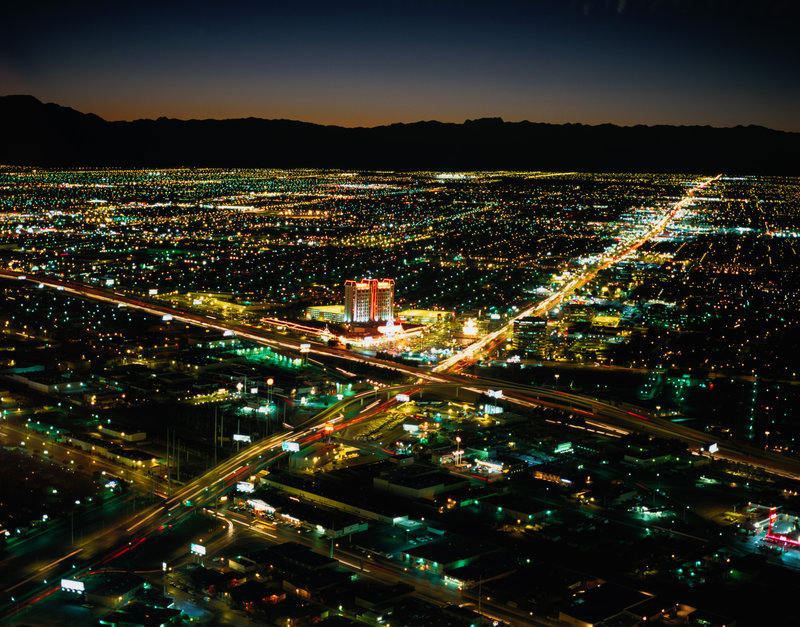 Getty Images/Robert Glusic
Vegas is constantly reinventing itself, discarding the old and donning the new. The King swivel-hipped his way out of the building long ago, of course. Liberace is gone. So are Siegfried & Roy. And the storied casinos of Sin City's '60s and '70s heyday have been dropping like flies lately. One casualty is the Riviera hotel, a favorite haunt of the Rat Pack and a filming location for movies ranging from the original "Ocean's 11" to Martin Scorsese's "Casino." After a 60-year run the hotel closed its doors for good in 2015 to make way for a future expansion of the Las Vegas Convention Center.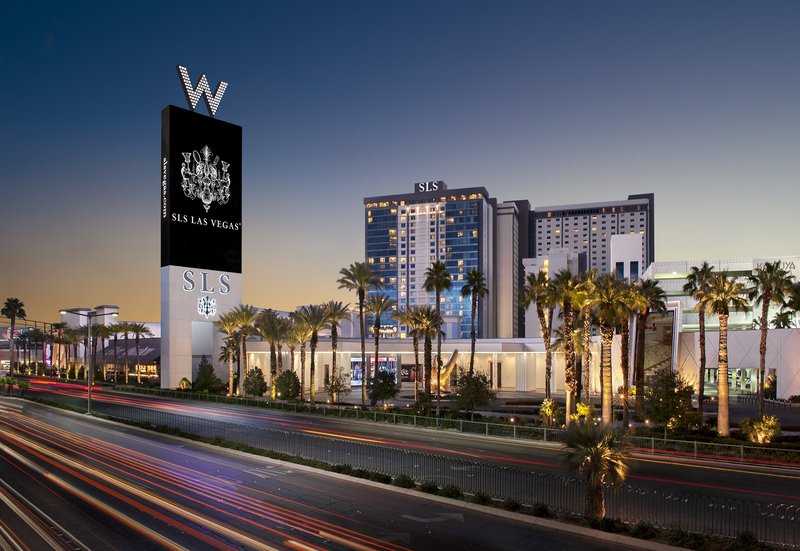 Courtesy of Bazaar Meat by Jose Andres
Prior to "The Riv" biting the dust a different approach was taken with the legendary Sahara hotel, shuttered in 2011. Instead of a date with dynamite, the old girl's bones were dolled-up and reanimated as the glitzy SlotZilla. Unlike the 1990s when old casinos were being demolished left and right, remodeling and repurposing make financial sense in today's tough economy.
Witness the gentrification of downtown's Fremont East District. Less than 10 years ago the sketchy corner of Fremont and 6th streets was no man's land, frequented only by the most dedicated of budget gamblers playing at the vintage El Cortez casino. Nowadays the intersection is crammed with old buildings-turned-nightspots. Nowadays the intersection is crammed with old buildings-turned-nightspots. If you're looking for where to eat, the hipster-geared shops and eateries of the metal cargo-shipping bins of the Downtown Container Park are only a few steps away. UNLV college students and adventurous tourists have largely replaced the shady-looking street urchins who once plagued the area.
Though increasingly hard to find, the gloriously gaudy legacy of Vegas' golden years lives on. Stroll down the famed Strip and behold the finely aged Vegas cheese that is Caesars Palace. Hungry for more? Sit down to an old-school Italian dinner at throwback restaurants such as Piero's or Battista's Hole in The Wall. On the flip side, the Cosmopolitan hotel, which opened in 2010 and eschews the vintage, tacky-fabulous aesthetic in favor of contemporary swank, is the place to see packs of celebutante wannabes strutting through the casino in bejeweled Manolo Blahniks.
What else is new? For starters, the High Roller observation wheel might stand out if you haven't been here for a vacation recently. The world's tallest Ferris wheel, it soars 550 feet into the Vegas sky and anchors the rear of the Strip's LINQ shopping/entertainment promenade. Next door, the ghastly old Imperial Palace property has been gussied up and turned into The LINQ resort.
Between the New York-New York and Park MGM resorts, the Park is an outdoor shopping/dining/entertainment plaza that includes T-Mobile Arena, a new 20,000-seat indoor concert and sports venue, as its centerpiece.
It's fantastically over the top, this town. Imagine seeing the Statue of Liberty, a lava-spewing volcano, a sphinx, drive-through wedding chapels, Canadian acrobats, gaggles of wild-eyed gamblers and mountains of all-you-can-eat shrimp—on one street. That's Vegas, baby. It can be overwhelming trying to decide what to do during your visit, but don't stop at the Strip. Make a date with Lady Luck and meet her downtown on Fremont Street for a taste of the original 24-Hour Town.
As for the finer things in life, there's no shortage of AAA Four and Five Diamond hotels and restaurants. If you can manage to tear yourself away from the video poker machine, there are outstanding museums, thrill rides and natural wonders to experience as well. Pace yourself. And remember that whatever happens here, stays here.
Getting There
By CarThe major route into Las Vegas is I-15, which passes through the city from southern California to Arizona and Utah. On Fridays and Sundays, traffic on I-15 between southern California and Vegas can be downright maddening; it's best to hit the road early. Other routes are US 95 from the northwest, which becomes the Las Vegas Expressway in the downtown area, and US 93/95 from the southeast.
Travelers from California should be prepared for desert driving, regardless of their departure point. Basic precautions include making certain that the car's engine and cooling system are working well, tires are inflated properly and the gas tank is filled adequately. It always is prudent to carry extra coolant or water in case of overheating during your trip.
Air TravelMcCarran International Airport (LAS) is about 5 miles south of downtown Las Vegas via Las Vegas Boulevard and 3.5 miles south of the Las Vegas Convention Center via Paradise Road, just a few minutes' drive from the Strip's southern end. This is often the most convenient way to travel, as many domestic airlines offer cheap airfare.
Vegas can't wait to make you rich, evidenced by the host of slots and poker machines scattered throughout two terminals. On the west side of the airport is the older of the two terminals, T1. On McCarran's eastern side is the spacious, new T3, added in 2012 at a cost of $2.4 billion.
T1 handles most domestic carriers, while T3 hosts all international flights and a handful of domestic airlines, notably JetBlue and United.
Exiting either T1 or T3, you'll see the taxi stands. During prime arrival times (Thursday evenings and all day Friday) the wait for a cab can be painfully long, especially at the busier T1. If you're the impatient type, it's best to book private transportation in advance. And if you're carrying a serious wad of cash there are town cars and limos for hire ready to whisk you away without delay.
Lucky for you, McCarran has a separate, dedicated Rent-a-Car Center. Not so much fun: the off-site center is 3 miles from the airport. Upon exiting the baggage claim doors, any of the blue-and-white Rent-a-Car Center shuttles, which run every 5 minutes, will take you there (check airport signs for exact boarding locations).
Entering the rental center, to your immediate right is the Hertz desk. Most of the other companies are along the back wall. Driving out of the center, you'll find easy access to I-215, I-15 and Las Vegas Boulevard.
Upon departure, return your wheels to the Rent-a-Car Center, 7135 Gilespie St., where you'll hop a shuttle back to the airport. Don't forget to factor in the extra time when deciding what time to leave your hotel.
Cab fare to the Strip hotels varies depending on traffic, route taken and which terminal you're departing from (T3 departures cost a few dollars more than T1), but in general, plan on $20-$25 to Tropicana Avenue (Mandalay Bay, Luxor Hotel and Casino, MGM Grand, Excalibur, the Tropicana and New York-New York); $22-$30 between Flamingo Road and Sahara Avenue (Bellagio, The Cosmopolitan, CityCenter, Caesars Palace, The Mirage, The Palazzo, Encore Las Vegas, the Venetian, The STRAT Hotel, Casino & SkyPod); and $35 and up to the downtown area. Signs posted at all airport taxi stands provide estimated fares and trip times to individual hotels.
The airport's shared shuttle service, provided by Bell Trans, offers round-trip service to and from Strip hotels and downtown properties for $30 per person. Bell Trans as well as AWG Ambassador and Kaptyn also offer private transportation via town cars, SUVs and limos starting at $90. Reservations for shuttles are not necessary. But if you're interested in a private luxury ride, it's wise to book in advance; phone (702) 740-3434 (AWG Ambassador), (702) 739-7990 (Bell Trans) or (800) 990-0417 (Kaptyn).
Hertz offers discounts to AAA members; phone (702) 262-7700 for the airport, (800) 654-3131 for the Strip.
Getting Around
Street System Las Vegas is fairly compact, and even first-time visitors will have no trouble finding their way around. The two main areas of interest for visitors are the Strip and downtown (also known as Glitter Gulch and Casino Center).
Las Vegas Boulevard parallels I-15 and is the main north-south thoroughfare. Fremont Street downtown is the dividing line for Las Vegas Boulevard North and Las Vegas Boulevard South addresses. The part of the boulevard constituting the Strip extends from Sahara Avenue south to Hacienda Avenue. All of the big resort hotels are along this 4-mile stretch.
Downtown, anchored by Fremont Street, is the original hotel/casino area. Almost everything tourist oriented is located along Fremont between Main Street and Las Vegas Boulevard, or a few blocks to the north or south.
Paradise Road and Maryland Parkway are major north-south arteries east of the Strip. The area around the Las Vegas Convention Center, at Paradise and Desert Inn roads, is the location of the Las Vegas Country Club and several big hotels, notably Westgate Las Vegas Resort & Casino (formerly the Las Vegas Hilton). The University of Nevada Las Vegas campus sits between Paradise Road and Maryland Parkway, a short distance north of the airport.
The main east-west thoroughfares south of Fremont Street (in geographic order from north to south) are Charleston Boulevard, Sahara Avenue, Desert Inn Road, Spring Mountain Road/Sands Avenue, Flamingo Road and Tropicana Avenue. Residential subdivisions spread east, west and north of Las Vegas' core commercial area, bounded roughly east and west by Maryland Parkway and the Strip and north and south by SR 93/95/I-515 and the airport.
Although distances are fairly short between any two points in greater Las Vegas, traffic is often heavy on I-15, Flamingo Road, Tropicana Avenue and Las Vegas Boulevard. The Strip is frequently bumper to bumper—especially at night—and crawling with pedestrians. Avoid driving on the Strip if possible; Frank Sinatra Drive, Koval Lane and Paradise Road are good alternatives.
ParkingParking is rarely a problem in Las Vegas, as many of the hotels provide free guest, valet and customer parking. Valet parking is a boon in a city where temperatures routinely top 100 F in the summer and the walk from an outer parking lot to the hotel's front door can take 10 minutes. The standard valet tip is $4 or $5; add a buck or two at high-end properties. You will incur daily parking fees, however, at MGM Resorts facilities: $7-$12 (self-parking 1-4 hours); $15 (self-parking 4-24 hours); $20 (valet parking up to 4 hours); $25 (valet parking 4-24 hours). If you have restaurant or show reservations, keep in mind that valet parking lots sometimes fill up.
Several downtown hotel and commercial garages are open 24 hours; rates average from $2-$4 per hour, usually with a maximum charge of $10-$12 for the entire day. Check hours of operation, as some of the smaller independent lots close at midnight. Parking meters are available for on-street parking downtown. Just look for the Pay-to-Park machines, which accept coins as well as debit and credit cards. Rates and the maximum time to park are posted on each machine. If you're staying on the Strip and want to visit the downtown area, it's much easier to use public transportation to get there.
Public TransportationThe Regional Transportation Commission of Southern Nevada (RTC) provides bus service to most parts of the city. The most useful to visitors are the Deuce double-decker buses serving the Strip (Las Vegas Boulevard). The buses operate 24 hours daily, run every 7-10 minutes and stop at nearly every Strip hotel property. The fare is $6 for a 2-hour pass or $8 for a 24-hour unlimited on/off access pass. Exact change is required when paying your fare aboard the bus. A handful of stops along the Strip offer curbside, self-serve ticket kiosks that accept credit and debit cards as well as cash (no change is provided).
Buses serve many other Las Vegas routes from roughly 5 a.m.-1:30 a.m.; one-way fares are $2-$5. For schedule, route and detailed fare information phone (702) 228-7433 or (800) 228-3911.
The RTC also has a bike share program. Unlimited 30-minute rides in a 24-hour period is $5.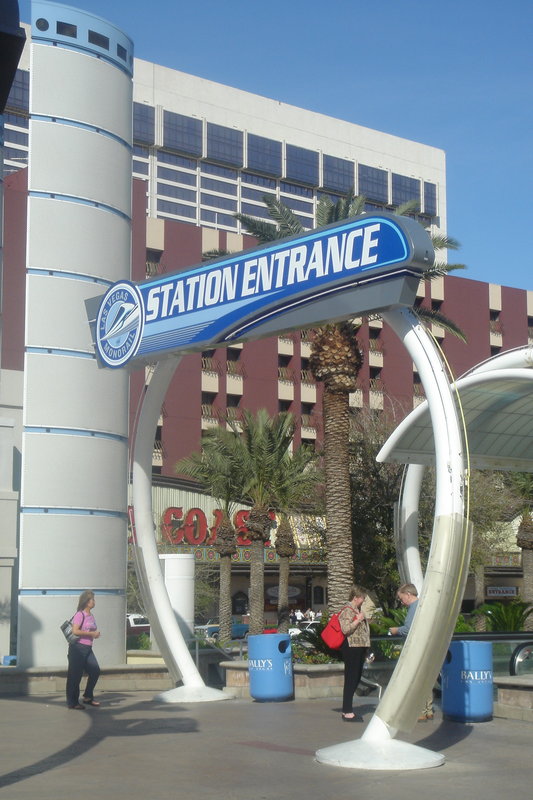 AAA/Tim Johnson

The Las Vegas Monorail operates Mon. 7 a.m.-midnight, Tues.-Thurs. 7 a.m.-2 a.m., Fri.-Sun. 7 a.m.-3 a.m., serving a 4-mile stretch of the Strip from the MGM Grand to the Sahara Las Vegas (formerly the SLS Las Vegas Hotel & Casino) as well as the convention center.
Be aware that most of the monorail stations are located at the very rear of the hotel properties and riders must often walk long distances to reach the various front-of-house casino floors, restaurants and entertainment venues. If you're running late for dinner or a show, a taxi is usually faster. The monorail fare is $5 per single ride, $12 for a 1-day pass, $22 for a 2-day pass or $28 for a 3-day pass; self-serve ticket kiosks accept cash and credit cards. Phone (702) 699-8200 for general information.
Three trams provide free transportation on the west side of the Strip. An elevated train operates daily 8 a.m.-4 a.m. between the Park MGM and Bellagio, with a stop in between at CityCenter. Farther north, The Mirage-Treasure Island tram operates Sun.-Thurs. 7 a.m.-2 a.m. Linking Excalibur, Luxor and Mandalay Bay, the third tram operates daily 11 a.m.-10:30 p.m. Note: Southbound trams do not stop at the Luxor.