About Omaha Its name derived from a Native American word meaning "above all others on a stream," Omaha was founded on the western shore of the Missouri River. Early on the fledgling town with a rowdy reputation played a vital role in westward expansion, and by the mid-19th century it had become the crossroads of a growing nation. Built on a past shaped by Native Americans, pioneers, prospectors, industrialists and soldiers, modern Omaha stands as a thriving urban center.
In 1859 President Lincoln designated Omaha as the point from which the nation's first transcontinental railroad should go westward. On Dec. 2, 1863, ground officially was broken for construction of the Union Pacific.
A few years later Fort Omaha was established to protect settlers, fur traders and railroad construction crews. The post served a variety of military purposes until 1975 when the property was converted into the Metropolitan Community College campus.
The city enjoys a diversified economic base and serves as the corporate headquarters for five Fortune 500 companies: Berkshire Hathaway Inc., ConAgra Foods, Mutual of Omaha, Peter Kiewit Sons' Inc. and the Union Pacific Corp. At nearby Offutt Air Force Base, the U.S. Strategic Command (USSTRATCOM) guides military operations around the globe.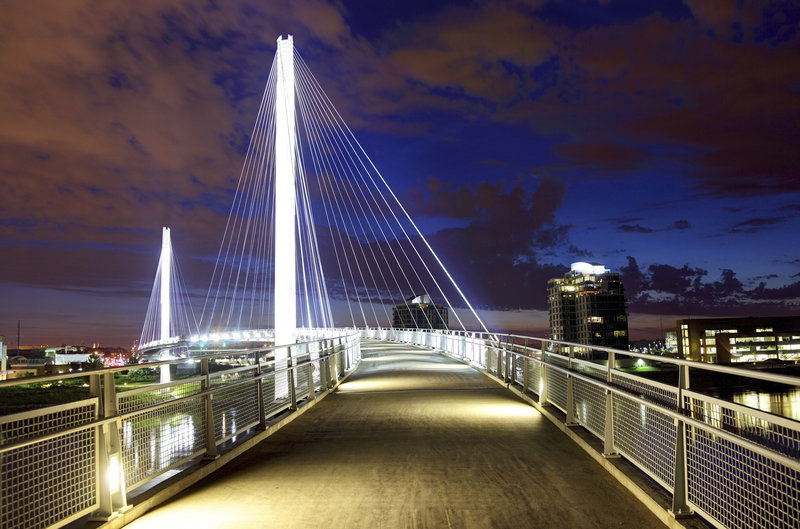 DenisTangneyJr/iStockphoto.com
Downtown, new development has revitalized the city's skyline and riverfront. Contemporary landmarks include the 422-acre CHI Health Center Omaha, a convention center and event venue/arena covering 100 city blocks; the 45-story First National Bank Building; a riverfront campus for The Gallup Organization; a regional office for the National Park Service; and the headquarters for Union Pacific Corp. A landmark of a different sort, the Bob Kerrey Pedestrian Bridge, a 3,000-foot suspension bridge named for the former Nebraska senator, spans the Missouri River connecting Omaha with Council Bluffs, Iowa.
Omaha's past, however, is still visible at the picturesque Old Market, bounded by 10th, 14th, Farnam and Leavenworth streets, where art galleries, boutiques, specialty shops, sidewalk vendors, pubs and restaurants await visitors. A visit to the Gerald R. Ford Birthsite and Gardens, 32nd and Woolworth avenues, reveals the place where President Gerald Ford was born in 1913. A scale-model replica of the original house and the Betty Ford Rose Garden mark the site; phone (402) 444-5955.
At Lewis & Clark Landing, 601 Riverfront Dr. along the Missouri River, is the Lewis & Clark National Historic Trail Headquarters and Visitor Center , which provides information about all national parks, a unigrid map and pictures of the trail and a small garden with native plants; phone (402) 661-1804.
Nebraska's largest observatory is at the 300-acre Neale Woods Nature Center, which offers 9 miles of forest and prairie trails and views of the Missouri River Valley; phone (402) 731-3140.
A massive sculpture in downtown Omaha consisting of more than 100 larger-than-life bronze and stainless steel elements helps link the modern city to its pioneer past. The artistic pieces create a tableau spread over 6 city blocks, blending with the cityscape and uniting two parks, Pioneer Courage at 14th Street and Capitol Avenue and Spirit of Nebraska's Wilderness at 16th and Dodge streets. The sculptures tell the story of western expansion, beginning with a wagon train heading west. A herd of nine bison, startled by the pioneers, gallops down a sidewalk, around planters and across a road. The stampeding bison flush a flock of 58 Canada geese from a pond, causing the birds to take flight, soaring through downtown streets.
An array of musical and performing arts companies comprise a rich cultural scene. The 2,000-seat Holland Performing Arts Center, downtown at Douglas and 13th streets, is home to the Omaha Performing Arts "Presents" and the Omaha Symphony. Phone (402) 345-0606 for tickets and performance information or (402) 345-0202 to register for a guided tour. Offering 11 productions each season, the Omaha Community Playhouse, 6915 Cass St., is one of the nation's largest community theaters; phone (402) 553-0800.
For outdoor enthusiasts an abundance of parks and recreational activities beckon. The Heartland of America Park & Fountain, on 31 acres east of the Old Market, features gondola rides; phone (402) 590-4802. Just west of Heartland of America, the 10-acre parklike Gene Leahy Mall boasts a lagoon, walking paths, waterfalls and sculpture. Both Heartland of America Park & Fountain and the 23-acre Lewis & Clark Landing offer great views of the riverfront. In the suburbs Glenn Cunningham, Standing Bear and Zorinsky lakes provide water sports activities.
For three days in early June, Taste of Omaha—A Festival of Great Foods & Entertainment showcases Omaha's restaurants and features live music, ethnic dance performances and children's activities at various riverfront parks. A standout of Omaha's holiday scene is Gingerbread on Parade, a Christmas festival featuring more than 250 decorated gingerbread houses on display at the Mormon Trail Center and other venues. The event is celebrated from mid-November to early January.
Visitor Centers Omaha Convention & Visitors Bureau 1001 Farnam St. Omaha, NE 68102. Phone:(402)444-4660 or (866)937-6624
ShoppingMajor shopping malls in the Omaha area are Oak View Mall, 144th Street and W. Center Road, offering Dillard's and JCPenney, and Westroads Shopping Center, at Dodge Street off I-680, featuring JCPenney and Von Maur.
Village Pointe, 168th Street and W. Dodge Road, features Ann Taylor, Pier I Imports and Scheels . Scheels has a Ferris wheel for children and gear for outdoor enthusiasts amid a rustic log interior. Nebraska Furniture Mart, 700 S. 72nd St., is a major home furnishing retailer.
Things to Do The Bemis Center for Contemporary Arts
Fontenelle Forest Nature Center see Bellevue
The General Crook House Museum
The Mormon Trail Center at Historic Winter Quarters and Pioneer Cemetery
Omaha's Henry Doorly Zoo and Aquarium