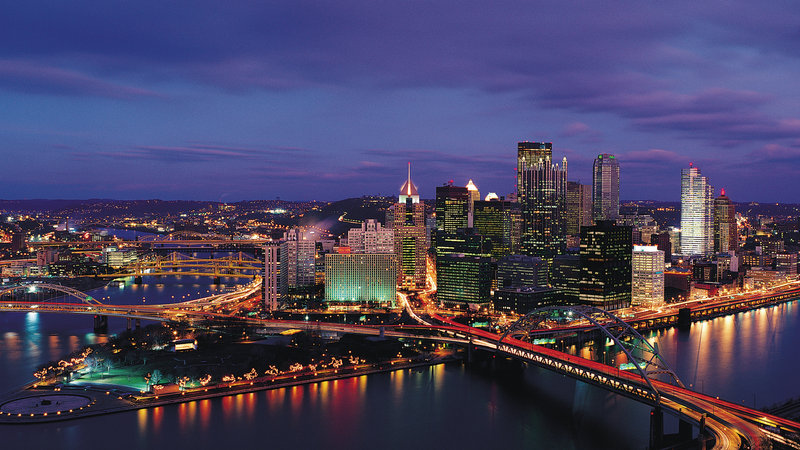 Getty Images/Jeremy Woodhouse
Introduction
It's hard to imagine the birthplace of the banana split, Mister Rogers' Neighborhood and the smiley emoticon being anything but friendly. Pittsburgh's genuineness will make you feel comfortable exploring its corners, even though its confusing street layout may not be quite as inviting.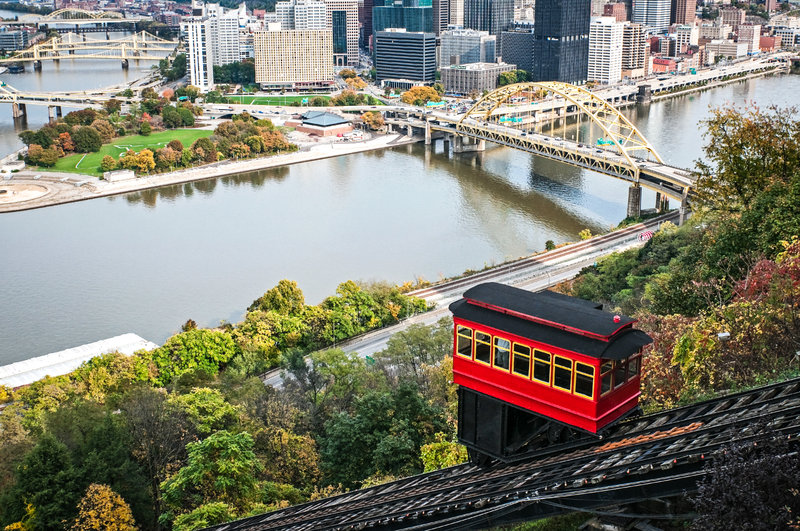 PhilAugustav/iStockphoto.com
The city sits at the convergence of the Allegheny and Monongahela rivers into the Ohio River. While this topographic arrangement can create some difficulty in finding your way around today, it once formed the ideal site for a fort. The 36-acre Point State Park marks the British outpost settled in 1754. Here you can find the Fort Pitt Block House—all that remains of the original building—and the Fort Pitt Museum.
A whopping 446 bridges will help you get to the city's 90 neighborhoods, each offering its own assortment of restaurants and shops. Visit Oakland for its academic and cultural setting. Ethnic restaurants and cozy coffee shops sit among universities and the Carnegie Institute. On the North Side, check out The Andy Warhol Museum, the Carnegie Science Center and the Children's Museum of Pittsburgh. And if you're looking for nightlife, try the South Side or the Strip District for everything from Irish pubs to trendy nightclubs and live music venues.
In Depth
The view of Pittsburgh's skyline is stunning as you emerge from the Fort Pitt Tunnel, where the Allegheny, Monongahela and Ohio rivers converge and modern monoliths soar majestically beyond. Shame on visitors expecting to see a gritty steel mill town engulfed in smoke, for Pittsburgh doesn't deserve the bad rap of its past—the city has cleaned itself up and undergone a renaissance. Steel mills have been replaced by high-tech and healthcare concerns, and more than 30 institutions of higher learning now exist in "The College City."
Pittsburgh has received accolades for urban beauty, and a prime example is Point State Park, flanked by the three mighty rivers, a majestic fountain at one end and the skyscrapers of the downtown Golden Triangle at the other. The Three Rivers Heritage Trail guides hikers, joggers and cyclists along 24 miles of riverfront turf, while locals and tourists alike enjoy the equestrian paths and the occasional evening jazz concert at Riverview Park. An extensive trail system snakes through woodlands and steep valleys at Frick Park, while peaceful urban exploration via kayak or canoe is an option on the Allegheny River Trail.
Shaped by the Allegheny, Monongahela and Ohio rivers, the city is not in the usual grid pattern and is laid out a bit haphazardly—this, along with one-way streets and construction can make driving a challenge. Although the downtown Golden Triangle is shaped as such and is easy to navigate on foot, you'll need to rent a car or ride the bus to venture beyond this area and explore Pittsburgh's neighborhoods. The lush scenery is a pleasant surprise, as are the sets of stairs dotted throughout town along with two funiculars that transport residents upward to their hilltop communities.
Many names gracing buildings and other venues serve as reminders of the philanthropic families that figured prominently in the city's development. There's Heinz Hall, home of the Pittsburgh Symphony Orchestra; Senator John Heinz History Center; and football arena Heinz Field. Mellon Bank Center carves out a space in the skyline and Mellon Square is a modernist rooftop garden plaza. Carnegie Mellon University is one of the area's leading educational institutions, and the Carnegie Museums of Pittsburgh are a treasure to anyone captivated by art, science and natural history.
What's nice about Pittsburgh is that it has big-city amenities, yet retains a small-town feel. The city's unique neighborhoods stand as proud symbols of ethnic diversity: Squirrel Hill, home of one of the region's largest Jewish populations; Bloomfield, known as "Little Italy"; the North Side, with traces of the old German community that immigrated in the early 19th century; and Polish Hill, where Polish immigrants settled in the late 1800s. In all, Pittsburgh has nearly 90 neighborhoods.
All Pittsburghers come together to demonstrate spirit for their beloved sports teams: the Steelers (football), Penguins (hockey) and Pirates (baseball). Home games are a sea of black and gold as devoted fans show off the colors adopted by all three teams.
Tradition also plays a part in the form of food icons and the friendly neighborhood grocer. Pittsburghers grew up with Isaly's Chipped Chopped Ham in the fridge, a household staple since the 1930s still satisfying cravings today. Many locals consider Sarris Candies to be one of the nation's best confectioners, and numerous pubs and restaurants continue to serve pierogis, those soul-satisfying dumplings filled with such ingredients as potatoes, cheese, bacon and sauerkraut. Generations of Pittsburghers have sampled the namesake beer of Iron City Brewing Co., a fixture since 1861 and once delivered to homes via horse-drawn carriage. In the Strip District, named for a narrow plot of land between the river and the hillside, you'll find mom and pop businesses devoted entirely to popcorn, cheese, freshly baked bread, biscotti, coffee and other culinary delights. Stores like Pennsylvania Macaroni Co., with its remarkable selection of pastas, olive oil and all things Italian, and Wholey's fish market, where patrons still line up and take a number on busy Saturdays to snare a fresh catch, are like family to Strip District shoppers.
And it's all these things that make Pittsburgh special—the former Steel City has revitalized itself, embracing the new while retaining the traditions of the past and celebrating its ethnic heritages.
By Car
The primary highway from the north or the south is I-79, which passes through the western edge of the metropolitan area. Intersecting with east-west routes I-76 (Pennsylvania Turnpike) on the north and with I-70 on the south, I-79 funnels traffic into Pittsburgh via controlled-access I-279 (Parkway West) and the Fort Pitt Tunnel from Carnegie.
A second approach is I-279 (Parkway North) from Cranberry, and from the south via Banksville Road and I-279. US 19 Truck Route, using East Street from the north and West Liberty Avenue from the south, carries heavy commercial and industrial traffic into the city.
I-76 carries the bulk of east-west traffic through the area, interchanging en route with all major arteries; I-376 through the eastern suburbs provides the principal link to the heart of the city, arriving downtown via Grant Street exit 1C. Two other important east-west highways are US 22 and US 30, which combine upon nearing the city, then join expressways I-376 before entering the downtown area.
SR 28, first as the Allegheny Valley Expressway, then as E. Ohio Street, follows the north bank of the Allegheny River into the city's North Side, providing a route from northeast suburbs. Similarly, SR 60 makes an easy connection from the northwestern suburbs along the south side of the Ohio River, picking up airport traffic before joining with US 22/30.
Street System
Pittsburgh's topography—a maze of hills and ravines sliced at an acute angle by two rivers converging to form a third—allows no consistent geometrical street layout. Instead, there is a patchwork of patterns dictated mainly by the lay of the land. A good street map is necessary for travel in this city.
From the Golden Triangle major thoroughfares fan out more or less parallel to the Allegheny and Monongahela rivers, with intervening streets perpendicular to the rivers near the Point but following the contours of the hills farther out. Fifth Avenue and Liberty Avenue are the primary arteries.
On the north side, at least the sections nearest the river, the picture is more regular, with avenues running parallel to the Allegheny River and streets perpendicular to it. All the major thoroughfares seem to converge on Allegheny Center, framed by N., E., S. and W. Commons. E. Ohio Street and Western Avenue feed in from the east and west, respectively; East Street, Federal Street, Brighton Avenue and Allegheny Avenue reach the center from the north.
The near edge of the hilly south side is the only part of the city that employs the designations East and West, using the Smithfield Street Bridge as the dividing line. Carson Street (SR 837), parallel to the river, is the main artery through this area.
Most of Pittsburgh's streets are named; there are relatively few areas of consecutively numbered thoroughfares. Two such locations are on the Point, where 1st through 7th avenues are numbered northward from the Monongahela River, and inland from the Allegheny River, where numbered streets increase as they proceed upstream.
A series of marked alternate routes known as the "Belt Routes" were developed to relieve congestion on the major highways and to aid travelers in and around the city. The five Belt Routes that loop Greater Pittsburgh and link various towns and highways are posted throughout the metropolitan area with color-coded signs (red, green, blue, yellow and orange). The purple belt circles the Golden Triangle.
The downtown speed limit, unless otherwise posted, is 25 mph, and on major thoroughfares, 35 mph. Unless a sign prohibits it, turning right at a red light after coming to a complete stop is legal. Similarly, so is turning left from one one-way street onto another. Pedestrians always have the right-of-way, particularly at marked crosswalks. Jaywalking, however, is illegal, and the law is strictly enforced. Driving during rush hours, about 6:30-9 a.m. and 4-6:30 p.m., should be avoided if possible.
Parking
As in any big city, parking downtown or near the major attractions is at a premium. On-street parking, when a space can be found, is governed by the meter system. However, commercial parking lots and garages are plentiful throughout. Rates cost about $5-$6 per hour to $25 per day.
Sales Tax
Pennsylvania's statewide sales tax is 6 percent. An additional 1 percent is collected by Allegheny County, as is a 7 percent lodging tax. The city levies a 5 percent amusements tax.
Police (non-emergency)
(412) 323-7800
Time and Temperature
(412) 391-9500
Hospitals
Allegheny General Hospital, (412) 359-3131; UPMC Mercy, (412) 232-8111; UPMC Passavant—McCandless, (412) 367-6700; UPMC Presbyterian, (412) 647-2345; UPMC St. Margaret, (412) 784-4000; West Penn Hospital, (412) 578-5000.
Air Travel
Pittsburgh International Airport (PIT), approximately 19 miles west via I-376 (Parkway West) and SR 60 is served by numerous major domestic and international carriers as well as commuter and cargo lines. For information on ground transportation, phone (412) 472-3525.
Allegheny County Airport (AGC), south of the city on Lebanon Church Road in West Mifflin, handles primarily corporate or private aircraft, although air taxis and charter services also are available; phone (412) 466-1275.
Rental Cars
Hertz, at the Pittsburgh International Airport, offers discounts to AAA members; phone (412) 472-5955 or (800) 654-3080.
Rail Service
An Amtrak passenger service station is on the lower level of The Pennsylvanian, formerly Penn Central Station, at 1100 Liberty Ave. at Grant Street; phone (800) 872-7245 or TTY (800) 523-6590.
Buses
The Greyhound Lines Inc. terminal is at 55 11th St. near Liberty Avenue; phone (412) 392-6514.
Taxis
The leading taxi company is Yellow Cab, (412) 321-8100. Cabs are metered, and the base rate is $4 plus $1.75 per mile. A fuel surcharge may be charged.
Public Transportation
Port Authority of Allegheny County Transit operates public transportation throughout the city and Allegheny County. A section of downtown Pittsburgh is a fare free zone. Other areas have a base fare of $2.75; exact change is required. Discounted fares are available through the purchase of weekly or monthly passes, which can be purchased at the transit's downtown service center at 534 Smithfield St. For route information, phone (412) 442-2000.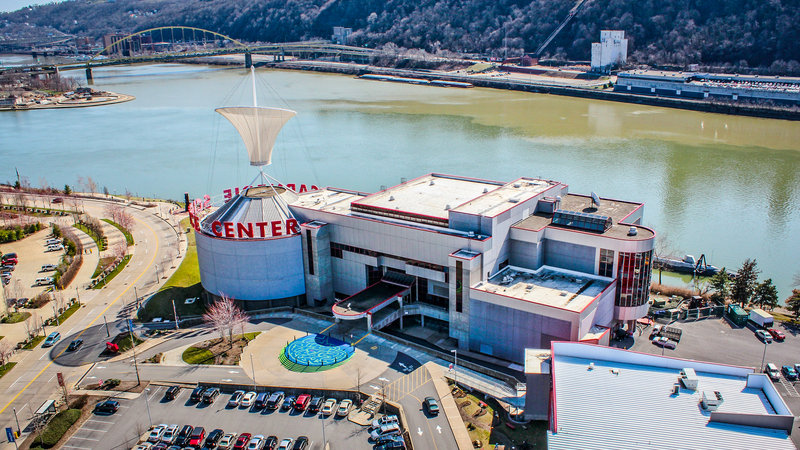 Courtesy of Carnegie Science Center
What to Do in Pittsburgh
Introduce yourself to Pittsburgh by visiting
Point State Park
(601 Commonwealth Pl.), an urban green space with a dramatic view—this is where the Monongahela, Allegheny and Ohio rivers converge. Visit the
Fort Pitt Museum
, stroll along riverside walkways or take a seat by the fountain at the park's edge, where you'll spy such sites as PNC Park, Heinz Field and the
Carnegie Science Center
across the water.
Wondering where to eat? Head to the Strip District (around 21st St. & Penn Ave.) and explore its mom-and-pop groceries, bakeries and restaurants touting everything from homemade lasagna to first-rate espresso. Do as the locals do and grab a hearty breakfast at
Deluca's Diner
(2015 Penn Ave.), shop for culinary specialties at the Pennsylvania Macaroni Company (2010 Penn Ave.), and enjoy the circuslike atmosphere at
Wholey's
(1711 Penn Ave.), a fish market.
See a game. Whether you prefer hockey (Penguins), football (Steelers) or baseball (Pirates), this town comes to a standstill when its beloved sports teams are playing. And Pittsburgh has definitely earned bragging rights: the Steelers won the Super Bowl in 2009, with the Penguins following suit by nabbing the Stanley Cup title in June 2009, 2016 and 2017.
Explore Pittsburgh's Golden Triangle area in the heart of downtown. The cultural district presents an assortment of trendy restaurants and nightlife —the Benedum Center for the Performing Arts (237 7th St.) hosts ballet and Broadway performances, while the Cabaret at Theater Square (655 Penn Ave.) offers year-round musical productions.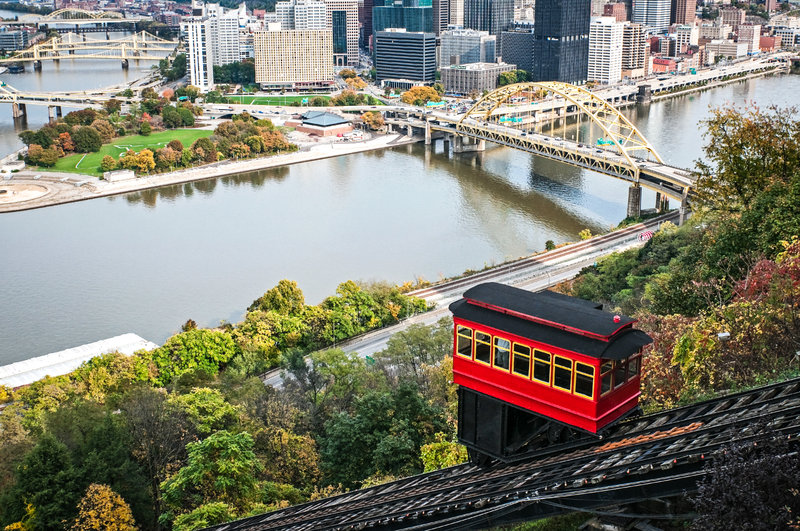 PhilAugustav/iStockphoto.com
Ride the city's 2 remaining inclines—there were once 15 scaling the steep hills. The
Duquesne Incline
(1197 W. Carson St.), facing the Ohio River, offers dramatic views of the city. The
Monongahela Incline
(W. Carson & Smithfield sts.), is the steepest in the United States.
Tour the
Cathedral of Learning
(4200 5th Ave.) at the University of Pittsburgh. You can't miss the Gothic Revival structure—the 42-story behemoth is said to be the world's second tallest educational building. Inside, explore some 30 nationality classrooms and learn about the culture and heritage of Pittsburgh's ethnic communities.
Immerse yourself on Carson Street in "the Burgh's" South Side. Lined with funky shops, nightspots and eateries, Carson has a bit of a bohemian flair. The main drag is sandwiched between two large shopping complexes, Station Square (near the Smithfield Street Bridge) and SouthSide Works at the east end.
Cruise Pittsburgh's three mighty rivers—the Monongahela, Allegheny and Ohio. The riverboat captains of
Gateway Clipper Fleet
(350 W. Station Square Dr.) provide historical anecdotes as well as information about various landmarks during your sightseeing trip.
Just Ducky Tours
(125 W. Station Square Dr.) supplies amphibious vehicles that can explore city streets as well as slide into the water.
Celebrate the city's ethnic diversity by visiting its vibrant neighborhoods. Traces of Germany are reflected in the schnitzel, sausages and tasty brews of the North Side; Bloomfield's "Little Italy" houses an assortment of Italian groceries; and while Squirrel Hill is the epicenter of the city's Jewish population, you'll also find Chinese, Middle Eastern and Greek culinary offerings.
Shopping in Pittsburgh
Pittsburgh's neighborhoods provide happy hunting grounds for those who like to pop into trendy boutiques, bookstores and locally owned mom-and- pops offering unique home furnishings and all forms of bric-a-brac. You'll mostly find malls and their anchors in the suburbs, while themed complexes downtown and in surrounding areas offer the shopper a little something extra—entertainment, cute bistros and other diversions amid popular chains and specialty retailers.
The downtown Golden Triangle is defined as the area roughly from Point State Park to Crosstown Boulevard, tucked between the Allegheny River on the north and the Monongahela River on the south. If you're in the market for some classy baubles, make a beeline to the Clark Building at Liberty Avenue and Seventh Street. Considered the city's "diamond district," the art deco structure contains retail, wholesale and estate jewelers.
Fifth Avenue Place reigns proudly at Fifth and Liberty, an impressive landmark crowned with a massive pyramid and steeple. It's a favorite haunt of downtown professionals who dash in during lunch to search for clothes and gifts.
Forbes Avenue, near Carnegie Mellon University in the Oakland neighborhood is south of Fifth Avenue, and features shopping and dining near the school and medical centers.
East of downtown, there are several neighborhoods chock full of shopping delights. Closest to the Golden Triangle is the thriving Strip District (named for a narrow, mile-long stretch), where you'll find a delectable selection of culinary items—locals come here for pastas, exotic coffees, luscious pastries, gourmet finds and ethnic specialties. The Strip is in full swing on Saturday mornings, a colorful array of street performers, food and knick-knack vendors, and farmers displaying fresh produce. The 16:62 Design Zone, extending from the district's 16th Street Bridge to the 62nd Street Bridge in Lawrenceville, hosts many businesses focusing on furniture and home décor. One of the city's oldest neighborhoods, Lawrenceville also contributes to the retail scene by way of eclectic boutiques and art studios—you'll find them dotted along Butler Street, Penn Avenue and Hatfield Street.
The Shadyside neighborhood is about 15 minutes east of downtown. Popular chains and specialty stores are sprinkled throughout upscale Walnut Street, with trendy cafés in-between perfect for refueling. Ellsworth Avenue presents a more local spin, punctuated with home accessory shops, art galleries and the occasional coffee place. You'll also stumble across some unique finds on the area's side streets.
The South Craig Street business district is the commercial hub of Oakland, another East End neighborhood. Refurbished row houses contain funky little bistros frequented by University of Pittsburgh and Carnegie Mellon University students, while businesses tout books, gifts and other knick-knacks. The shops of Squirrel Hill, east of Oakland, are mainly situated on Murray and Forbes. Kosher groceries, ethnic eateries and locally owned businesses selling novelty items from a variety of cultures give the area a real international flair, and it's fun hunting for resale clothing and souvenirs while indulging your sweet tooth at a bakery or coffeehouse.
The area south of downtown across the Monongahela River also holds allure for shoppers. Conveniently, there's a subway ("T") stop at the Shops at Station Square, situated on Carson Street at the Smithfield Street Bridge. Savor the view of Pittsburgh's skyline from this refurbished 19th-century railroad station with some 20 retailers, including Hard Rock Cafe. Station Square is also a popular dining, entertainment and nightlife venue. SouthSide Works, East Carson and 27th streets, is an outdoor complex complete with town square. High-end boutiques of both national and local stature are the draw here, and you'll also have your pick of the best-loved chains. Those just along for the ride can enjoy a movie or a meal. (Incidentally, the stretch of East Carson Street linking Station Square with SouthSide Works is home to jewelry, antique and novelty stores as well as plenty of cafes, bars and coffeehouses.) Farther southeast across the Homestead Grays Bridge (formerly the High-Level Bridge) and recognizable by its massive brick smokestacks, The Waterfront provides open-air shopping and entertainment bordering the Monongahela River on the site of a former steel mill; the 260-acre retail behemoth's temptations are enhanced by the sweeping river view.
The suburban mall is alive and kicking in Pittsburgh, and if you arrived via plane you probably had your first taste of mall mania as you wandered past the vast assortment of shops and restaurants at Fraport USA (formerly the AIRMALL). Near the airport off SR 60, Robinson Town Centre and The Mall at Robinson serve the western suburbs. The southern suburbs tout the 130-store South Hills Village, off US 19 between Upper St. Clair and Bethel Park. In Bethel Park at the intersection of US 19 and Fort Couch Road, Village Square specializes in such discounters as Burlington and Kohl's. In the South Hills off US 19 is the Galleria of Mt. Lebanon, which features Ann Taylor, Williams-Sonoma and other chains.
Heading east on US 22 near the Pennsylvania Turnpike is Monroeville Mall; its 160 establishments are the commercial heart of this suburban region. Northeast of Pittsburgh off SR 28 exit 12A in Tarentum is Galleria at Pittsburgh Mills, with JCPenney and Macy's. Farther out tucked into the North Hills are McIntyre Square, North Hills Village, The Block Northway and the upscale Ross Park Mall—all on McKnight Road. Branches of most large department stores can be found in these four shopping complexes.
Pittsburgh Nightlife
Pittsburghers like to mingle, and the city's thriving brew pubs and neighborhood bars provide the perfect setting for a game of pool, some friendly chat or nibbling on homemade pierogis and other flavorsome bites. The musically inclined can spend an evening at one of the live music venues or dance the night away to the pulsating beat of DJ-inspired tunes. Clubs providing entertainment may include cover charges and usually require drink minimums. To avoid surprises, phone ahead and confirm prices, opening hours, scheduled acts and dress codes.
If you appreciate well-crafted drafts, you've come to the right place. Ironically, copper tanks have replaced the altar at Church Brew Works (Lawrenceville/(412) 688-8200). Instead of sermons, this former cathedral now serves up piously named house brews and creative pub grub under its soaring ceilings—fans of dark lager should try the heavenly Pious Monk Dunkel. Fat Head's Saloon (South Side/(412) 431-7433) attracts all walks, from business types to partying sports fans. Knowledgeable bartenders in this bustling spot will provide tips on which of the tapped beers, bottles or artery-clogging headwiches (head-size sandwiches) are right for you.
German-style lagers are showcased at Penn Brewery (North Side/(412) 237-9400), where live polka tunes and an outdoor biergarten add to the merriment in a family style atmosphere—try their top-notch Penn Pilsner along with some authentic German fare. No more authentic German experience will be found though, than at the Hofbrauhaus Pittsburgh (South Side/(412) 224-2328), modeled after the famous beerhall in Munich. Piper's Pub (South Side/(412) 381-3977), offering a solid selection of English draughts and bottles, entertains a jolly assortment of British expats who gather to watch soccer and feast on across-the-pond favorites like bangers and mash. Belgian beer fans can indulge themselves with hard-to-find concoctions at Sharp Edge Bistro (Downtown/(412) 338-2437), but it's hard to go away unhappy with a menu touting some 300 international choices. The budget-minded should hit the weekday happy hour (4:30-6:30) for half-off Belgian and craft drafts.
Pittsburgh's dance clubs appeal mostly to 20- and 30-somethings looking for a rousing party scene. Check out Cavo (Strip District/(412) 651-4713), a large club offering VIP service, a lounge with a small dining menu and an oversize dance floor. If you're looking to party the evening away, you'll find a variety of DJ nights ranging from salsa to pop to hip hop on the weekends, plus the occasional live band or burlesque show. There's also Belvedere's Ultra Dive (Lawrenceville (412) 687-2555) which features everything from themed DJ nights to karaoke Mondays to "silent disco" yoga to country dancing lessons.
Pittsburgh offers a decent selection of live music venues showcasing diverse talent. Hipsters interested in listening to underground, alternative and indie bands frequent Brillobox (Lawrenceville/(412) 621-4900)—downstairs caters to diners, so venture upstairs to catch live acts. If you like the type of place where you're just a stone's throw away from the performers, Club Café (South Side/(412) 431-4950) hosts emerging and established artists presenting everything from jazz to blues to pop in a stylishly cozy spot catering to the sophisticated urbanite. Moondog's (Blawnox area/(412) 828-2040) is a little out of the way—you'll definitely need a set of wheels to get there—but the journey to this no-frills neighborhood pub is worth it for fans of quality rhythm and blues, country and rock.
The congregation at Mr. Smalls (Millvale/(412) 821-4447), in a former Catholic church, is now made up of reggae, punk, rock and hip-hop followers—the great acoustics also make this a popular concert stop for nationally known bands. The art deco-inspired Rex Theater (South Side/(412) 381-6811), a Pittsburgh institution that has been around since the early 1900s, also delights with an array of local and national acts in a refurbished movie house.
If you're into sipping an inventive cocktail, chatting with friends or just plain people watching, Pittsburgh has a healthy sampling of lounges to choose from. Happy hour is the time to pop into Harris Grill (Shadyside/(412) 362-5273 for discounted seasonal frozen cocktails and tasty bar bites. Downtown professionals decompress at
Olive or Twist
(Downtown/(412) 255-0525), an upscale enclave known for its tantalizing menu of classic and contemporary martinis. If you like to get in on the act with a little piano bar/karaoke fun, hit Howl at the Moon (Downtown/(412) 586-5692) for your shot at local stardom for a night.
Wine connoisseurs may land at The Allegheny Wine Mixer (Lawrenceville/(412) 252-2337) where they can choose from over 50 dry and dessert wines by the glass and even more by the bottle. For a tropical twist, head to Tiki Lounge (South Side/(412) 381-8454), where the South Pacific ambience is countered by the lively DJ scene. Cocktails with names like Coconut Kiss, Head Hunter and Blue Shark help you unwind, and you get to keep the kitschy yet fun drink container as a souvenir.
Pittsburgh Performing Arts
The city's arts scene is growing, becoming more varied, more vital and more progressive. This is perhaps most apparent in Pittsburgh's theater offerings.
The Pittsburgh Public Theatre is a professional Equity company offering classical and modern dramas, including a new play each year. Its home is in the downtown O'Reilly Theater, designed by noted architect Michael Graves; phone (412) 316-1600 for ticket information. On the South Side, contemporary American plays are presented by the City Theatre Company during its late September to early June season; phone (412) 431-2489. The always-interesting Quantum Theatre moves from one unique venue to another; phone (412) 362-1713. Carnegie Mellon University's theater is as active and excellent as ever; phone (412) 268-2082. Point Park University's Pittsburgh Playhouse in Oakland is the site of a wide range of classical and contemporary productions; phone (412) 392-8000 for ticket information. University of Pittsburgh Stages (formerly the University of Pittsburgh Repertory Theatre) performs at the Stephen Foster Memorial; phone (412) 624-7529.
Dance of many kinds, from folk to modern, also is available. As they have for more than 80 years, The Tamburitzans bring to vivid life the folk dances, songs and music of Old Eastern Europe at several venues, including Duquesne University; phone (412) 224-2071. The lavish Benedum Center for the Performing Arts, formerly the Stanley Theatre, is home to the acclaimed Pittsburgh Ballet Theatre, which performs October through April or early May; phone (412) 281-0360. The Pittsburgh Dance Council performs at the Byham Theater; phone (412) 456-6666 for the box office.
The
August Wilson Center for African American Culture
, (412) 258-2700, named for the Pittsburgh native and playwright, is housed in a contemporary facility downtown on Liberty Avenue. Its offerings include dance, music and theater performances.
For orchestral music at its best, the Pittsburgh Symphony has few rivals. This orchestra packs the opulent 1926 Heinz Hall, 600 Penn Ave., September through June for its regular program series as well as for its Pops, Schooltime Concerts and Tiny Tots' series. Its excellent acoustics, elegant decor and dramatic architecture now form the backdrop for much of Pittsburgh's cultural activity. A courtyard with wrought-iron benches and water sculptures have been added to the hall. Phone (412) 392-4900 for ticket information.
The Pittsburgh Opera performs also at the Benedum Center for the Performing Arts. The Pittsburgh Civic Light Opera (CLO) also performs at the Benedum as well as at the Byham Theater.
The CLO Cabaret always entertains at the intimate Cabaret at Theater Square.
Contemporary American music is the specialty of the Pittsburgh New Music Ensemble, which performs at the City Theatre in July; phone (888) 718-4253. Free chamber music concerts are held at The Frick Art Museum on Sundays, October through April. The Summer Concert in the Parks series provides a variety of free concerts, including bluegrass, folk and jazz in several of the city and county parks.
These are only a few of the possibilities; Pittsburgh magazine and the newspaper carry complete lists.
Pittsburgh Sports and Recreation
That Pittsburghers are avid sports lovers is well known from the citywide celebrations that followed all the Steelers' Super Bowl victories and the Penguins' Stanley Cup victories. However, the city offers abundant and convenient opportunities for recreational pursuits as well; nearly every imaginable sport or recreational pastime is available, so the city is a great place for those who enjoy adventure travel. Boating is very popular on Pittsburgh's three rivers.
The focus for much recreation is the city and county parks. Frick, Highland and Schenley parks offer ball fields, tennis courts, golf courses and trails for bicycling and hiking. In winter, golf courses and hilly areas are popular for cross-country skiing. Information about facilities and current activities in the city parks can be obtained from the City Parks and Recreation Department; phone (412) 255-2539.
Allegheny County's North Park and South Park have plenty of the above activities as well as swimming pools, nearby bicycle rentals, ice-skating in winter and game preserves. In addition, North Park's lake offers fishing, boating and boat rentals. For more information about county park programs and activities contact Allegheny County Parks; phone (412) 350-7275. The Rink at PPG Place, (412) 394-3641, and Schenley Park Rink, (412) 422-6523, also offer ice-skating late November through early March.
Bicycling devotees have the advantage of a city bicycle route that links Highland, Mellon, Frick and Schenley parks. Near Highland Park is the Washington Boulevard Cycling Track, a half-mile slightly banked oval. The City Parks and Recreation Department can provide route information; phone (412) 255-2539.
Riverview Park
on the city's North Side features hiking trails and the Allegheny Observatory, an astronomy research center. Tours are offered April through October (by reservation only); phone (412) 321-2400.
Hiking is popular, as the number of hiking groups and programs attest. The Sierra Club and Venture Outdoors can furnish information about hiking, canoeing and camping in the area. In winter many of the city's hiking paths become ski trails. Besides the cross-country skiing provided by the city and county park areas, Allegheny County's Boyce Park, on Old Frankstown Road in nearby Plum, offers downhill skiing, cross-country skiing and snow tubing. Instruction and equipment rental are offered; phone (724) 327-0338 for general information or (724) 733-4665 for snow conditions. Equipment also can be rented at several ski shops, some of which also arrange ski trips and tours.
The Three Rivers Heritage Trail caters to bicyclists as well as walkers and joggers with its 24 miles of bicycle and pedestrian pathways; in-line skating is possible on some portions, too. The trail runs along the Allegheny, Monongahela and Ohio rivers. For route details and other information contact the Friends of the Riverfront Inc. at (412) 488-0212.
In addition to the courses in the parks, golf is available at a number of excellent public courses. Inquire at your hotel, for some might have a reciprocal golf club agreement for their guests with one of the local private or semiprivate courses.
Horseback riding is available at various stables and riding academies. Those who would rather watch equines than ride one can go to the harness races at The Meadows Racetrack & Casino, 25 miles south of Pittsburgh in Washington, where live harness racing is held year-round; for more information phone (724) 503-1200 or (877) 824-5050. There is Thoroughbred racing throughout the year at Mountaineer Race Track and Gaming Resort near Chester, W.Va., about an hour from Pittsburgh; phone (800) 804-0468.
Note: Policies concerning admittance of children to pari-mutuel betting facilities vary. Phone for information.
Among the swimming pools in Allegheny County, those in Boyce, Settler's Cabin and South Park provide waves for those who yearn for the surf. The fee for nonresidents is $8; $6 (ages 6–17); $4 (ages 60+); $1 (ages 0-5). Swimmers can choose a pool with or without waves.
Pittsburgh has 78 tennis courts in Schenley, Frick, Highland, McKinley and Mellon parks. Within Allegheny County you will find regional tennis courts at West Park and other public parks. Courts operate on a first-come, first-served basis. Because some require permits, it is a good idea to check with the city or county parks departments first; phone (412) 255-2539 or (412) 350-2455, respectively.
The National Football League's Steelers are popular among football fans; their home games are played at Heinz Field. Thanks to their sixth win in 2009, the Steelers have more Super Bowl victories than any other NFL franchise. Major League Baseball's Pirates are the stars during the baseball season; they play at PNC Park. The National Hockey League's Penguins play hockey at PPG Paints Arena. College sports also are big attractions, particularly the games played by the University of Pittsburgh's Panthers.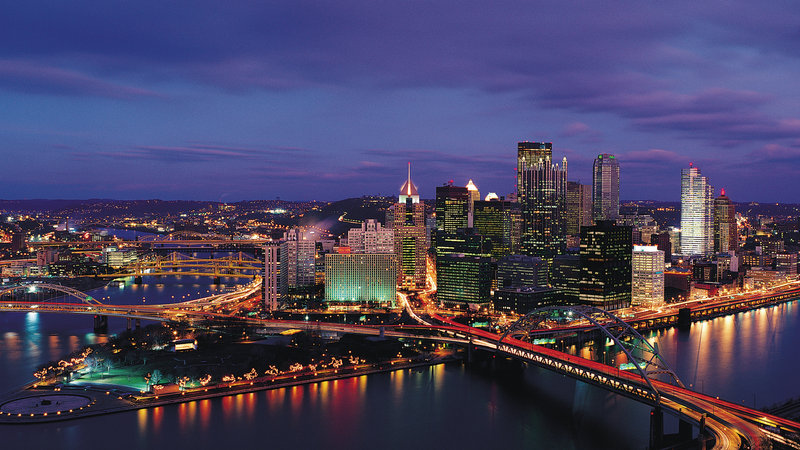 Getty Images/Jeremy Woodhouse
Pittsburgh Sightseeing
Visitors who prefer sightseeing on their own should stop at VisitPittsburgh's Welcome Pittsburgh Information Center and Gift Shop at 120 Fifth Ave. Other branches are at the Pittsburgh International Airport, at the David L. Lawrence Convention Center and in Senator John Heinz History Center; phone (412) 281-7711 or (800) 359-0758. All centers provide brochures and maps of the Golden Triangle, Strip District, Design Zone (the city's interior design district) and Mount Washington. The Pittsburgh History and Landmarks Foundation, in Station Square, offers self-guiding tours and customized bus and walking tours for sites in western Pennsylvania; phone (412) 471-5808.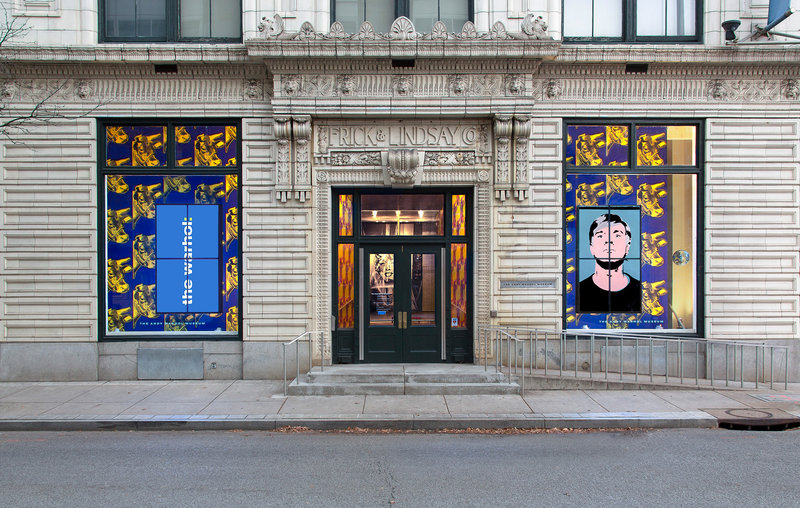 Courtesy of The Andy Warhol Museum
1-day Itinerary
AAA editors suggest these activities for a great short vacation experience.
Morning
Start your day by visiting
Point State Park
(601 Commonwealth Pl.) to get your bearings while enjoying a scenic perspective of Pittsburgh's epicenter. The triangular-shaped park juts forth from downtown's edge, with a majestic fountain marking the point where the Allegheny, Monongahela and Ohio rivers meet. With a backdrop of soaring skyscrapers behind you, you'll have fun identifying landmarks across the water like Heinz Field and PNC Park on the North Shore. Visit the
Fort Pitt Museum
to learn how the fort's strategic position played an integral role in our nation's history.
It's a quick hop over the Fort Duquesne Bridge to investigate a few of the attractions you likely glimpsed from the park. On the North Shore, explore your choice of facilities affiliated with the
Carnegie Museums of Pittsburgh
(4400 Forbes Ave.). The
Carnegie Science Center
spans a variety of topics; whether you're intrigued by miniature railroads, sports challenges or aquarium life, you can tailor your experience to be as laid-back or interactive as you wish—and the matinee and night laser shows dazzle viewers. Navigate your way through the
USS Requin
, a Tench-class submarine launched in 1945 now docked adjacent to the museum. If pop art captures your attention, swing by
The Andy Warhol Museum
, a shrine to the artist's various pursuits, including sculpture, painting, photography, film and video.
If you're in an outdoors frame of mind or you're looking for things to do with kids, take one of the sightseeing cruises offered by the
Gateway Clipper Fleet
(350 W. Station Square Dr.), departing from the city's South Shore across the Fort Pitt Bridge. In addition to appreciating prime city views, you'll learn about local history and the three rivers the vessel sails upon.
Afternoon
For a real slice of Pittsburgh life, head to the Strip District, a narrow, mile-long pocket just northeast of downtown wedged between 11th and 33rd Streets. Most of the action takes place on the main drags of Smallman Street and Penn Avenue.
Since the Strip is all about food, it's a phenomenal lunch stop, with plenty of options on Penn Avenue. Seafood aficionados on the run should stop by
Wholey's
(1711 Penn Ave.), a market that also happens to serve up a mighty fine fish sandwich. If you're in the mood for a deli sandwich, burger or entrée salad, try
Deluca's Diner
(2015 Penn Ave.), a local favorite that's also a popular breakfast haunt. To sample innovative Caribbean fare in an eclectic setting, head to
Kaya Restaurant
, around the corner at 2000 Smallman St.
After lunch, wander around the district and peruse the sidewalk vendors—a great place to grab that Steelers T-Shirt or whatever souvenir catches your eye. It's fun to browse the locally owned Italian groceries and sample such delectable goods as cheeses, olive oils, espresso, freshly baked breads, biscotti, chocolate and other confections. A sprinkling of unique shops offers fashion accessories and trinkets for the home and garden.
You could also visit the University of Pittsburgh campus, about 3 miles east of downtown in the Oakland neighborhood. The must-see here is the
Cathedral of Learning
(4200 5th Ave.), the campus' regal centerpiece and one of the world's tallest educational structures. A self-guiding tour will lead you through Nationality Rooms where you can learn about the cultures represented.
Evening
The South Side is a prime evening destination and has lots of fun things for couples to do. Restaurants and clubs are scattered along the stretch of Carson Street between the Station Square and SouthSide Works shopping and entertainment complexes.
Altius
offers breathtaking views of downtown Pittsburgh and the three rivers, as well as a menu of Modern American cuisine with a seafood-heavy focus. For a casual option, head into Bloomfield to enjoy pizza and wings at
Caliente Pizza & Draft House
, which keeps its kitchen open until 2 a.m. on weekends. After dinner, join the pub crawl among the street's plentiful nightspots.