Vancouver NightlifeCool Hotel Bars and Lounges
Hip, cosmopolitan Vancouver has a buzzing nightlife, with plenty of spots where locals and visitors congregate after dark. Several sophisticated hotel lounges offer a space to relax over drinks in a quiet, elegant atmosphere. Downtown is a prime spot for these given its assortment of business-class hotels.
Bacchus Lounge, in The Wedgewood Hotel & Spa (downtown at 845 Hornby St.), is an elegant spot to enjoy a glass of B.C. wine or a martini in surroundings that just ooze luxury—subdued lighting, antique furniture and vases of fresh flowers, with a softly tinkling piano in the background. There's live entertainment here nightly, which makes it an ideal destination if you're looking for things for couples to do. It's recommended to dress to impress. Phone (604) 608-5319.
The Lobby Lounge and RawBar in the Fairmont Pacific Rim is a place to see and be seen—sometimes with local and visiting celebrities. The open-concept bar is stylish and comfortable, with excellent craft cocktails and live music every night of the week. Phone (604) 695-5557.
Yaletown Spots
A hip spot is Yaletown Brewing Company (1111 Mainland St.), where suit-and-ties gather after business hours to shoot some pool and sip on microbrews and burgers; sit by the fireplace or out on the spacious patio, depending on the weather; phone (604) 681-2739.
Great Nightlife on Granville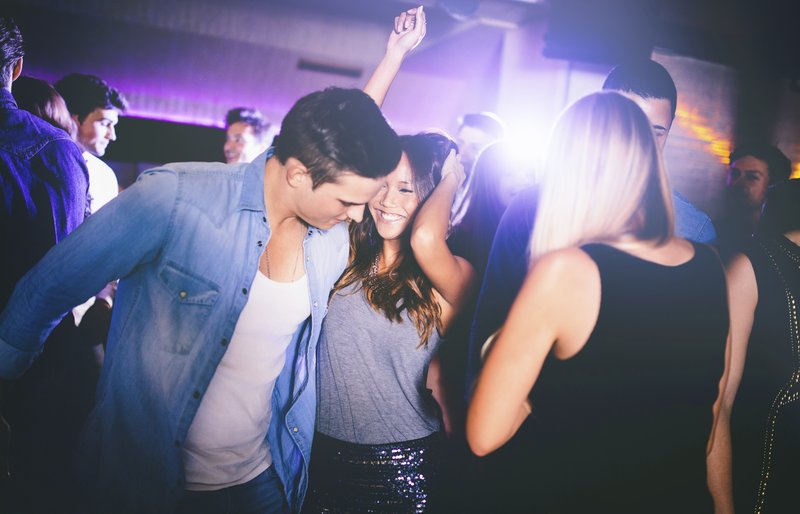 wundervisuals/iStockphoto.com
Granville Street is hopping with nightclubs, all with reasonable cover charges. The Roxy (932 Granville St.) draws a young, ready-to-party crowd with house bands pumping out rock and Top 40 and bartenders who put on their own show. If you don't feel like dancing, watch TV or play pool. It's open 8 p.m.-3 a.m. nightly; phone (604) 331-7999.
The Commodore Ballroom (868 Granville St.) is an old-time dance hall that is the place to see up-and-coming bands as well as established acts that don't sell out arenas. The dance floor is in front of the stage and table seating is limited; arrive early unless you don't mind standing in the back of the room. Phone (604) 739-4550.
Gastown's After-Dark Scene
Touristy Gastown pulses with nightspots, local restaurants and fun things to do with friends. The Steamworks Brew Pub (375 Water St.) is named for the Gastown steam line that runs through the premises. The drink of choice here is beer (brewed nearby in Burnaby, B.C.), from signature Lions Gate lager to such concoctions as an oatmeal stout and a sour IPA. The basement looks like a Bavarian-style drinking hall, while upstairs the atmosphere is clubbier, with leather chairs and windows overlooking the harbor; phone (604) 689-2739.
Energetic live bands tear it up at The Revel Room (238 Abbott St.), as they crank out rockabilly, blues, old country, Texas swing, boogie woogie and soul Tues.-Sun. nights beginning at 7 p.m., and there's daily boogie piano during "Sour Hour" (4-6:30 p.m.); phone (604) 687-4088.
You'll literally have to go underground to get to Gastown's Guilt & Co. (1 Alexander St.), as it's down a flight of stairs under a restaurant on Gassy Jack Square. This intimate hangout has the feel of a bunker or an unfinished rec room, but reeks of cool and attracts smartly dressed young professionals. The evening's band plays on a small stage backed by a stone wall, a small dance floor sandwiched between it and round tables holding burning candles. Guilt & Co. serves up expertly mixed cocktails with whimsical names like You Can Dance and Like a Virgin; phone (604) 288-1704.
More Fun in Mount Pleasant and Kitsilano
Baby boomers will feel right at home in The Cascade Room (2616 Main St.), in the Mount Pleasant neighborhood. This restaurant and bar is a transplanted bit of British pub culture: Lampshades feature Queen Victoria's likeness, and a large glass panel advises patrons to "Keep calm and carry on"—a World War II slogan uttered by stiff-upper-lip Brits. Slide into one of the horseshoe-shaped booths for a cocktail, a beer or a pint of lager; phone (604) 709-8650.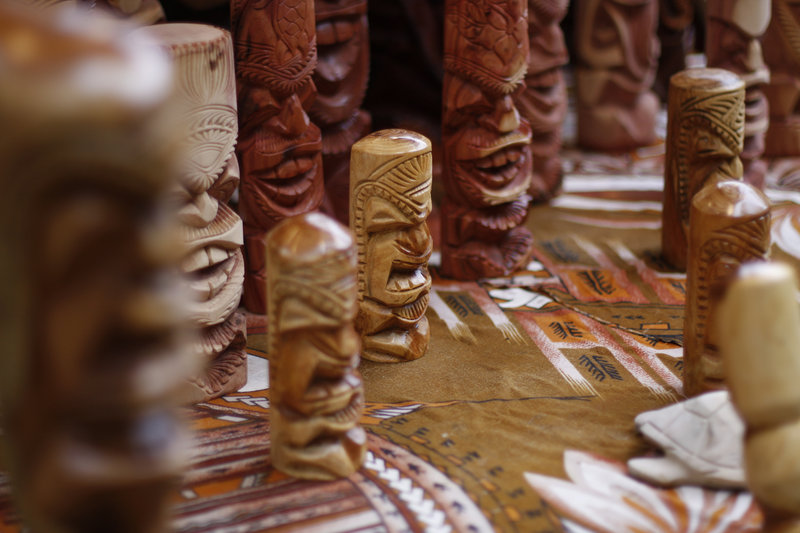 SamanthaScharf/iStockphoto.com
If you're in the Kitsilano area and looking for fun things to do, plan to stop at the Shameful Tiki Room (4362 Main St.), a modern-day Trader Vic's. The room is decked out in Polynesian decor from floor to ceiling in painstaking detail, with a thatched ceiling, carved wood Tiki gods, puffer fish lamps, vintage postcards permanently lacquered onto tables and vintage Tiki memorabilia. Sip a mai tai, snack on small plates, or go for the volcano bowl, a potent blend of liquors served in a huge clamshell meant for sharing with three of your closest friends (the drink is accompanied by thunder, lightning and smoke from the bar's erupting volcano). Unlike most clubs, the tunes are played at lower decibels here so you can carry on a conversation, and the overall ambience is relaxing yet fun; phone (604) 999-5684.
Coquitlam Casinos
If you're into casino games and live bands, lucky you! In addition to the usual slot machines and poker tables, the Hard Rock Casino Vancouver in nearby Coquitlam has three listening rooms: the intimate Asylum Sound Stage, where performers range from local bands to burlesque to comedy; the 100-seat Unlisted Lounge, with DJ'd jazz and electro-groove music and the occasional live act; and The Molson Canadian Theatre, a 1,000-seat venue hosting tribute bands, up-and-coming performers and 1980s heavy metal bands. Phone (604) 523-6888.
Sunset Views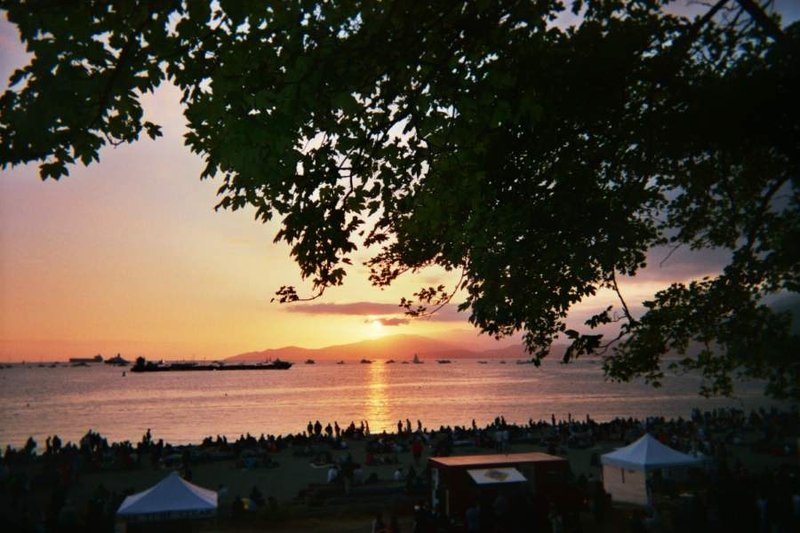 AAA/Greg Weekes
And here's a beautifully simple suggestion for nightlife near downtown Vancouver. On a clear evening, head down to English Bay Beach (just off Beach Avenue at the south end of Denman Street). First, stop and get an ice cream cone (or some takeout from one of the many nearby restaurants), then sit on a beach log or a bench along the seawall promenade and watch the sun set over the bay. In addition to the sunset, you'll have a superb view of the mountains rising beyond the North Shore. It's just you and nature—plus the company of similar-minded souls.
The Georgia Straight, a news and entertainment weekly that comes out on Thursday, has extensive arts and entertainment listings for things to do in Vancouver.