Vancouver Sports & Recreation
Skiing on Grouse Mountain in the morning, golfing on the banks of the Fraser River in the afternoon, fishing for salmon in Horseshoe Bay at dusk and taking a dip in English Bay, all in one day? It's possible in Vancouver, which offers such a diversity of recreational opportunities that you'll have no trouble finding adventurous things to do and fun places to go while visiting.
Vancouver's park system has tennis courts, swimming pools, putting greens, golf courses, lawn bowling greens, hiking paths and a comprehensive bike route. For information phone the city's Parks and Recreation Department at 311 (within Vancouver).
Bicyclists will have a field day in Vancouver, which is practically a mecca for two-wheeling types. There are about 400 kilometres (249 mi.) of bike paths in the city. The Stanley Park Seawall, 9 kilometres (6 mi.) long, may be the most well-known bike route in the area, and for good reason. There's no shortage of eye candy and things to see—Burrard Inlet, Coal Harbour, rocky beaches, the North Shore mountains, totem poles, downtown Vancouver—for riders or pedestrians while circling Stanley Park. Want more? The seawall is just one section of the 28-kilometre (17-mi.) Seaside Greenway, which begins at the convention center, runs along Coal Harbour, around Stanley Park to Granville Island and Kitsilano Beach, then west along the Point Grey Road Greenway to Jericho Beach and Spanish Banks Beach Park. Note that bike helmets are required by law.
Head for the hills of the North Shore mountains to practice your extreme mountain biking skills. Burnaby Mountain also comes equipped with structures and a 28-kilometre (17-mi.) network of trails where you can practice stunts. For tamer rides, coast flat trails through heavily wooded forests in Pacific Spirit Regional Park. Bicycle rentals (mountain, comfort, cruiser, hybrid and tandem) can be found had at Bayshore Rentals, 745 Denman St.; phone (604) 688-2453. In North Vancouver, rent all-mountain, cross-country, trail and freeride bikes at Endless Biking, 1467 Crown St; phone (604) 985-2519 or (604) 836-2517 after hours.
The North Shore is a good place for hiking, too. The 48-km (30-mi.) Baden-Powell Centennial Trail follows a rugged route across the North Shore, stretching from Horseshoe Bay in West Vancouver to Deep Cove on the eastern side of North Vancouver. A nice section of the Baden-Powell Trail for novices and families is accessible from Deep Cove; park near the trailhead at Panorama Park and hike 45 minutes to reach the scenic viewpoint at Quarry Rock. After the hike, you can join the locals for celebratory sweets at Honey Doughnuts & Goodies (4373 Gallant Ave., North Vancouver). More family-friendly hiking trails can be found at Lynn Canyon Park, where there are waterfalls, swimming holes, a suspension bridge and a seasonal café.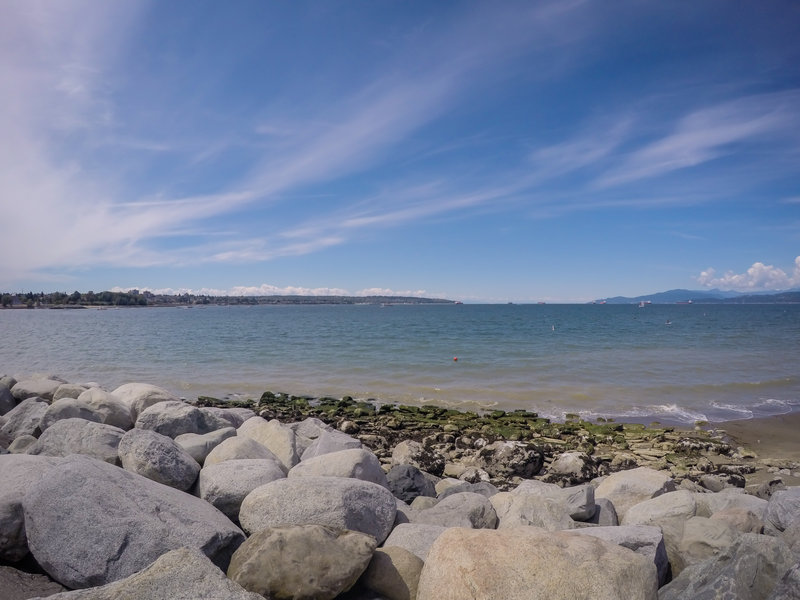 AAA/Diana Beyer
Go swimming in English Bay, which is bordered by beaches from West Point Grey to Stanley Park, most with lifeguards in summer and various amenities. Beaches are easily accessible from Northwest Marine Drive in West Point Grey, Point Grey Road in Vancouver West and from Beach Avenue downtown. Two of the most popular beaches to visit are Kitsilano Beach (with an outdoor saltwater pool and views of the downtown skyline) and Second Beach in Stanley Park (with another outdoor pool). If you want to avoid the crowds on a sunny day, head to Stanley Park's Third Beach, which has a concession stand, restrooms and its own parking lot. There are additional outdoor pools at Maple Grove and New Brighton.
White-water rafting is available April through September on the nearby Chilliwack River and a little farther afield on the Fraser and Thompson rivers, including the Devil's Gorge. Vancouver rafting companies offering day trips as well as multiday trips include REO Rafting Adventure Resort, (604) 941-9777 or (800) 736-7238, and Kumsheen Rafting Resort, (250) 455-2296 or (800) 663-6667. Lotus Land Tours offers sea kayaking trips on Indian Arm, Zodiac tours of Howe Sound and whale-watching tours; phone (604) 684-4922 or (800) 528-3531.
Winter visitors in search of skiing can head for the hills in North Vancouver to tackle the challenging slopes of Grouse Mountain or Mount Seymour Provincial Park (see attraction listings). East of Vancouver are Hemlock Valley and Manning Park ski resorts, offering both downhill and cross-country treks. Cypress Provincial Park in West Vancouver also has cross-country and downhill skiing. Serious skiers and snowboarders will want to head north of Vancouver to Whistler and Blackcomb mountains.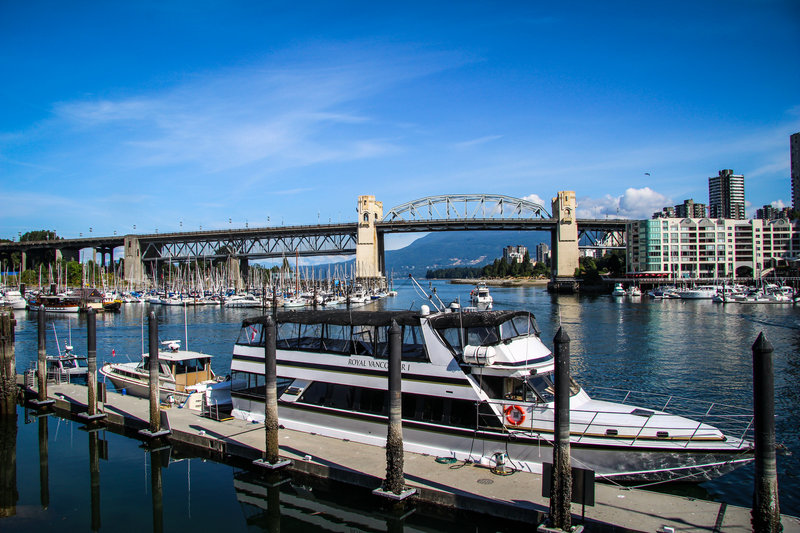 AAA/Diana Beyer
When the waters sparkle from the summer sun, Vancouver becomes a boating paradise. For visitors without a boat, several companies have craft for hourly or daily rental. For fishing charters and boat rentals phone Sewell's Marina, (604) 921-3474, at Horseshoe Bay or Granville Island Boat Rentals, (877) 688-2628.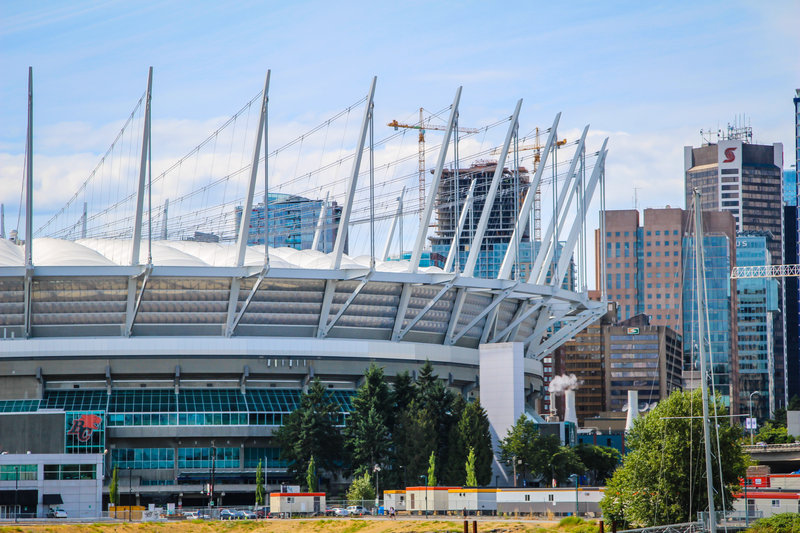 AAA/Diana Beyer
Vancouver residents love spectator sports, especially football, hockey and soccer. The BC Lions of the Canadian Football League usually play before capacity crowds in BC Place Stadium , 777 Pacific Blvd. Fans of Major League Soccer can watch the Vancouver Whitecaps FC get their kicks at the same stadium. The Canucks of the National Hockey League compete in Rogers Arena, 800 Griffiths Way; phone (604) 899-7440 for the event hotline. The Vancouver Giants, a junior hockey team, play at the Langley Events Centre, 7888 200th St. in Langley; if you can't get tickets for the Canucks, who often sell out, Giants tickets cost less and offer just as many thrills; phone (604) 822-8800. For more football, soccer and hockey ticket information, phone Ticketmaster, (855) 985-5000 or the automated ticket sales line (855) 985-5500.
Baseball is played by the Vancouver Canadians at Scotiabank Field at Nat Bailey Stadium, 4601 Ontario St.; phone (604) 872-5232 for schedule and ticket information. Indoor lacrosse can be enjoyed at Bill Copeland Sports Centre, 3676 Kensington Ave. in Burnaby, (604) 297-4521 or the 24-hour info line (604) 298-0533; and at Queens Park Arena at First Street and Third Avenue in New Westminster, (604) 777-5111.
Thoroughbred racing with pari-mutuel betting is held at Hastings Park Race Course on the grounds of the Pacific National Exhibition; phone (604) 254-1631 or (877) 977-7702 .
Note: Policies concerning admittance of children to pari-mutuel betting facilities vary. Phone for information.