About Williamsburg "That the future may learn from the past" is the theme for the Colonial Williamsburg Foundation, which operates this restoration project. Through extensive research, the 301-acre Colonial area of the city has been restored as nearly as possible to its 18th-century appearance.
Within this historic area are 88 buildings that survived from the 1700s. In addition more than 400 others have been faithfully rebuilt on their original sites.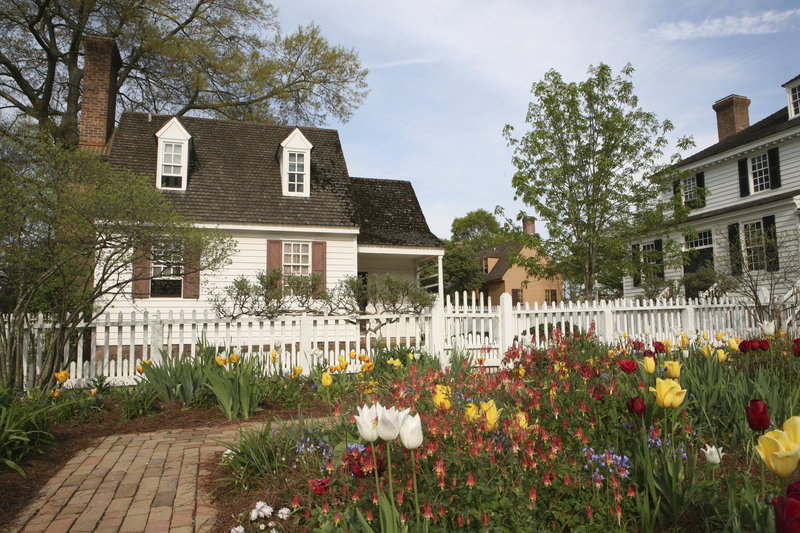 BDphoto/iStockphoto.com
Stately public buildings and a variety of Colonial homes, shops, taverns and gardens are on or just off historic Duke of Gloucester Street, the main thoroughfare of the city.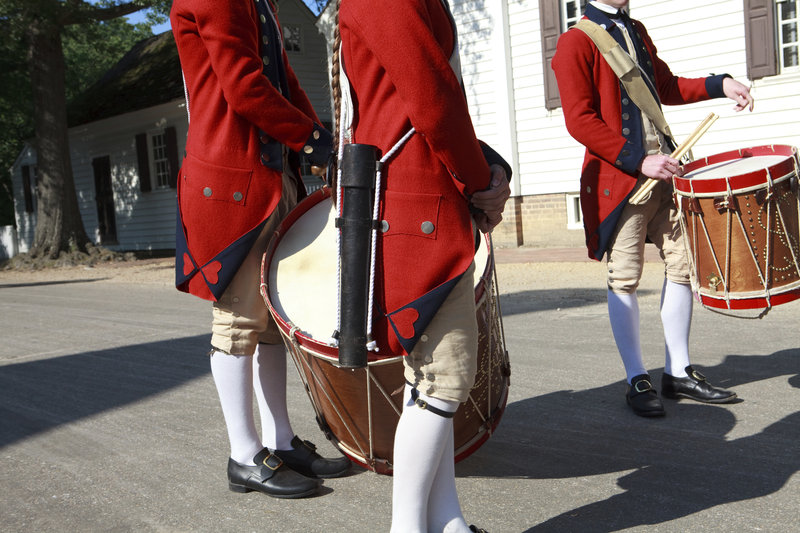 BDphoto/iStockphoto.com
Interpreters dressed in 18th-century attire populate the historic area. Fife and drum parades take place April through October. Drum corps and fireworks stir up plenty of patriotic feelings during Williamsburg's Independence Day celebration. In early December Grand Illumination Festivities herald the beginning of the Christmas season. Candles light up the regal homes of the historic district as fireworks streak across the night sky.
Visitor Centers Greater Williamsburg Chamber & Tourism Alliance 421 N. Boundary St. Williamsburg, VA 23185. Phone:(757)229-6511 or (800)368-6511
Shopping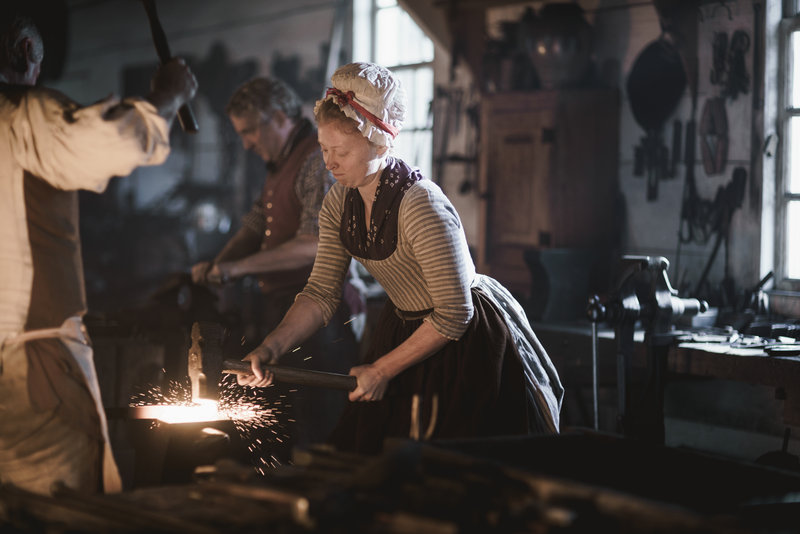 Darnell Vennie Vennie, Darnell / 2017 The Colonial Williamsburg Foundation
You won't have far to go to begin your shopping expedition in Williamsburg—the Colonial Williamsburg Historic Area, and Merchant Square in particular, are chockablock with stores selling Colonial-inspired items. Find reproduction Williamsburg furniture, linens, soaps, ceramics, baskets, petticoats, three-cornered hats, quill pens, birdhouses, toy drums and wooden tops, all based on 18th-century designs and many hand-crafted by Williamsburg tradespeople. Smithfield country hams and hand-cooked Virginia peanuts are tasty ways to remember your visit.
Speaking of Merchant Square, if you happen to be there on Saturday from April through October, be sure to peruse the fresh produce, flowers and delectable goodies at the Williamsburg Farmers Market (402 W. Duke of Gloucester St.).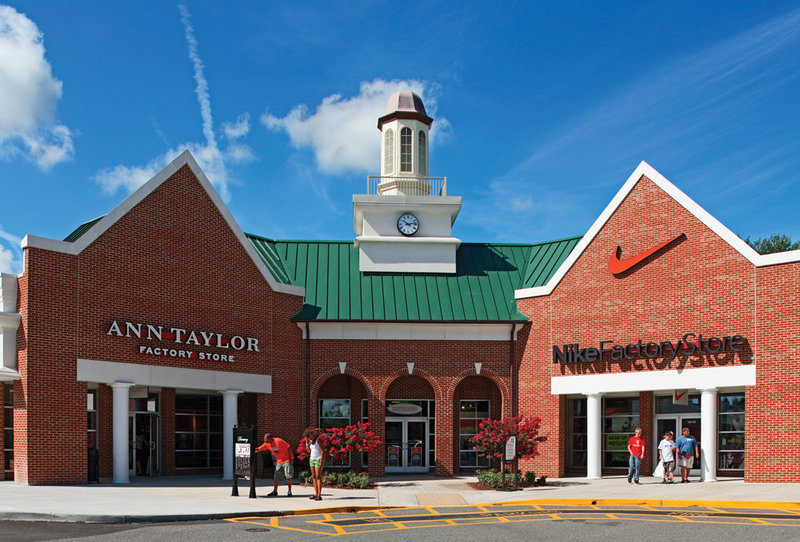 Courtesy of Visit Williamsburg.com
Shopaholics will swoon at Williamsburg Premium Outlets on Richmond Road (US 60). The mall directory features 120 stores, including Banana Republic, Chico's, Michael Kors, Reebok and True Religion.
If the 18th-century ambience of Williamsburg has inspired you, check out the Williamsburg Antique Mall (500 Lightfoot Rd.), where more than 400 dealers display antiques and collectibles.
Williamsburg Pottery Factory (6692 Richmond Rd.) started out by making 18th-century saltglaze pottery reproductions in the 1930s. Inspired by traditional European markets, a 2012 renovation project transformed the once no-frills shopping attraction into a modern 160,000-square-foot retail complex. Today four buildings offer a variety of goods, including silk and dried flowers, crystal, furniture, glassware, rugs, shells, Asian and Christmas items, garden pots and china.
A business park and residential areas in addition to dining, shopping and entertainment options comprise New Town , at the junction of Ironbound Road and Monticello Avenue. More than 170 shops and restaurants are part of an outdoor Main Street-style mall near William & Mary.
Insider Info
Visitor CenterNortheast of the Governor's Palace at 101 Visitor Center Dr., the Colonial Williamsburg Visitor Center is open daily 8:45-5. Holiday and seasonal hours may vary. Go to the center first for tickets and information as well as a schedule of children's activities and special programs. Streets in the Historic Area are closed to automobiles. Park at the visitor center; shuttle buses leave for the historic area every 20 minutes.
All Colonial Williamsburg admission tickets include access to the bus system and an orientation film. Excluded are select walking tours, evening programs and special events requiring a separate admission. The Single-day Ticket is $40.99; $20.49 (ages 6-12). The Multiday Ticket (valid for 3 days through the end of the year) is $50.99; $25.49 (ages 6-12). The Sampler Ticket (includes admission to two trade shops, one family home and the Public Gaol) is $25.99; $12.49 (ages 6-12). The Art Museum Single-day Ticket is $12.99; $6.49 (ages 6-12).The annual pass (valid for 1 year from date of purchase) is $66.99; $33.49 (ages 6-12).
Note: It is a good idea to verify hours and admission fees in advance.
Further information about Colonial Williamsburg's points of interest can be obtained by contacting The Colonial Williamsburg Foundation; phone (888) 965-7254.
Things to Do Busch Gardens Williamsburg
Colonial Williamsburg Historic Area
The Abby Aldrich Rockefeller Folk Art Museum
Anderson's Blacksmith Shop & Public Armoury
Bruton Parish Episcopal Church
The DeWitt Wallace Decorative Arts Museum
The Original Ghosts of Williamsburg Candlelight Tour
Ripley's Believe It or Not! Odditorium
WINERIES Williamsburg Winery