Austin Nightlife Austin squeezes a surprising number of bars, lounges and places to eat into its compact and walkable downtown. Most feature live entertainment at some point during the week, while a few never take a night off. Musical styles on tap range from country and western to blues to rock to punk with just about everything in between. Austinites don't call their hometown the "Live Music Capital of the World" for nothing.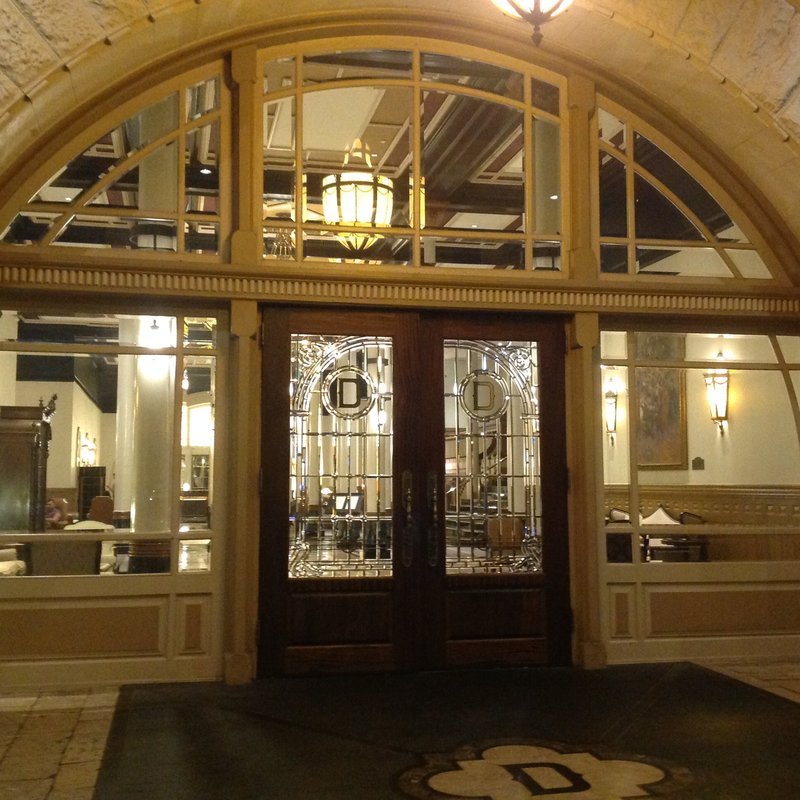 AAA/Inspector 591
You'll find the heaviest concentration of clubs, pubs and other fun places to go along 6th Street just east of Congress in the shadow of Austin's historic Driskill Hotel. The dignified destination with its solemn white-columned porticos and arched windows contrasts starkly with the raucous carnival atmosphere prevailing here. If the 6th Street crowds get too rowdy, The Driskill Bar (604 Brazos St.) inside the hotel is a nice retreat. Leather sofas, Texas décor and live music six nights per week create a cozy vibe.
Outside on 6th Street, amplified music blares from speakers while barkers stationed at each entrance call out to passersby, announcing the night's drink specials and featured acts. Walls of these 19th-century commercial buildings are typically brick and do nothing to dampen sound, which seems just fine with the throngs of revelers, who are for the most part under 30.
Legendary Venues
Maggie Mae's has been a 6th Street institution for more than 35 years, and with its decent cover bands and large beer selection, this rowdy hangout continues to draw hordes of both tourists and locals. And you don't have to leave the premises when you need a break: Maggie Mae's has a rooftop deck where you can have a conversation and enjoy a nice breeze. A long, narrow room at street level serves as the main performance space, but if that gets too crowded, you can step into the adjacent open-air courtyard and still hear the music; phone (512) 478-8541.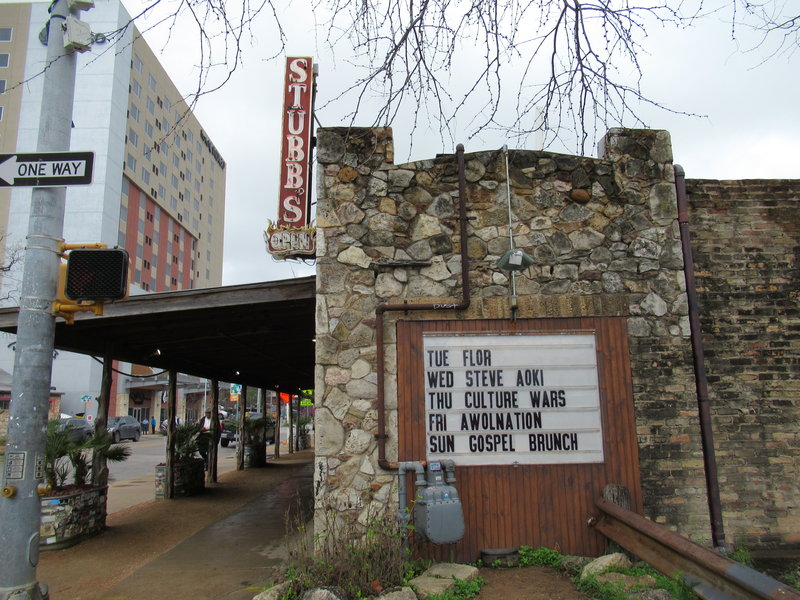 AAA/Laurie Sterbens
With its weathered brick, stone walls and venerable neon sign, Stubb's Bar-B-Q , 801 Red River St., looks every bit the Red River Street institution that it is. Stubb's books an impressive lineup of hip-hop, rock, alternative and country acts that travel from all over the country to play both its indoor stage and its popular outdoor amphitheater. Performers who have played Stubb's include Willie Nelson, Joan Jett, Death Cab for Cutie, Spoon, Dwight Yoakam and Ludacris. The barbecue served here gets rave reviews, and Stubb's combines a barbecue buffet with live music during its Sunday Gospel Brunch; phone (512) 480-8341.
Lower-Key Gatherings
Following 6th Street west across Congress Avenue brings you into the Warehouse District, distinguished by the stairs you'll have to climb as you navigate its sidewalks. It's easy to see that the raised entrances here once facilitated the unloading and loading of goods. The crowds here tend to be over 30 in contrast to the 6th Street and Red River districts, and restaurants are both more numerous and more upscale.
If the evening is mild and rain-free, visit Cedar Street Courtyard , 208 W. 4th St., a brick-paved space nestled between two buildings. Trees and vine-covered walls make this a pleasant, shaded niche during the day, and jazz bands provide entertainment on the courtyard stage. There's also an indoor area where patrons retreat during inclement weather and sample from among the bar's two dozen flavored martinis; phone (512) 495-9669.
Away From 6th Street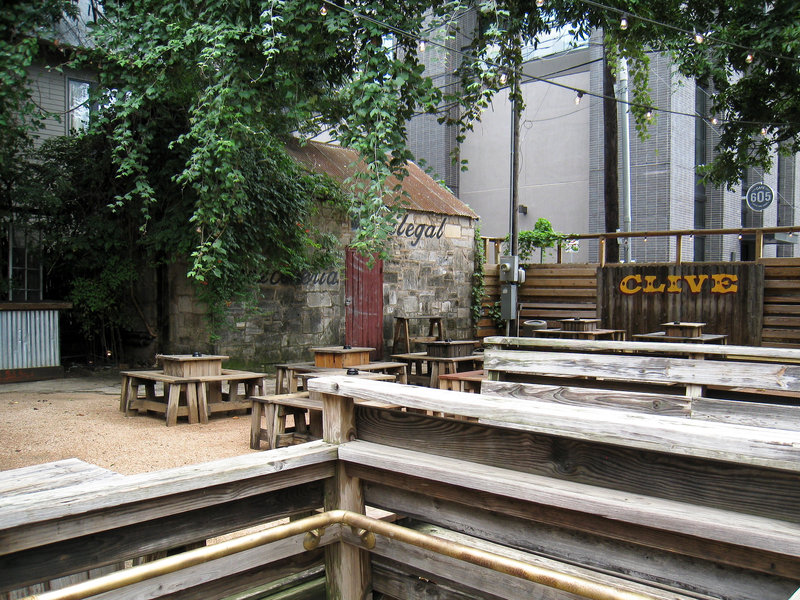 AAA/Katie Broome
Rainey Street—a mixed-use historic district sandwiched between I-35 and Lady Bird Lake on downtown's southeastern edge—has emerged as a favorite nightborhood for in-the-know Austinites. Dilapidated bungalows have been renovated into cozy, come-as-you-are bars with backyards, porches and a whole lot of character. Best-loved spots include Lucille Patio Lounge (77 Rainey St.), a dog-friendly bar with outdoor hammocks and games; Container Bar (90 Rainey St.), where patrons sip drinks in any of seven stacked shipping containers; and Clive Bar (609 Davis St.), whose dark wood paneling and white vinyl chairs help create a vintage vibe. Phone (512) 322-9270 for Lucille Patio Lounge, (512) 320-0820 for Container Bar and (512) 524-1623 for Clive Bar.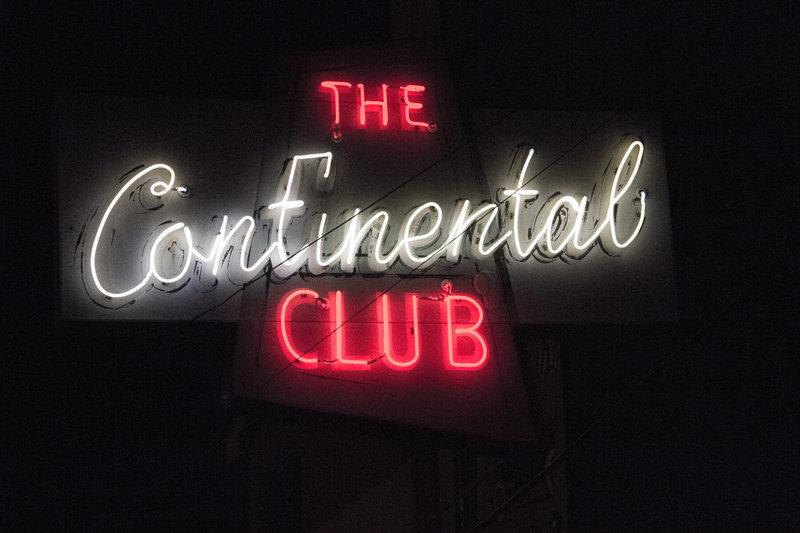 flickr/Ashton Brown
On the south side of Lady Bird Lake is the offbeat enclave centered around South Congress called, appropriately enough, SoCo. Better known for consignment shops, health food stores, local restaurants and folk art galleries, SoCo is where you'll also find The Continental Club , 1315 S. Congress Ave., another bright star in Austin's constellation of live music locales. This intimate establishment opened as a supper club in 1957, but since the 1970s its red-velvet curtained stage has seen all manner of country, rock, rockabilly and swing bands; phone (512) 441-2444.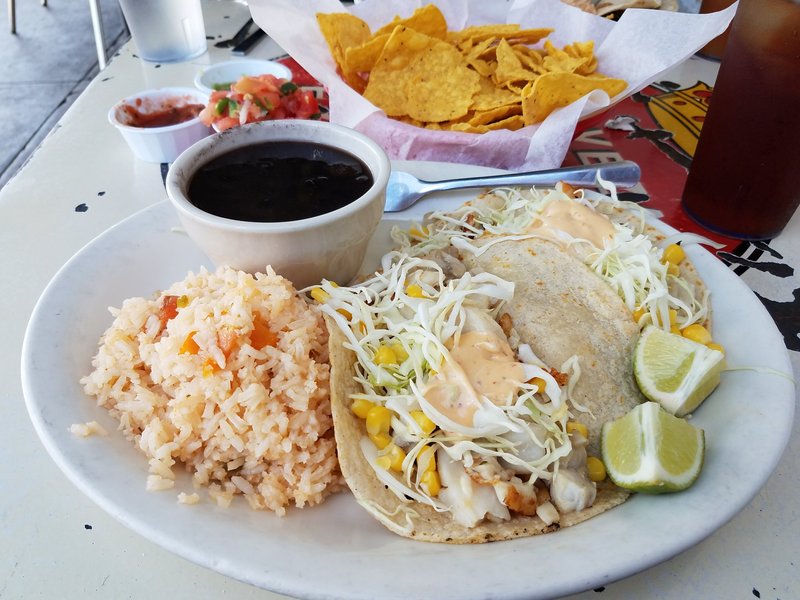 AAA/Laurie Sterbens
Just a little ways down the road and across the street is Güero's Taco Bar, 1412 S. Congress Ave. Not only is Güero's a fun spot to people watch while enjoying Tex-Mex cuisine that includes a salsa bar, fresh-made tortillas and savory fish tacos, but the restaurant's oak-shaded, picnic-table-filled outdoor area is the scene of concerts Wednesday through Sunday, too; phone (512) 447-7688.
The restaurant and music venue at 6416 N. Lamar Blvd.—Threadgill's—pays tribute to two legendary sites from Austin's music history. In the 1930s, Kenneth Threadgill opened a bar in his gas station just north of the city limits, and musicians came from all over for the beer and late-night jam sessions until it closed in the 1970s; phone (512) 451-5440.
Edgy live music can be found at Emo's Austin , 2015 E. Riverside Dr., which is open to all ages. Since the club has a reputation for cheap beer and the latest and greatest punk and alternative bands, the average age at Emo's skews toward the early 20s. Recently, Emo's has hosted such acts as The Airborne Toxic Event, ZZ Ward and Ani DiFranco; phone (888) 512-7469.
Get the Blues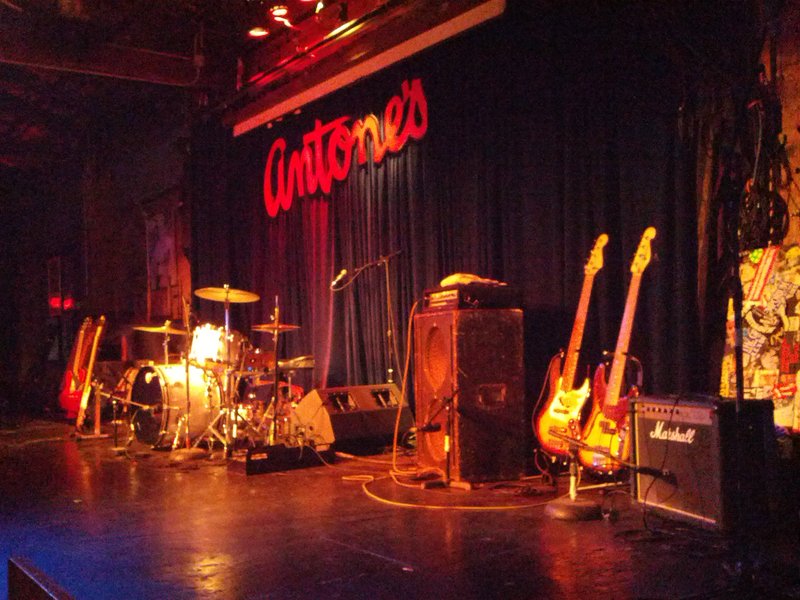 flickr/Mike Prosser
The legendary Antone's is the kind of no-frills place where drinks are served in plastic cups and concert posters and autographed photos serve as interior decor. Ever since Antone's was founded in 1975 by the late Clifford Antone, this club has been all about the music. Known for showcasing acts throughout the week, Austin's "Home of the Blues" has hosted blues greats Muddy Waters, John Lee Hooker, Fats Domino, Buddy Guy, Junior Wells and B.B. King as well as lesser known and local talents. The club closed its location on E. Riverside Dr. and reopened in early 2016 at 305 E. 5th St. in the two-story Maxey Glass Company building; phone (512) 814-0361.
Learn to Line Dance
Courtesy of Nashville Convention & Visitors Corporation
You could easily miss the Broken Spoke at 3201 S. Lamar Blvd., which looks more like a rural grocery and feed store than one of Austin's—and indeed Texas's—best-known country music dance halls. A gravel parking lot, an old oil pump jack and a rusty vintage streamline bus advertising Lone Star beer greet visitors to this decidedly unpretentious honky-tonk. Yet despite the humble setting, a sign at the entrance proudly declares, "Through this door pass the best country music dancers in the world." You can even learn to two-step and do the cotton-eyed joe on Wednesday through Saturday nights. If you're wondering what to eat, the restaurant in front serves diner fare, including deliciously juicy hamburgers, and a couple of small rooms have been given over to mementos—concert posters, signed photos, album covers and sundry other items—representing the Broken Spoke's 40-plus years as a music venue. Of course, the country music tradition continues with bands scheduled every Tuesday through Saturday nights; phone (512) 442-6189.