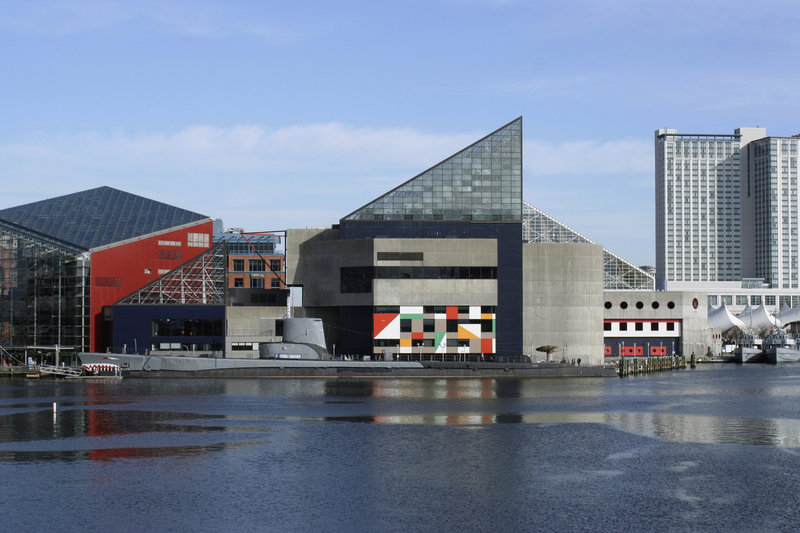 bouillabaisse/iStockphoto.com
A relaxed vibe permeates Baltimore, attracting millions of travelers each year to this charming destination overflowing with culture, crabs and historical treasures—from waterfront communities to harbors to a myriad of attractions, inviting hotels and delectable local restaurants.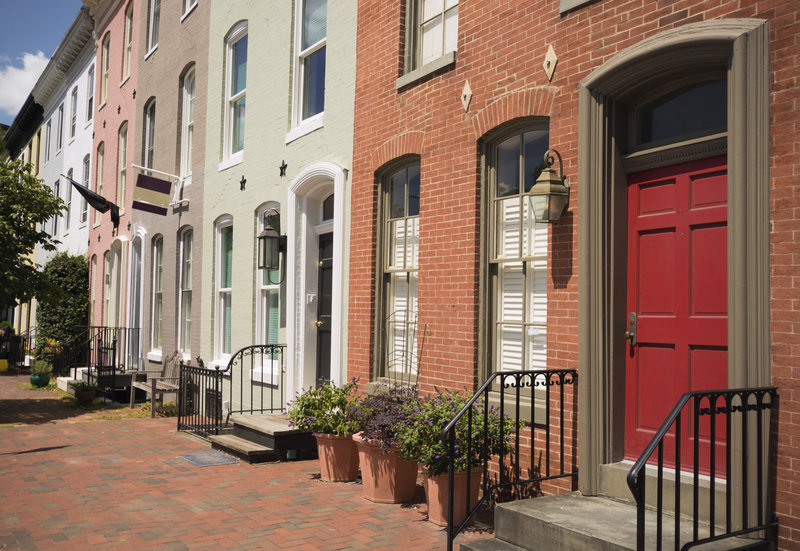 gregobagel/iStockphoto.com
While exploring Baltimore, stroll through the different neighborhoods including the Inner Harbor district—a scenic waterfront that's home to dozens of retail shops, places to eat and museums. Other jaunts include Little Italy, a restaurant enclave where you'll smell enticing aromas.
flickr/Something Ferdinand
The Westside's African-American culture flourishes with shops, entertainment and fun things to do. Cab Calloway, Louis Armstrong and Nat King Cole performed in Westside nightclubs during jazz music's heyday. Experience an eclectic atmosphere of urban hipsters and trendy boutiques in the old mill town of Hampden, made famous by filmmaker and neighborhood native John Waters.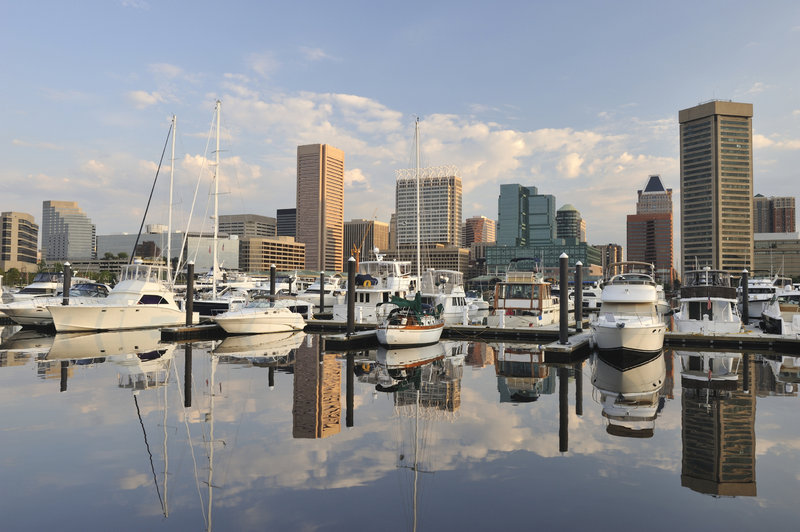 aimintang/iStockphoto.com
Discover Baltimore's British ancestry in Fell's Point. The area is named after English Quaker William Fell who founded a ship building company here in 1726. Cobblestone streets lead the way to 18th- and 19th-century homes, antique stores, pubs and Chesapeake Bay cuisine. Fell's Point also has a bohemian ambience comparable to Greenwich Village in New York or Georgetown in Washington, D.C. The history-haven path continues as you travel through Federal Hill, Mount Vernon and Canton.
A History Filled with Firsts
Idiosyncratic is not usually a word used to describe a city's essence, but in Baltimore's case it fits. And while Maryland's largest city might sometimes seem overshadowed by the political power center that is nearby Washington, D.C., it has a history filled with firsts.
Take the Mount Clare Station at W. Pratt and Poppleton streets. It was the starting point for the nation's first railroad, the Baltimore & Ohio, as well as its first freight and passenger station. The first public message transmitted via the Samuel F.B. Morse-developed electric telegraph was sent from the Supreme Court Chamber in the U.S. Capitol to a B&O Railroad depot (now the Baltimore & Ohio Railroad Museum) in 1844. The famous message—"What hath God wrought?"—was a reference to the nomination of Henry Clay for president by the Whig Party.
The oldest Catholic cathedral in the United States, the Basilica of the National Shrine of the Assumption of the Blessed Virgin Mary, is at Mulberry and Cathedral streets. And the Washington Monument (located, appropriately enough, in the Mount Vernon neighborhood), predates the memorial to the Father of Our Country in the nation's capital. At a height of 178 feet, it's dwarfed by D.C.'s iconic obelisk—but it was completed in 1829, an impressive 55 years before the capstone for the other Washington Monument was set in place.
Baltimore was founded in 1729 as a port on the Patapsco River, an arm of Chesapeake Bay. Although instrumental in events leading up to the American Revolution, it played an even bigger role during the War of 1812. U.S. forces from nearby Fort McHenry successfully defended the city after it was attacked by the British in 1814; Francis Scott Key, a Maryland lawyer, wrote the poem "The Star-Spangled Banner" after witnessing the bombardment. It was later set to music and became our official national anthem in 1931.
In 2012 the city celebrated the commemoration of the War of 1812 bicentennial with a 3-year-long event that included a weeklong party of visiting tall ships from around the world, fireworks over Fort McHenry National Monument and Historic Shrine, and historically themed celebrations, most of which took place around the Inner Harbor.
And what better location for a party? A shiny example of urban renewal, the Inner Harbor is filled with fun places to go and is where Baltimoreans and tourists alike hang out. From historic ships and sightseeing cruises to seafood restaurants, from waterfront promenades and souvenir shopping to crowd-pleasing attractions like the National Aquarium and the Maryland Science Center, it's a good time set against an appropriately nautical backdrop. The harbor bustles with pleasure craft, but the presence of giant tankers and freighters is a reminder that Baltimore also is one of the country's top twenty commercial ports.
Just a stone's throw from the Inner Harbor is Fell's Point, another tourist magnet. Fell's Point shipyards built hundreds of schooners in the years prior to the Civil War. These days the neighborhood of cobblestone streets and restored row houses is better known for its specialty shops and laid-back pubs.
With some 200 separate neighborhoods, Charm City is as eclectic as you might expect. (The nickname was not, as is often thought, coined by journalist, satirist and native son H.L. Mencken, but resulted from a 1970s ad agency brainstorming session to promote the city's, well, charms.) Filmmakers like John Waters and Barry Levinson—both natives—celebrate the city in movies as diverse as "Pink Flamingos" and "Hairspray," "Diner" and "Tin Men." The local charm, and a healthy dose of city pride, is on full display at HonFest, an extremely popular annual festival that takes place in the old-style Baltimore neighborhood of Hampden.
So get out and explore. It's Bawlmer, hon!
By Car
A network of superhighways makes Baltimore easily accessible from all directions. From the south the main approach is I-95, with access to the downtown area via I-395 and the Baltimore-Washington Parkway. Traffic from the west approaches downtown via I-70 and US 40.
Access from the north is via I-83, while traffic from the northeast arrives on I-95. The Baltimore Beltway (I-695); the four-lane Harbor Tunnel Thruway (I-895), a toll road; and the Fort McHenry Tunnel (I-95), also a toll road, combine to provide a complete bypass of the city.
Air Travel
Baltimore/Washington International Thurgood Marshall Airport (BWI), about 10 miles south of downtown, is reached via I-195 off I-95 or SR 295 (Baltimore-Washington Parkway). Check with your local AAA travel advisor for help finding cheap airline flights to Baltimore. Taxi fare to downtown is $5.15 for the first mile and $2.50 for each additional mile; phone (410) 859-1100. The Airport Shuttle providing service to downtown hotels is about $27-$40 for the first passenger and $11 per additional passenger; phone (800) 776-0323 or (410) 381-2772. Additionally, the SuperShuttle provides service to most local addresses. Rates vary by location; phone (800) 258-3826. Private limousine service to downtown hotels is $81.90 including gratuity for sedans (1-4 people). Larger vehicles are also available; phone (301) 231-6555.
Light rail trains depart BWI Terminal E and make numerous stops downtown; travel time is about 20 minutes. One-way fare is $1.80 per adult. Amtrak and MARC commuter trains stop at the BWI Rail Station located about 1 mile from the airport. Free shuttle buses connect the two.
Street System
Charles/St. Paul Street separates east and west Baltimore; Baltimore Street divides the city's north and south sections. Numbered streets run east and west. Except for Eutaw Street, most downtown streets are one way.
The city speed limit for most areas is 30 mph, or as posted. Rush hours are from about 7:30 to 9 a.m. and from about 4 to 6 p.m. Avoid driving during rush hours if possible. A right turn on red is permitted, unless otherwise posted.
Parking
Parking on the street is controlled by meter. Many municipal metered parking lots are in and near downtown. Rates at the numerous commercial lots and garages average $3-$7 an hour.
Public Transportation
Baltimore's public transportation consists of buses, a metro subway, light rail and MARC commuter trains. Buses cover most of the city while the trains connect downtown with many surrounding areas. The one-way fare for bus, metro subway and light rail is $1.80, with an additional 50c for express bus routes. Exact fare is required, and the fare box accepts only dollar bills and tokens. Bus and train schedules vary depending on the route and day of the week; some trains operate on weekends. MARC trains do not operate most holidays. A $4.20 unlimited-use day pass is good on the bus, subway and light rail systems. MARC train fares range from $5-$17 depending on the distance. Discounts are available for senior citizens, passengers with disabilities, children and regular commuters. The MTA Visitors Ride Guide provides information about the systems. For additional information, phone (410) 539-5000, (866) 743-3682 or TTY (410) 539-3497.
Free, energy-efficient Charm City Circulator buses travel four routes through downtown Baltimore. The Orange Route runs along east-west Lombard and Pratt streets between Little Italy and the Hollins Market. The Purple Route runs from Charles Village to the Penn Station MARC station south through Mount Vernon and downtown to Federal Hill. The Green Route covers the eastern side of the city, including Fell's Point, Johns Hopkins University and City Hall. The Banner Route connects the Inner Harbor with Fort McHenry. Buses operate Mon.-Thurs. 7 a.m.-8 p.m., Fri. 7 a.m.-midnight, Sat. 9 a.m.-midnight, Sun. 9-8. Phone (410) 350-0456 for additional information.
The Baltimore Metro subway system runs from downtown at Johns Hopkins Hospital northwest to Owings Mills Station at I-795 and Painters Mill Road with 14 intermediate stations. Free parking is available at some of the stations. The system operates Mon.-Fri. 5 a.m.-midnight and Sat.-Sun. and holidays 6 a.m.-midnight.
Light RailLink service runs between Hunt Valley and Glen Burnie, with spur lines serving Baltimore/Washington International Thurgood Marshall Airport and Penn Station. There are 33 intermediate stops, and parking is available at some of the stations. Trains operate Mon.-Fri. 5 a.m.-midnight, Sat. 6 a.m.-midnight and Sun. and holidays 11 a.m.-7 p.m.
Sales Tax
Maryland's statewide sales tax is 6 percent. Baltimore has a 7.5 percent lodging tax; an 11.5 percent tax is levied on automobile rentals.
Police (non-emergency)
311 or (443) 263-2220
Temperature
(410) 235-1212
Hospitals
Greater Baltimore Medical Center, (443) 849-2000; Johns Hopkins Hospital, (410) 955-5000; MedStar Franklin Square Medical Center, (443) 777-7000; Sinai Hospital of Baltimore, (410) 601-9000; University of Maryland Medical Center, (410) 328-8667; University of Maryland Medical Center Midtown Campus, (410) 225-8000.
Monthly Baltimore magazine lists dining, entertainment and events information.
Air Travel
Baltimore/Washington International Thurgood Marshall Airport (BWI), about 10 miles south of downtown, is reached via I-195 off I-95 or SR 295 (Baltimore-Washington Parkway).
Rental Cars
Numerous automobile rental agencies maintain offices at the airport and downtown. Hertz, (410) 850-7400 or (800) 654-3080, offers discounts to AAA members.
Rail Service
Baltimore Penn Station is at 1500 N. Charles St., between Oliver and Lanvale streets. Baltimore is situated on seven Amtrak routes, including the Acela Express to New York City and Boston; phone Amtrak, (800) 872-7245.
Buses
The Greyhound Lines Inc. terminal is at 2110 Haines St.; phone (410) 752-7682 or (800) 231-2222. Megabus offers service from the southern side of the White Marsh Mall parking lot, adjacent to Honeygo Boulevard; phone (877) 462-6342. (New York service is from the south side of the White Marsh Park & Ride lot.) BoltBus offers service from 1578 Maryland Ave.; phone (877) 265-8287.
Taxis
Taxis are metered. The base fare is $1.80, $2.20 for each additional mile and 20c each 30 seconds of waiting time. A 50c surcharge is added for trips between 9 p.m. and 5 a.m. An additional 30c-per-mile surcharge is added for trips beyond Baltimore. Among the larger cab companies are Diamond, (410) 947-3333; Sun, (410) 235-0300; and Yellow Cab, (410) 685-1212.
Public Transportation
Baltimore's public transportation consists of buses, a subway system, light rail and MARC commuter trains.
Boats
Water taxis are available at the Inner Harbor.
What to Do in Baltimore
Many of the works by largely self-taught artists at the
American Visionary Art Museum
(800 Key Hwy.) are quite amazing: Just get a load of the throne constructed primarily from flattened bottle caps or the robot family fashioned from recycled junkyard scraps. It brims with eclectic, quirky and wildly creative art.
Are Old Masters more your taste?
The Walters Art Museum
(600 N. Charles St.), Baltimore's more traditional art museum, is also a must. It's home to thousands of works, including old manuscripts, arms and armor, paintings, sculpture and furniture.
Meet the fascinating animals that live at the
National Aquarium
(501 E. Pratt St.). Sharks, rays, caimans, puffins, eels, dolphins, turtles, cowfish, blue blubber jellies—they all swim, skitter and pulsate in habitats that allow you to observe their world up close and personal.
Baltimore has a rich nautical heritage, and nowhere is it on more exhilarating display than at the Inner Harbor. Tour one of the
Historic Ships in Baltimore
(301 E. Pratt St.) docked at Piers 1, 3 and 5; the USS Constellation, launched in 1854, is the only remaining vessel still afloat that served during the Civil War. Water taxis connect things to do in the Inner Harbor's points of interest; the boats are a relaxing way to view downtown from a watery vantage point.
Take a nostalgic trip through American pop culture history at
Geppi's Entertainment Museum
(301 W. Camden St.). The myriad toys, dolls, games and comics on display will have you exclaiming "I remember that!" repeatedly. And don't miss the Baltimore Heroes exhibit, a salute to Charm City's cultural contributions.
Give a salute to Francis Scott Key at Fort McHenry National Monument and Historic Shrine (Fort Ave. & Lawrence St.). Key penned the poem that was to become America's national anthem during the bombardment of Fort McHenry by the British during the War of 1812. A replica of the nation's "star-spangled banner" flies 24 hours daily.
Pay homage to "The Sultan of Swat" at the
Babe Ruth Birthplace Museum
(216 Emory St.). The native Baltimorean and legendary 1920s New York Yankees slugger was one of the first players inducted into the National Baseball Hall of Fame.
Fell's Point (adjacent to the harbor), one of the country's oldest maritime communities, is where many of the lightning-quick Baltimore schooner ships that played a pivotal role in the War of 1812 were built. These days wander quaint cobblestone streets, do a little shopping and then hoist a pint at one of several friendly pubs.
The 40-acre
Baltimore & Ohio Railroad Museum
(901 W. Pratt St.) campus of "America's first railroad" features almost 200 examples of locomotives and rolling stock as well as a treasure trove of timepieces, tools, uniforms and other railroading artifacts. It's a great destination for railroad buffs.
The Baltimore Farmers Market & Bazaar (Holliday and Saratoga streets) has a novel location: under the I-83 freeway. A Sunday morning tradition for many city residents, it's open mid-April to mid-December and is a special treat in the summertime, when tables overflow with fresh, locally grown fruits and veggies.
Historic landmark Bengies Drive-In Theatre (3417 Eastern Blvd.) has been a favorite of area film aficionados since 1956, and what's not to love? You'll see up to three first-run films for the price of one at a stadium seat multiplex, and the snack bar has everything from tubs of popcorn to cheeseburgers.
Wondering what to do on a Baltimore vacation if you're a sports fan?
Oriole Park at Camden Yards Tours
(333 W. Camden St.) will show you behind-the-scenes areas like the Orioles dugout, the press area and the scoreboard control room. The stadium is located in the heart of downtown Baltimore and was one of the first 1990s ballparks to open with a fan-friendly "retro" design.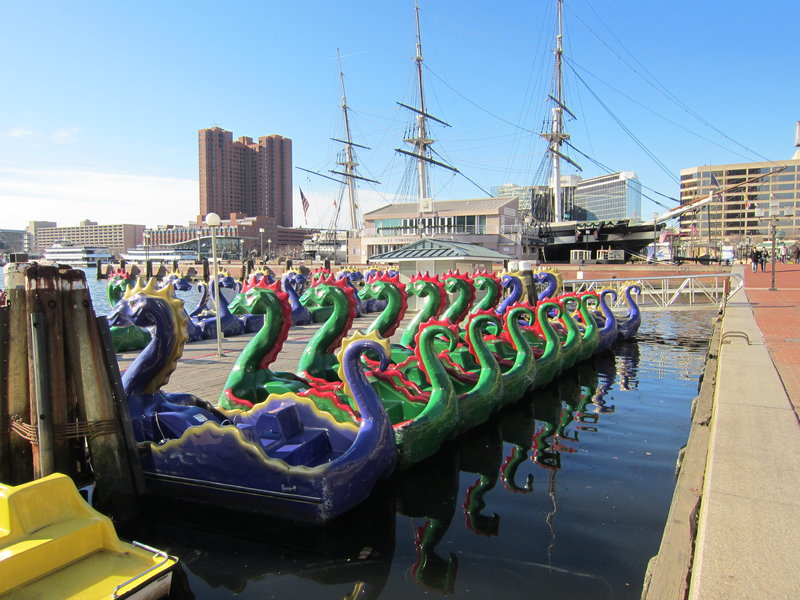 Baltimore Travel with Kids
Under 13
At the
National Aquarium
(501 E. Pratt St.), kids will love the Children's Discovery Gallery on the upper level of the Pier 4 Pavilion. Another highlight is Dolphin Discovery, where Atlantic bottlenose dolphins captivate visitors. The dolphins always draw a crowd but you can stop in as many times as you like. (Tip for parents: Strollers are not allowed inside the aquarium.)
The interactive Children's Zoo at
The Maryland Zoo in Baltimore
(Druid Park Lake Dr. & Gwynns Falls Pkwy.), in
Druid Hill Park
, offers activities, animal encounters and playgrounds just for youngsters. And don't miss Penguin Coast, home to a colony of more than 60 African penguins. The medium-size, flightless birds live in a natural environment that imitates their South African habitat.
Ripley's Believe It or Not! Odditorium
(301 Light St.) is a cool place to explore. The interactive displays feature optical illusions, puzzles, a giant kaleidoscope and a state-of-the-art 4-D Moving Theater.
Teens
There's plenty to see at the
American Visionary Art Museum
(800 Key Hwy.), but our fave is undoubtedly "Whirligig"—a 55-foot-tall, multicolored wind-powered sculptural landmark. This is no run-of-the-mill museum; many of the diverse works on display are by "visionary artists" usually without formal training and often self-taught. Don't leave without visiting Sideshow; the museum gift shop is packed with kitschy and nostalgic items like retro magic kits, plastic army men, sock monkeys and wax lips.
In addition to savoring mouth-watering American cuisine at the
Hard Rock Cafe
(601 E. Pratt St.), teenagers will enjoy immersing themselves in rock history. The collection includes memorabilia from such rock legends as The Beatles, the Grateful Dead and Pink Floyd, and of course there is a display for the King of Rock 'n' Roll—Elvis Presley. Be sure to visit the Rock Shop for limited-edition merchandise.
Teens could spend all day wandering around the Inner Harbor trying the many offerings of tasty junk food. For a break from noshing, however, they'll enjoy a trip to the
Top of the World Observation Level
(401 E. Pratt St.). Big windows offer panoramic views of the harbor and downtown Baltimore that are cool enough to commemorate using their iPhone.
Deciding on places to eat can really be a dilemma in Baltimore. For a homey atmosphere and excellent Italian food, try
Amicci's
(231 S High St.) in the heart of Little Italy. Then stop at Vaccaro's Italian Pastry Shop (222 Albemarle St.) for cannoli, gelato and tiramisu to go.
Francis Scott Key penned "The Star-Spangled Banner" after Fort McHenry survived bombardment by British forces all night. The next morning he saw his country's flag was still flying. Take your family on a self-guiding tour of Fort McHenry National Monument and Historic Shrine (Fort Ave. & Lawrence St.). See the barracks, uniform and weapons displays, a powder magazine and the 1814 guard house.
The
Preakness Stakes
, the second jewel of horse racing's Triple Crown, runs the third Saturday in May at Pimlico Race Course (5201 Park Heights Ave.). Musical concerts, the Frog Hop race, the Crab Derby and hot air balloon launches are among the fun things to do during the
Preakness Celebration
(various locations) held the week before the race.
The second weekend in June brings
HonFest
(1002 W. 36th St.), which gets its name from "hon," short for honey, an endearment used by many Baltimore women. Fashion-forward kids will be surprised to see women rocking beehive hairdos, bright-blue eye shadow, spandex pants and leopard prints!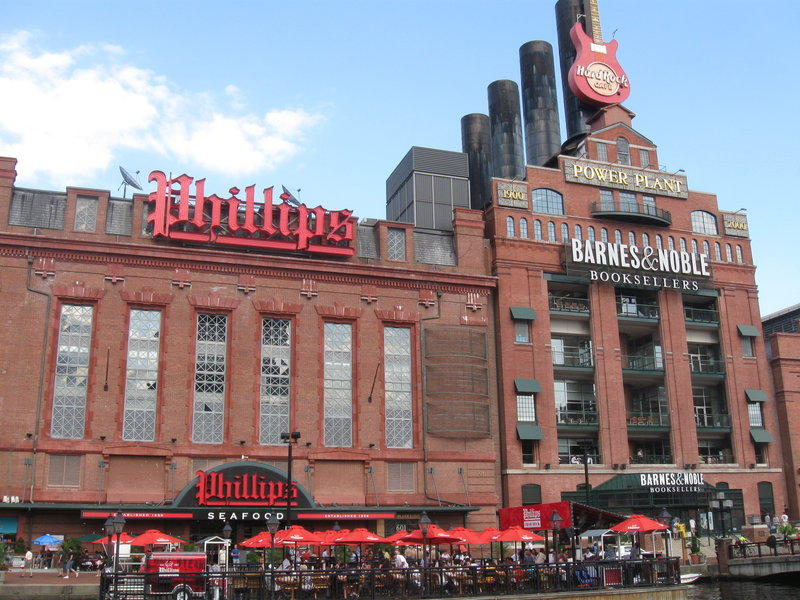 Shopping in Baltimore
Find Must-Have Souvenirs Near the Harbor
The Inner Harbor is tourist central, so if you're looking for a Charm City souvenir it's the place to go. Light Street Pavilion (301 Light St. at Pier 1) is a family-friendly collection of souvenir shops, casual places to eat and an H&M store.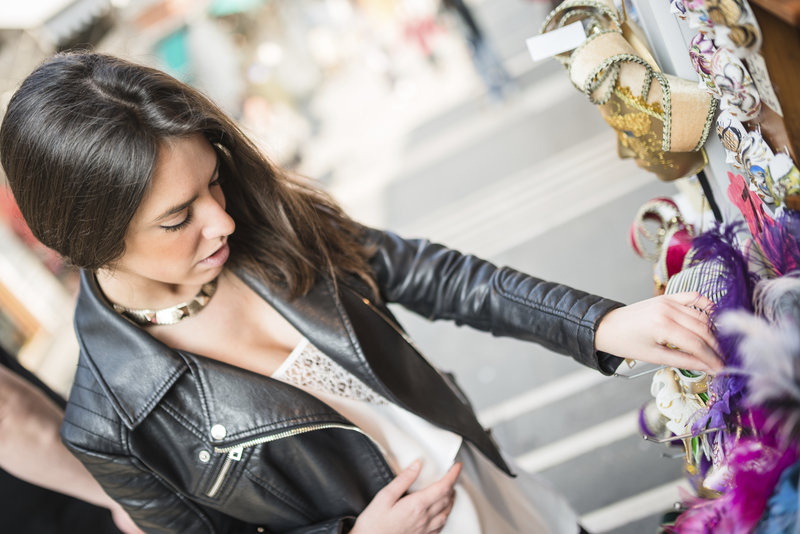 iStockphoto.com/franckreporter
Shops in the two-level Pratt Street Pavilion (201 E. Pratt St. at Pier 1) include Banana Republic and Life in Charm City , where you'll find crab-themed memorabilia like crab cookbooks, crab cakes mixes, "Don't Bother Me I'm Crabby" coffee mugs and—of course—tins of Old Bay seasoning, which has been manufactured in the city for more than 75 years.
An overhead skywalk across Pratt Street connects Pratt Street Pavilion to The Gallery at Harborplace (200 E. Pratt St.), a mall with three floors of retailers like Forever 21, francesca's, Gap and Victoria's Secret.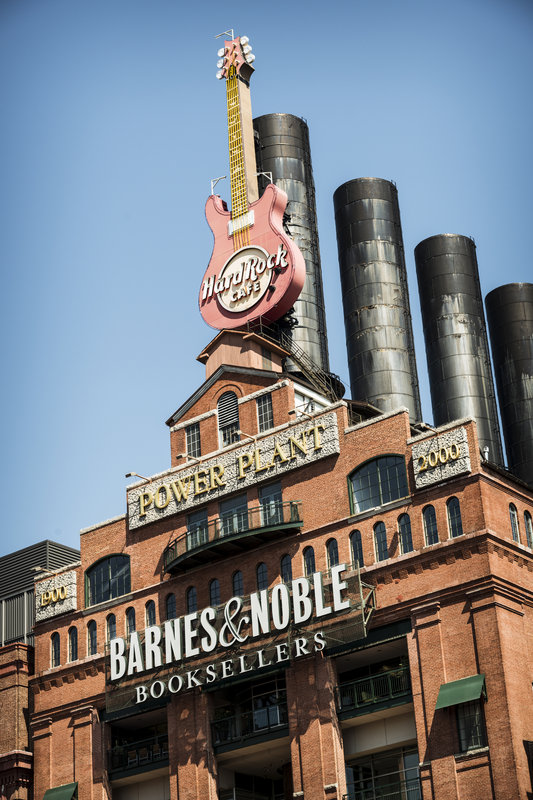 iStockphoto.com/1MoreCreative
Check out the rock 'n roll merchandise at the Hard Rock Cafe Baltimore (601 E. Pratt St. at Pier 4), located in the Power Plant Building. This massive complex of three brick structures was built in the first decade of the 20th century and once provided the power for Baltimore's electric streetcar system.
More Deals to be Found in Fell's Point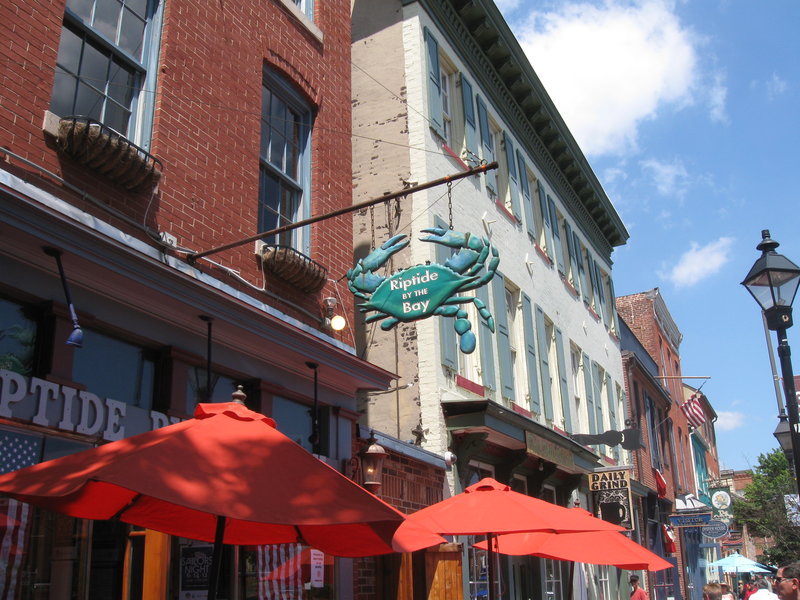 Funky, fun Fell's Point is a great place to spend an afternoon poking around for that one must-have treasure. Specialty shops line Broadway as well as Aliceanna, Lancaster and Thames streets.
Sheep's Clothing (1620 Shakespeare St.) is another little shop that sells casual clothing, wool sweaters, tweed caps and handmade soaps.
A number of Fell's Point shops cluster around Market Square. If you're looking for a cool new chapeau, check out Hats in the Belfry (813A S. Broadway). Top hats, fedoras, skull caps, pith helmets—this place has them all. At Emporium Collagia (1732 Thames St.) you'll find candles, scarves, glassware and shop owner Luana Kauffman's lovely collage art. Zelda Zen (1634 Thames St.) offers gifts for every occasion, from scented candles to jewelry to artwork.
Browse the Shops in Federal Hill
Federal Hill, just south of the Inner Harbor, is another historic neighborhood suitable for strolling. Wander up and down Charles, Light and Cross streets, all three lined with shops and eateries. Vanessa's Vintage Treasures (1132 S. Charles St.) offers a bevy of kitschy kitchen items, Victorian-style clothing, vases and cute little planters.
At Cross and Light streets in the heart of Federal Hill is the Cross Street Market , something of a neighborhood institution. The long, rectangular building is mostly a procession of eateries (think Philly cheesesteaks, hot corned beef sandwiches and Baltimore barbecue), with a couple of seafood, butcher, produce and flower vendors along the way. At Steve's Lunch you can pick up a bag of crab-flavored Utz potato chips, a Baltimore favorite.
Trendy Shopping in Harbor East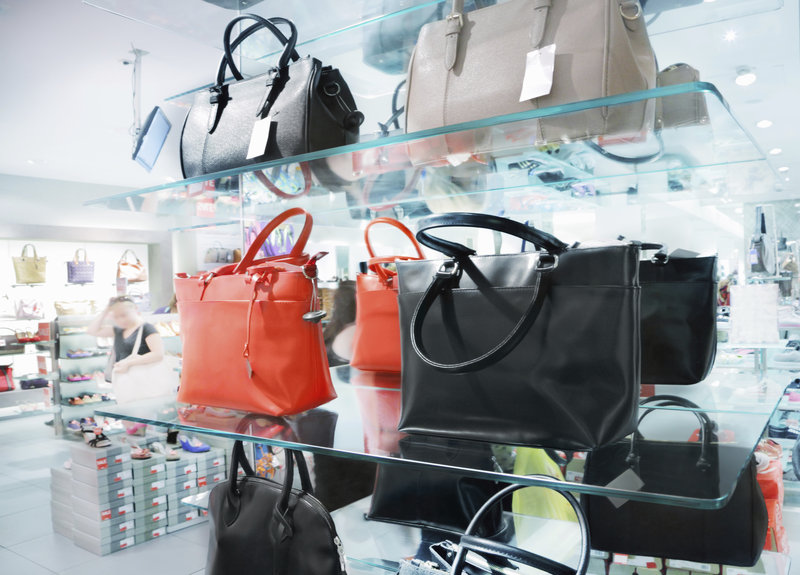 Harbor East, centered at the intersection of S. President and Aliceanna streets on the Inner Harbor, isn't a neighborhood so much as an assemblage of high-end retailers, local restaurants and specialty boutiques like Amaryllis Handcrafted Jewelry (830 Aliceanna St.), J.Crew (120 International Dr.), Madewell (811 Aliceanna St.) and Under Armour Brand House (700 S. President St.). In addition to its namesake item, Handbags in the City (840 Aliceanna St.) carries fashionable women's apparel.
Go Off the Beaten Path at One of Baltimore's Food Markets
Baltimore's city markets reflect a bygone era when these businesses served their immediate neighborhoods, selling produce from nearby farms, freshly butchered meat and seafood hauled in from Chesapeake Bay. Lexington Market (400 W. Lexington St.) has been in operation in one form or another since 1782. It's not only a place where locals regularly shop but also quite the experience for visitors who want to get away from the touristy Inner Harbor and explore a different side of the city on their vacation. Baltimore's largest market extends along Lexington, Eutaw, Paca, Saratoga and Green streets.
Loud, hectic, crowded and filled with competing aromas, this is a place that certainly assails the senses. Stalls offer produce, fresh meat and fish, baked goods, candy and an impressive array of prepared foods. Delis and Chinese takeout places abound, along with sausage, fried chicken and raw oyster stands. Aficionados will tell you that the crab cakes at Faidley's Seafood (in the rear of the market building) and the cookies from Bergers Bakery (in the food court) are worth the trek.
Note: Lexington Market is open Mon.-Sat. 8:30-6. About five blocks north of Pratt Street and five blocks west of Light Street, the market is a 20- to 30-minute walk from the Inner Harbor but in a decidedly gritty part of downtown, and unless you're familiar with the city it's advisable to drive or take public transportation. Free parking is available in the garage adjacent to the market; Metro subway and bus stops are across from the Eutaw Street market entrance. For mass transit information phone (410) 539-5000 or (866) 743-3682; for market information phone (410) 685-6169.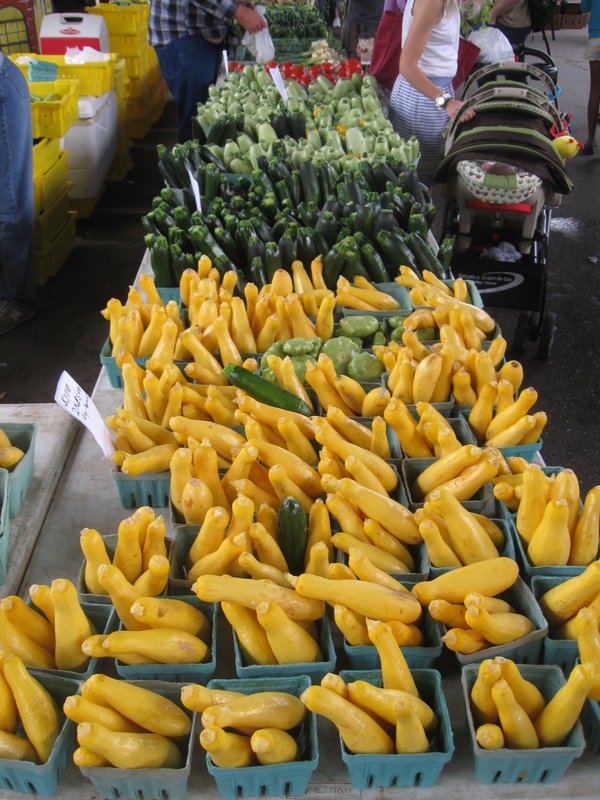 The Baltimore Farmers Market & Bazaar sets up under the Jones Falls Expressway (I-83) at Holliday and Saratoga streets (5 blocks north of the Inner Harbor via Gay or Commerce streets, about a 20-minute walk). The location is novel: Murals painted on the massive concrete bridge supports depict figures from jazz musician Charlie Parker to Mayan gods, and traffic rumbles overhead. But you'll barely notice that as you wander past the maze of vendors selling farm-fresh, seasonal fruits and veggies, seafood, Harford County cheeses, herbs, flowers and houseplants. Local businesses like Zeke's Coffee and Uptown Bakers also sell their wares here.
Food vendors whip up everything from falafel wraps to Cajun breakfast sandwiches. At the bazaar, adjacent to the market, you can buy incense, rugs, handbags and hair accessories and peruse all sorts of handicrafts. Street musicians and entertainers add to the overall festive vibe. The market is open Sunday mornings from 7 until noon, mid-April to mid-December; the Sunday before Thanksgiving is the busiest day of the year. Phone (410) 752-8632 for market information.
Hunt for Treasures on Antique Row
Serious antique collectors should definitely pay a visit to Antique Row, in the 800 block of Howard Street (north of downtown in the Mount Vernon neighborhood). Housed inside a 10,000-square-foot former bank building, the Antique Row Stalls display high-quality furniture, paintings, sculpture and decorative objects. Dubey's Art & Antiques (807 N. Howard St.) is the place to go if you're searching for Chinese export porcelain, English, European and Japanese ceramics, antique furniture and fine art.
Shopping Destinations Outside Downtown
The Village of Cross Keys (in the northern part of the city at 5100 Falls Rd., between Northern Parkway and Cold Spring Lane) is a complex of shops and restaurants in a garden-like setting. Chain retailers (Talbots, Williams-Sonoma) are augmented by specialty stores like Pied Piper that carries kids' clothes.
Two shopping destinations are a bit farther afield. Mount Washington Village Shops (1601 Sulgrave Ave., just outside the northern city limits via I-83 to Northern Parkway—exit 10A—then north on Falls Road to Kelly Avenue with entrances into the village off Kelly and Sulgrave avenues). The setting for this collection of specialty shops and boutiques is a delightful alternative to city bustle: trees, hills and a gentle stream. Something Else (1611 Sulgrave Ave.) has casual women's T-shirts, hats and dresses. O'Malley Antiques (1501 Sulgrave Ave.) is a treasure trove of fine furniture, oil paintings, mirrors, clocks, estate rugs and old books. Glarus Chocolatier (just north at 2046 York Rd. in Timonium), is a Swiss chocolate company.
Plan a day trip to Historic Savage Mill (about 20 miles southwest of the city in Savage; from downtown Baltimore, take I-95 to exit 41 A-B, then take SR 175 south to 8600 Foundry St.). This former mill, founded in 1822, produced woven canvas, primarily to fashion sails for the clipper ships that sailed in and out of Baltimore Harbor but also used to make tents, cots and cannon covers.
Now the mill is a specialty marketplace with about 35 shops, many located in the restored Old Weave Building. Browse for jewelry, glass and ceramics (Artcraft), gifts and home accessories (Lucy and Ethel's), women's casual clothing (Charity's Closet), and furniture and military memorabilia (The Antique Center). You also can observe artists at work. Phone (410) 792-2820 for more information.
The Art Gallery of Fells Point on the Avenue (825 W. 36th St.) in the Hampden neighborhood functions as a Maryland artists' cooperative. Chat with one of the artists before perusing exhibits of paintings, sculpture, jewelry and photography, which change monthly.
Where to Find Baltimore Malls
JCPenney, Macy's and Sears are the anchor stores at White Marsh Mall , just north of the city off I-95 exit 67 at 8200 Perry Hall Blvd. Other area malls include Eastpoint Mall , I-695 exit 38W at 7839 Eastpoint Mall; Security Square , I-695 exit 17 to 6901 Security Blvd.; and Towson Town Center , 825 Dulaney Valley Rd. in Towson. Bargain hunters will find Banana Republic, Guess and Nike factory stores, Saks Fifth Avenue Off 5th and plenty of other options at Arundel Mills , 7000 Arundel Mills Cir. in Hanover (10 miles south of Baltimore); take the Baltimore Washington Parkway to SR 100 East, exit 10.
Baltimore Nightlife
What to Do Near the Inner Harbor and Fell's Point
With a variety of venues and a visible security presence, the Inner Harbor is a safe bet if you're looking for things to do in Baltimore after dark. Bands often play on a stage in the dockside seating area at the Hard Rock Cafe Baltimore, at Pier 4.
Popular performers pepper the summer concert schedule at Pier Six Pavilion (731 Eastern Ave.), where the waterfront backdrop is perfect on a warm evening; phone (410) 783-4189 for the box office. Major acts also play at Royal Farms Arena , a couple of blocks from the Inner Harbor at 201 W. Baltimore St.; phone (410) 347-2010 for recorded information.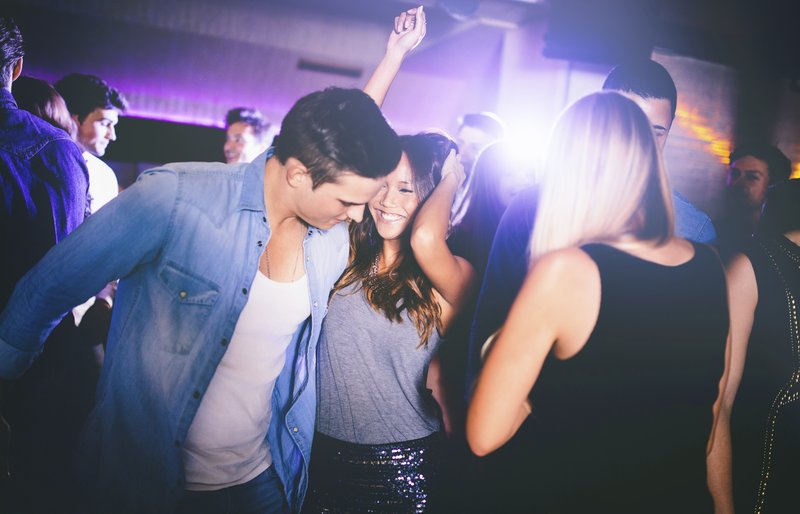 wundervisuals/iStockphoto.com
Power Plant Live! , two blocks north of the Inner Harbor at 34 Market Pl., gathers a bunch of bars, clubs and places to eat under one roof. Have a brew or two at the outdoor Leinenkugel's Beer Garden while planning which spots to hit. Luckie's Tavern is a huge sports bar, while rock 'n roll pianos duke it out at Howl at the Moon. The Havana Club is an upscale nightclub with an extensive wine and cigar selection. Angels Rock Bar has scantily clad female bartenders, a DJ-spun mash-up of contemporary rock (spiced with the occasional Journey or Bon Jovi oldie), VIP areas and an outdoor bar.
Also within the complex is Rams Head Live (20 Market Pl.), one of the best places in Baltimore to see a live show. The concert schedule includes local as well as national acts; phone (410) 244-1131 for the box office.
You must be 21 and over to get into Power Plant Live! after 9 p.m.; an ID must be presented. A dress code for admittance to the beer garden is posted at the entrance gate.
Nearby Soundstage Baltimore (124 Market Pl.) features a mix of rock, dance, R 'n B and hip-hop artists, plus DJ sets and various launch party events; phone (410) 244-0057 for the box office. Note: A convenient parking location for all Inner Harbor venues is the Pier 5 Garage, 711 E. Pratt St.
Fell's Point has some cool bars, pubs and nearby restaurants. The Cat's Eye Pub (1730 Thames St.) has friendly bartenders, more than 30 beers on tap, rock bands and a come-as-you-are vibe. The Wharf Rat (801 S. Ann St.) dishes up exceptional bar food (crab dip, cheese fries, hand-tossed lump crab pizza) and offers happy hour beer specials and Tuesday trivia nights.
Ale Mary's
(1939 Fleet St.) also has calorically indulgent bar food—they're known for Tater Tots and Krispy Kreme bread pudding—a huge beer selection and outdoor seating.
If you're looking for fun things to do with friends and are a soccer or college sports fan, head to
Sláinte Irish Pub & Restaurant
(1700 Thames St.) to watch games on TV; the second-floor dining area is quieter and less crowded, and the window tables have nice views of the Fell's Point waterfront and the water taxi dock. Try the corned beef sandwich topped with coleslaw and Swiss cheese.
Visit Charles Village to See Local Bands
Ottobar (2549 N. Howard St. in the Charles Village neighborhood) is a typical rock club: walls plastered with show posters, a hipsterish crowd, decent acoustics and lots of drink specials. Local bands, hip underground acts, occasional big names and DJ nights make up the music schedule; phone (410) 662-0069.
Unwind at a Hotel Bar or Lounge
Sometimes, though, you just want the peace and relative quiet of a hotel. Apropoe's in the Baltimore Marriott Waterfront (700 Aliceanna St.) has classy décor, and the martinis are well-made. The Explorers Lounge in the Royal Sonesta Harbor Court hotel (550 Light St.) has a safari theme, with painted murals of jungle animals, leather furniture, soft jazz and piano music, and lovely Inner Harbor views.
Tucked away in a corner of the Belvedere, a former hotel turned condominium (1 E. Chase St. in the Mount Vernon neighborhood),
The Owl Bar
is quintessential Baltimore. A former speakeasy, it exudes faded grande dame atmosphere, with stained glass above the bar and a mechanical owl on one wall. Come here for a drink and conversation rather than the food; there's a good selection of local beers.
The free weekly City Paper, available at many businesses and from sidewalk vending machines, has extensive entertainment listings.
Note: Use common sense when it comes to staying safe after dark. Away from the Inner Harbor, some sections of downtown Baltimore can be dicey to wander around at night; if in doubt, take a cab.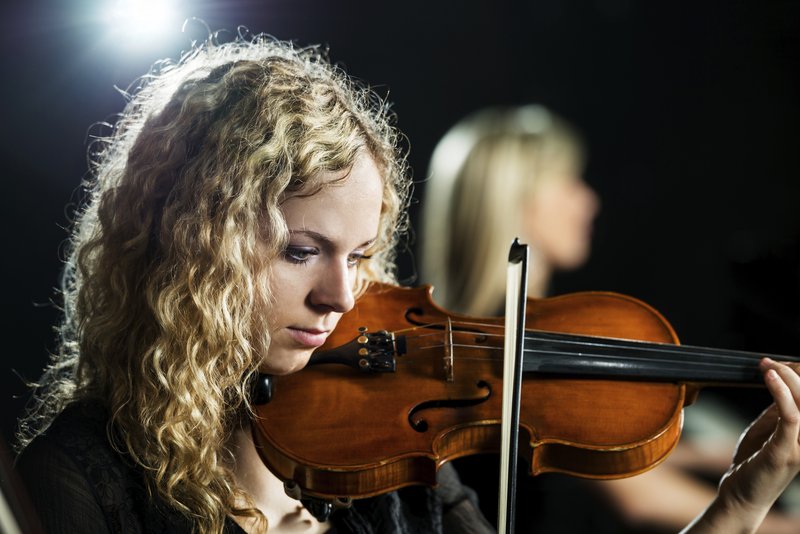 skynesher/iStockphoto.com
Baltimore Performing Arts
Music Concerts in Baltimore
The pleasures of good music can be found in the concerts, ballets and other musical programs presented by the Baltimore Symphony Orchestra. The orchestra performs throughout the season at Joseph Meyerhoff Symphony Hall, 1212 Cathedral St., and is one of the many fun things for couples to do in Baltimore; phone (410) 783-8100.
Hopkins Plaza offers free concerts once a month May through October. Concerts—some of which are free—are regularly scheduled at the acoustically superb Miriam A. Friedberg Concert Hall of the Peabody Institute of Music, 17 E. Mount Vernon Pl.; phone (667) 208-6620. Cultural and sporting events take place at Royal Farms Arena; phone (410) 347-2020.
Theaters and Other Venues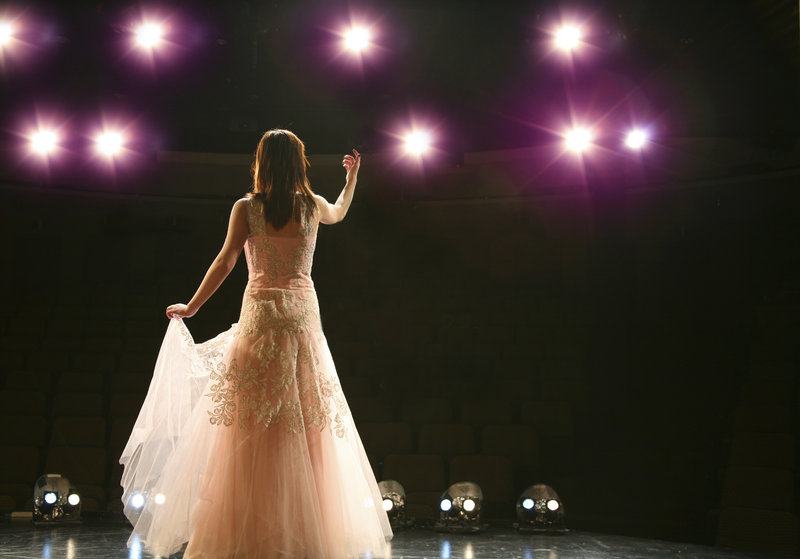 goodynewshoes/iStockphoto.com
Baltimore's major regional theater is Center Stage, 700 N. Calvert St., which produces a variety of contemporary and classic plays; phone (410) 332-0033. Drama devotees can enjoy touring Broadway shows as well as the classics at the Hippodrome Theatre at the France-Merrick Performing Arts Center, 12 N. Eutaw St.; phone (410) 837-7400 for schedule information. Other dramatic offerings are staged at the theaters of the Arena Players, 801 McCulloch St., (410) 728-6500; the Chesapeake Shakespeare Company, 7 S. Calvert St., (410) 244-8570; Everyman Theatre, 315 W. Fayette St., (410) 752-2208; and the Vagabond Players, 806 S. Broadway, (410) 563-9135.
The Strand Theater Co., (443) 874-4917, performs at 5426 Harford Rd.
Within the Station North Arts and Entertainment District are the Baltimore Improv Group, which performs in the Mercury Theater at 1823 N. Charles St., (888) 745-8393; Single Carrot Theatre, 2600 N. Howard St., (443) 844-9253; and The Charles Theatre, 1711 N. Charles St., (410) 727-3456, which shows a variety of new, classic and foreign films. The district features outdoor murals as well.
The Theater Project, 45 W. Preston St., is the city's center for avant-garde productions; phone (410) 752-8558. The Cockpit in Court Summer Theatre of Essex Campus of the Community College of Baltimore County presents musicals, dramas and comedies throughout the summer; phone (443) 840-2787.
In the mood to see a stand-up comedian? Plan a trip to the Baltimore Comedy Factory, (410) 547-7798, in the Best Western Plus Hotel at 5625 O'Donnell St.
Several dinner theaters are in and around the city. Toby's Dinner Theatre is located in Columbia at 5900 Symphony Woods Rd.; phone (410) 730-8311 or (800) 888-6297.
For schedules of current theatrical and musical offerings check the local newspapers.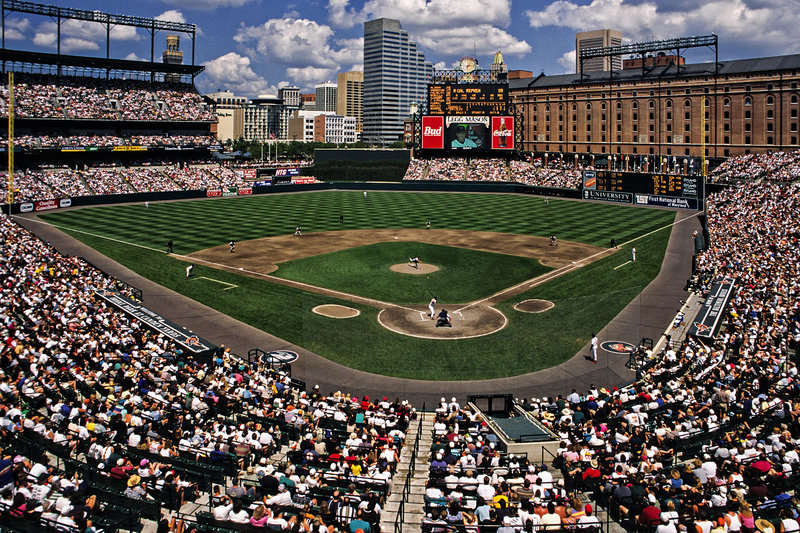 Baltimore Sports & Rec
Baseball attracts faithful fans in Baltimore; the Baltimore Orioles regularly draw big crowds to Oriole Park at Camden Yards; phone (410) 685-9800.
Named after Edgar Allan Poe's "The Raven," the National Football League's Baltimore Ravens won Super Bowl XXXV in 2001 and prevailed again in 2013, beating the San Francisco 49ers to win Super Bowl XLVII. They play for gridiron glory at M&T Bank Stadium; phone (410) 261-7283.
The Baltimore Blast, (410) 732-5278, play indoor soccer at Royal Farms Arena. Some of the nation's top lacrosse players make up Baltimore's many NCAA teams, including the Johns Hopkins' Blue Jays, who compete at Homewood Field, Charles Street and University Parkway; phone (410) 516-7490.
Horse racing is popular, and Pimlico Race Course has meets in spring and summer; phone (410) 542-9400. The second race of the Triple Crown, the Preakness Stakes, is held at Pimlico the third weekend in May. The racetracks at Laurel and Timonium are an easy trip by car from the city.
Note: Policies concerning admittance of children to pari-mutuel betting facilities vary. Phone for information.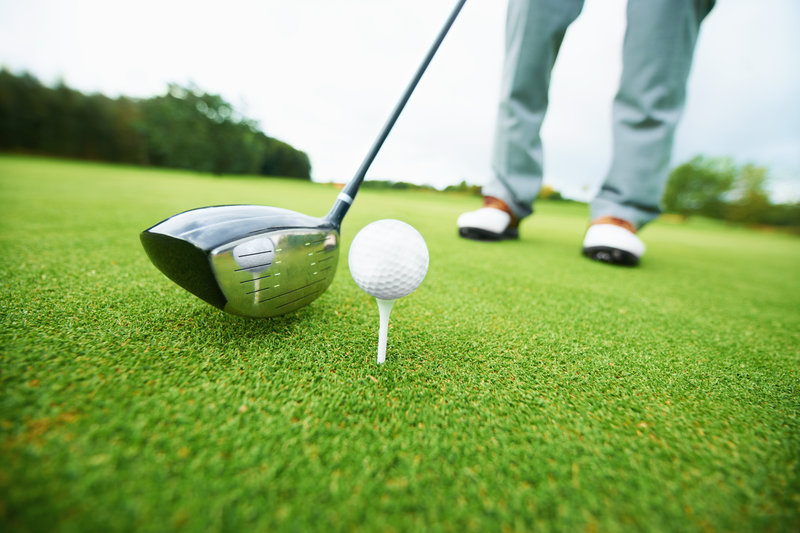 Golf can be played at Carroll Park, 2100 Washington Blvd., phone (410) 685-8344; Clifton Park, 2701 St. Lo Dr., phone (410) 243-3500; Forest Park Golf Course, 2900 Hillsdale Ave., phone (410) 448-4653; Mount Pleasant Golf Course, 6001 Hillen Rd., phone (410) 254-5100; and Pine Ridge Golf Course, 2101 Dulaney Valley Rd. in Lutherville, phone (410) 252-1408.
Tennis players can find public courts at Clifton Park, Druid Hill Park and Patterson Park. In the winter ice-skating takes place at Patterson Park; phone Baltimore Department of Recreation and Parks at (410) 396-7900.
Boating is enjoyed at the Inner Harbor, Pratt and Light streets, and fishing is permitted at Loch Raven Reservoir, the city's principal water source.
Hiking opportunities are bountiful in both the city and its environs. The Baltimore and Annapolis (B&A) Trail follows the old Baltimore and Annapolis railroad running from Glen Burnie to Annapolis; the Gwynns Falls Trail, part of the Chesapeake Bay Gateways Network and East Coast Greenway trails, winds through a park of lush greenery.
Biking enthusiasts have their choice of bicycle trails in Clifton Park, Herring Run Park and Patterson Park.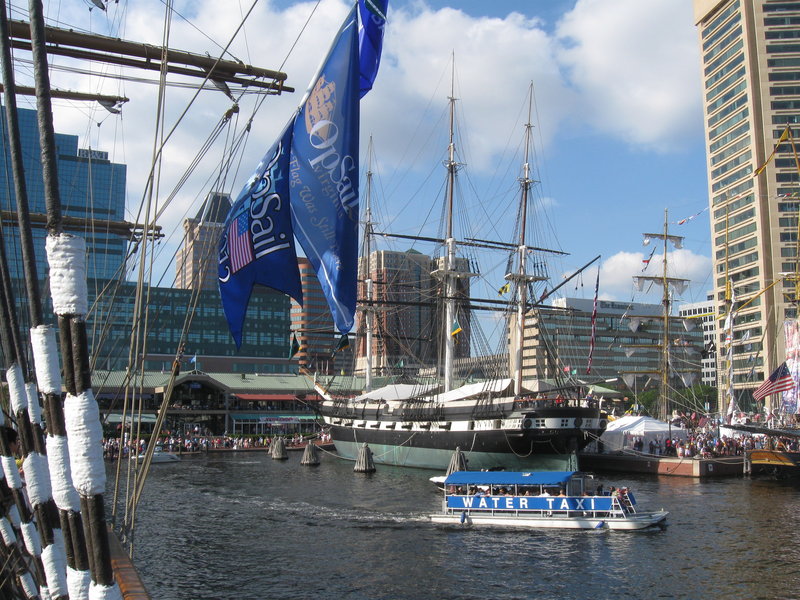 Baltimore Sightseeing
The Baltimore Visitor Center, 401 Light St., offers a combination ticket called the Harbor Pass, which provides admission to the National Aquarium and Top of the World Observation Level and your choice of the American Visionary Art Museum or Port Discovery Children's Museum and Babe Ruth Birthplace Museum or Reginald F. Lewis Museum of Maryland African American History & Culture. Valid for 4 consecutive days, the Harbor Pass costs $53.95; $37.95 for ages 3-12.
Several tour companies offer guides who will accompany you on specialized tours focusing on Baltimore historical sites, architecture or art. Tour companies include Baltimore Rent-A-Tour, (410) 464-7994, and Presenting Baltimore Inc., (410) 539-1344. City Hall also offers tours; phone (410) 396-4947.
Boat Tours
Visitors who would rather not walk between the attractions, restaurants and communities along the Inner Harbor have another, more scenic option: water taxis that run approximately every 15 minutes in season (Memorial Day-Labor Day), and about every 45 minutes the rest of the year. The taxis operate Mon.-Thurs. 11-11, Fri.-Sat. 10 a.m.-11 p.m. and Sun. 10-9, May 1-Labor Day; Mon.-Thurs. 11-8, Fri.-Sat. 10 a.m.-11 p.m. and Sun. 10-8, in Apr. and day after Labor Day-Oct. 31; daily 11-6, rest of year (weather permitting). Boats do not run Jan. 1, Thanksgiving, Christmas Eve, Christmas and Dec. 31. One-way adult pass $8; $7 (ages 3-10 and 65+). Unlimited 1-day pass (get your hand stamped on board) $14; $7 (ages 3-10 and 65+).
Inner Harbor stops include The Rusty Scupper Restaurant; the Maryland Science Center, IMAX Theater and Davis Planetarium; Harborplace; the National Aquarium; Pier 5; and Harbor East. Boats also travel to Maritime Park, Fell's Point, Captain James Landing, Canton Waterfront Park, Tide Point and Fort McHenry National Monument and Historic Shrine. Phone (410) 563-3900 or (800) 658-8947.
Note: Landing #17 (Fort McHenry) is serviced by water taxis Apr.-Sept. Weekends and summer holidays are the most crowded times, and there may be a wait to board a boat at any time. Visitors are not permitted to park their car at the fort and then get on a water taxi; you must ride the boat to the fort in order to reboard.
Food Tours
The following bulleted tour is presented for informational purposes as a service to members and has not been inspected by AAA.
Walking Tours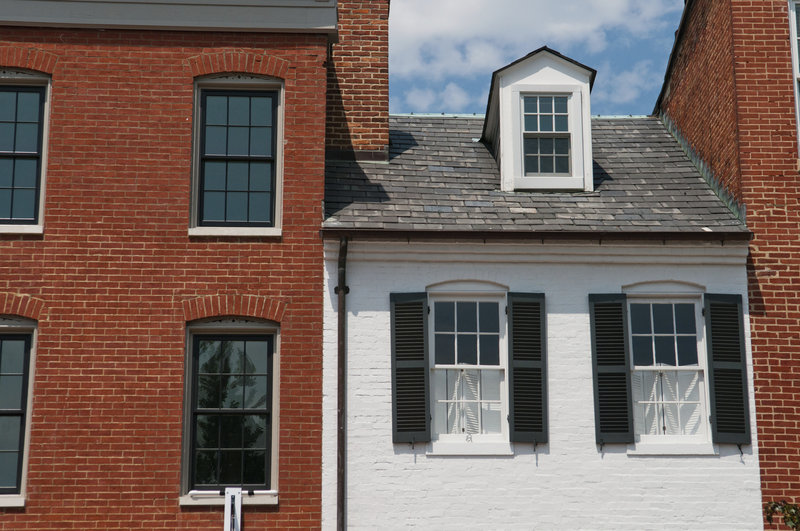 Montes-Bradley/iStockphoto.com
Baltimore's old neighborhoods add much to the city's charm. A pleasant day can be spent visiting the historic areas of Federal Hill, Fell's Point and Mount Vernon Place, or such ethnic neighborhoods as Little Italy.
"Urban homesteading" got its start in Baltimore's old neighborhoods. Under this program, an old house was purchased for as little as $1 with the understanding that the resident would restore or remodel it within a certain number of years. The eye-catching results can be seen in the Otterbein area on Conway Street near Sharp Street and in the Stirling Street section off the 1000 block of Monument Street.
Literature, maps and brochures for a walking tour of the city may also be obtained from the visitor center; phone (877) 225-8466. A variety of options are available, including heritage, ghost and architectural tours. In addition, find information and things to do at the visitor kiosk at Baltimore's Penn Central Station.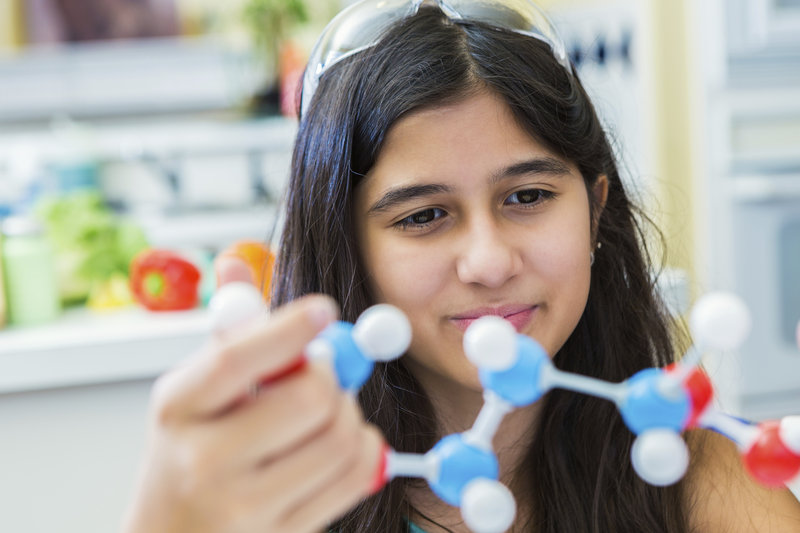 Steve Debenport/iStockphoto.com
1-day Itinerary
AAA editors suggest these activities for a great short vacation experience.
Morning
It's easy to spend an entire day at Baltimore's Inner Harbor, and the water taxis that crisscross the harbor are a convenient way to get from one point to another (more on that below). Start the day at the
Maryland Science Center, IMAX Theater and Davis Planetarium
(601 Light St.). Here you can view dinosaur skeletons face to face, check out a giant mechanical blue crab, touch a cloud or test Sir Isaac Newton's scientific principles.
Just around the corner is the
American Visionary Art Museum
(800 Key Hwy.). One look at the bejeweled, whimsically decorated school bus parked out front and you know this isn't going to be a stuffy, highbrow experience. The art here is indeed visionary—extravagantly creative works produced by primarily self-taught artists, often incorporating found objects (like a chair made almost entirely from yardsticks). At what other museum are you going to see a model of the USS Lusitania crafted from more than 100,000 toothpicks?
Within easy walking distance is the historic neighborhood of Federal Hill and the Cross Street Market (at the corner of Cross and S. Light streets), one of several city public markets. Federal Hill residents come here for fresh produce, meats and seafood. For hungry tourists it offers sit-down spots like Steve's Lunch, where you can enjoy a Philly-style hoagie with a bag of Utz potato chips, a Charm City favorite.
Another nearby lunch option, and one with a terrific waterfront location, is
The Rusty Scupper Restaurant
(402 Key Hwy.). Seafood is the no-brainer choice, specifically the crab cakes. Lots of Baltimore restaurants claim their crab cakes are the best, but they're done well here, served broiled or in a sandwich with lettuce, tomato and tartar sauce—and you can savor them while enjoying a prime view of the Inner Harbor.
Afternoon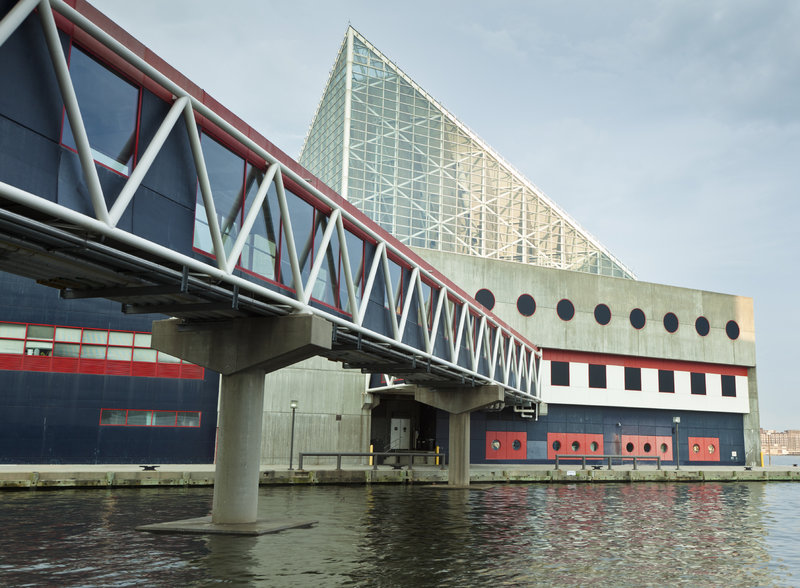 The Rusty Scupper has its own water taxi stop ($9 for a one-way ticket or $16 for an all-day pass, with discounts for children and senior citizens), so get in line and take it to Landing 1 and the
National Aquarium
(501 E. Pratt St.). Five levels of exhibits display everything from tropical coral reef re-creations to Amazon River and Maryland freshwater stream habitats. Rays and sea turtles swim in a big pool that can be viewed either from above or below the water surface. Watch dolphins at play, and don't miss the display of beautifully alien-looking jellyfish. The aquarium is very popular, so purchase your timed tickets in advance.
Next stop:
Historic Ships in Baltimore
(301 E. Pratt St.), docked at piers 1, 3 and 5. Each vessel played a significant role in U.S. naval history. The USS Constellation is the last Civil War-era vessel still afloat; the lightship Chesapeake aided navigation in Chesapeake Bay for 28 years; the Coast Guard cutter Taney engaged Japanese planes during the 1941 attack on Pearl Harbor; and the submarine USS Torsk torpedoed and sank the last World War II enemy warships. Climb the red Seven Foot Knoll Lighthouse for a nice view of the Inner Harbor.
By now the kids will no doubt be antsy, so let them roam around the Light Street Pavilion, the Pratt Street Pavilion, or both (Pratt St. & Light St.)—each mini-mall is filled with souvenir shops, places to get ice cream or a cold drink, and those all-important restrooms.
Evening
Baltimore has lots of interesting neighborhoods, and one of the best if you're searching for a place to have dinner is Little Italy, just off the Inner Harbor east of S. President Street. The narrow streets are lined with well-kept row houses and Italian restaurants, and deciding on one is a delightful dilemma. At
Amicci's
(231 S. High St.), the atmosphere is homey and the food is eccellente.
Walk off some of those calories on the cobblestone streets of Fell's Point (take Eastern Avenue or Fleet Street east and you're there). In the 18th century it was home to shipbuilders and visited by merchant seamen; today it's a touristy enclave of specialty shops and friendly pubs with an attractive waterfront setting.
By Greg Weekes
Find Plenty of Activities at the Inner Harbor
More Fun Attractions to Keep Kids Entertained
Get to Know Baltimore's History
In 2012 Baltimore kicked off 3 years of events commemorating the bicentennial of the War of 1812, a conflict that culminated in Great Britain's assault on the city's strategic harbor. Fort McHenry withstood a 25-hour bombardment that was witnessed by Maryland lawyer Francis Scott Key, who wrote a poem, "The Star-Spangled Banner," in tribute. You can learn more about our national anthem and view a replica of the flag that flew over the fort at the Fort McHenry National Monument and Historic Shrine , a AAA GEM attraction.
Get Inspired at an Art Gallery
By Greg Weekes
Classic Favorites in the City
Head to Federal Hill for Mexican Food
Must-Eat Seafood on the Inner Harbor
Ethnic Eats in Harbor East and Little Italy
Where to Eat in Fell's Point
Popular Things to Do in Winter and Spring
Festivals and Celebrations in Summer and Fall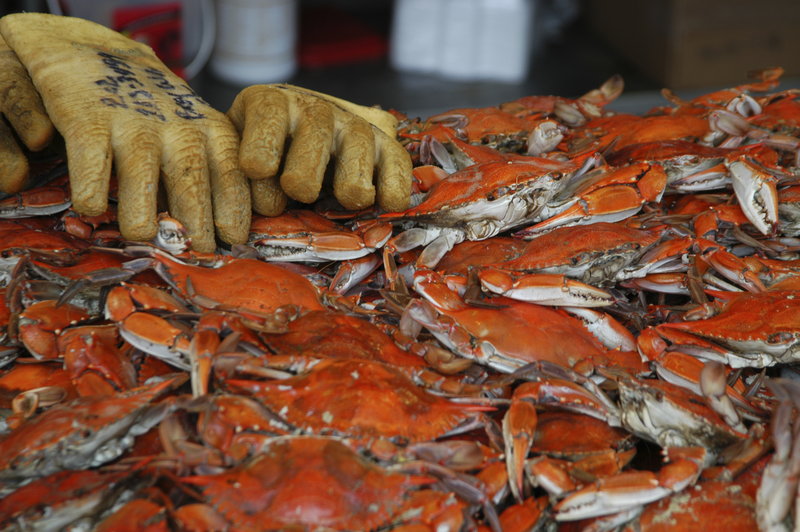 A Guide to Baltimore's Crab and Seafood Scene
Seafood reigns supreme in Bawlmer, a town where they take eating seriously. Rich in ethnic neighborhoods, the city also is blessed with outstanding restaurants (Italian and Greek in particular). And when it comes to seafood, locals love their oysters (preferably deep-fried); striped bass—which Marylanders call rockfish—grilled and simply dressed with extra virgin olive oil and a squirt of lemon juice; and last but not least, spicy steamed blue crabs.
Although blue crabs are harvested as far north as Cape Cod, as far south as Uruguay and in such exotic places as the lakes of the Nile Delta in Africa, they thrive in the waters of the Chesapeake Bay. The bay's varying salinity levels and the shallowness of the water are two reasons for the large summer harvests that contribute to a prosperous state crabbing industry. Blues served up in local restaurants also come from other waters, including North Carolina, Louisiana and Texas. But it's not where they were caught; it's the method of steaming and seasoning that makes these hard-shelled crustaceans so popular.
For the uninitiated, the ritual of eating steamed crabs can come as a bit of a shock. The table is usually covered with brown butcher paper, and the critters are either delivered on a tray or unceremoniously piled right on top of the paper. Mallets, picks, bibs, stacks of paper towels and buckets (for the cast-off shells) all are supplied. The seasoning of choice is Old Bay, a piquant blend of 18 different herbs and spices that has been manufactured in Baltimore for more than 75 years.
There's no delicate way to go about cracking a crab open to remove the succulent meat; it's a gloriously messy dining experience. If you've never done it before, fear not; at some Baltimore crab houses the servers will pull on a pair of gloves and cheerfully walk you through the process.
For those who consider bludgeoning a whole crab with a mallet and rooting around bits of shell and claw with their fingers a bit on the barbaric side, there are other ways to enjoy blues. Maryland crab soup is loaded with crab meat and vegetables. Cream of crab soup is traditionally prepared with a shot of sherry to lighten the cream. Crab dip makes a tasty appetizer. And crab cakes rival steamed crabs in popularity. Side dishes are definitely supporting players, but you can usually count on crispy french fries, coleslaw and onion rings.
Baltimore's many crab houses each have their passionate supporters, and picking the best one is a subject of intense debate. Baltimoreans often take out-of-town guests to the Rusty Scupper, a well-known institution on the Inner Harbor. And many locals and travel sites will tell you that Baltimore's best crab cake is the jumbo lump version at Faidley's Seafood in the venerable Lexington Market, which was founded in 1782. About the size of a baseball, each cake is made to order, deep fried to a golden brown, and worth every penny.
Filmed on Location: Baltimore Native John Waters
Baltimore-area native John Waters has entertained, captivated and shocked audiences with his inimitably eccentric style of filmmaking since the 1960s. An actor, writer, journalist and visual artist as well as a filmmaker, Waters claims that his role models growing up were the Wicked Witch of the West and Captain Hook. By the age of 10, in awe of Howdy Doody, he was staging puppet shows in his suburban Baltimore neighborhood.
As he grew older, Waters began embracing both the highbrow art of serious directors Ingmar Bergman and Rainer Werner Fassbinder and the sleazy exploitation of low-budget filmmakers like William Castle and Herschell Gordon Lewis. He also was entranced by artists and visionaries as disparate as Walt Disney, Andy Warhol, Ed Wood and Russ Meyer. Waters began melding this stew of influences into a singular artistic vision. His first film, "Hag in a Black Leather Jacket," was shot with an 8mm camera in 1964, when he was just 18.
Waters went on to found a troupe of local actors called the Dreamlanders. One of them was childhood friend Harris Glenn Milstead, aka Divine, who starred in several early Waters productions. Shot on shoestring budgets and often featuring Dreamlanders members Mink Stole, Edith Massey and Mary Vivian Pearce in different roles, these films—"Mondo Trasho," "Multiple Maniacs" and three that Waters dubbed the "Trash Trilogy" ("Pink Flamingos," "Female Trouble" and "Desperate Living")—were independent efforts that glorified bad taste, broke taboos and pushed hard at the boundaries of what was considered acceptable. The notorious "Pink Flamingos," released in 1972, in particular became a cult sensation and played midnight movie festivals for years.
In 1981 Waters began edging toward the mainstream with the release of "Polyester," notable for its gimmicky use of Odorama, a series of scratch-and-sniff cards meant to be utilized by audience members at key moments. His biggest mainstream success came in 1988 with "Hairspray," which introduced Ricki Lake and was the last starring role for Divine, who died that same year. It was adapted into a Tony Award-winning Broadway musical in 2002. The 2007 movie adaptation of the musical—based on Waters' original film and starring John Travolta in the Divine role as Edna Turnblad—was a bigger box-office hit than any of his 16 films to date.
But Waters put Baltimore on the cinematic map in a big, albeit quirky, way. All of his films have been filmed on location, and the city's streets and neighborhoods as well as the themes of 1950s and '60s Americana and suburban lifestyles have provided him with both inspiration and vital story lines. The city's Hampden neighborhood, where Waters still resides much of the time, received screen time in "Pink Flamingos," "Hairspray" and "Pecker," and he premiered several of his films locally at the Senator and Charles theaters.
Mainstream stars like Tab Hunter, Kathleen Turner and Johnny Depp have appeared in his movies, and the dapper Waters, with his trademark pencil-thin moustache, remains a celebrity himself, making the talk show and late night TV rounds. In addition to writing an autobiography, "Shock Value," he's toured in a one-man show, had his photo-based art installations exhibited internationally and is a board member of the Maryland Film Festival.