Essentials Revisit Birmingham's age of heavy industry at Sloss Furnaces National Historic Landmark (20 32nd St. N.), one of the last places with a blast furnace in America. The factories and materials available for iron production made the city the South's industrial center for nearly 90 years. Its economy eventually diversified, but the city's moniker—named after the United Kingdom's industrial center—is a fitting tribute. It's also been called "The Pittsburgh of the South" and "The Magic City."
Ponder the history at Arlington Antebellum Home and Gardens (331 Cotton Ave. S.W.), which was built and run by enslaved labor and was once occupied by Union troops during the Civil War. Birmingham's lone plantation includes beautifully manicured grounds and a 19th-century decorative arts collection inside the Greek Revival home.
The Ruffner Mountain Nature Preserve (1214 81st St. S.) is a nature-lover's retreat. The grounds, once containing mines and quarries, now feature a boardwalk and trails traversing the Red Mountain ridge. The LEED-certified nature center will answer all your environmental questions, and you can learn about turtles, owls and other native wildlife on-site.
Brake for Barber Vintage Motorsports Museum (6030 Barber Motorsports Pkwy.) to admire early to modern motorcycles, Lotus race cars and everything involved in motorsports entertainment. The world-renowned collection is housed in a 740-acre park with a 2.38-mile racetrack.
Take in the views of the city with Vulcan, the god of fire and smithery, who continues to watch over Birmingham. Located on Red Mountain, the Vulcan Park and Museum (1701 Valley View Dr.) showcases the prominent statue first unveiled at the 1904 St. Louis World's Fair.
March in the footsteps of legends in the six-block Civil Rights District. Powerful landmarks such as Sixteenth Street Baptist Church (1530 6th Ave. N.), Birmingham Civil Rights Institute (520 16th St. N.) and Kelly Ingram Park (bordered by 16th and 17th sts. N. and 5th and 6th aves. N.) bear witness to the city's problems and progress.
Stop by Pepper Place in the Lakeview Design District to experience how a once-industrial part of town transitioned to a shopper's paradise. Trendy stores put Birmingham's style on the map with attention-grabbing architectural details, antiques and colorful displays. But the farmers market (2829 2nd Ave. S.) is the main draw on Saturdays early April to mid-December; it boasts a variety of products grown within 100 miles.
Birmingham is increasingly called a must-visit foodie destination due to its fresh and flavorful cuisine. In the recent past the James Beard Foundation—aka the Oscars of the food world—has hailed Hot and Hot Fish Club 's (2180 11th Ct. S.) chef as the best in the South and has recognized Highlands Bar & Grill (2011 11th Ave. S.) as a finalist for outstanding restaurant in the country.
Try at least one down-home dish during your visit. Despite the availability of creative and cosmopolitan fare, don't skip the biscuits, grits and typical "Southern" fare. A good place to start would be John's City Diner (112 Richard Arrington Jr. Blvd. N.), open since 1944 and home to one-of-a-kind coleslaw.
See a concert or go to a free fitness class at the 19-acre Railroad Park (1600 1st Ave. S.), which connects the downtown with Southside and the campus of University of Alabama at Birmingham. The site mixes industrial touches—recycled bricks and cobblestone—with water features, open lawns and more than 600 trees.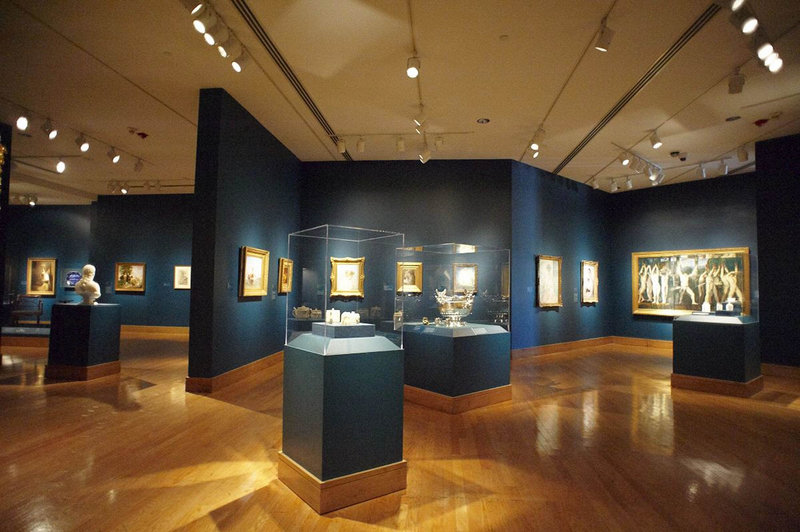 Photos Courtesy of the Birmingham Museum of Art
Spend hours at the Birmingham Museum of Art (2000 Rev. Abraham Woods Jr. Blvd.) with its numerous themed rooms. Reputedly one of the best regional museums in the nation, there are more than 24,000 paintings, sculptures, prints, drawings and pre-Columbian artifacts that visitors can see for free. The museum even has hands-on exhibits for children.