Introduction
Boston calls itself "America's Walking City," and with good reason: driving can be a challenge. What better excuse to park your car and explore on foot? There's history around every corner.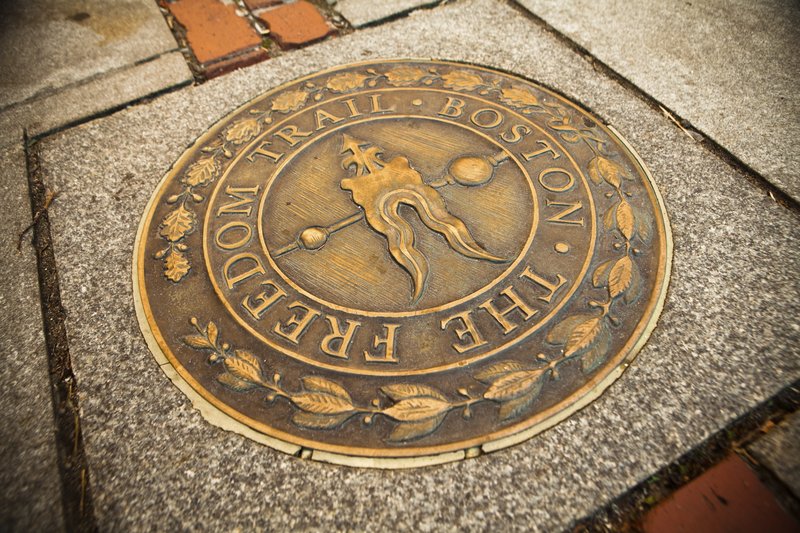 Pglam/iStockphoto.com
No trip to Boston would be complete without a walk along the Freedom Trail, a red, mostly bricked line winding through the Financial District, Beacon Hill and the North End, past more than a dozen famous landmarks—Faneuil Hall, the Old North Church, Paul Revere's house. Beyond these streets where patriots walked are scores of distinctive neighborhoods to explore: Cambridge, Back Bay, Charlestown, Brookline, Fenway and the South End. You'll rub elbows with Yankee pragmatists, Irish fatalists, Brahmin blue-bloods, die-hard Red Sox fans and sleep-deprived students of every stripe—Boston has one of the highest concentrations of colleges and universities in the world. If you can say, "Park the car at Harvard Yard," without using an "r," you'll fit right in.
Getting There
By CarThe spokes of major highways converging on Greater Boston from three sides make it seem that all roads lead to the Hub. Three interstate highways offer a direct approach to the city and its suburbs. From the north I-95 merges with SR 128 at Peabody before skirting the western edge of the metropolitan area; south of Boston I-95 branches southwest and heads toward Providence.
Also from the north I-93 angles down through Medford and Somerville, merges with US 1 at Charlestown, crosses the Charles River (via the cable-stayed Leonard P. Zakim Bunker Hill Bridge) and passes under downtown. I-93/US1 then proceeds through South Boston, parallels the western shore of Massachusetts Bay and passes through Quincy before turning west and running into I-95 near Norwood. SR 3, the route to Cape Cod, branches southeast off I-93 near Braintree.
The major east-west highway into Boston is the Massachusetts Turnpike (I-90), which runs into I-93/US1 just south of downtown. Paralleling this toll route to the south is SR 9, serving the suburbs of Wellesley, Newton and Brookline. Another east-west artery, SR 2, passes just south of Concord and then heads southeast into Cambridge.
Air TravelLogan International Airport (BOS) occupies a peninsula just south of East Boston, 3 miles east of downtown across Boston Inner Harbor. Logan functions as New England's hub airport and serves most major airlines. Airline flights and travel packages are available on AAA.com. Drivers should depart by the main exit and take the Boston Expressway to the Sumner Tunnel (toll $3.50), which crosses the harbor into downtown. Drivers traveling south of the city via I-93 or west on I-90 should follow signs for the Ted Williams Tunnel (toll $3.50). Commercial vehicles, including taxis, pay a toll of $5.25.
As tunnel traffic jams are all too common, the quickest and easiest way to reach downtown is by subway or bus rapid-transit service. Free Massport shuttles run every 15-20 minutes daily from all five terminals to the Airport MBTA station on the Blue Line. From there it's about a 20-minute ride to downtown's State Street and Government Center stations; regular one-way subway fare to downtown is $2.65. Alternatively, you can take the Silver Line SL1 bus rapid-transit service, which also is available from all five airport terminals, to reach South Station on the Red Line. The Silver Line is free inbound from the airport to South Station and includes a free transfer to the Red Line. Both the Blue Line and the Silver Line Route SL1 run daily from approximately 5:30 a.m.-12:30 a.m., with extended service on Fridays and Saturdays.
Massport shuttles connecting Logan with two Back Bay locations—the Hynes Convention Center and the Copley MBTA station on Boylston Street—run every 20 minutes daily 6 a.m.-10 p.m. from Logan Airport and daily 5 a.m.-9 p.m. from the Back Bay. The fare is $5 (credit or debit cards only) or free for riders with a valid MBTA pass. Logan Express buses to the outer suburbs depart from Terminals A, B, C and E. Buses to Braintree, Framingham and Woburn generally leave the airport Mon.-Fri. 6:30 a.m.-midnight, Sat. 7 a.m.-11 p.m., Sun. 7 a.m.-midnight. Buses to Peabody leave the airport daily 4:15 a.m.-1:15 a.m. Schedules may vary. One-way fare is $12.
Water shuttles are another convenient way to cross the harbor, departing from the Logan dock and arriving 10 minutes later at Long Wharf in the Financial District. Shuttle bus 66 provides free, frequent service from airport terminals to the dock. Boat departures from Logan are Mon.-Fri. 7 a.m.-8 p.m., Sat.-Sun. 10-6 (weather permitting), except on holidays. Commuter boats also run to Quincy and Hingham from Long Wharf. Phone (617) 422-0392.
Taxi fares to downtown and to Cambridge run about $25-$45, depending on traffic congestion. Passengers pay all toll charges as well as a Massport taxi pool fee of $2.25. Flat-rate fares are in effect beyond a 12-mile radius of downtown; ask the cab driver or Logan dispatcher for the exact fare in advance. City buses will drop off passengers at downtown hotels; bus stop signs are located outside each terminal.
For additional Logan International Airport arrival and transportation information, phone Massport at (800) 235-6426.
Cruise PortsCruiseport Boston's Black Falcon Cruise Terminal is at 1 Black Falcon Ave. in South Boston, about 4.5 miles south of Boston Logan International Airport. Cab fare from the airport is approximately $25. Parking is available at the BRA-EDIC garage located across from the terminal at 12 Drydock Ave. The daily rate for ticketed cruise passengers is $20; phone (617) 482-2487 for information about hourly rates. If you'll be depending on public transportation, the closest MBTA station is the Silver Line Route SL2 Design Center stop just across the street from the cruise terminal.
Although you'll find restaurants, hotels and other commercial outfits nearby in the developing Waterfront district, much of the area immediately surrounding the terminal—a former World War I military warehouse—is pretty industrial. However, downtown Boston, less than 3 miles northwest, is easily accessible via public transportation and offers plenty of things to do. Or, if you have time for a leisurely stroll, follow the Harborwalk, which mostly runs along the waterfront, into downtown. Local trolley tour companies also serve the port of call and offer special sightseeing schedules to accommodate cruise passengers; tickets and information are available inside the terminal. Additionally, some cruise lines provide shuttle service to and from popular attractions for a fee.
The cruise season generally begins in May or April and runs through November. Boston-based ships include Norwegian Cruise Lines' Norwegian Dawn, Holland America's Maasdam, Royal Caribbean's Brilliance of the Seas and Carnival Cruise Line's Carnival Splendor. Some vessels head north, sailing along the New England and Canadian coastlines, while others cruise south to the Caribbean. For additional information about the Black Falcon Cruise Terminal, phone the Massachusetts Port Authority at (617) 568-5000.
Getting Around
Street SystemRalph Waldo Emerson once observed, "We say the cows laid out Boston. Well, there are worse surveyors." Emerson, of course, never had to drive through the city. Downtown—occupying a peninsula surrounded by the Charles River, Boston Inner Harbor and Fort Point Channel—is a challenging place for residents, let alone visitors, to negotiate by vehicle. Furthermore, Boston drivers are legendary for their aggressiveness. Those who must drive in the central part of the city should bring along a navigator and/or a recently updated GPS unit. Fortunately, public transportation options are plentiful and the bewildering tangle of streets is easily traversed on foot.
Boston Common, bordered by Charles, Beacon, Park, Tremont and Boylston streets, is a handy orientation landmark. Beacon Street, the Common's northern border and the southern base of Beacon Hill, extends east into downtown and west through the Back Bay into Brookline. Commonwealth Avenue runs parallel to Beacon Street as the Back Bay's main thoroughfare. The Back Bay's streets, in fact, do form a logical grid pattern between east-west Boylston Street and limited-access Storrow Memorial Drive, and between north-south Massachusetts Avenue and Arlington Street.
Both Beacon and Commonwealth intersect Massachusetts Avenue, which crosses the Charles River via Harvard Bridge into Cambridge. Harvard Bridge becomes Massachusetts Avenue again on the Cambridge side, passing right through the middle of the Massachusetts Institute of Technology campus on its way to Harvard and environs. Cambridge also can be reached from the West End via Cambridge Street, which becomes the Longfellow Bridge (SR 3) crossing the river. It changes to Main Street in Cambridge, running into Massachusetts Avenue several blocks northwest of MIT. The most direct way to get to Harvard from Boston is via the Anderson Memorial Bridge, which becomes John F. Kennedy Street on the Cambridge side.
Back in Boston, Tremont Street branches off Cambridge Street, skirts the southeast side of the Common and runs southwest toward the Roxbury neighborhood. Commercial Street serves as the perimeter of the North End waterfront, becoming Causeway Street on the West End side of the Central Artery and Atlantic Avenue as it turns south to pass the wharves along the waterfront. North Street takes eastbound commuters into the Callahan Tunnel, which crosses Boston Inner Harbor to the airport. Hanover and Salem streets are other major avenues bisecting the North End.
Congress Street is a major downtown and Financial District thoroughfare, crossing Fort Point Channel into South Boston. Washington Street runs north through Chinatown and downtown before it becomes the Charlestown Bridge crossing the river into Charlestown.
Visitors will save time and letters by adopting the local practice of dropping the ends of long street names. Massachusetts Avenue, for instance, is always "Mass Ave." Likewise, Commonwealth Avenue and the Massachusetts Turnpike become "Comm Ave." and "Mass Pike." "JFK" is the appropriate shorthand for the city's several John F. Kennedy namesakes.
Unless otherwise posted, the speed limit on most streets is 30 mph. Right turns on red are permitted after a full stop, unless otherwise posted. Avoid rush-hour traffic—particularly in the tunnels and on the bridges—7-9 a.m. and 4-6:30 p.m. Be especially careful in outlying areas when crossing streetcar tracks.
ParkingOn-street city parking is very limited and highly regulated. Posted restrictions vary, from the resident-only parking in Beacon Hill and other city neighborhoods to specific hour restrictions throughout the downtown area. Meters also vary with regard to rates and hours, and the city's meter maids are vigilant.
Parking garages are more convenient, and although rates are not cheap (from $5 per hour to $35 per day) they are worth the expense to avoid meeting with a tow truck. Visitors may also want to inquire about attraction or restaurant validation discounts. Two centrally located garages are hidden underground. The Boston Common Garage is entered from Charles Street; round-trip bus service to the other side of the Common is included in the parking fee. The Prudential Center Garage, 800 Boylston St., has entrances on all sides of the Prudential Tower. Both garages are open daily 24 hours.
Other garages in the vicinity of the Prudential Center and Copley Square include Copley Place Parking, 100 Huntington Ave.; Pilgrim Garage, 50 Dalton St.; and John Hancock Garage, 100 Clarendon St.
The underground garage at Zero Post Office Square used to be above ground; now the square is a public park bounded by Milk, Pearl, Franklin and Congress streets. Garage entrances are on Pearl and Congress. Open 24 hours, it is within walking distance of the New England Aquarium and Faneuil Hall Marketplace. The Government Center Garage, 50 Sudbury St.; Dock Square at Faneuil Hall Marketplace; and Lafayette Place Garage on Chauncy Street offer additional parking near downtown attractions.
Public TransportationThe Massachusetts Bay Transportation Authority (MBTA) operates the city's trolleys, buses, boats and subway—all of them efficient alternatives to driving. Known everywhere as the "T," Boston's rapid transit system is the nation's oldest; the first stretch, running between Boylston and Park streets, began operating in 1897.
The Red, Blue, Orange and Green subway lines radiate from the four central downtown stations: Downtown Crossing, Park Street, State and Government Center. The Green Line uses trolleys that operate both above and below ground. It also splits into four branches designated by letters: Boston College (B), Cleveland Circle (C), Riverside (D) and Heath Street (E). In addition the Silver Line offers bus rapid-transit service from Dudley Square to downtown and from South Station to the South Boston waterfront and the airport.
"T" stations are designated by the letter T within a circle. An MBTA information booth is located on Park Street (on the Green Line outbound platform). Subway maps at each station show the lines in color. "Inbound" refers to trains heading toward downtown, "outbound" to trains heading away from downtown. Note: Silver Line routes SL1 and SL2 are part of the subway fare structure; SL4 and SL5 are part of the bus fare structure.
Subway fares are $2.25 per ride for passengers who use plastic CharlieCards, the MBTA's reusable and rechargeable fare passes. However, passengers who use CharlieTickets, reusable and rechargeable paper fare passes, pay a surcharge, with subway fares $2.75 per ride; under 12 ride free with a paying adult. Passes can be purchased from vending machines located at all subway stations, at Dudley Station and at Logan International Airport terminals. On-board fare boxes may charge a surcharge and only accept coins and $1, $5, $10 and $20 bills; change is dispensed as a stored-value on a CharlieTicket. Trains generally run between 5 a.m. and 12:30 a.m. in most areas, except on Friday and Saturday nights, when the last trains depart downtown stations at approximately 2:30 a.m. To avoid getting stranded, check the timetables posted at the Park Street station or on the MBTA's website.
LinkPasses providing unlimited travel for 1- or 7-day periods are $12 and $21.25, respectively; under 12 with a paying adult travel free. Passes can be purchased online as well as at in-station vending machines, the CharlieCard Store at the Downtown Crossing Station, the North and South train stations, the airport and various retail sales locations throughout the city.
Buses also offer service crosstown and to the suburbs. Local fares are $2 ($1.70 with a CharlieCard); express buses are $5 ($4 with a CharlieCard) and up. Commuter boat service operates Monday through Friday and holidays between Rowes Wharf on the downtown Boston waterfront and the Hingham Shipyard dock southeast of the city. One-way fare is $3.70-$19.50. Boats depart Rowes Wharf Mon.-Fri. beginning at 6:50 a.m. for the 35-minute trip; the last boat departs at 8:30 p.m. (no weekend service).
Inner Harbor Ferry boats travel between Boston's Long Wharf and the Charlestown Navy Yard. One-way fare is $3.70. Boats depart Long Wharf Mon.-Fri. every 15 minutes 6:30-9 a.m. and 3:30-6:30 p.m., every 30 minutes 9-3:30 and 6:30-8 p.m.; Sat.-Sun. every 30 minutes 10-6. For additional information phone Boston Harbor City Cruises at (617) 227-4321 or (877) 733-9425. Note: These boat trips are not included in the Boston Visitor Pass package.
For additional MBTA route, schedule and fare information phone (617) 222-5000, (617) 222-3200 for recorded information, (800) 392-6100, or TTY (617) 222-5146.