One Day in CalgaryAAA editors suggest these activities for a great short vacation experience.
Morning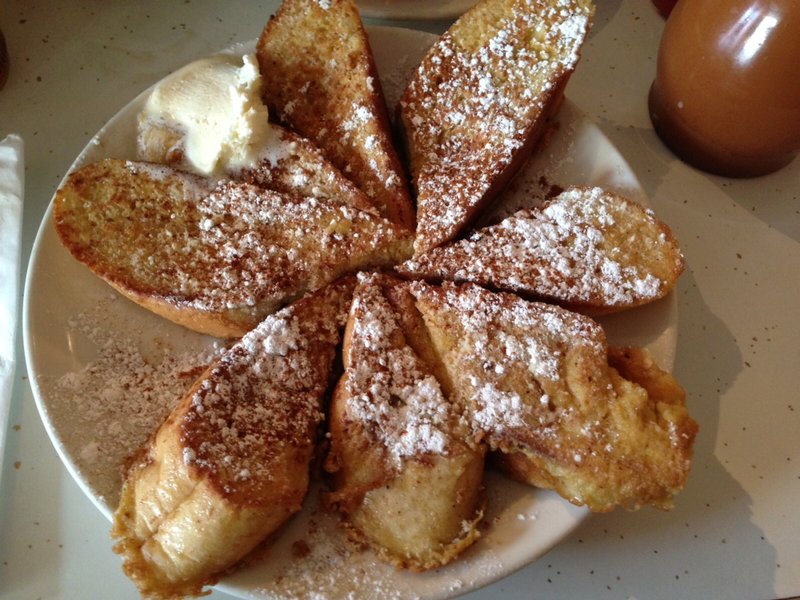 AAA/Inspector 503
Start your day out and about in Calgary with breakfast at Diner Deluxe (804 Edmonton Tr. N.E.). This fun, 1950s retro-cool eatery serves classic eggs-and-toast breakfasts along with French toast stuffed with Gouda and Canadian bacon and a French-Canadian twist on hash browns involving cheese curds and hollandaise sauce.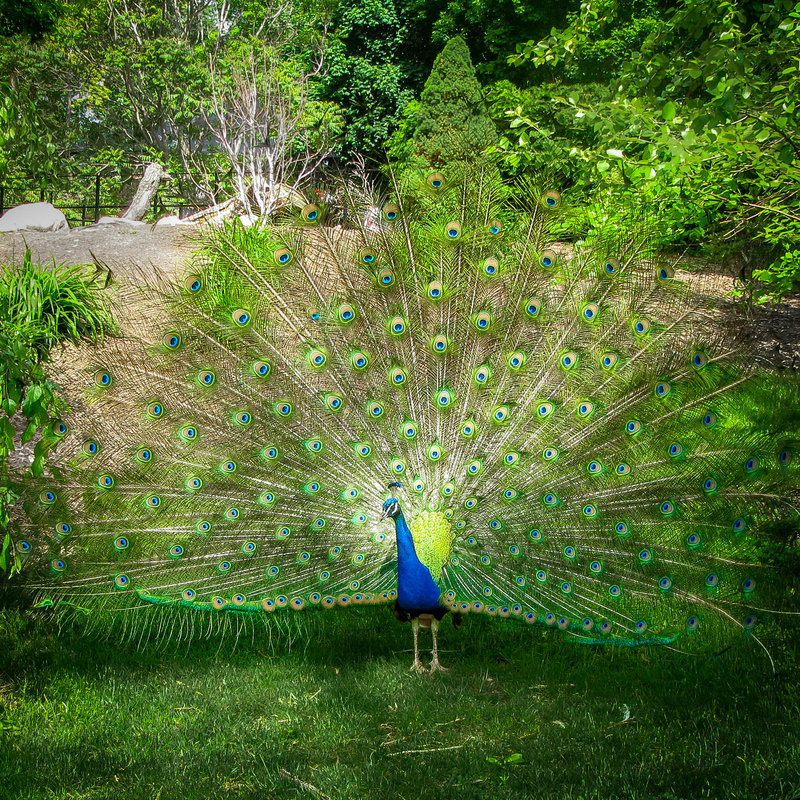 AAA/Inspector 511
Diner Deluxe makes a good starting point not just for the hearty food or the mid-century modern ambience but also because it's just a few minutes from the Wilder Institute/Calgary Zoo (1300 Zoo Rd. N.E.).
You'll want to spend a few hours exploring the zoo's carefully designed animal enclosures and exhibits. Learn about grizzly bears and wolves in the zoo's Canadian Wilds section, check out the life-size dinosaur models in Prehistoric Park and witness four species of penguins waddling and shaking their tail feathers in an indoor-outdoor exhibit called Penguin Plunge.
Daily zoo activities offer plenty to keep you busy, with zookeeper talks, animal training sessions, nature walks and daily meet and greets with zoo residents. If you're traveling with kids in Calgary, don't miss the storytime presentations and the game-filled activity center.
Afternoon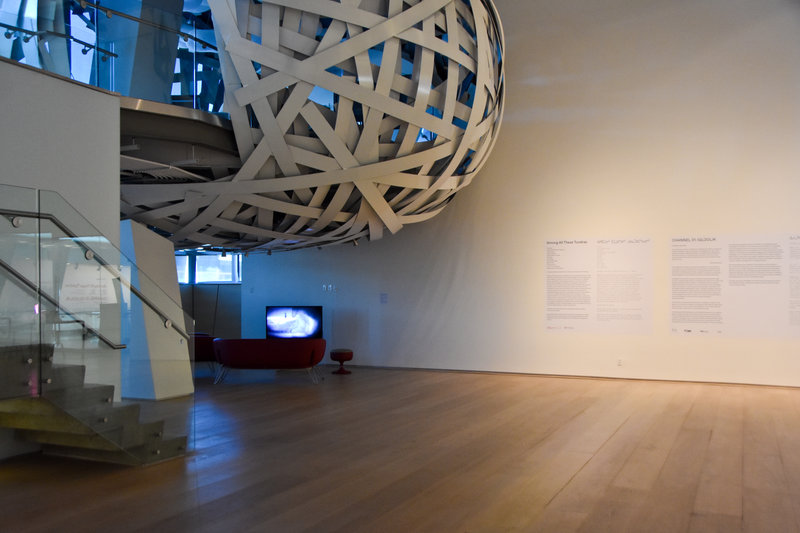 AAA/Katie Broome
Cross the river into Inglewood for an afternoon exploring one of Calgary's oldest neighborhoods. Independent shops line both sides of Inglewood's main street (9th Avenue S.E.), with women's clothing boutiques, spice and tea shops, a surplus store, a vinyl record shop and other unique places that are fun to browse. If you like art, pop into Esker Foundation (1011 9th Ave. S.E.) and check out their latest collection of thought-provoking contemporary art (admission is free).
For lunch, find the unassuming entrance to Without Papers Pizza (1216 9th Ave. S.E.), a local favorite for thin-crust pizzas and house-made ice cream. If you need to walk off your meal, consider taking the scenic route along the Bow River. The RiverWalk, a pedestrian- and bike-friendly urban trail, connects Inglewood with downtown and is protected from vehicle traffic.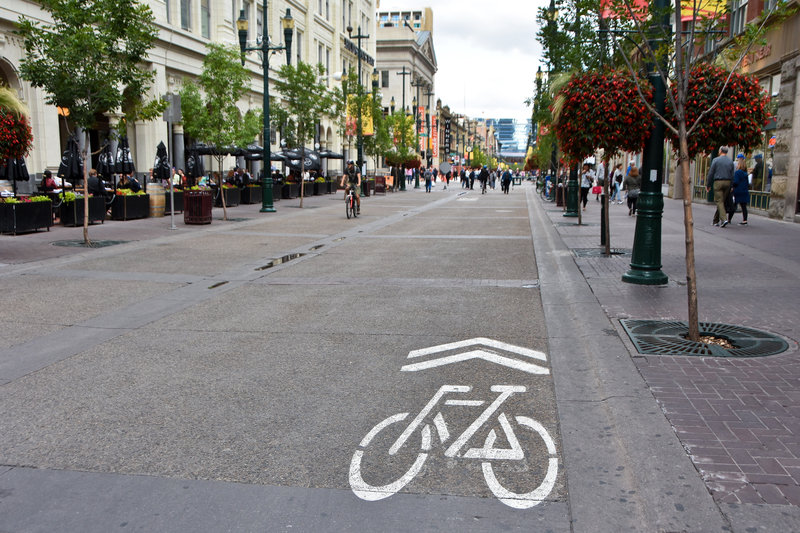 AAA/Katie Broome
Make your way toward the Calgary Tower (it's hard to miss) and spend some time exploring the Stephen Avenue Walk, a portion of 8th Avenue S.W. that is closed to car traffic from 6 a.m. to 6 p.m. Towering steel tree sculptures serve both to beautify and reduce gusting winds, and bars, restaurants, boutiques and historic buildings line the pedestrian mall. On weekdays during warm weather months, street performers entertain the crowds.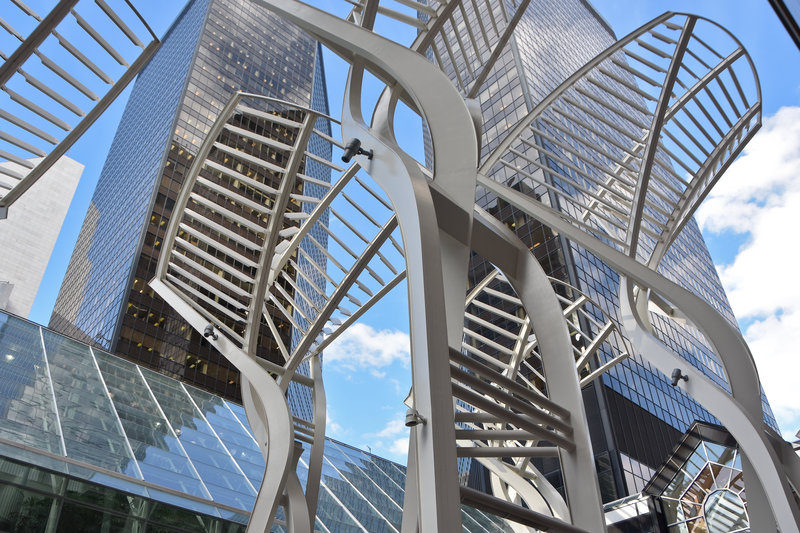 AAA/Katie Broome
As you stroll along Stephen Avenue, you'll notice pedestrian bridges spanning the street. These are part of the Plus 15 pedestrian system, so-called because the walkways are generally 15 feet (4.6 metres) above street level. The network of enclosed walkways allows people to reach office buildings and shopping malls throughout a 50-block area in climate-controlled comfort, something Calgarians appreciate in the freezing cold of winter.
Evening After a long day of sightseeing, head to Prince's Island Park for dinner with a fantastic view of the city skyline. Park at the Eau Claire Market (200 Barclay Parade S.W.) and take the pedestrian bridge at 2nd Street S.W. across to the island. The River Café (25 Prince's Island Park) occupies a rustic wood-and-stone building that evokes a cabin deep in the woods, yet looking out over the river from its patio, you see downtown's office towers. Make reservations because the café's lovely setting and Canadian Rocky Mountain cuisine make it a popular dinner spot highly sought after by both locals and visitors.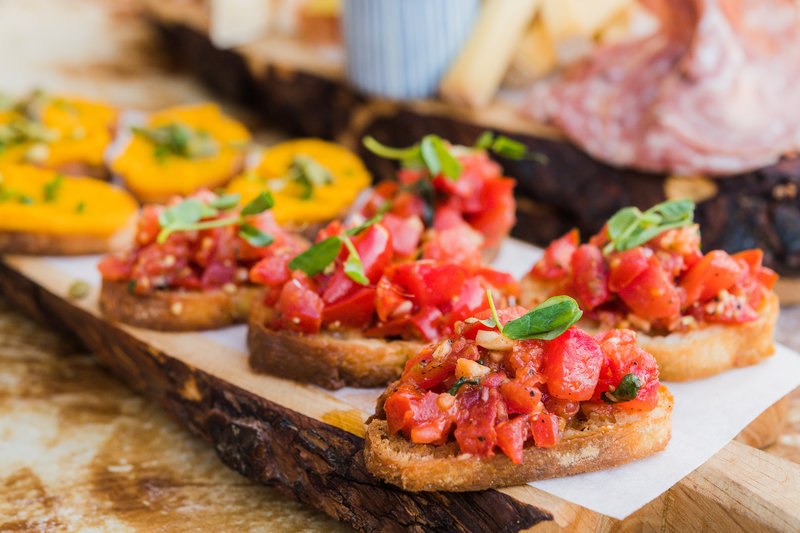 Courtesy of Vero Bistro Moderne
There are plenty more dining options just north of the river in Kensington Village. The walkable district includes top spots like Vero Bistro Moderne (209 10th St. N.W.), serving contemporary Italian dishes, and Hayden Block Smoke & Whiskey (1136 Kensington Rd.), a lively barbecue joint with TVs and picnic-style seating.