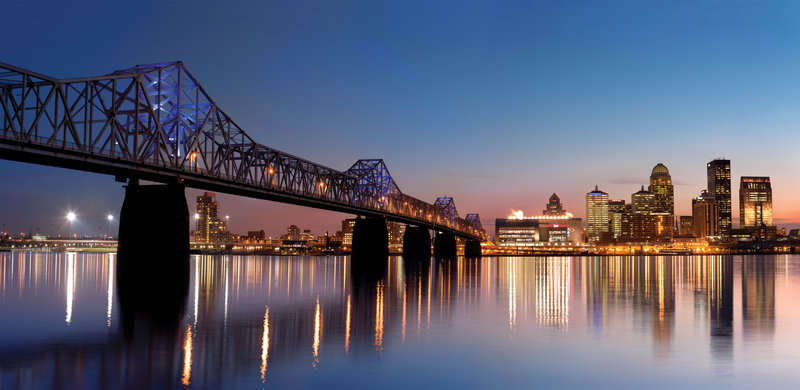 Courtesy of the KFC Yum! Center
Introduction
Each year Louisville hosts more than 150,000 fans for "the greatest two minutes in sports," the Kentucky Derby. But even if you're not lucky enough to be at the track with a mint julep in your hand on the first Saturday in May, there's plenty to celebrate at the destination.
Things to Do in Louisville
You can still get in on the horse-racing fun at the festivities leading up to the Derby. The Kentucky Derby Festival runs for two weeks, featuring fun things to do like air shows, steamboat races, concerts, sporting events and the Derby Ball. And if you miss that—or just can't get enough of those Thoroughbreds—there's always the Kentucky Derby Museum at Churchill Downs. Learn about the horses and their jockeys, owners and trainers through two floors of exhibits, and take in "The Greatest Race," a 360-degree high-definition video presentation updated each year with new footage from the most recent Derby.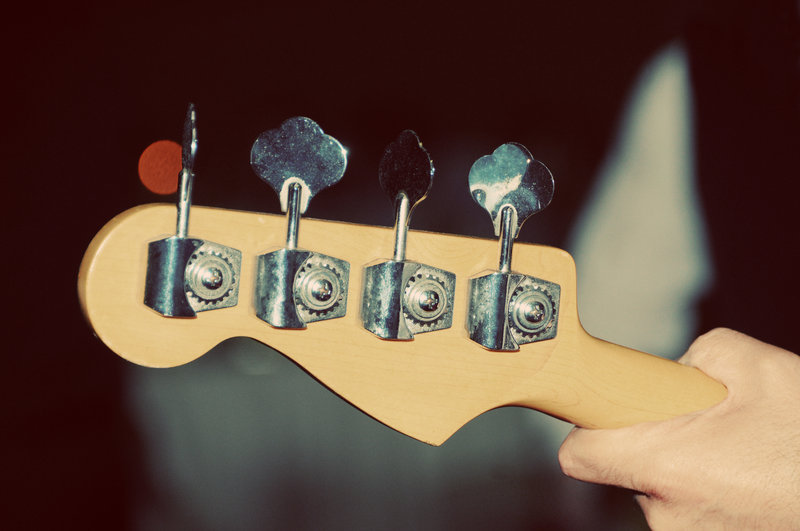 Shutterstock.com/Goran Shutterstock
The rest of the year, the city keeps busy by celebrating everything from Kentucky mountain music, featured at the Kentucky Music Weekend, to arts and crafts, found at the St. James Court Art Show, the Art in the Arbor festival. And yes, things to see include a horse show or two.
Louisville Travel Guide
For 2 weeks each spring Louisville is an arena of glamour and festivity as the city anticipates and witnesses the Kentucky Oaks on the first Friday in May, where 3-year-old fillies race for a garland of lilies, and the Kentucky Derby on the first Saturday in May. The oldest continuously held horse race in the country, the Kentucky Derby pits the world's best 3-year-old Thoroughbreds in a 1.25-mile race for a purse of more than $600,000 and a chance to become the winner of the coveted Triple Crown of racing.
History of Louisville
Louisville is much more than a horse-racing town, however: It also is a cultural and industrial center. The city is located on a plain adjacent to the falls of the Ohio River. Named in honor of Louis XVI of France, the first permanent settlement on the site was established in 1778 by Col. George Rogers Clark, accompanied by 120 soldiers and 20 families. Fort Nelson, named after Gov. Thomas Nelson of Virginia, was completed in 1782. A plaque at the corner of 7th and Main streets commemorates the establishment of the city and the fort.
Louisville's growth was directly related to westward expansion. The Ohio River was a conveyor of both people and commerce. The portaging of goods around the falls contributed heavily to the settlement's early economy. In 1830, when the Portland Canal opened the way for river traffic from Pittsburgh to New Orleans, Louisville was catapulted from a frontier outpost into an important station of the New Orleans commercial empire.
The town attracted diverse ethnic groups, with the majority of the immigrants coming from Ireland, Germany and Scotland. Together they made Louisville an industrial center and inspired its cultural and architectural growth. Well-preserved neighborhoods reflect the impact of their heritage. Victorian houses, complete with stained-glass windows and iron fences, are found in Old Louisville. Butchertown, the German settlement and meatpacking area, exemplifies the simple lifestyles of its founders.
The city is known for producing one-third of the world's supply of bourbon. From a business standpoint Louisville's location has attracted many corporate offices, including Brown-Forman Corp., Humana Inc., Papa John's International and YUM Brands, Inc. The city's facilities draw trade shows, conferences and conventions.
Places to Go in Louisville
Louisville's downtown has undergone extensive redevelopment and represents diverse architectural styles. The Riverfront Plaza and Belvedere is an urban plaza and park; on one plaza wall is a one-story stained-glass window depicting 200 years of the city's history. Kentucky Center's glass walls reflect facades of buildings which have been renovated and converted into museums, theaters, shops and restaurants. East of downtown at River Road and Zorn Avenue, The Water Tower is an example of classic industrial architecture, with a Grecian temple front and a great standpipe tower modeled after the Roman triumphal column. Also by River Road is the Patriots Peace Memorial, which commemorates fallen military personnel of the United States. And on Bradley Avenue near Eastern Parkway is
The Grotto and Garden of Our Lady of Lourdes
, a contemplative spot designed to resemble its namesake shrine in France.
As it plies the waters of the Ohio, The Belle of Louisville is a constant reminder of the city's river history even as it offers views of the ever-evolving metropolis. Both are definitive of the Louisville that, like the bourbon it produces, is a smooth blend—a tasteful mix of new with old, big city with small town and high-tech industry with gracious living.
By Car
The major north-south route that bisects the city is I-65. From the north it comes from Indianapolis and enters the city via the JFK Memorial Bridge. From the south it passes through Nashville and skirts Louisville International Airport on its way into downtown. Numerous exits provide easy access to city streets. I-65 is closely paralleled north of the city by US 31. The four-lane George Rogers Clark Memorial Bridge, also known as the Second Street Bridge, crosses the Ohio River and carries US 31, a route which divides into US 31E and US 31W south of Louisville.
East-west traffic is best served by I-64. On the west it crosses the Ohio River from Indiana into Louisville on the Sherman Minton Bridge. It is a close neighbor of US 60 east of Louisville, bringing traffic from Frankfort and Lexington. In the city it hugs the riverfront, where it is called Riverside Parkway. Exits are at major city thoroughfares. The northeastern access is via I-71 from Cincinnati.
I-264 (the Henry Watterson Expressway and the Shawnee Expressway) bypasses downtown and loops around the western, southern and eastern portions of the city. Linking with short sections of I-64 and I-71, it provides a complete circuit of Louisville with interchanges at major cross routes. Farther out, the Gene Snyder Freeway (I-265) affords a bypass from US 42 to US 31W with interchanges at major highways.
Getting Around in Louisville
Street System
Driving in Louisville is relatively easy with the help of a good city map. North-south address numbers start at Main Street; east-west numbering begins at 1st Street. Unless otherwise posted, the speed limit is 35 mph. Avoid rush hour traffic, 7:30-9 a.m. and 4-6 p.m., if possible.
Parking
Many downtown streets have metered parking, but be careful to check signs and meters for restricted times and limits. Commercial garage and lot parking is usually available. Rates are 50c-75c per hour. Visitors also can purchase a "Smart Card" (which works like a debit card) at the visitor's center.
Public Transportation
Transit Authority of River City (TARC) operates buses and trolleys throughout the Louisville metropolitan area. The base fare for buses is $1.75; exact change is required. Transfers from one bus route to another are free and are valid for 2 hours; remember to ask the driver for a transfer upon boarding. TARC offers discount bus fares for senior citizens and the physically impaired. The Day Tripper pass, which allows for unlimited rides for an entire day, may be purchased for $3 at the Louisville Visitors Center on the corner of 4th and Jefferson streets and at Union Station, 1000 W. Broadway.
The 4th Street Trolley travels on 4th Street from Theatre Square to the Galt House. The trolley's route extends further south to Breckenridge Mon.-Fri. 9-6:30. They also travel through Fourth Street Live, except during special events, when a detour route is followed. Green signs indicate stops for the 4th Street Trolley. The fare is 50 cents.
The Main Street Trolley runs a circular 3.5-mile route on Main and Market from 10th Street to Campbell Street. This trolley also provides service to Slugger Field for Louisville Bats baseball games on weeknights. Red signs indicate Main/Market Trolley stops. The fare is 50 cents.
Call the TARC Travel Center, (502) 585-1234, for information about fares, schedules and routes.
Sales Tax
Kentucky levies a 6 percent sales tax. The city of Louisville levies an additional 9.5 percent hospitality tax on hotel rooms.
Police (non-emergency)
(502) 574-7111
Hospitals
Jewish Hospital & St. Mary's Healthcare, (502) 587-4011; Norton Hospital, (502) 629-8000; Sts. Mary & Elizabeth Hospital, (502) 361-6000; University of Louisville Hospital, (502) 562-3000.
Visitor Information
Louisville Visitor Information Center
301 S. 4th St. Louisville, KY 40202. Phone:(502)379-6106 or (800)626-5646Contact the convention and visitors bureau at the above address to have a Louisville information packet mailed to you.
Air Travel
South of the destination near the junction of I-65 and I-264, 7 miles from downtown, Louisville International Airport (SDF) welcomes domestic and international flights. Most major passenger airlines offer airline tickets and flights daily. Cab service to the downtown area averages 15 minutes and costs $19.55. Transit Authority of River City (TARC) buses service the airport 23 times daily, 6 a.m.-11:30 p.m.; fare is $1.75.
Many hotels and motels provide courtesy car service.
Rental Cars
Like most large cities, Louisville has many car rental agencies. Hertz, (502) 361-0182 or (800) 654-3080, offers discounts to AAA members.
Rail Service
No passenger trains serve Louisville; look for cheap airline tickets, public transportation or low fares for rental cars.
Buses
Greyhound Lines Inc., 7th Street and Muhammad Ali Boulevard, is the major bus line; phone (502) 561-2805.
Taxis
Taxis are metered and charge $4.70 for the first mile and $2.25 for each additional mile. Tips range from 10 to 15 percent. Taxis must be ordered by telephone. The largest cab company is Yellow Cab, (502) 636-5511.
Public Transportation
TARC operates buses and minibuses throughout the metropolitan area.
What to Do in Louisville
Do the Derby. If you can plan ahead to attend the
Kentucky Derby
on the first Saturday in May, you'll witness a thrilling horse-racing spectacular, which also happens to be quite a party. The
Kentucky Derby Festival
precedes the race, an extravaganza featuring fireworks, concerts, sports and even a Derby Ball.
If you can't make the Kentucky Derby, then by all means visit
Churchill Downs
(700 Central Ave.) to walk the hallowed grounds during a 30-minute guided tour. This is also the site of the
Kentucky Derby Museum
(704 Central Ave.), which showcases everything from stunning Derby hats and other fashions to exhibits about the famous Thoroughbreds that have graced the track.
Things to Do with Kids
Baseball fans won't want to miss the
Louisville Slugger Museum & Factory
(800 W. Main St.), where the official bat of the major league is crafted. While some might be more inclined to view the collection of memorabilia dedicated to America's pastime, others might be curious to inspect a batting cage or observe bats being created in the onsite manufacturing facility.
Enjoy Louisville's parks and recreation. For a sweeping panorama of the Ohio River, try Louisville Waterfront Park (401 River Rd.), a place with a children's play area. Or head to Cherokee Park (745 Cochran Hill Rd.), with a 2.4-mile scenic loop traveling past woodlands, meadows and rolling hills. Jefferson Memorial Forest (11311 Mitchell Hill Rd.) in Fairdale—only a 15-minute drive from downtown—offers stellar hiking, fishing and camping.
If you're in search of an outing that appeals to all ages, you can't go wrong at the
Louisville Zoo
(1100 Trevilian Way). Playful polar bears thrill the kids, who also like hand-feeding the lorikeets, watching a bear-training demonstration or attending a giraffe feeding. You can navigate the facility by foot, or take a load off and ride the zoo's tram or train.
The
Muhammad Ali Center
(144 N. 6th St.) pays tribute to the legendary boxer in his hometown. Interactive exhibits and multimedia presentations, including a five-screen orientation film, outline Ali's life experiences and core values. A re-creation of the Champ's training camp allows participants to practice punches on a speed bag or engage in a round of shadow boxing.
Browse for souvenirs in one of Louisville's unique shopping districts. Specialty shops and galleries dot Frankfort Avenue, also a hub for dining and entertainment. If antiques are your thing, check out the stores on East Market Street, where you'll also find artworks, home décor and upscale restaurants.
If you're up for a learning experience, Louisville can accommodate. At
Kentucky Science Center
(727 W. Main St.), you can explore math, science and technology through hands-on displays, while highlights at
Frazier History Museum
(829 W. Main St.) include such intriguing American historical artifacts as Daniel Boone's family Bible and President Theodore Roosevelt's "Big Stick."
Historical Places to Go
For a laid-back excursion, tour
Locust Grove
(561 Blankenbaker Ln.), a restored 1790s Georgian mansion that served as a gathering place for prominent social and political figures of the time. Just as exquisite as the home's Kentucky-crafted furniture are the meadows, gardens and woods surrounding the property, which also includes an original smokehouse and farm buildings.
Take a stroll through Old Louisville, said to be America's largest Victorian neighborhood. You can wander on your own, reserve a guided tour, or pick up a brochure for a self-guiding tour at the Historic Old Louisville Visitors Center (301 S. Fourth St.). Architecture buffs will delight in admiring the range of styles represented by the quaint structures, which include Queen Anne, Renaissance Revival and Chateauesque.
Shopping in Louisville
Many of Louisville's historic buildings have been converted into shopping and dining complexes, which makes browsing for a special purchase even more interesting. Things to see by regional artists are sold at numerous galleries in NuLu (new Louisville). Antique shops along Bardstown Road offer many choices for collectors.
Fourth Street Live!, a pedestrian mall downtown on 4th Street between Liberty Street and Muhammad Ali Boulevard, is a retail, dining and entertainment zone as well as a venue for concerts and other fun things to do. A glass ceiling over 4th Street provides protection from the elements. Hard Rock Cafe, 424 S. 4th St., offers a collection of rock 'n' roll merchandise.
At the intersection of Gene Snyder Freeway (I-265) and Brownsboro Road (SR 22) is Paddock Shops, a collection of more than 60 upscale shops and restaurants in a landscaped outdoor setting.
Malls in Louisville
The Louisville area also offers three enclosed suburban malls. To the east are Oxmoor Center and Mall St. Matthews, both on Shelbyville Road. Southeast of the city is Jefferson Mall, at the Outer Loop east of Preston Highway. Most include major department stores, such as Dillard's, JCPenney and Old Navy.
East of the city in Shelbyville, English antiques and silver are the specialties of the Wakefield-Scearce Galleries.
Performing Arts in Louisville
The Louisville Fund for the Arts, started in 1949 to provide financial assistance to theater, art, music and dance, was the first of its kind in the United States. It now supports more than 12 organizations. An example of the city's enthusiasm for the arts is evident at the Riverfront Plaza and Belvedere, home to The Kentucky Center.
Places to Go
The Tony Award-winning Actors Theatre of Louisville, (502) 584-1205, is in a complex at 316 W. Main St. that includes three theaters: the Victor Jory, a converted Victorian warehouse; the Pamela Brown, a modern auditorium-style structure; and the 316-seat-in-the-round Bingham Theatre. This resident professional troupe performs September to May. Their annual Humana Festival of New American Plays draws international attention and is held late March through early April.
Kentucky Opera; Louisville Ballet; and Stage One: The Louisville Children's Theatre perform at The Kentucky Center. The opera, (502) 584-4500, presents works September through February, and the ballet, (502) 583-3150, performs September through April. Stage One presents plays for children September through May; phone (502) 589-4060. Repertory dance troupes and theatrical and musical companies from throughout the country also are drawn to the center and are fun things for couples to do.
The Little Colonel Players, (502) 241-9906, the area's oldest community theater, stages its productions in Pewee Valley, while the Derby Dinner Playhouse, in nearby Jeffersonville, Ind., (812) 288-8281, offers Broadway plays and a buffet dinner in a theater-in-the-round setting.
The free Kentucky Shakespeare Festival performances from mid-June through July are a must; phone (502) 574-9900. Enjoy a picnic in the park, then stroll over to the Ramey Amphitheatre at Fourth Street between Park and Magnolia. Other summer highlights are the musicals, movies and other things to see at the Iroquois Amphitheater in Iroquois Park; phone (502) 368-5865.
Concerts in Louisville
The Louisville Orchestra, (502) 587-8681, performs September through May at The Kentucky Center. Louisville also invests in the musical talents of its young people through the Louisville Youth Orchestra, which performs at various locations; phone (502) 896-1851. The Mercury Ballroom, 622 S. 4th St., is a venue for concerts and shows; phone (502) 583-4555.
The Chamber Music Society sponsors concerts by international artists at the University of Louisville's School of Music; phone (502) 852-6907.
Louisville Sports and Recreation
Louisville has something to offer almost every sports enthusiast, whether adventure travel enthusiast, athlete or spectator. The parks of Louisville and Jefferson County, ranging in size from one-tenth of an acre to the 6,400-acre Jefferson Memorial Forest (see Recreation Areas Chart), offer opportunities for many adventurous things to do. For information about park facilities and events contact the Metro Parks Public Information Office, 1297 Trevilian Way, Louisville, KY 40213; phone (502) 456-8100.
With a 900-foot series of pools, waterfalls, water cannons and a wharf, Waterfront Park, downtown on the riverfront, connects Louisville to the Ohio River and is a fun thing to do with kids. The park features a playground and is a popular spot for concerts, picnicking, walking and jogging.
Sports in Louisville
Bicycle trails wind through many of the parks, and several bicycle routes are designated along city streets. A booklet highlighting bicycle routes throughout Louisville and Jefferson County is available at most public library branches and at the visitor center at Fourth and Jefferson streets; for additional information phone (502) 574-6473. For a more unusual bicycling opportunity, however, there's Louisville Mega Cavern, which operates the world's biggest indoor bicycle park with 320,000 square feet and 45 trails; phone (877) 614-6342.
Hiking is available in most of the parks, but marked hiking trails are found in Jefferson Memorial Forest, which offers hikers more than 35 miles of trails ranging from an easy .25-mile (one-way) paved walk to a strenuous 6.2-mile (one-way) trek. The forest, part of Louisville's Metro Parks system, is 16 miles south of the city in Fairdale; phone (502) 368-5404 for additional information.
Fishing is available; people between 16 and 65 must have a state fishing license. Charlie Vettiner, Cherokee, Chickasaw, Fishermans, Iroquois, Long Run, Tom Wallace, Watterson and Waverly parks have stocked lakes, and Chickasaw, Cox, Eva Badman, Hays Kennedy, Riverview, Shawnee, Thurman Hutchins and Thurston parks provide access to the Ohio River, where carp and game fish may be caught.
Golf enthusiasts can choose from any of the nine Metro Parks golf courses: Bobby Nichols, 4301 E. Pages Ln., (502) 937-9051; Charlie Vettiner, 10207 Mary Dell Ln., (502) 267-9958; Cherokee, 2501 Alexander Rd., (502) 458-9450; Crescent Hill, 3110 Brownsboro Rd., (502) 896-9193; Iroquois, 1501 Rundill Rd., (502) 363-9520; Long Run, 1605 Flat Rock Rd., (502) 245-9015; Seneca, 2300 Pee Wee Reese Rd., (502) 458-9298; Shawnee, 460 Northwestern Pkwy., (502) 776-9389; and Sun Valley, 6505 Bethany Ln., (502) 937-9228.
Six of these courses—Charlie Vettiner, Iroquois, Long Run, Seneca, Shawnee and Sun Valley—offer 18 holes. Shawnee is particularly scenic, with five holes played parallel to the Ohio River. Each course has a clubhouse and pro shop; both pull and riding carts can be rented. All courses are open daily, 30 minutes after dawn to dusk. Daily greens fees range from $9.25 to $16; discounts are available for senior citizens.
Influenced by their surroundings, visitors often want to go horseback riding while in Louisville. Marked horse trails ranging from 3 to 10 miles long are available at Cherokee, Forest View, Iroquois, Seneca and Tom Wallace parks. Trails also are available at five state parks: Barren River Lake Resort, Cumberland Falls Resort, Dale Hollow Lake Resort, Lake Barkley Resort and Lake Cumberland Resort as well as Big South Fork National River and Recreation Area.
For tennis buffs the more than 150 public outdoor courts in the area are free and are available on a first-come-first-served basis, with a 1-hour time limit.
Water sports are enjoyed in the 12 outdoor pools, open mid-June to mid-August, and three indoor public pools, open year-round, as well as in area lakes and the Ohio River.
Watch a Game in Louisville
Spectator sports are a fun thing to do in Louisville. The University of Louisville Cardinals football team plays at Papa John's Cardinal Stadium, phone (502) 852-2779, while the college's basketball team schedules their games at the KFC Yum! Center downtown, phone (502) 690-9000.
The city has a AAA minor league baseball team, the Louisville Bats—the Cincinnati Reds' principal farm team—which plays April through September at Louisville Slugger Field on E. Main Street; phone (502) 212-2287.
Also at Slugger Field is Louisville City FC, or LouCity, a competing soccer franchise of The United Soccer League. The team's plan is to move into a new permanent 10,000-seat facility by 2020. The stadium, which would be able to expand up to 20,000 seats, will be near Adams and Campbell streets in the Butchertown neighborhood.
Besides the renowned "Run for the Roses," Churchill Downs offers Thoroughbred horse racing from late April through early July and September through November; phone (502) 636-4400.
Note: Policies concerning admittance of children to pari-mutuel betting facilities vary. Phone for information.
flickr/PROLouisvilleUSACE
Sightseeing in Louisville
Boat Tours
The authentic 1914 stern-wheel steamboat The Belle of Louisville, reputedly the world's only Mississippi-style steamboat, and her sister vessel The Spirit of Jefferson, both docked at Louisville's 4th Street wharf, offer sightseeing, sunset, lunch and dinner cruises on the Ohio River; phone (502) 574-2992 or (866) 832-0011.
Carriage Tours
Louisville Horse Trams Inc. provides downtown horse and carriage sightseeing tours in surreys after 6 p.m. Monday through Friday (weather permitting) and Saturday and Sunday beginning at 4; phone (502) 581-0100.
Walking Tours
The city's 48-block Old Louisville neighborhood is a treasure-trove of more than 1,400 Victorian homes. The Historic Old Louisville Visitors Center at 1340 S. 4th St. in Central Park has literature for self-guiding walking tours that encompass the neighborhood's mansions; phone (502) 635-5244. This center is open Tues.-Fri. 1-5.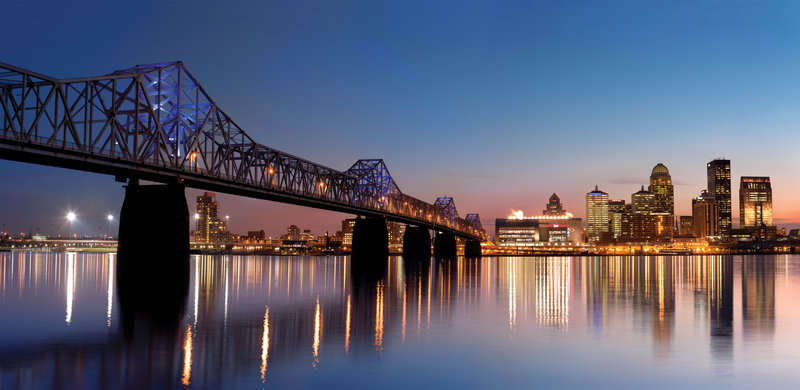 Courtesy of the KFC Yum! Center
The Louisville Visitors Center, at Jefferson and Fourth streets across from the Kentucky International Convention Center, has maps and information about other sightseeing tours. A free 1-hour guided tour detailing the downtown civic district and the architectural features of Main Street's buildings departs May through October, weather permitting. A passport for Louisville's Urban Bourbon Trail, which consists of stops at some 26 local watering holes specializing in 50 to 165 bourbon varieties, also is available at the visitors center; the office is open Mon.-Sat. 10-5, Sun. noon-5. Phone (502) 379-6109 one day in advance for civic district tour schedule and reservations. The Main Street Visitors Center, 627 W. Main St., offers guided walking tours as well as brochures and information about the history of Main Street and its cast iron architecture; phone (502) 589-6008. The association is open Tues. and Fri. 11-3, Apr.-Nov., or by appointment; all tours are weather permitting.
1-day Itinerary
AAA editors suggest these activities for a great short vacation experience.
Morning
If you'll be in Louisville on the first Saturday in May, then by all means plan to attend the Kentucky Derby, or at the very least, the Kentucky Derby Festival during the two weeks preceding the race. If you are visiting Louisville at another time, you may be able to catch another thrilling race at the legendary track,
Churchill Downs
(700 Central Ave.), which is situated in the southern portion of the city.
Even if you don't attend a race, it's a treat to learn about the winners by taking the guided historic walking tour of Churchill Downs hosted by the adjacent
Kentucky Derby Museum
(704 Central Ave.). A behind-the-scenes tour also is available, offering sneak peeks into the press box, jockeys' quarters and millionaire's row. At the museum you can try to maintain a jockey's stance on a simulated horse, view race footage or peruse the collection of exhibits providing insight into the world of Thoroughbred racing.
About 6 miles east of Churchill Downs (via I-65S and I-264E), the
Louisville Zoo
(1100 Trevilian Way) entertains the whole family. In addition to observing the zoo's impressive assortment of animals, there are other interesting things to do. Kids love the zoo's train while a carousel and playground delight tykes.
Afternoon
Head to downtown Louisville, where several must-dos are within walking distance of each other on West Main Street. For stylish dishes in an artful setting, order lunch from
Proof on Main
(702 W. Main St.), which also satisfies with decadent dessert choices. Traditional American dishes including burgers, salads, pasta and seafood are the focus at
Bristol Bar & Grille
(614 W. Main St.).
Louisville presents first-rate facilities for those captivated by the arts and sciences. Strolling along West Main Street, you'll encounter the
Kentucky Science Center
(727 W. Main St.), enlightening guests with a vast array of interactive displays and activity centers. "The World We Create" exhibit inspires creative thinkers as it explores physical science. Just a short walk west, the
Frazier History Museum
(829 W. Main St.) holds such fascinating pieces as swords, shields and medieval weapons. Costumed interpreters and live demonstrations illustrating various techniques of using armor lend intrigue to the experience.
Among the cluster of attractions on West Main Street, you'll come across two that represent well-crafted items unique to Kentucky.
The Kentucky Museum of Art and Craft
(715 W. Main St.) preserves the cultural heritage of the Bluegrass State. If you're a baseball fan, then you can appreciate art of a different sort at the
Louisville Slugger Museum & Factory
(800 W. Main St.); this is the place where the iconic baseball bat is constructed, and you can go on a tour to see how it's done.
Evening
Bardstown Road, just southeast of downtown, is known as the city's Restaurant Row.
Seviche-A Latin Restaurant
(1538 Bardstown Rd.) touts Nuevo Latino cuisine prepared with flair, enhanced by inventive cocktails and a modern yet cozy atmosphere with copper, leather and wood accents. For a down-home treat, try
Mark's Feed Store
(1514 Bardstown Rd.), where the barbecue consistently ranks high in area polls. Galleries, boutiques, pubs and nightspots dot the neighborhood as well.
For a nautical endeavor, the historic steamboat Belle of Louisville and the riverboat Spirit of Jefferson offer dinner cruises (embarking at 401 W. River Rd.) on the Ohio River. Reserve a window seat if you are intent on catching the view, especially lovely at sunset.
Louisville Horse Trams (801 Witherspoon St.) allows visitors to engage in evening sightseeing, with tours available after 6 p.m. You'll explore the downtown area in style via a handsome horse-drawn carriage.
Those interested in the performing arts should check the box office at
The Kentucky Center
(501 W. Main St.). Home to the Kentucky Opera, Louisville Orchestra and Louisville Ballet, the venue also presents Broadway Across America.
Louisville has much to celebrate and wastes no time doing just that through various ethnic festivals, fairs, music events, art and trade shows, and of course, horse races. For current listings of events check the local newspapers.