Introduction Salt Lake City is Utah's capital and serves as an all-purpose vacation gateway to the state's scenic national parks and recreational areas. You couldn't ask for a more impressive natural setting—Great Salt Lake spreading out to the northwest, the forbiddingly beautiful Great Salt Desert beyond and the snowcapped Wasatch Mountains towering in the background. It's no surprise that Salt Lake City hosted the 2002 Winter Olympic Games, or that athletes as well as more casual sports enthusiasts flock here to take advantage of the excellent recreational facilities.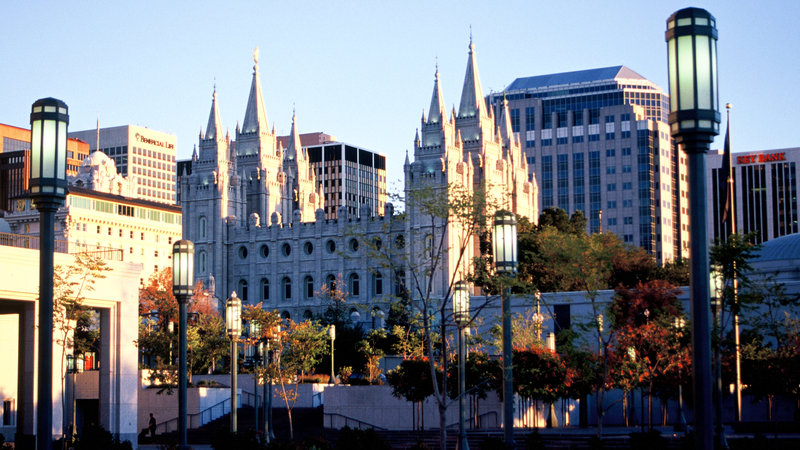 Courtesy of Visit Salt Lake
An easy and popular way to see the downtown area is to take a carriage ride beginning at Temple Square. The square contains several monuments in addition to the Salt Lake Temple and the Salt Lake Tabernacle of the Church of Jesus Christ of Latter-day Saints. You also can pick up self-guiding walking tour brochures recommended by the Utah Heritage Foundation at the Salt Lake City Visitor Information Center in the Salt Palace, the city's cultural jewel. While you're there, visit the Utah Museum of Contemporary Art or take in the Utah Symphony.
Getting There
By CarSalt Lake City is sometimes called the "Crossroads of the West" due to its easy access. I-15 runs, north-south, I-80 east-west. I-215 provides a loop around all but the city's northeastern quadrant. US 89 (State Street) is a major north-south thoroughfare, with the State Capitol as its northern end. An alternate east-west route is 2100 South Street.
Getting Around
Street SystemDowntown streets are based on a grid system; Temple Square is the center of the grid and the point at which all numbering begins. Most addresses incorporate two separate numbers; the local AAA office, for example, is at 560 East 500 South, meaning that it's 5 blocks south of the temple and slightly more than 5 blocks east. Addresses are also stated 560 East on 500 South. Locals tend to drop the last two zeros when giving directions; thus 500 South becomes 5th South. Some streets have a name as well as a number, but most have numbers only.
ParkingMetered parking is available throughout the city, with a 2-hour limit at most meters. After 8 p.m. metered parking is free. Parking is available at the Firestone Building, 175 West 200 South and through Ampco System Parking at various locations; phone (801) 364-7275. Fees range from $3-$5 (hourly rate) to $5-$10 (daily rate).